Anyone who's known me long enough will know I was something of a Madness fan back in the day, an 80s Ska band whose one of their more obscure singles was called "Night Boat to Cairo". I couldn't manage to arrange that, but got fairly close by taking a Night Train From Cairo to Aswan, some 1000km up river from Cairo. In fact, this night train is the only one that foreigners are technically allowed to use along the upper Nile valley, all day trains are off limits. We travelled in style in first class, which gives you a private compartment with 2 bunk beds in it which convert from chairs for day use. There's a wash basin in there, and a very good dinner of your choosing and a mediocre breakfast are brought to you by the porter.
The first challenge was actually finding the train in Cairo station. Much of the signage is in Arabic and although many people you speak to seem to have some grasp of English, it's still hard to get much from anyone that makes much sense. Mostly you get given a vague arm movement which is sending you in any direction that's away from them, and after going between about 6 unidentified windows around in circles, we try our luck on a random platform. It wasn't the right one, but people were jumping off the far end of the platform in their droves onto the tracks with big suitcases on their shoulders, running across multiple lines, literally right in front of moving trains. In the end, a lad whose job it was to sweep the platform sent us to exactly the right spot on the very long platform the train was coming in on, and he didn't even want any baksheesh for it.
The Egyptian method of fair – dodging differs from ours: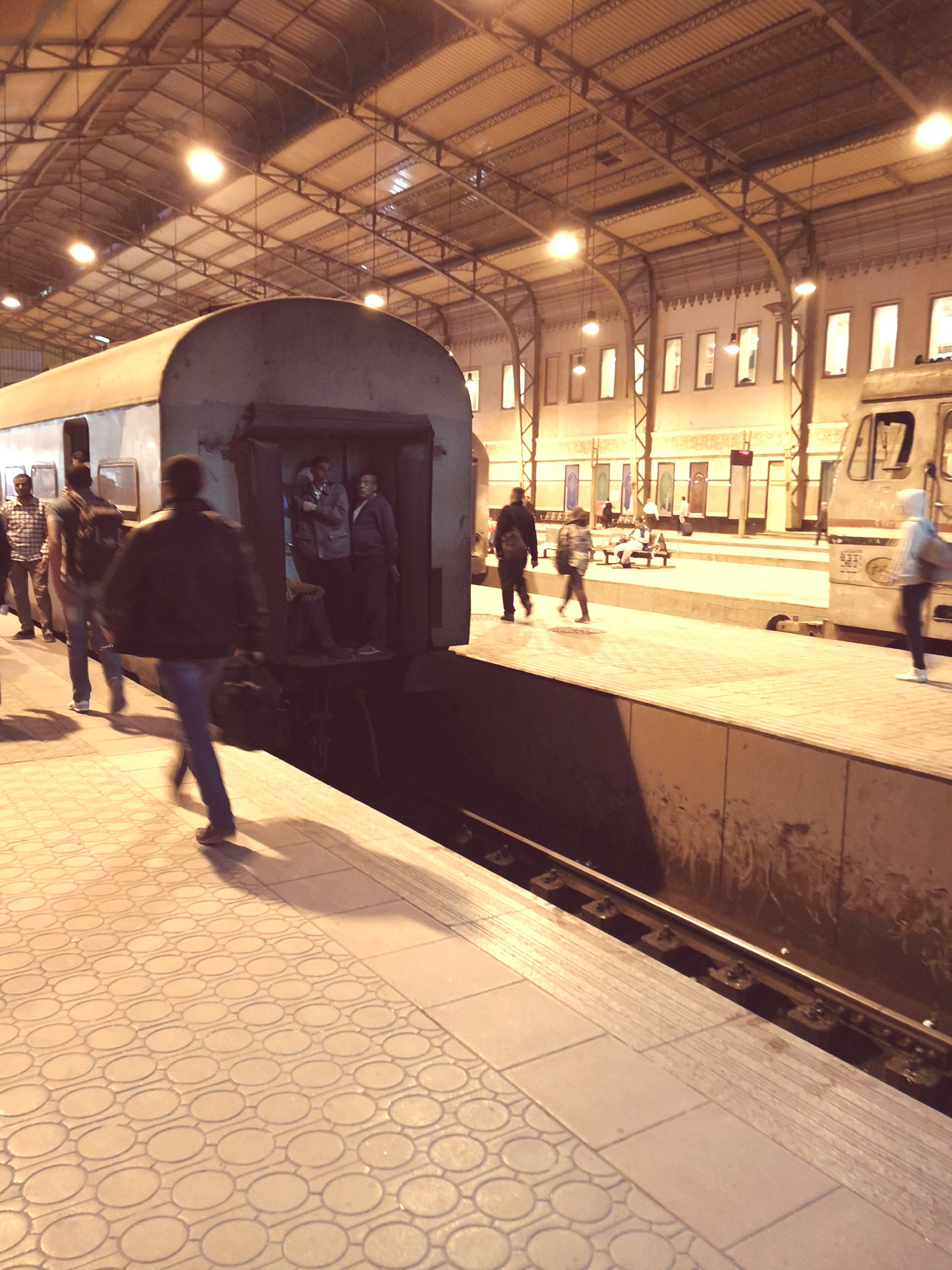 Not sure how clear that is as I was trying to be subtle taking it, but there are three people in the unused adjoining door. All trains seemed to leave with people in there, as well as with people running down the track chasing them as they left to grab the bottom of the doorway and climb on, like you see on films.
It was a bit of a rough ride, the train stopped a lot at seemingly random moments and rattled on the buffers so hard we were almost thrown out of bed several times. We were 2 hours late on the 13 hour journey in the end and later found out that the loco was broken, and the driver had to get out and start beating it with a large hammer to get it going again.
If you're wondering why I went for the no. 2 haircut all over, it's because the temperatures here should be in the early 30s at this time of year, but there's a bit of a heat wave going on at the moment and today we're facing this: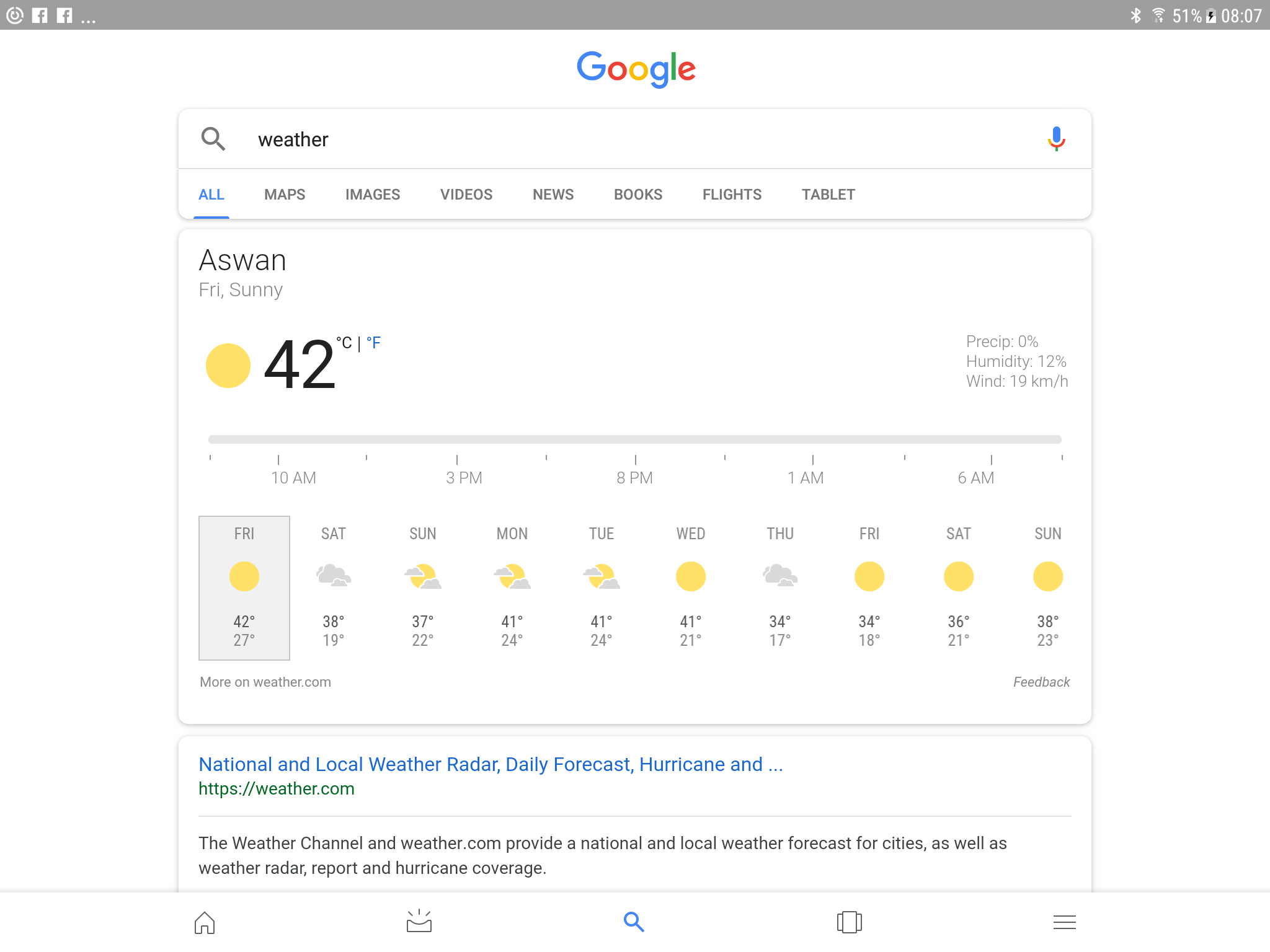 For anyone in Lisa's possie not familiar with these new fangled temperature scales, that's a toasty 108F.
Aswan is a fairly small town, right on the river bank, but we opted to stay on Elephantine Island in the middle of the river right opposite the town. There was an indigenous group of people in a region called Nubia, south of Aswan stretching down into Sudan. The whole area was basically submerged when the High Dam was built in the 70s and created Lake Nasser over their villages. One of the places they resettled to was Elephantine Island which remains very rural with no vehicles and only dirt paths winding in between colourfully painted houses. It really is a world away from the town opposite and was blissfully quiet at night. We stayed in a small guest house on the west side, directly opposite the botanical gardens on Kitcheners Island, an even smaller island on the way to the Nile's west bank, run by a Nubian man and his Italian wife. What with the sunset over the temples of the west bank and the coloured lighting of the botanics after dark, it was something fairly spectacular.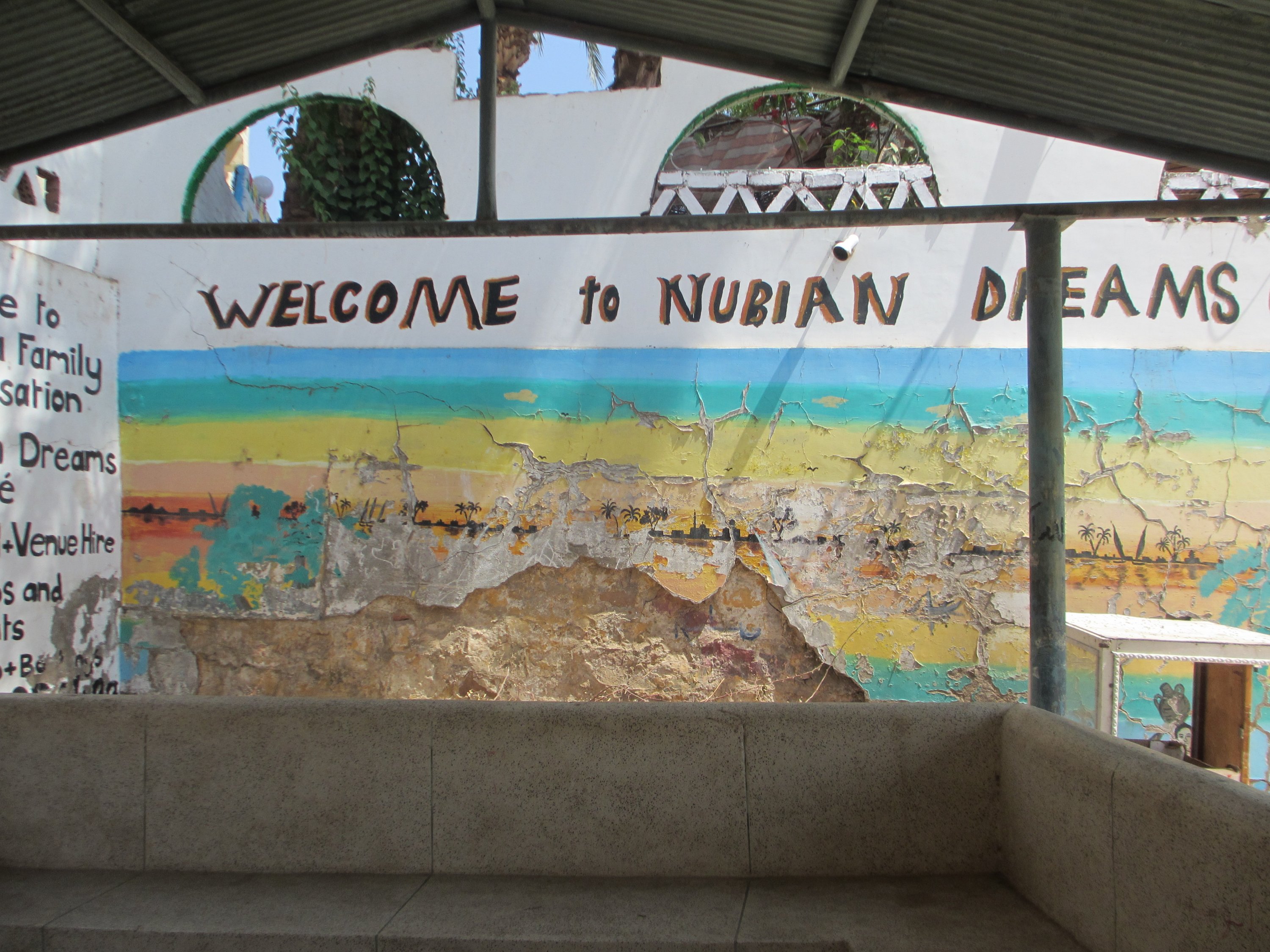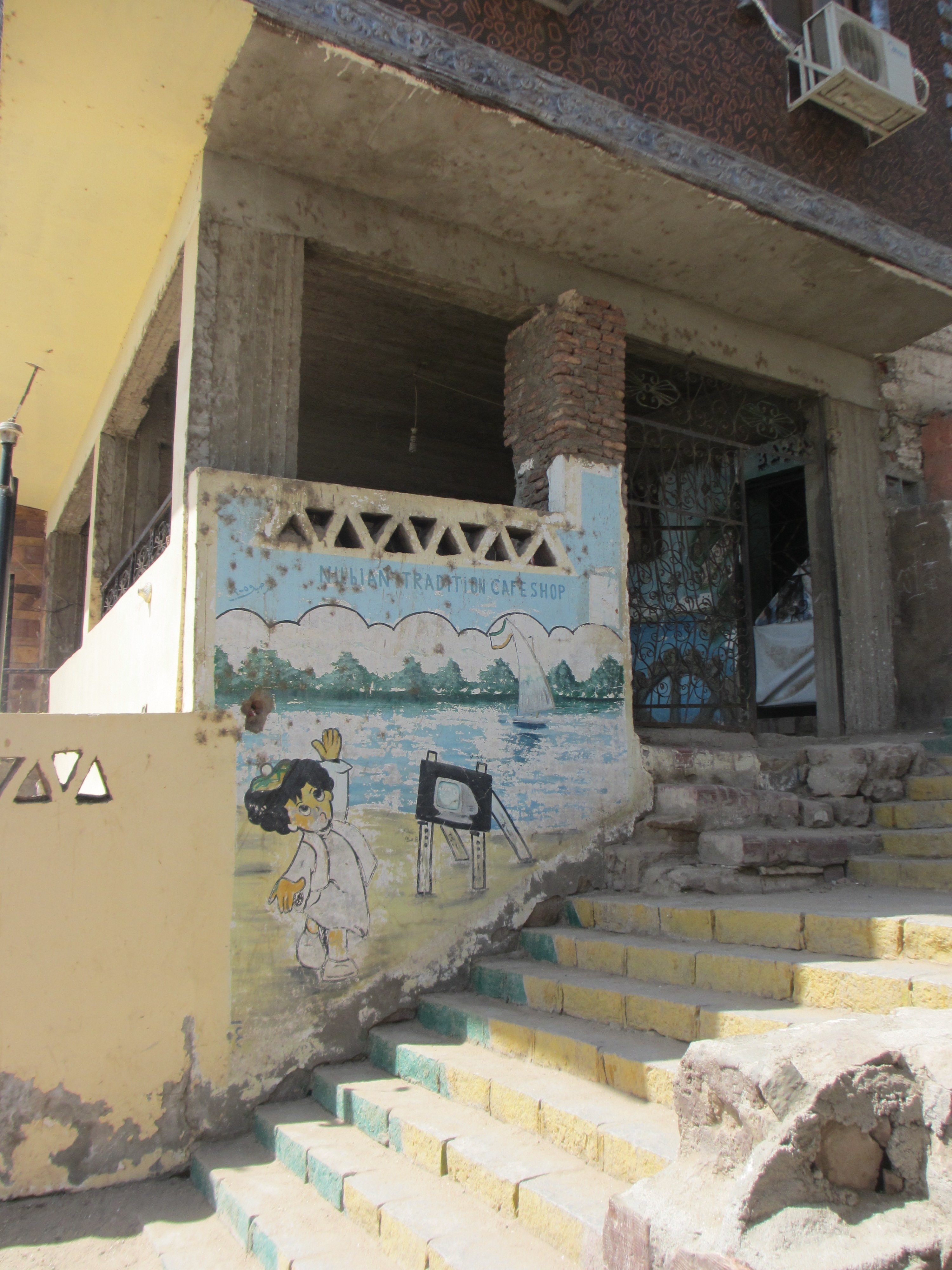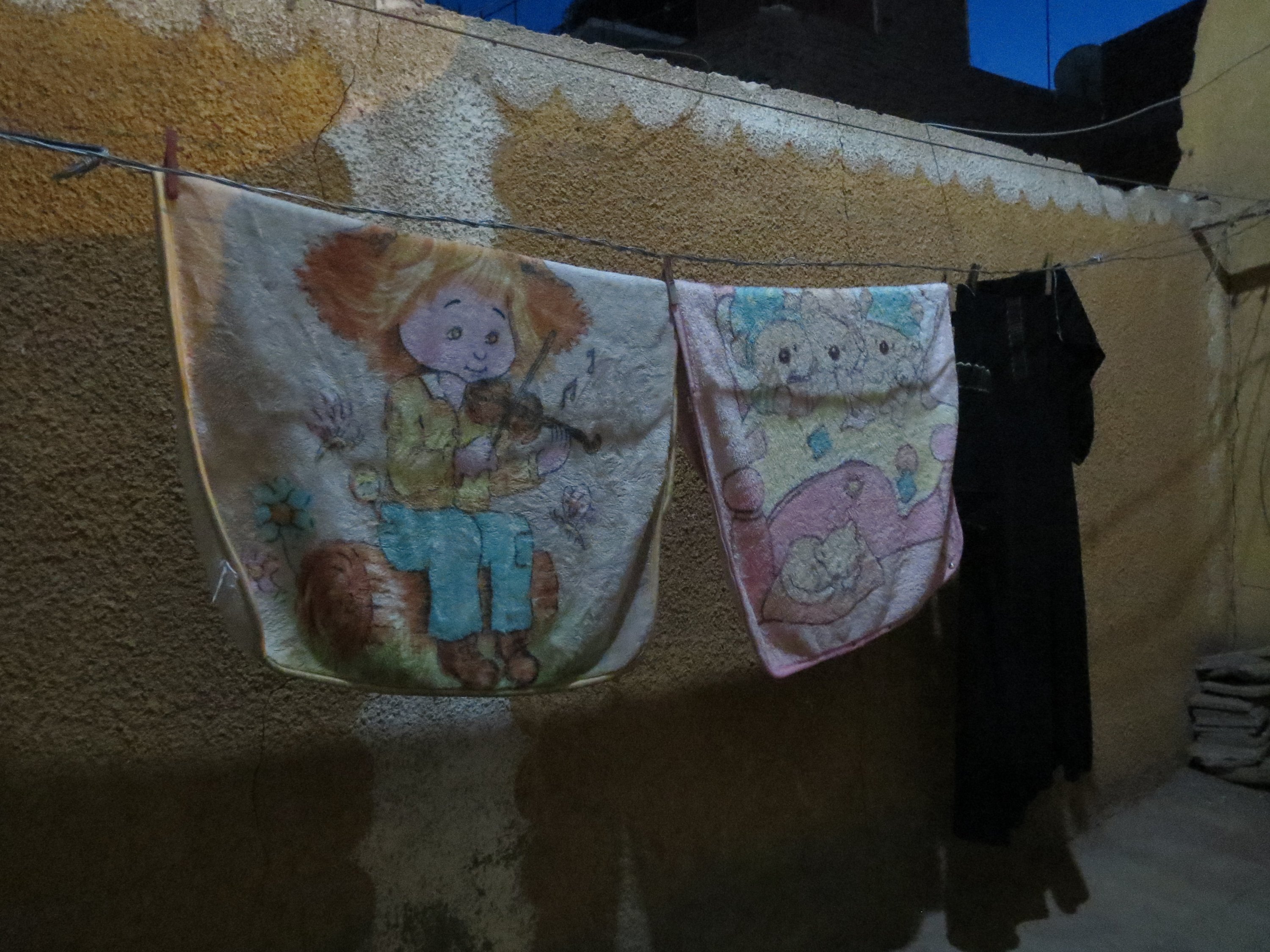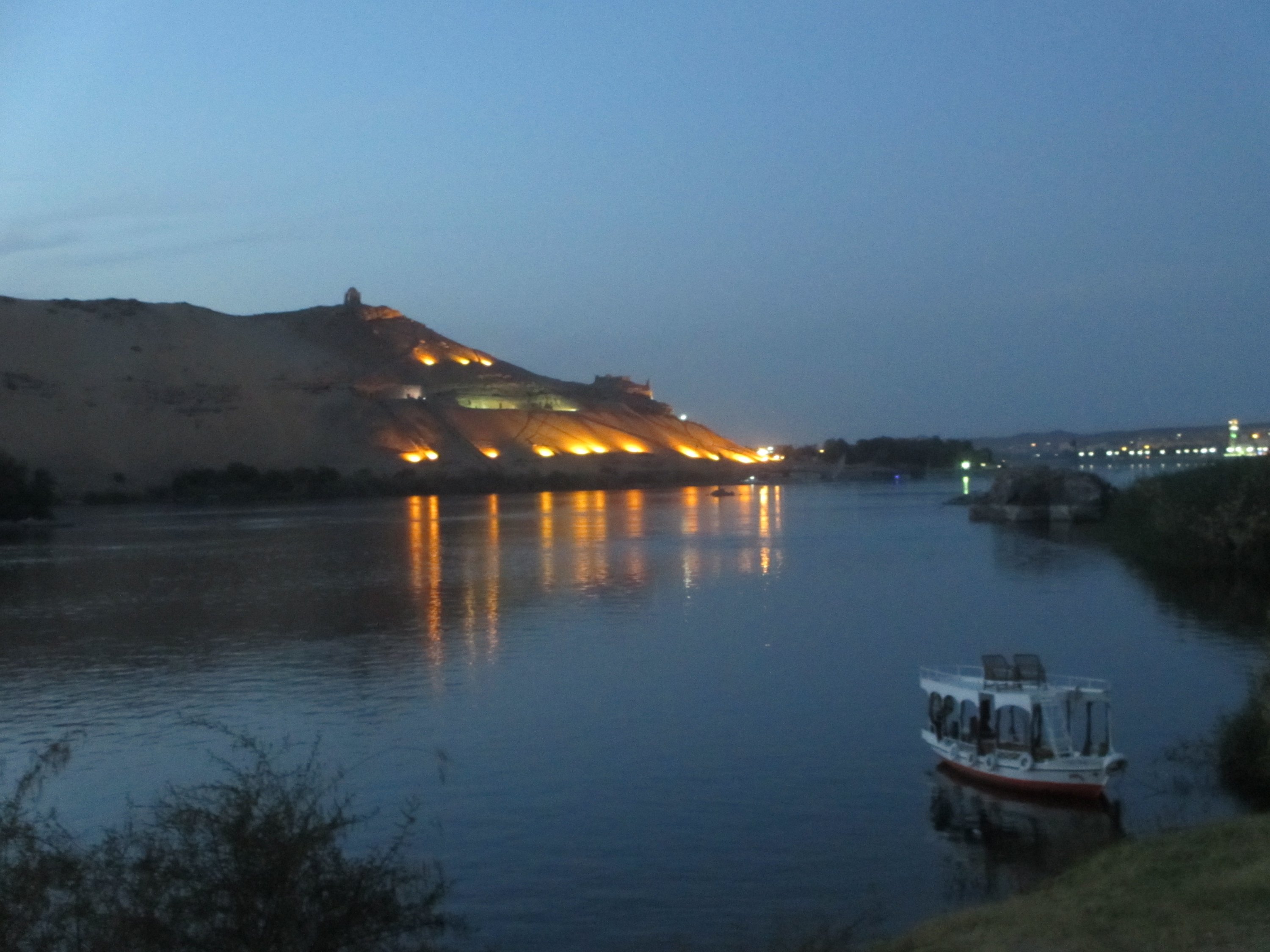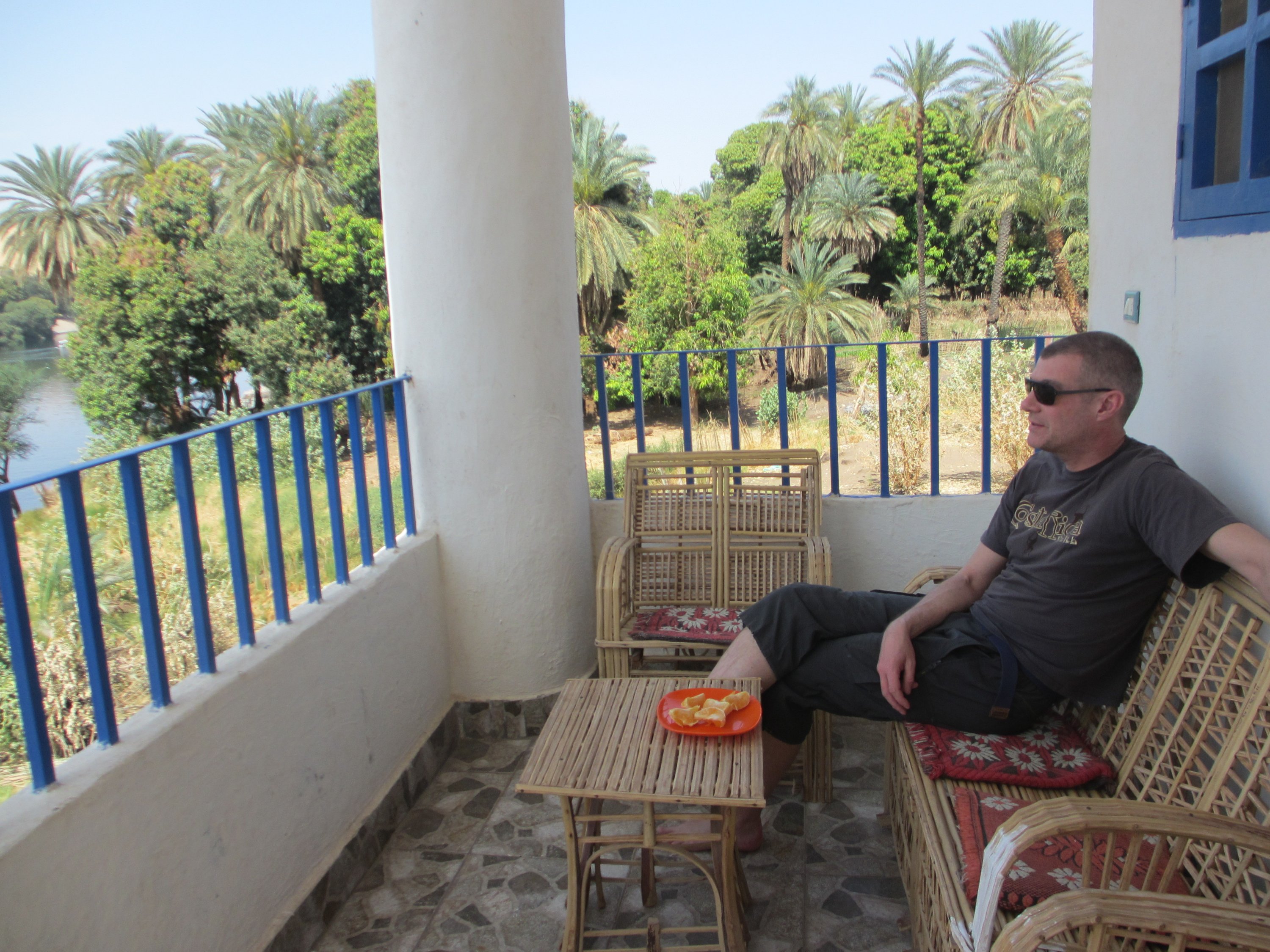 You get to the island on one of two public ferries. Whilst we were waiting for it we negotiated with a "felucca" captain for a trip that evening. A felucca is a small wooden sailing yacht that traditionally ply the waters of the Nile and is a good way to get to Luxor from here in 3 days or so, if you have the time, which we don't.
They rip tourists off on the ferry by charging double the normal fare, so we had to fork out E2 each, that's 5p. Women must sit at the front of the boat and wait for the men to disembark first from where they sit at the back. Again the dodgy camera work is me trying to be subtle :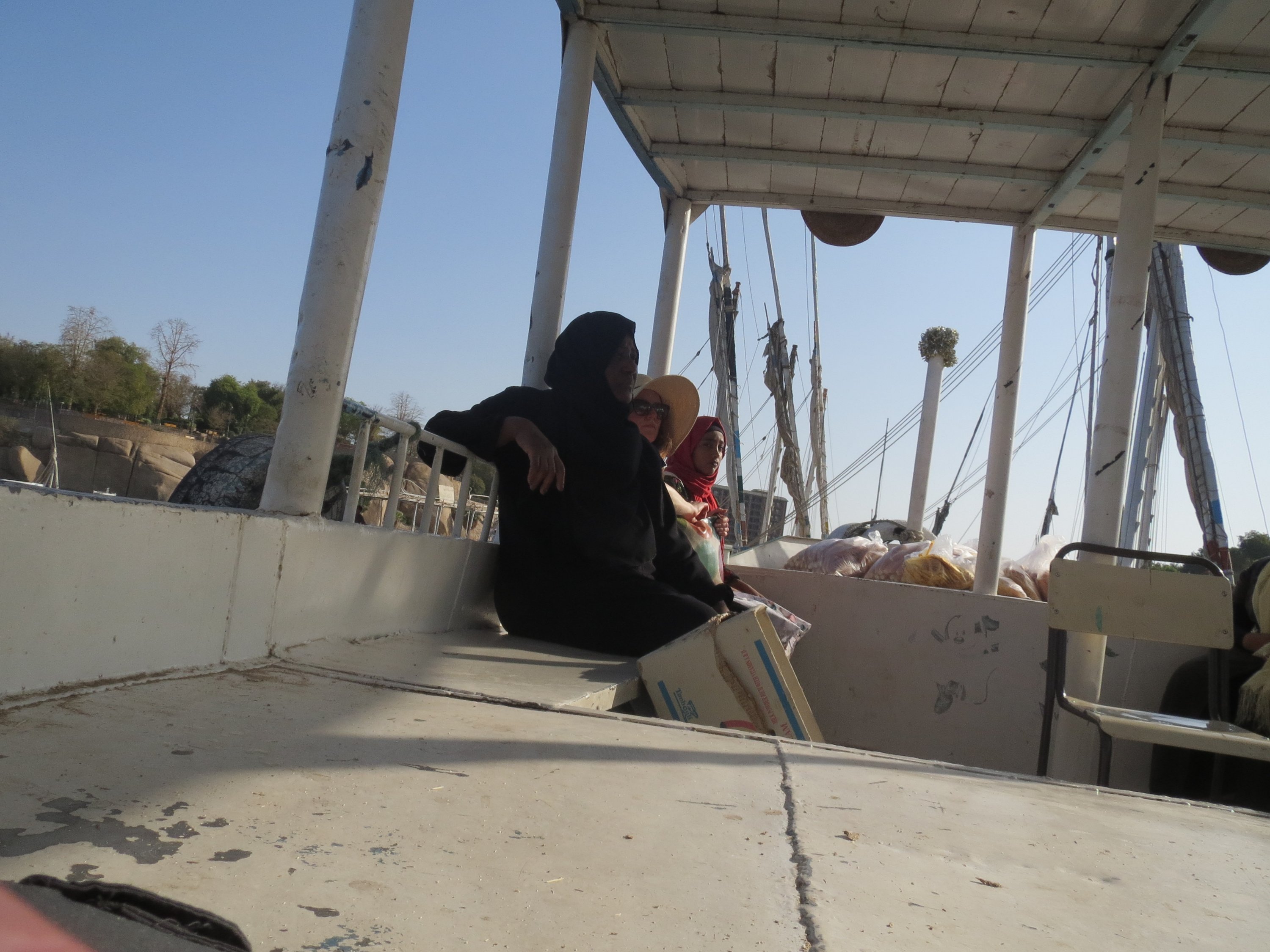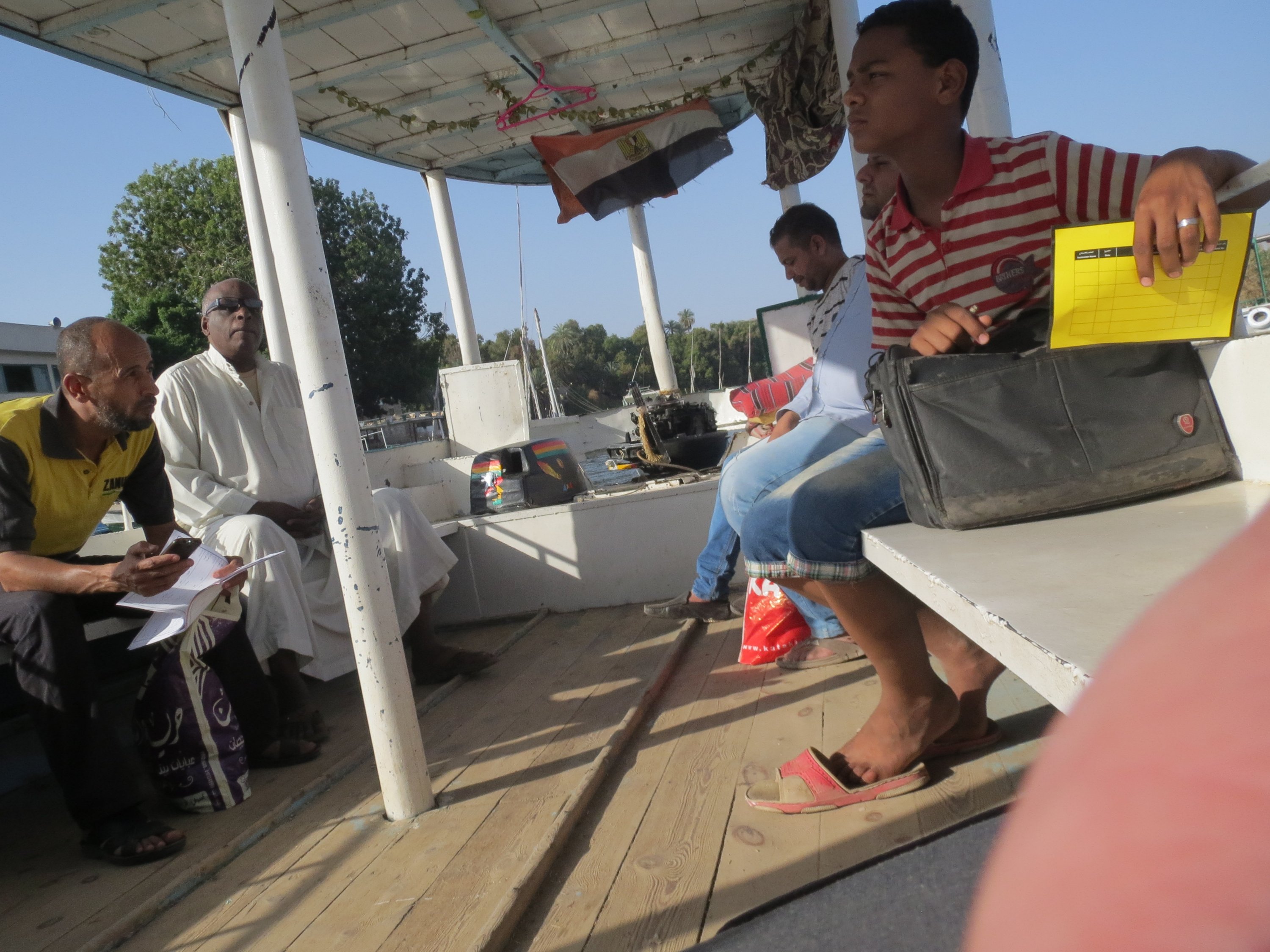 We took a walk to the south of the island which just takes a few minutes through the twisty maze of alleyways between fields and houses to reach the ruins of Abu a collection of temples and tombs dating back to 3000BC. There is also an interesting "Nilometer", basically a staircase down into the river, with graduation marks on it to monitor the river depth. They used this as a way of gauging how prosperous the next harvest would be.
A donkey watches TV in an alleyway of one of the Nubian villages: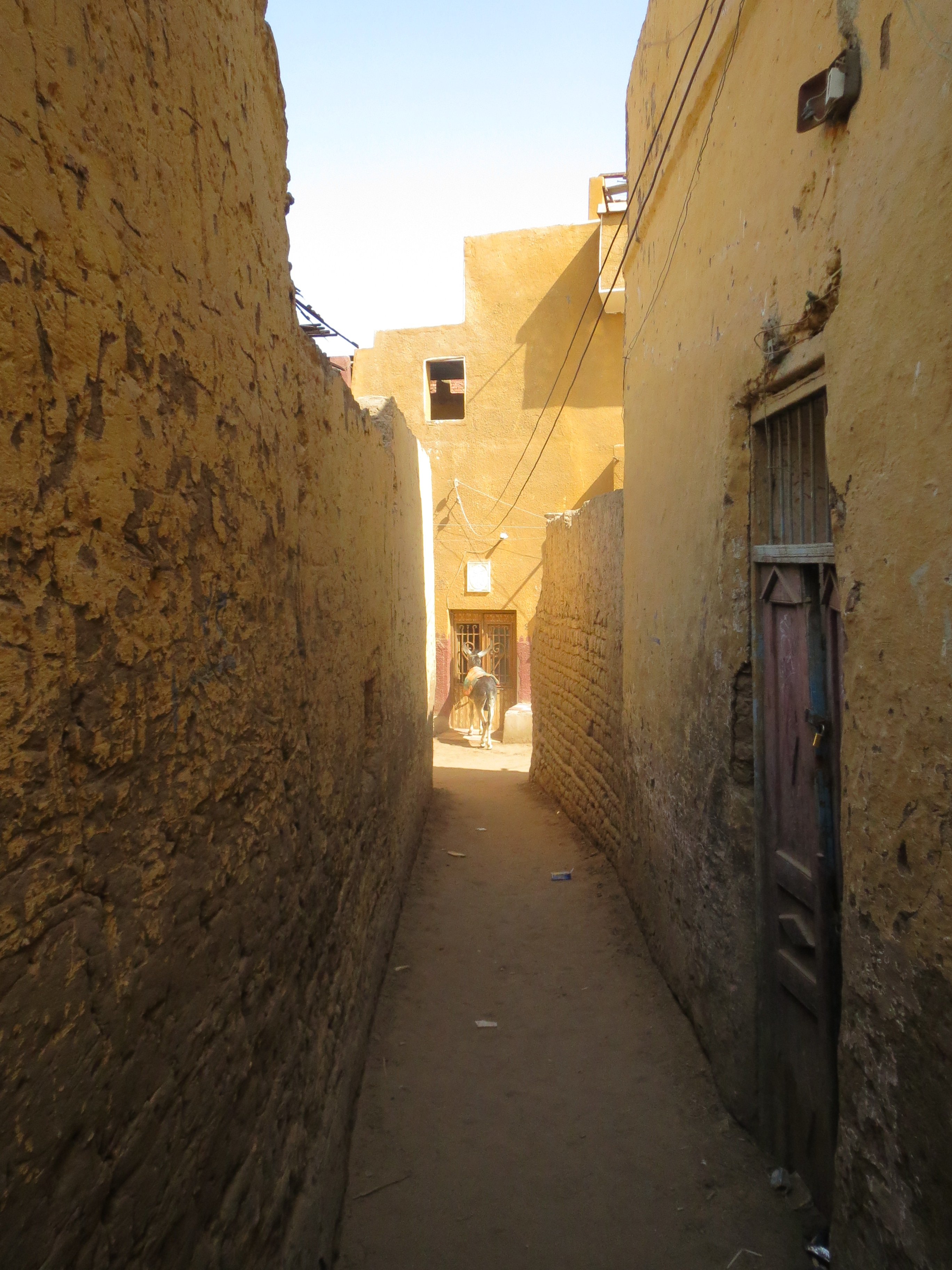 The Nilometer: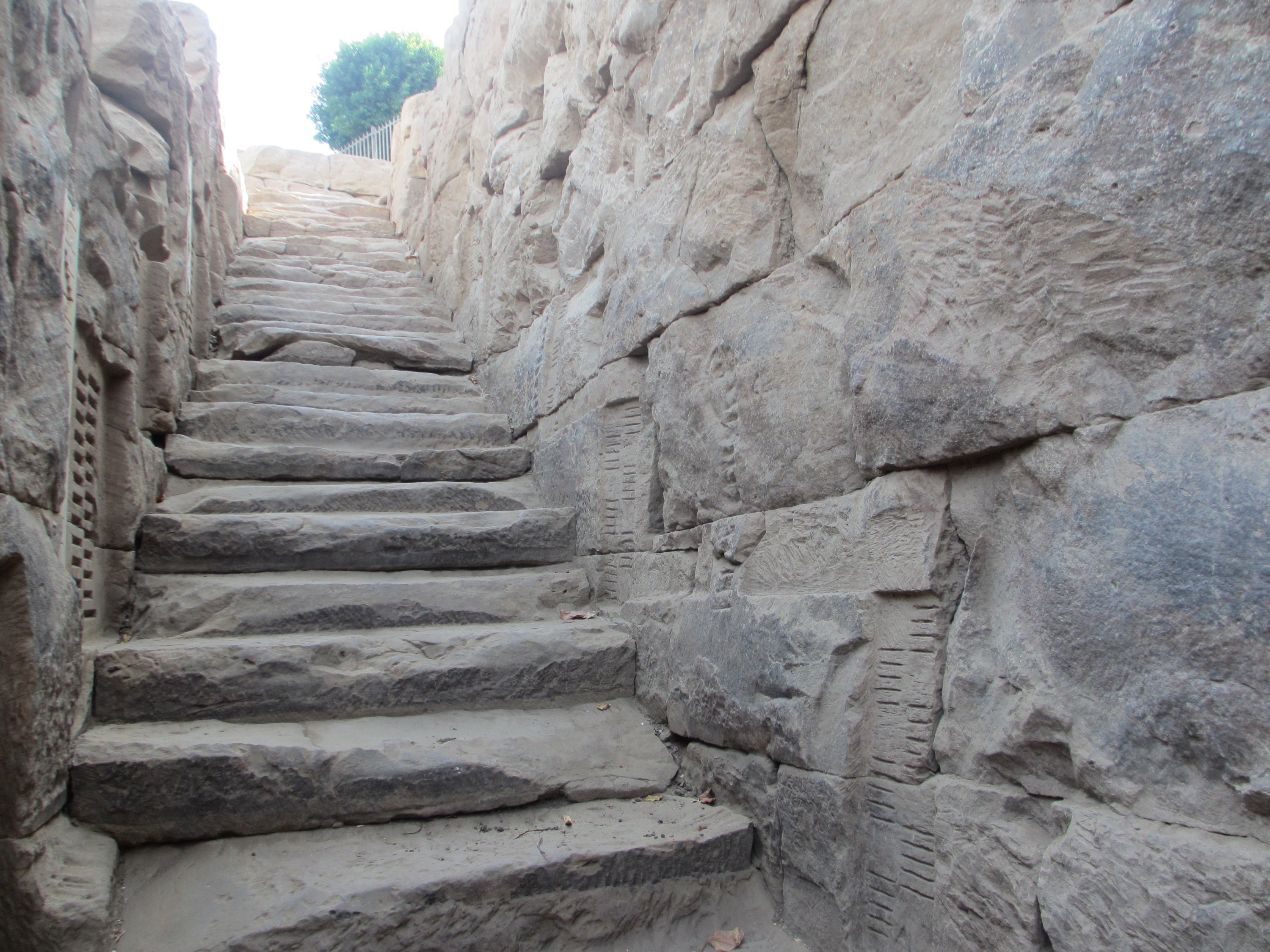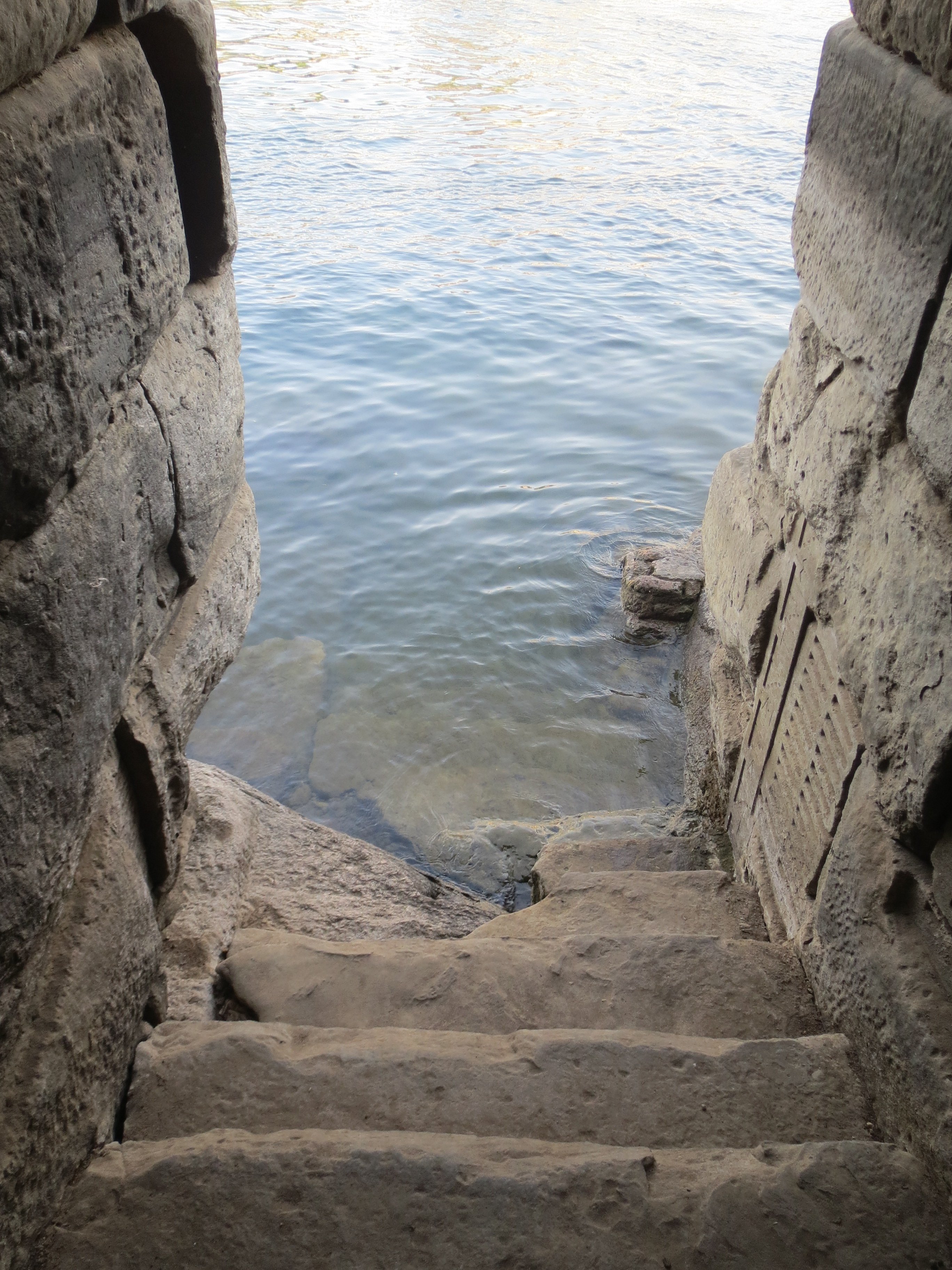 Looking towards Aswan from one of the temples: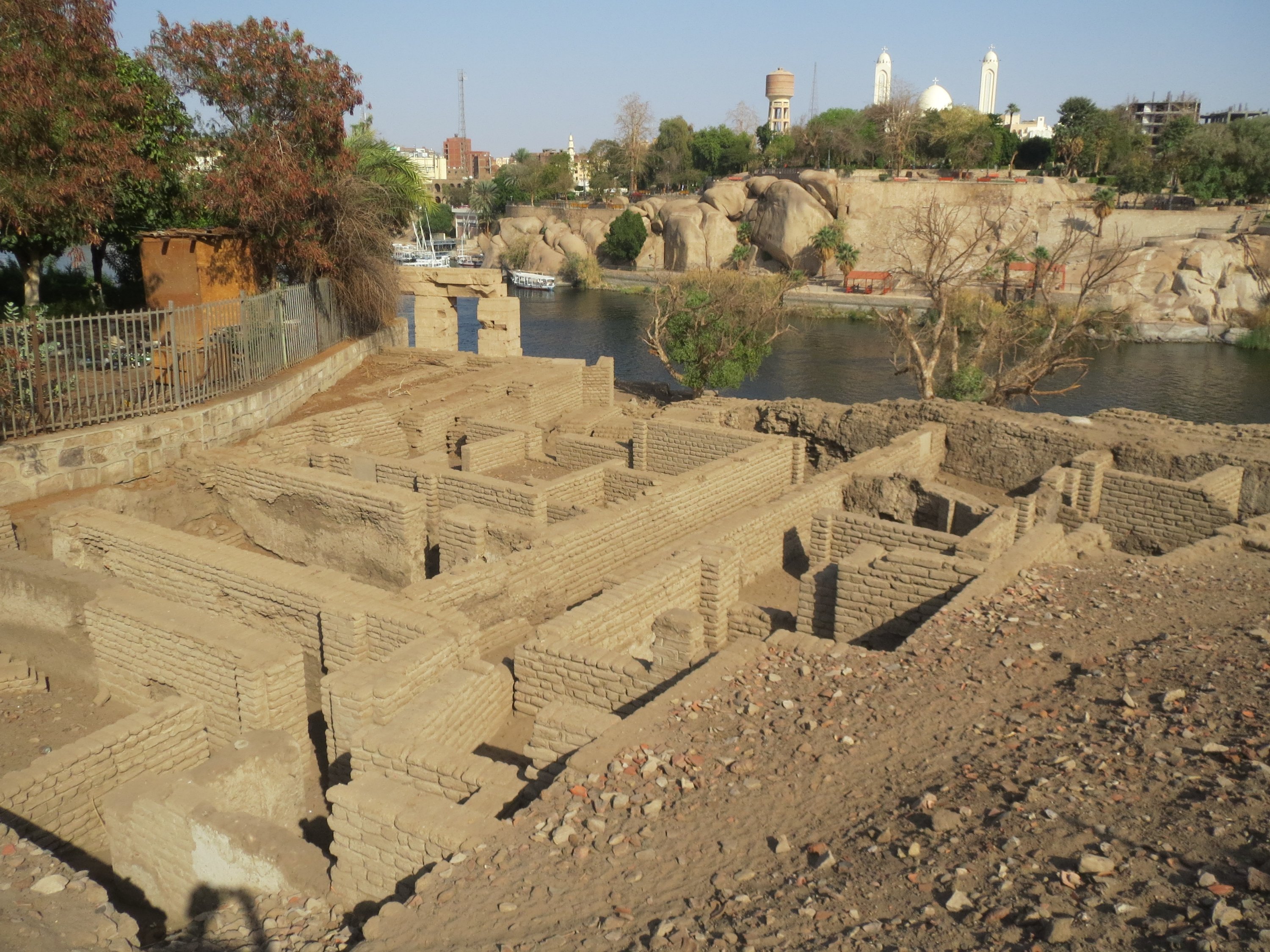 This temple has been restored. They have rendered the missing bits of stone and have stencilled on how the hieroglyphics would have looked: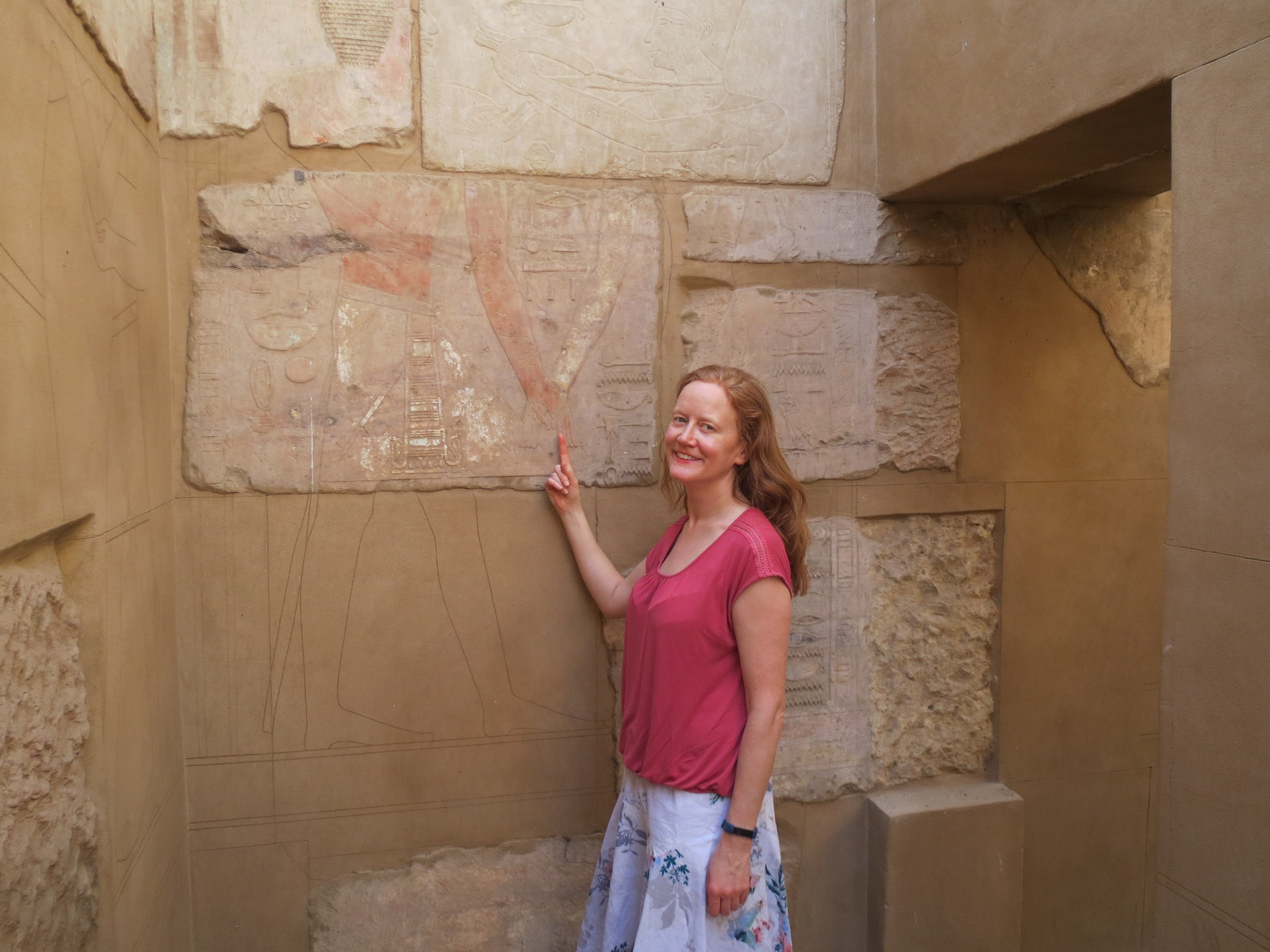 After Abu we took the other public ferry over to Aswan to find our felucca. Our captain was nowhere to be seen, despite him making us promise to him that we'd be back. In Egypt, once you shake on a deal, neither party must renege on it. Instead, another guy approached us with the "do you remember me?" scam, despite the fact we'd never met him. He tried to get us on his motor boat, but we didn't fancy doing that really. Instead we tried to go for a drink in the Old Cataract Hotel of Agatha Christie fame but after looking us up and down they wanted E200 each to even go in there.
Instead we went back over to our island and found a strange "crocodile house", a restaurant come heritage centre, filled with artefacts collected by some Brit who used to live here, for a fish feast: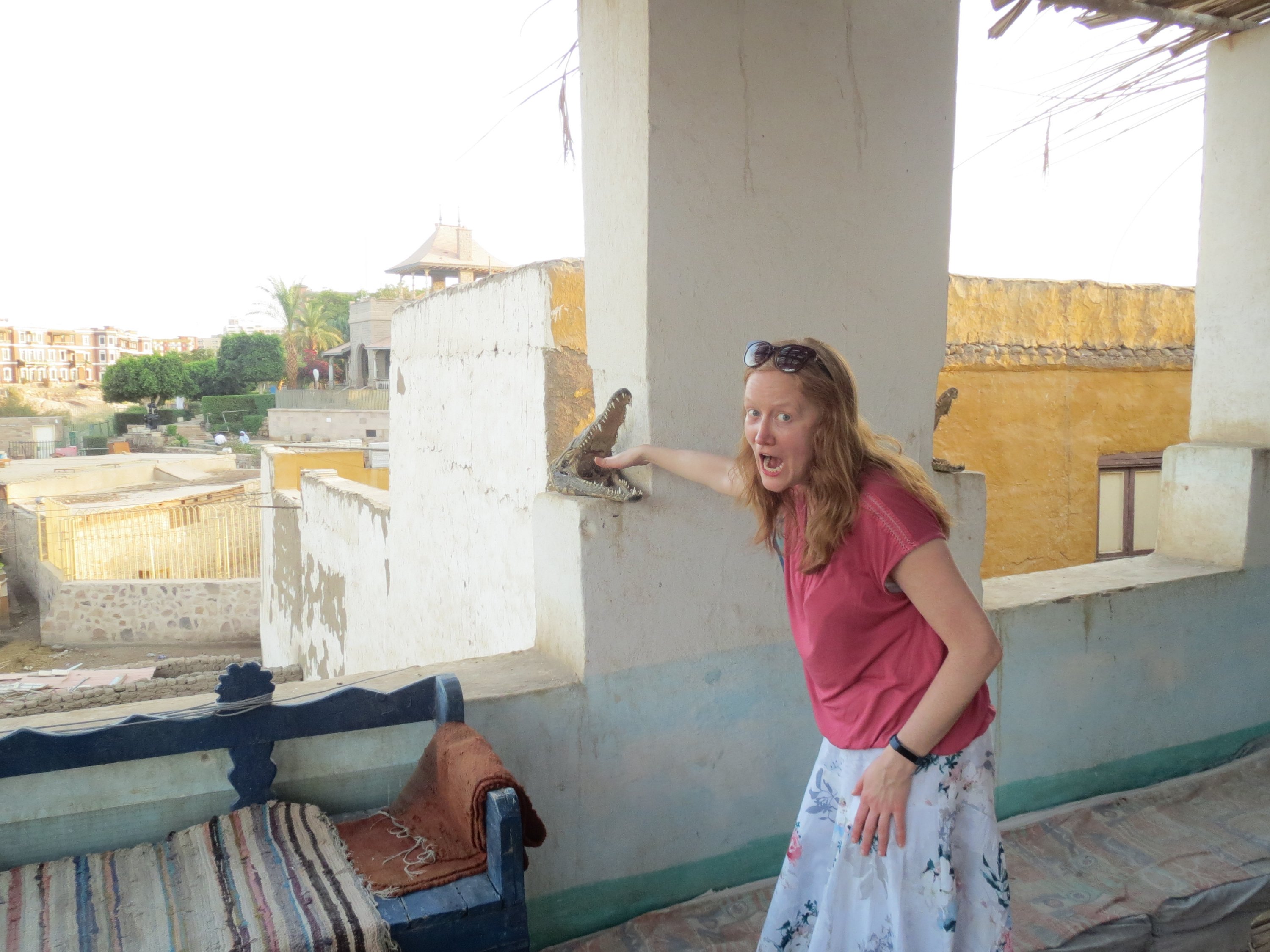 Next day we opted for a car with driver to take us out to the boat landing which takes you over to Philae Temple on Agilika Island, just up river from the Aswan old dam. It was relocated here after it was submerged for much of the year due to the dams.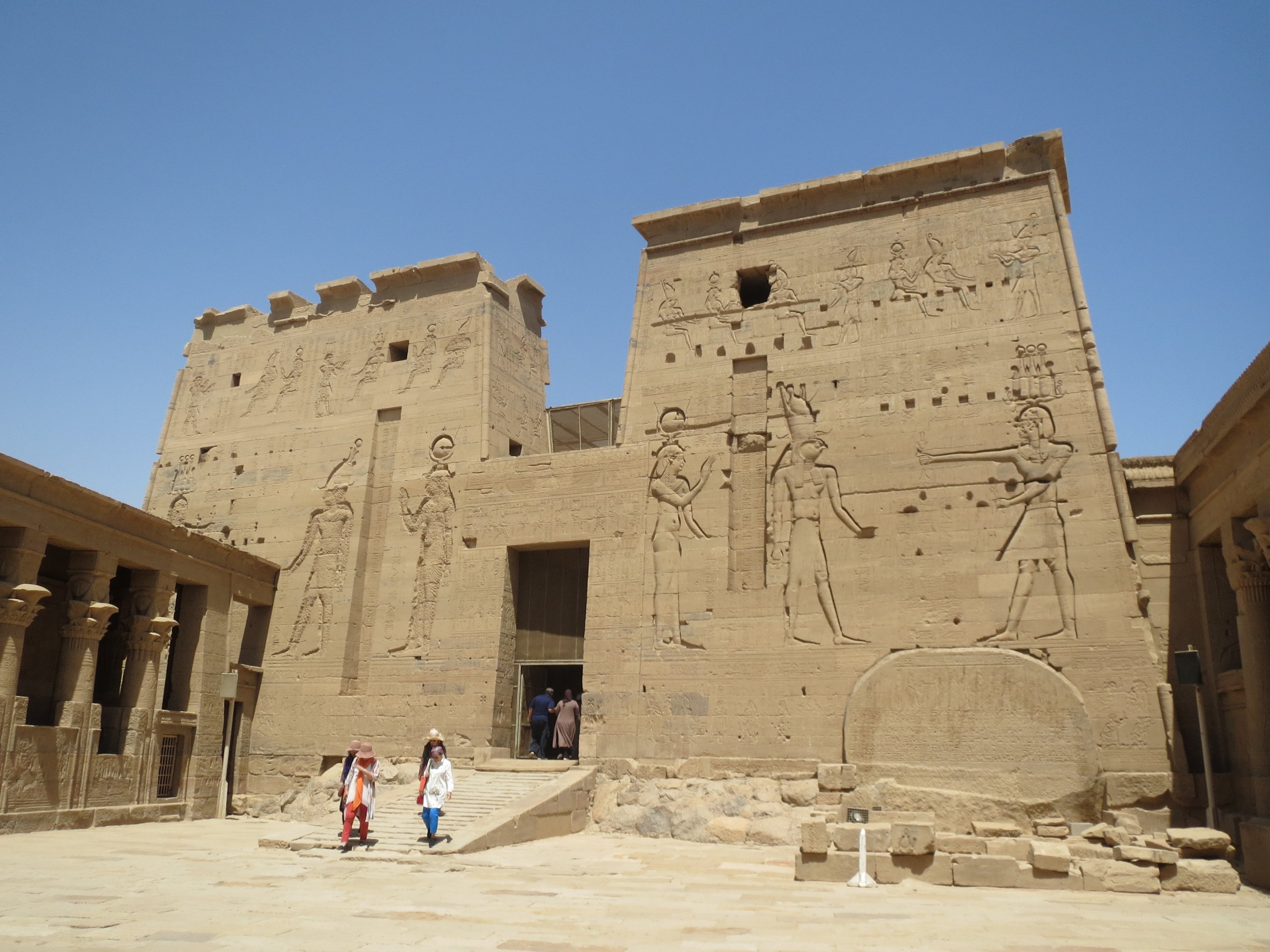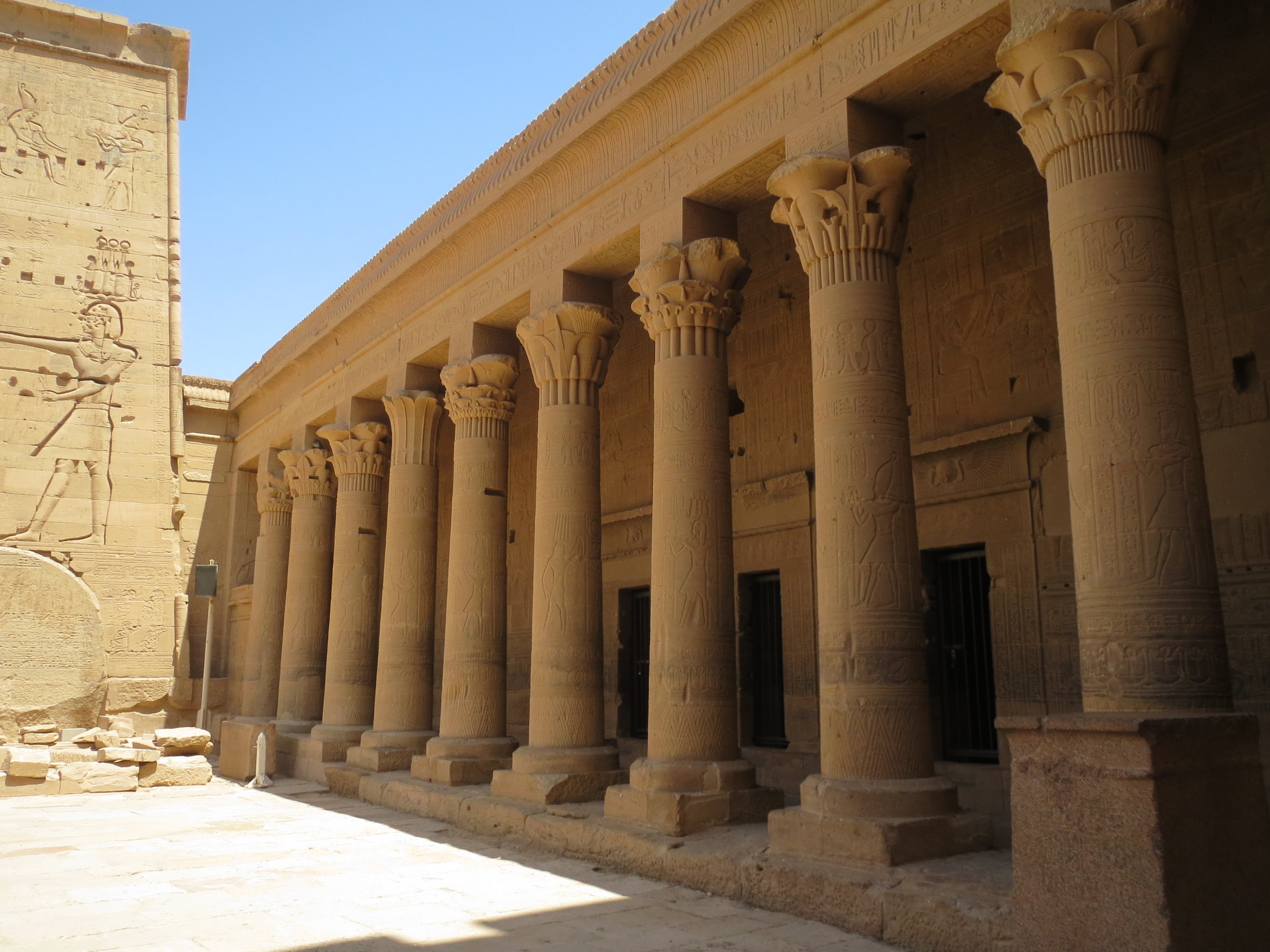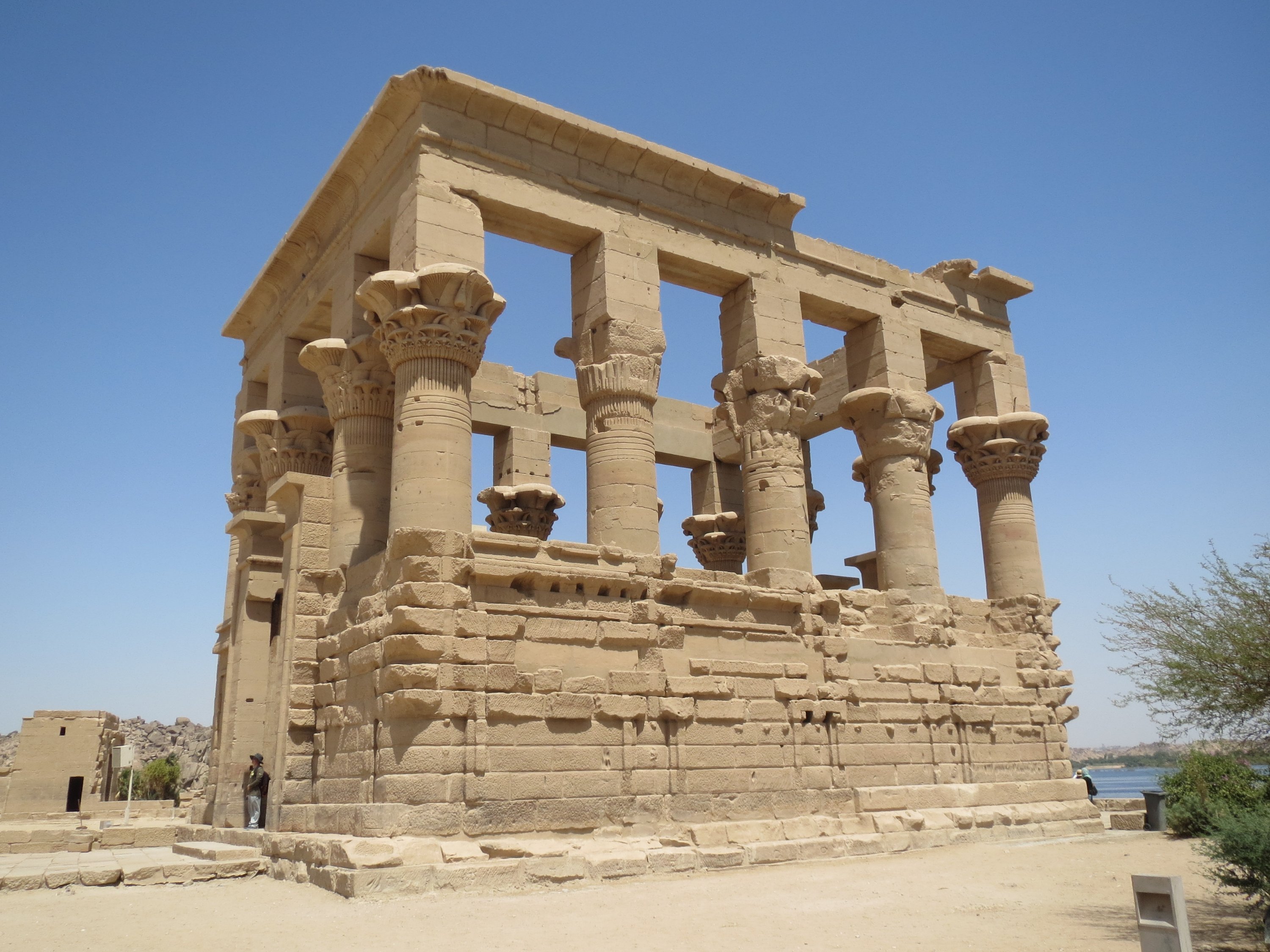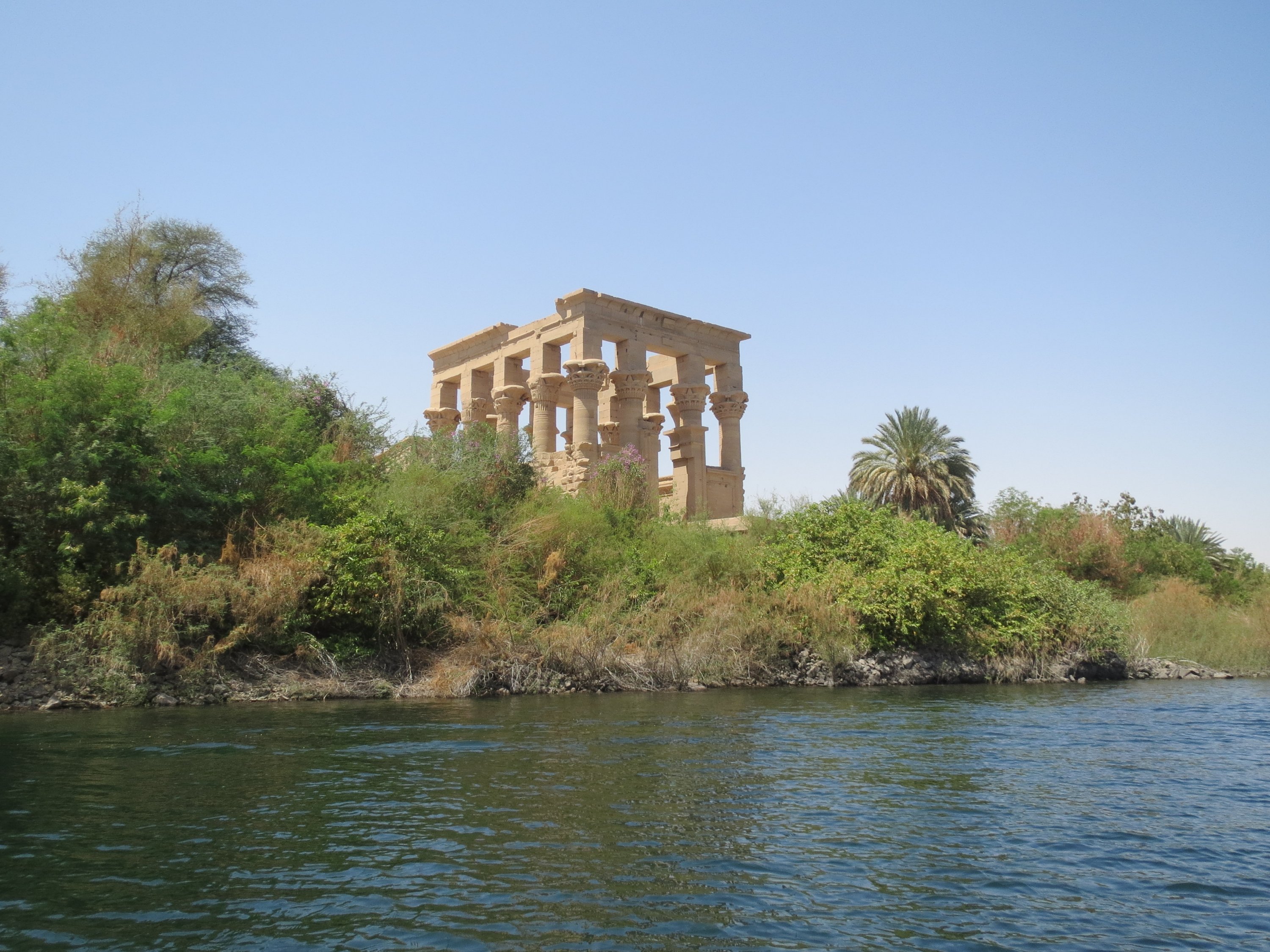 After this we stopped off at the Unfinished Obelisk which would've been the biggest ever created. Unfortunately, just before they were about to start inscribing it, it cracked and they had to abandon it. It lies here ever since: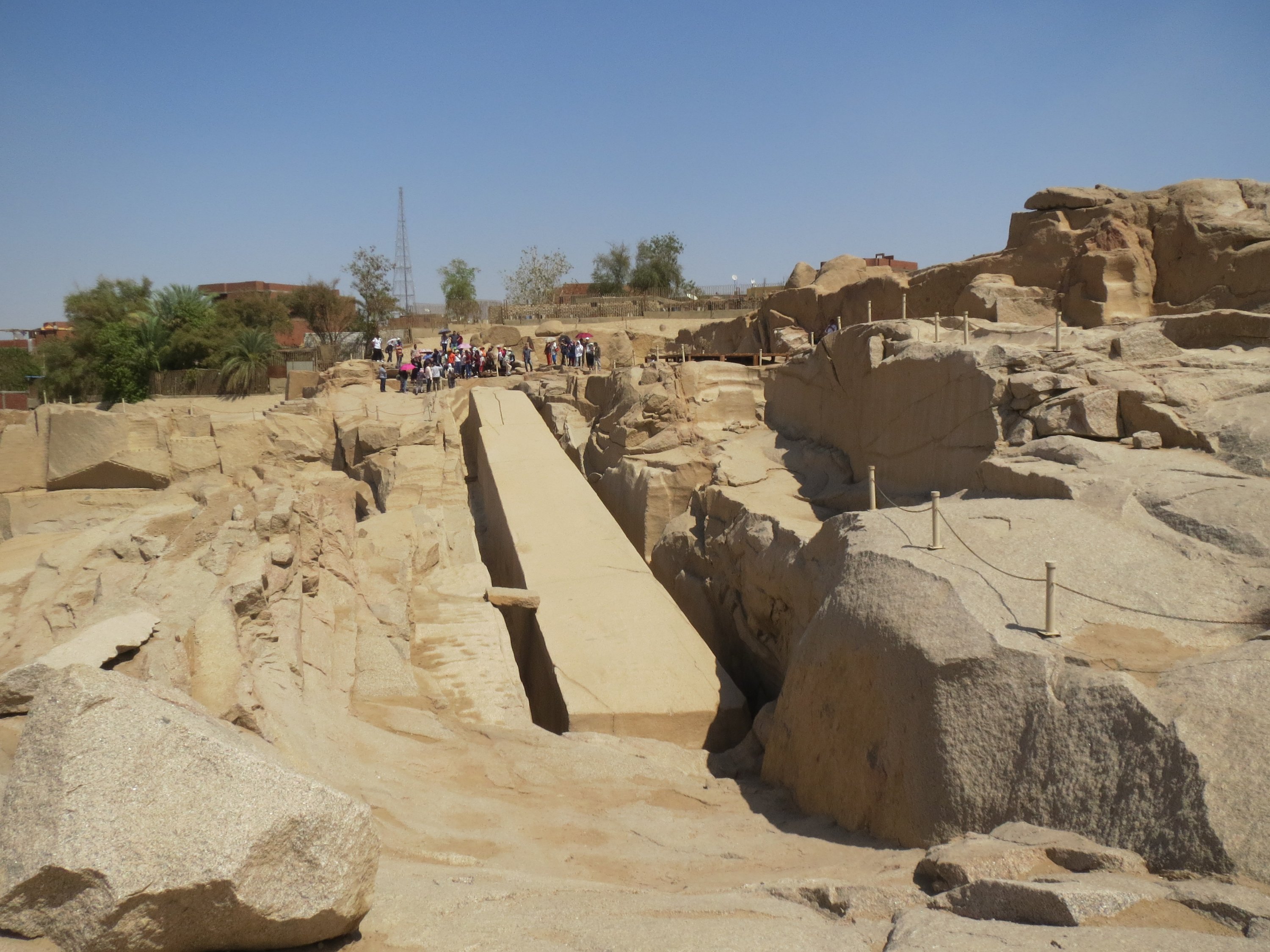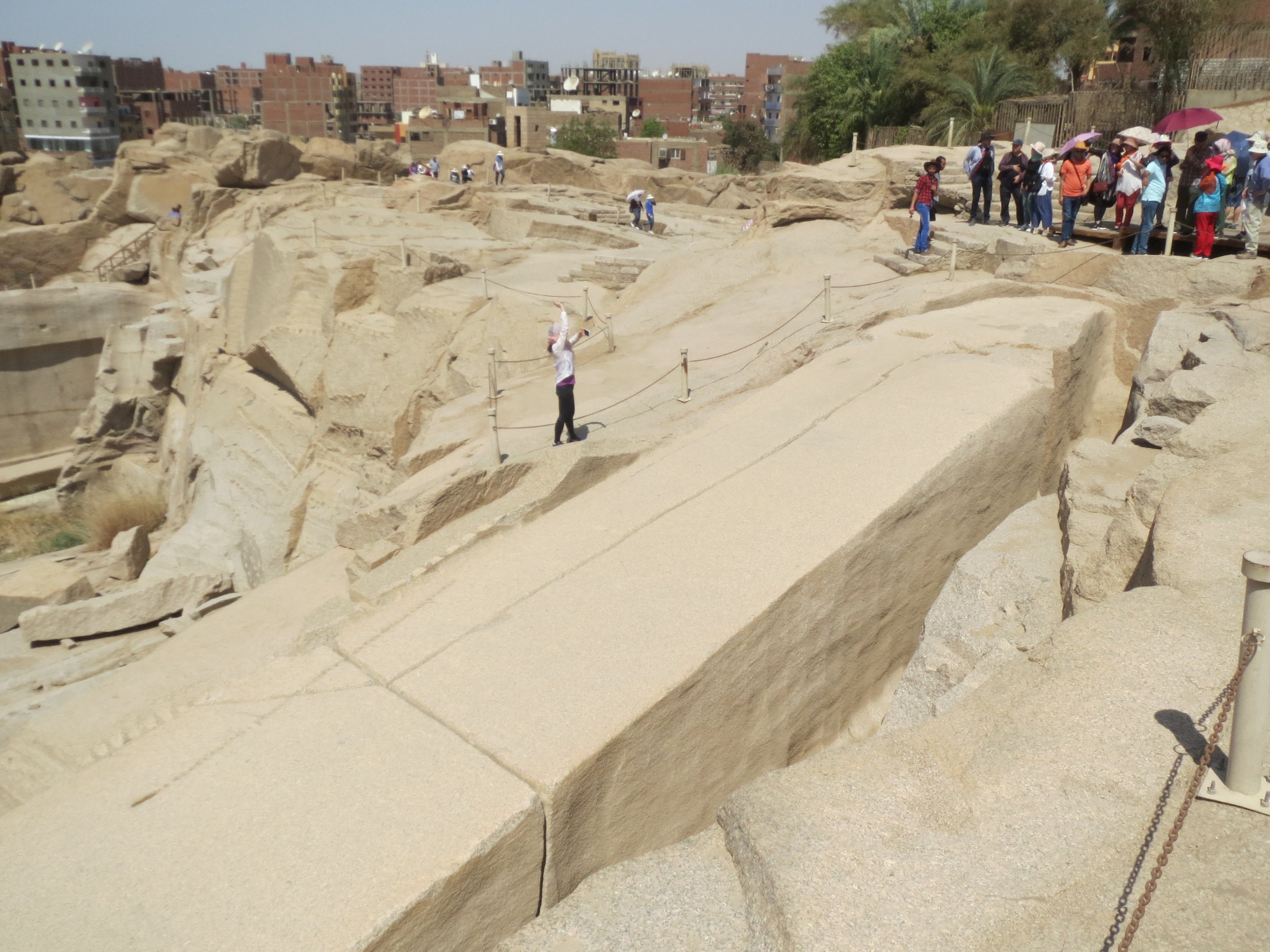 On the way back we stopped for a well needed beer on a riverside pontoon bar and found a new felucca captain to charter. He and his mate took us around for an hour but there was very little wind, so they ended up rowing it with a couple of the bench seats they removed from it, whilst Captain Matt took the helm. They complimented me on my navigation skills, telling me I must have done it before (I have)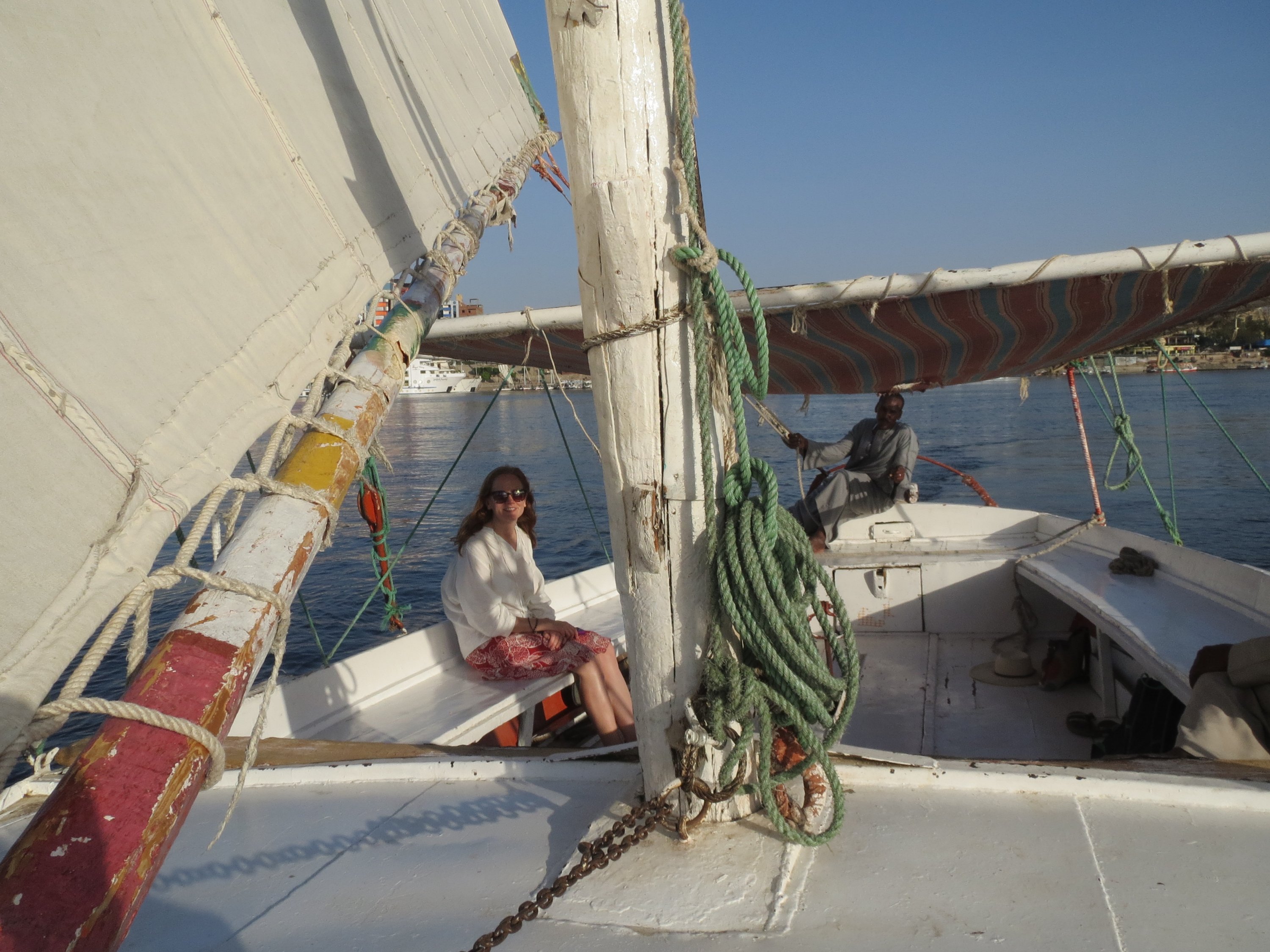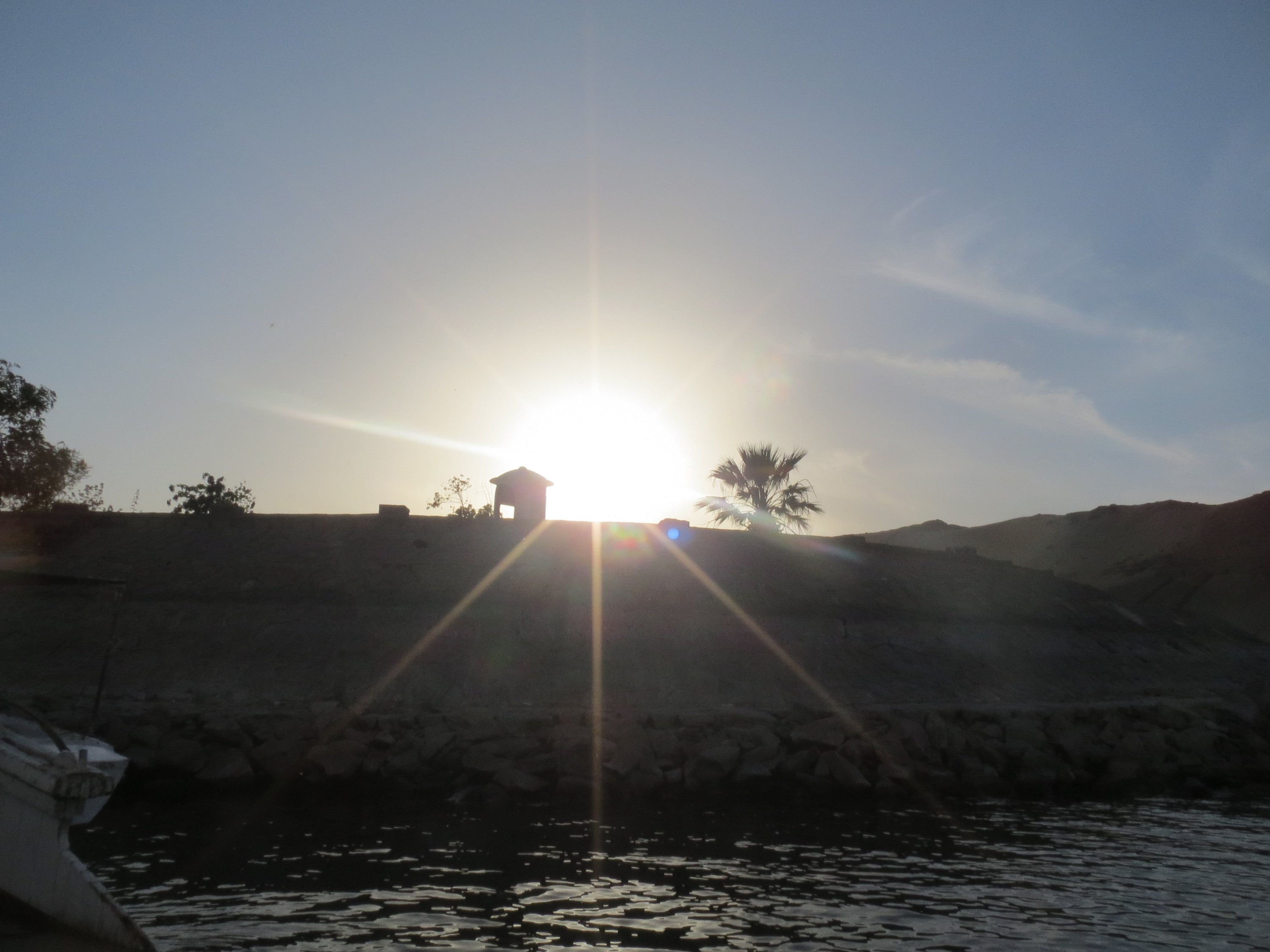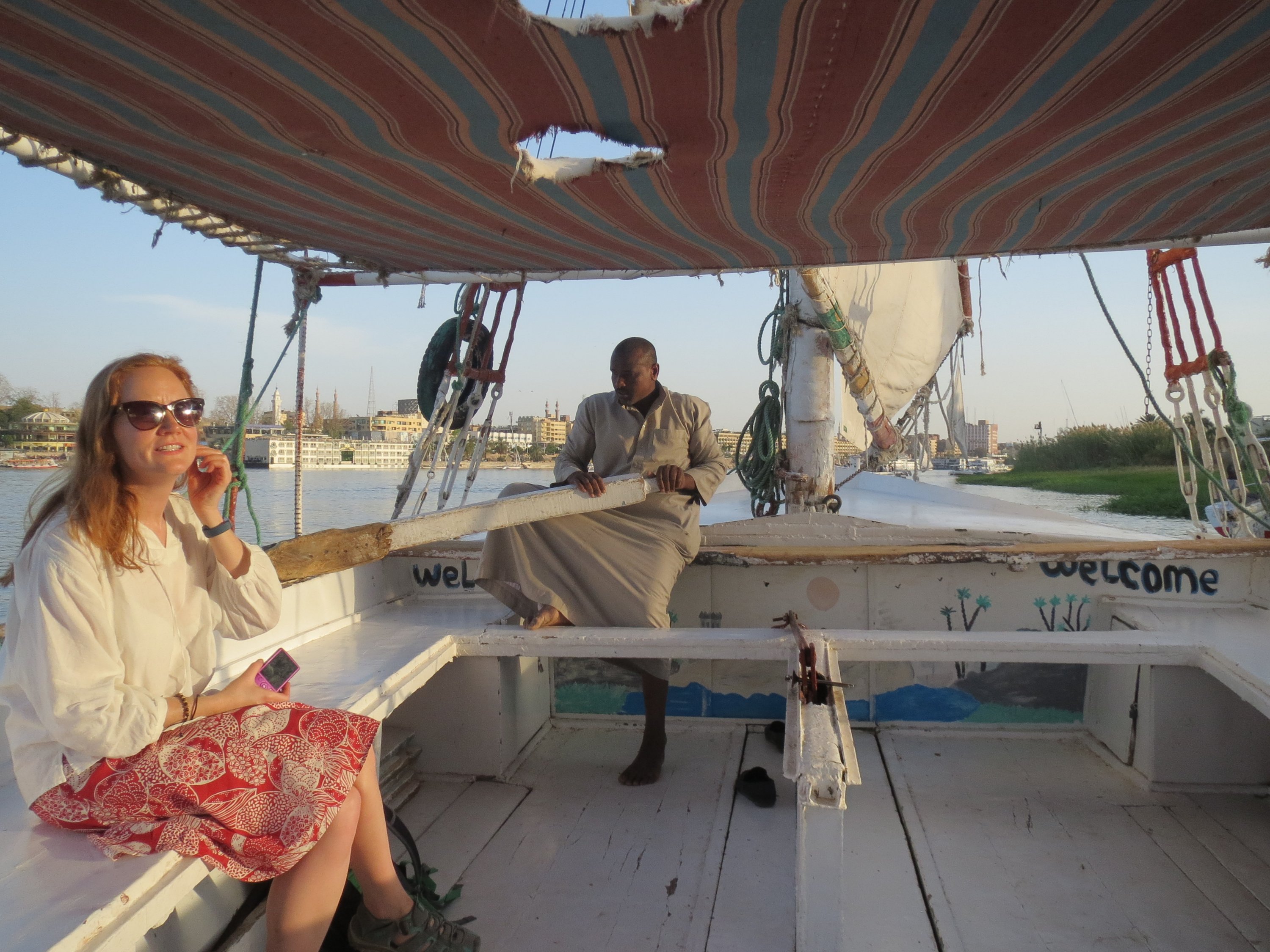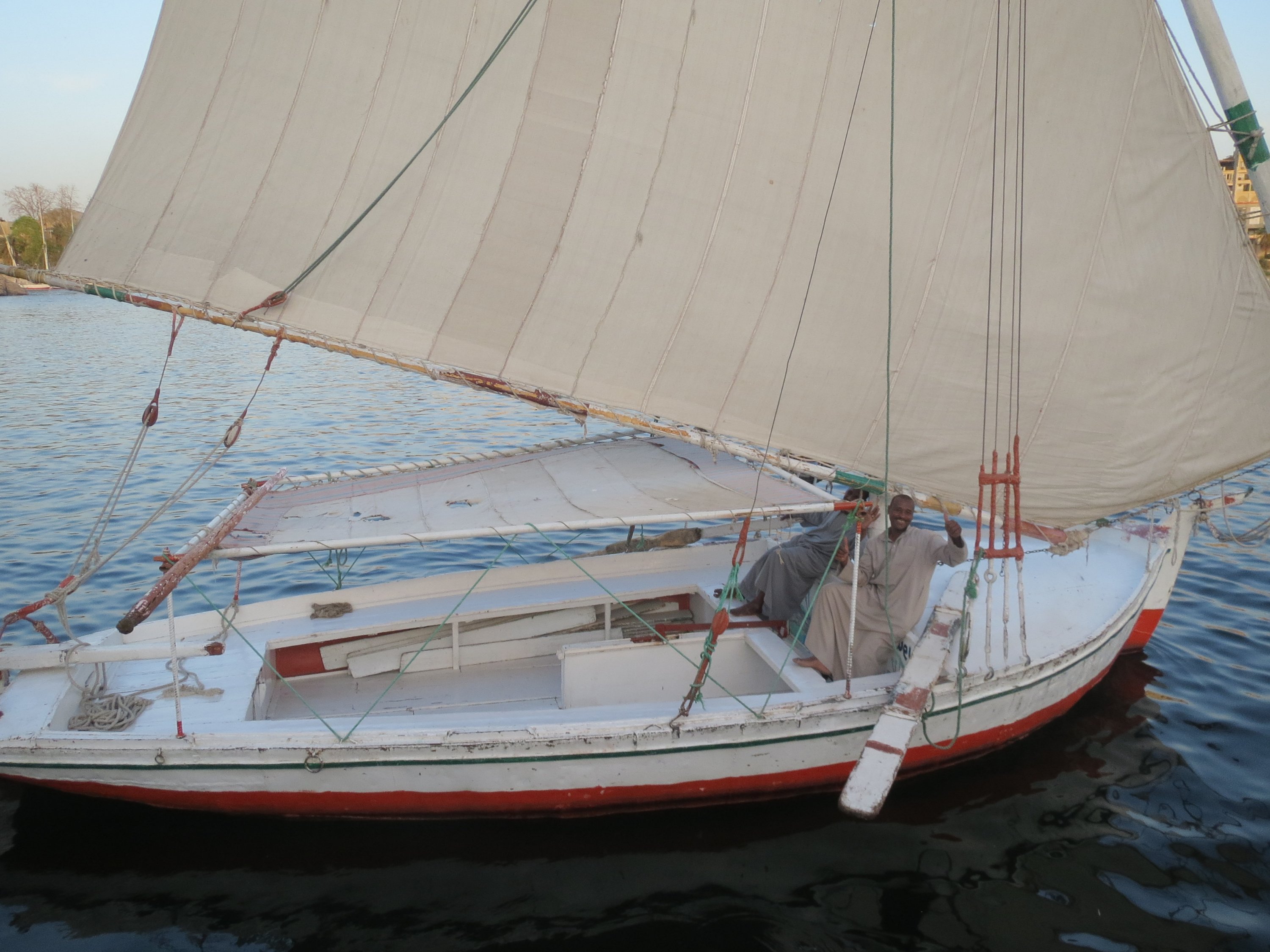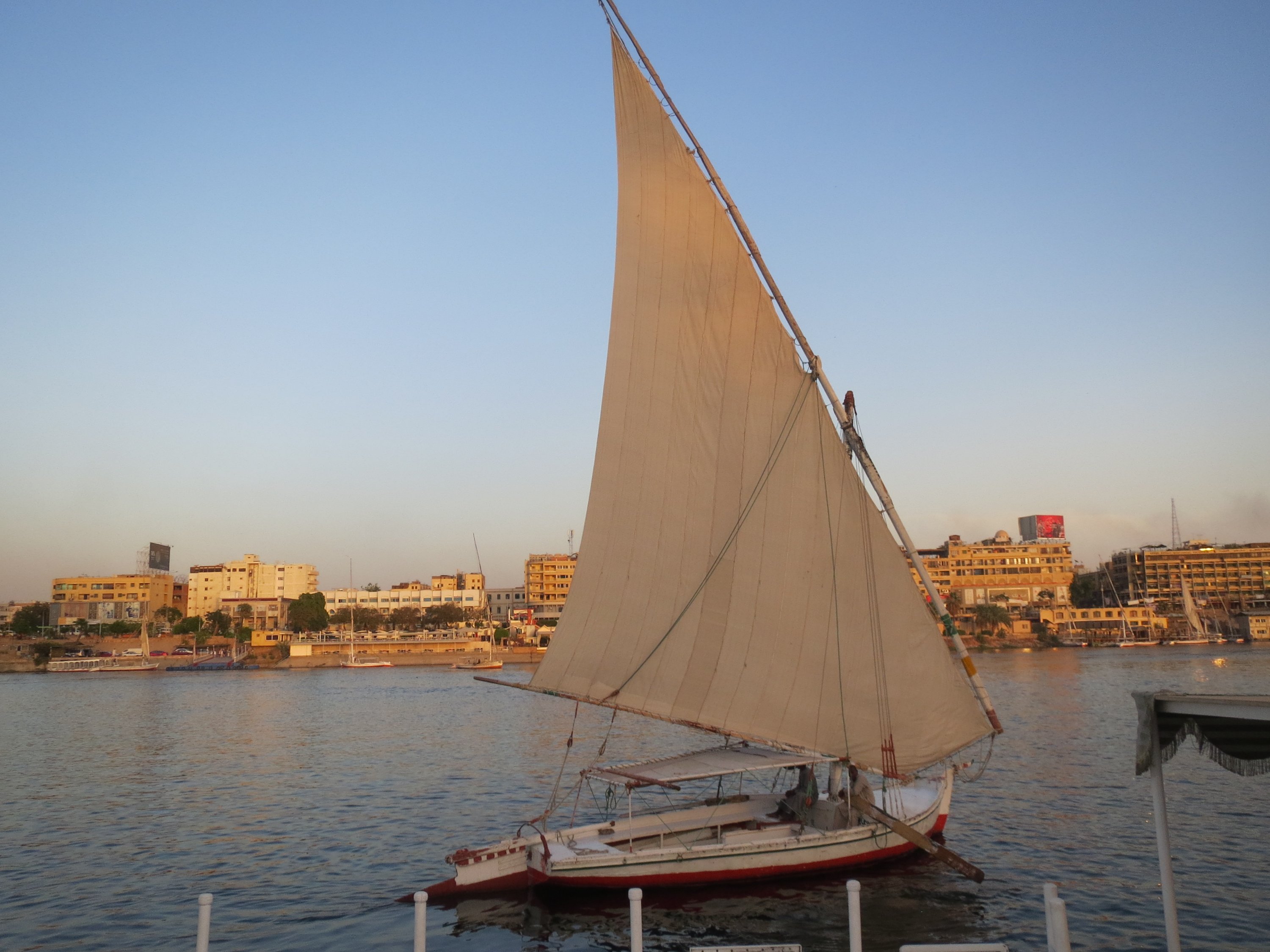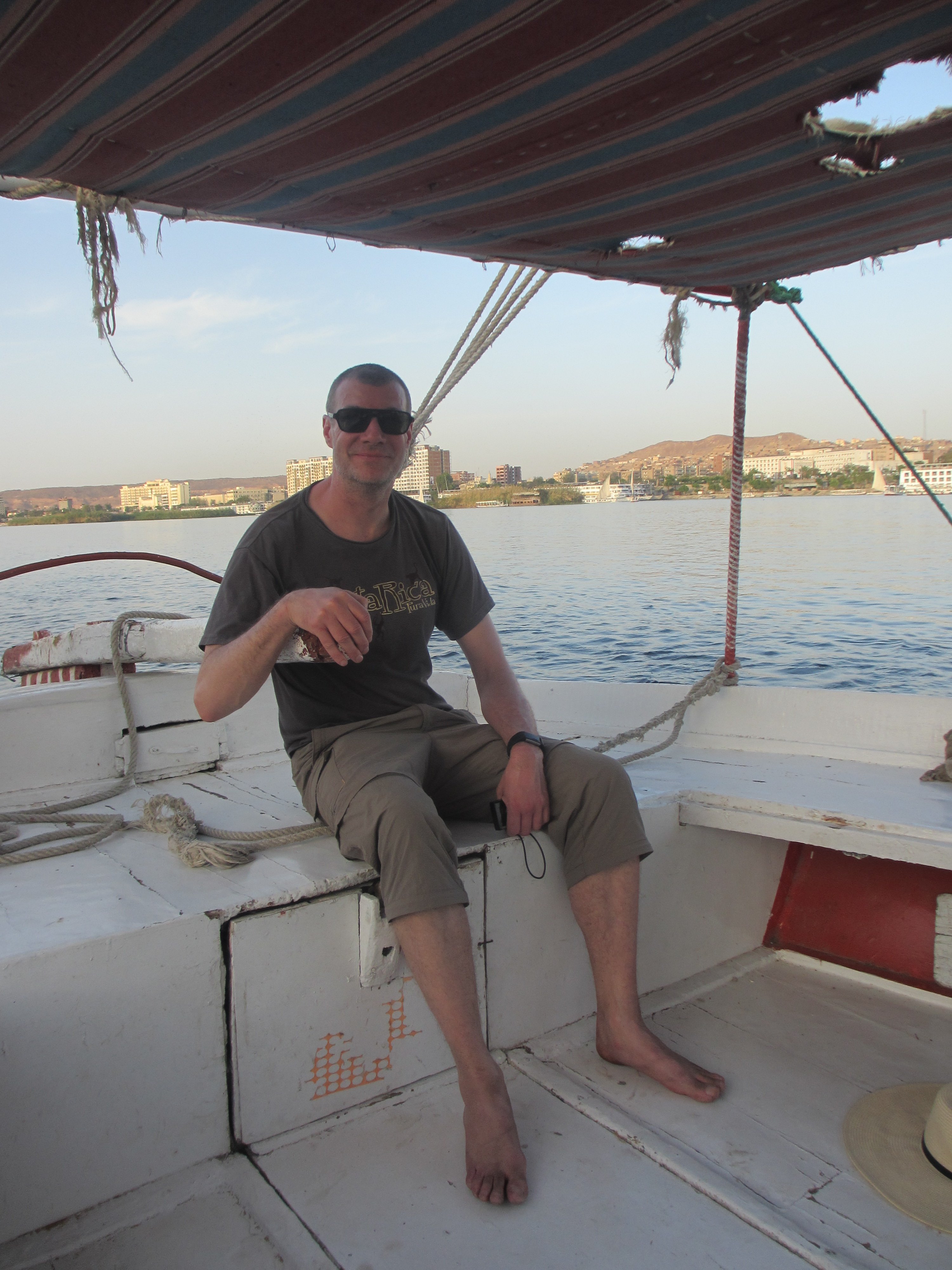 After all that excitement, why not enjoy a cocktail in the observation bar in a weird 5-star resort on our island: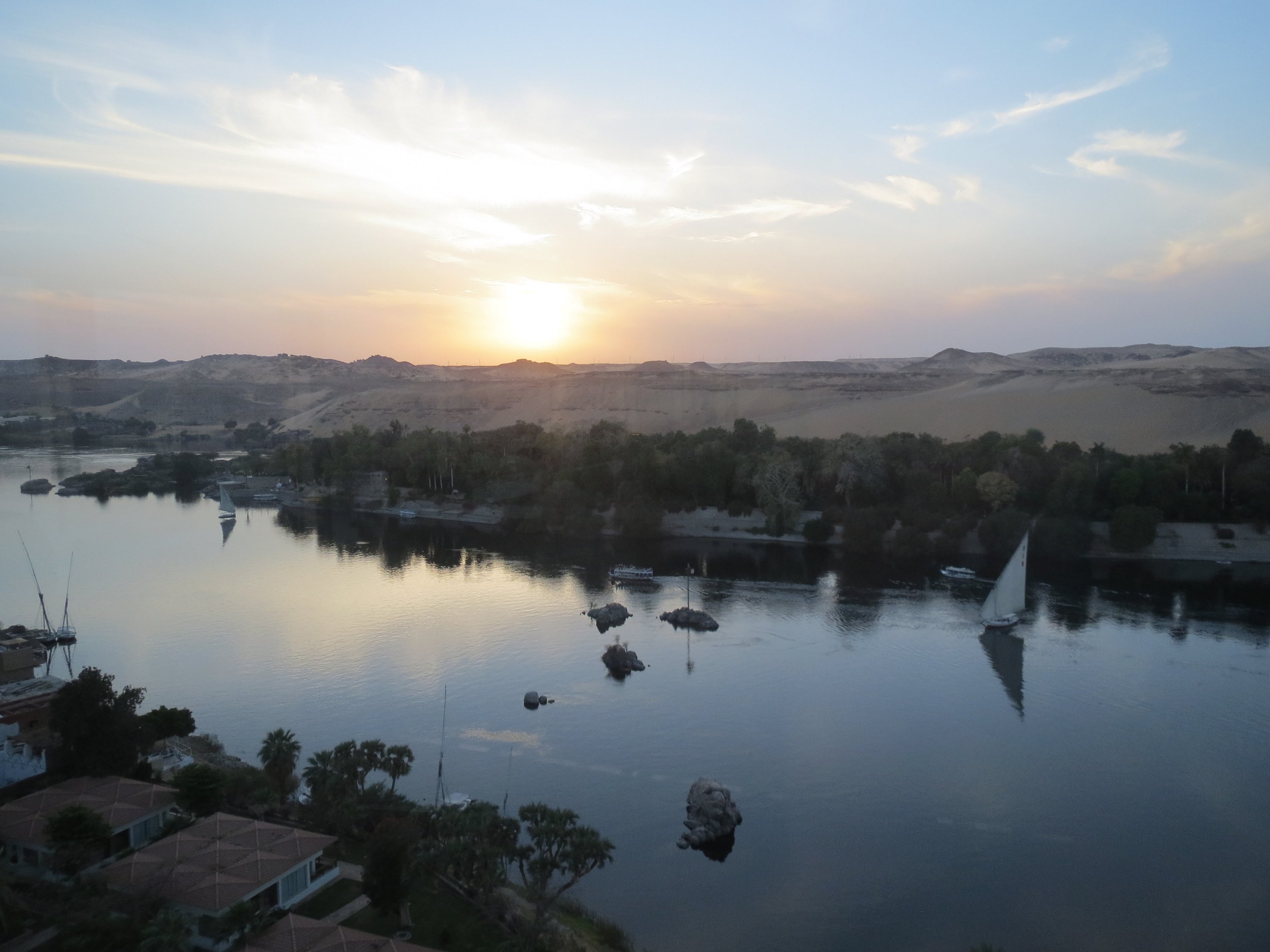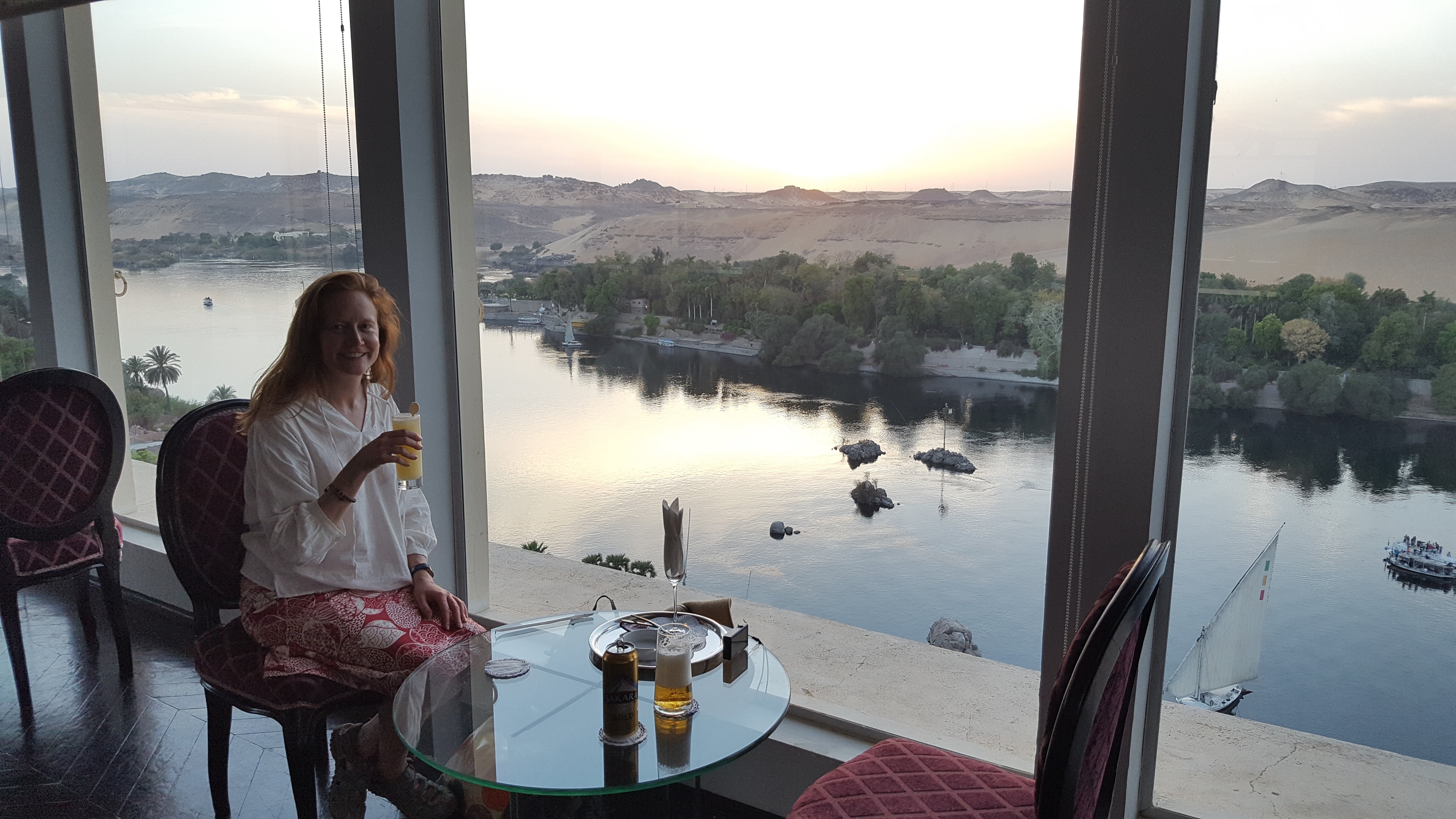 At a "souq" (market place) a donkey delivers a shipment of Egyptian carpet: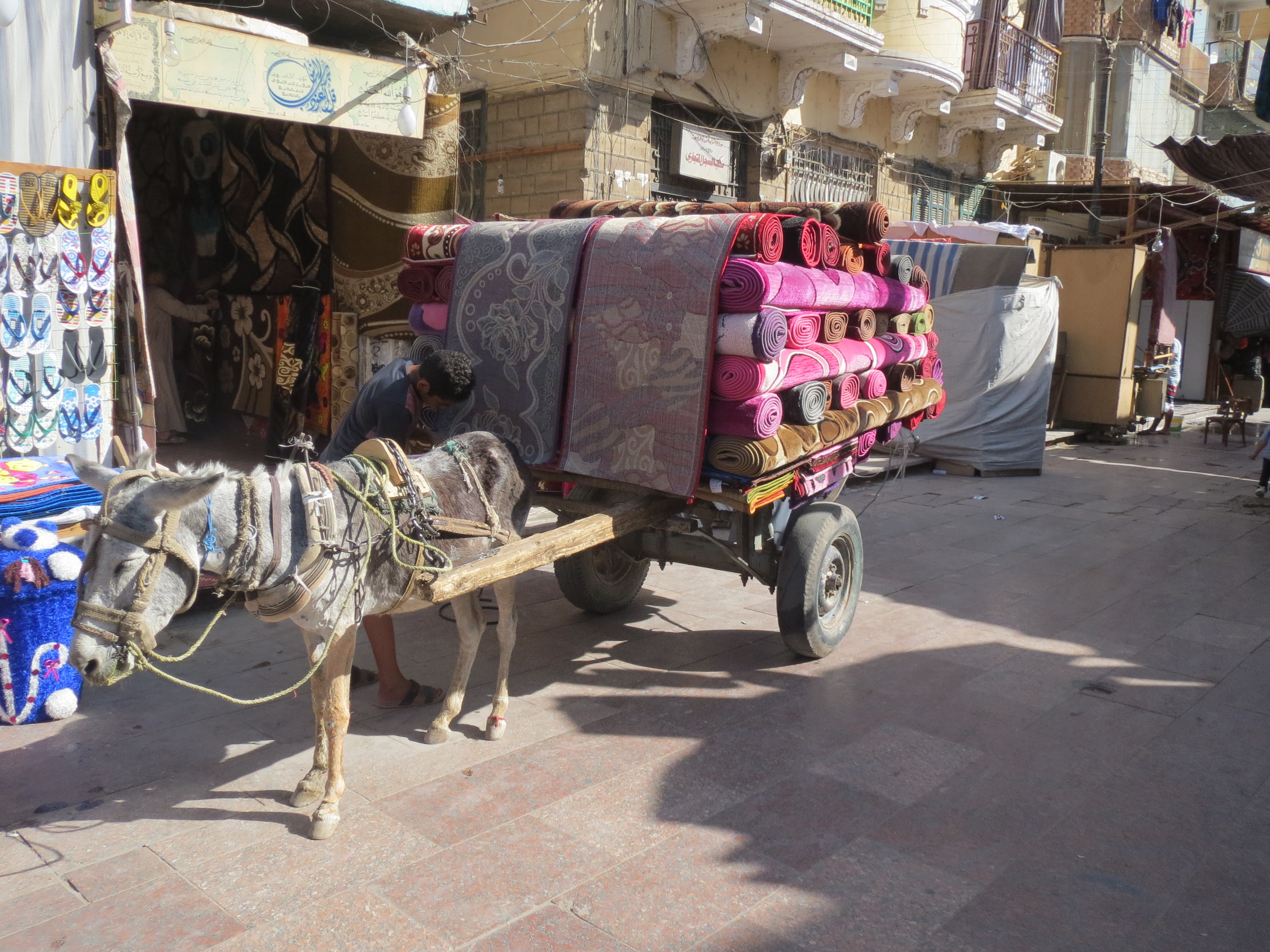 Next day, with a slightly heavy heart, we had to leave Aswan and head downriver to Luxor. As we waited for our ferry at the ungodly hour of 6am, who was waiting there but our original felucca captain, who sheepishly admitted he'd found another fare and blown us out. Shame on him!
We tried to arrange a shared taxi of some kind to visit some temples en route, but no luck so we took the train instead. This is a day train which foreigners are not allowed to use and they will not sell you a ticket for. It's a well known trick that you just board the train anyway and buy a ticket from the conductor. Answers on a postcard please…
Just for fun: