The east bank of the Nile at Luxor, where the town is, has two main attractions for tourists in the shape of Luxor Temple and Karnak. Luxor Temple is right in the town, a stone's throw from the ferry, and was buried for years under sand and silt until it was rediscovered in 1885.
There's an amazing "avenue of the sphinxs", which they now know leads all the way up to Karnak, which is a good mile away at least, and are now being excavated.
Inside the temple:
The main facade: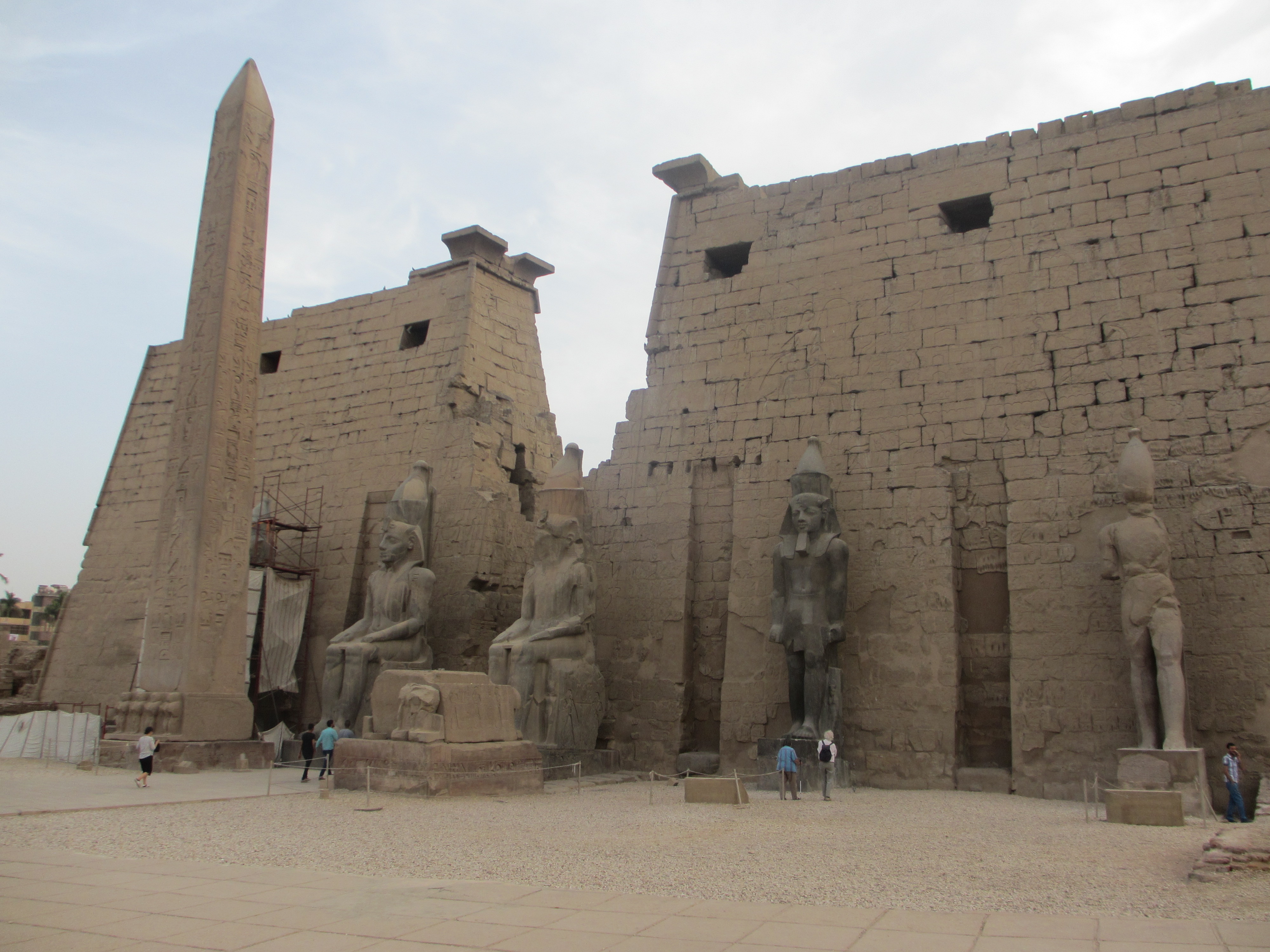 Not sure how clear this is, but a sign in this supermarket proudly declares that there is "no hassle" here – Egypt's latest buzzword for tourists. Left of the picture is Lisa, arguing with the proprietor over the cost of a bottle of water, which counts as hassle in my book. Yup, even for groceries you have to haggle for your goods.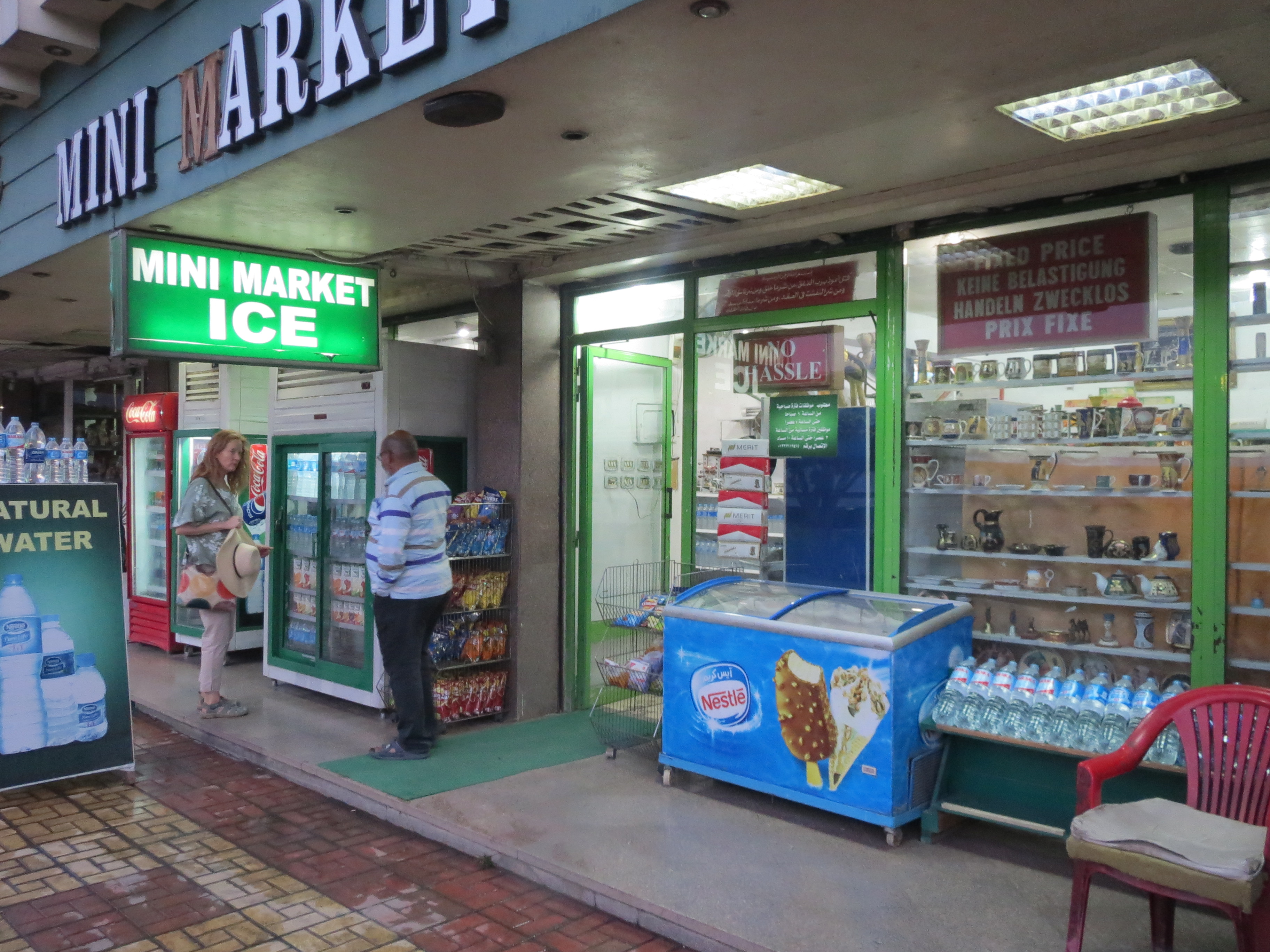 On the way up to Karnak, I got a puncture in my rear tyre in a really awkward spot, far away from the accomodation where we rented them, and far from any shops or restaurants. We were under a bit of time pressure too as the day was pushing on and this was our last chance to see Karnak before we had to leave. In desperation, I found a sort of a travel agency and asked them. A guy walked with us on foot for a good 10 minutes to a mechanic, who couldn't helpm but he took us to a small boy who went and woke his father who happened to have a bicycle repair business nearby and opened up especially for us and did a thorough repair for E20, or 80p. Everyone who really helped us and saved our bacon didn't want any tip or to rip us off, everyone else did! 🙂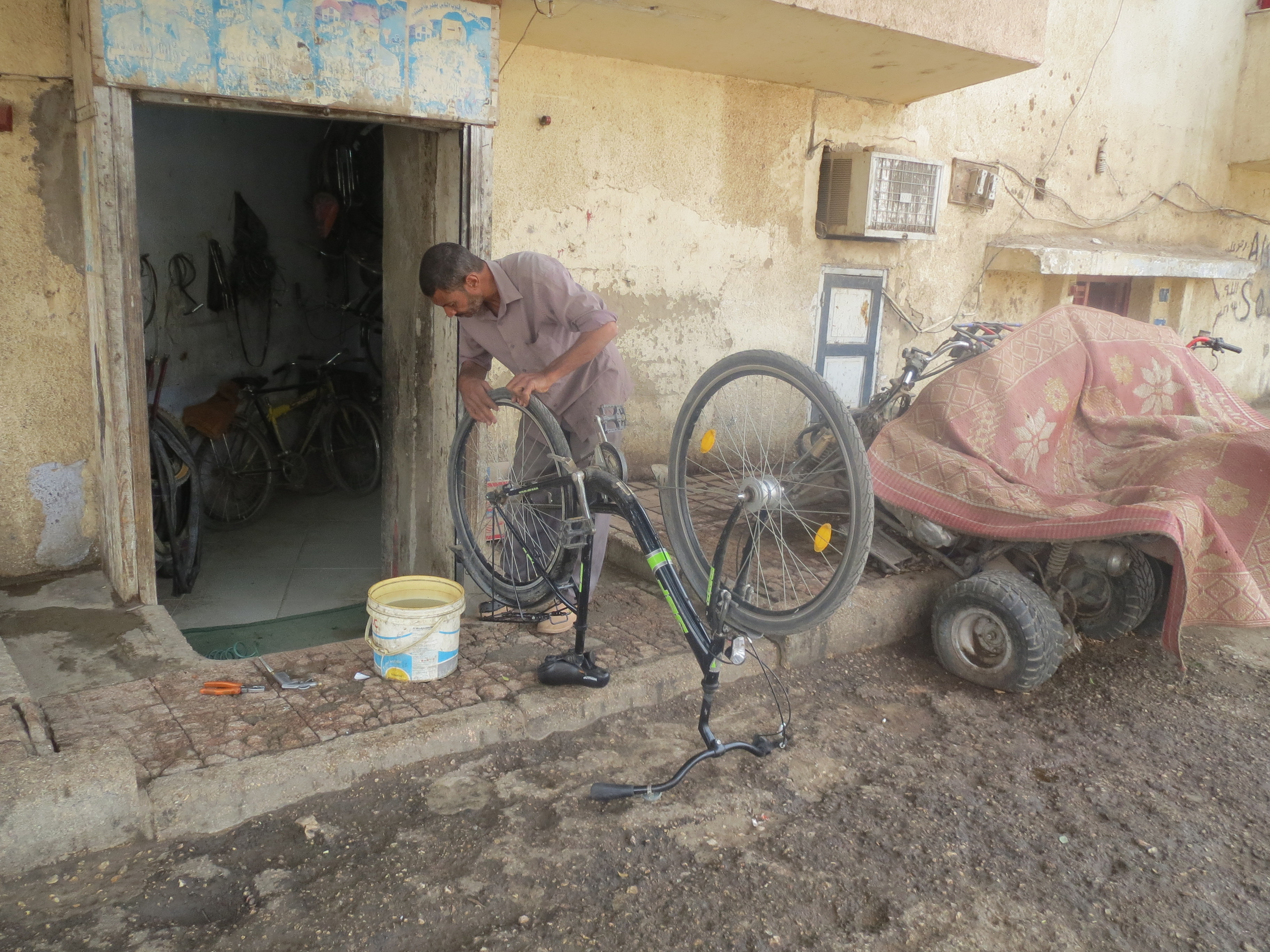 Now mobile again, we made it to Karnak:
One thing you're not supposed to do with ancient monuments is touch them or sit on them.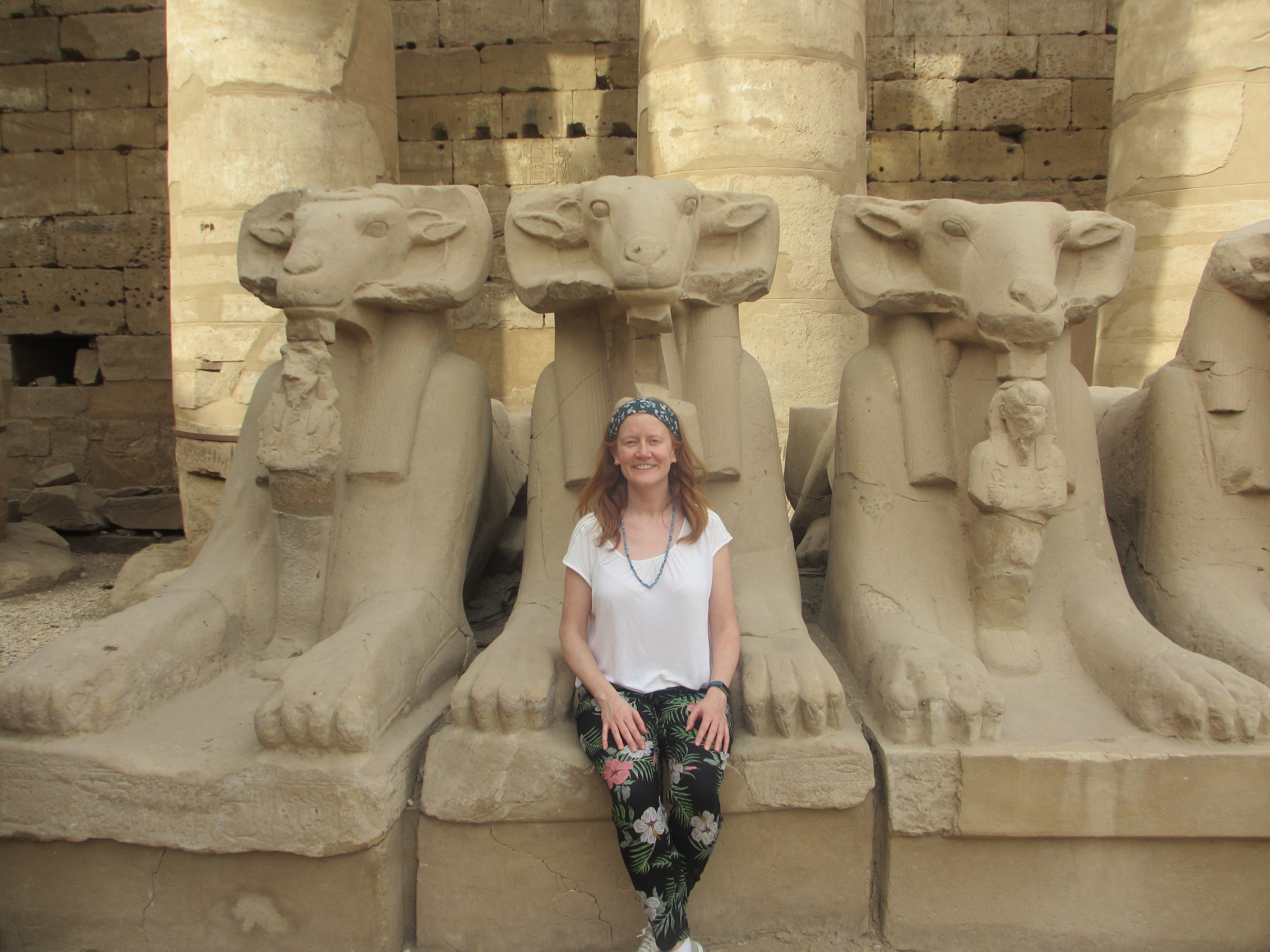 We feel a bit lost in here, this hall has a total of 134 massive columns like these, and they're mostly totally intact.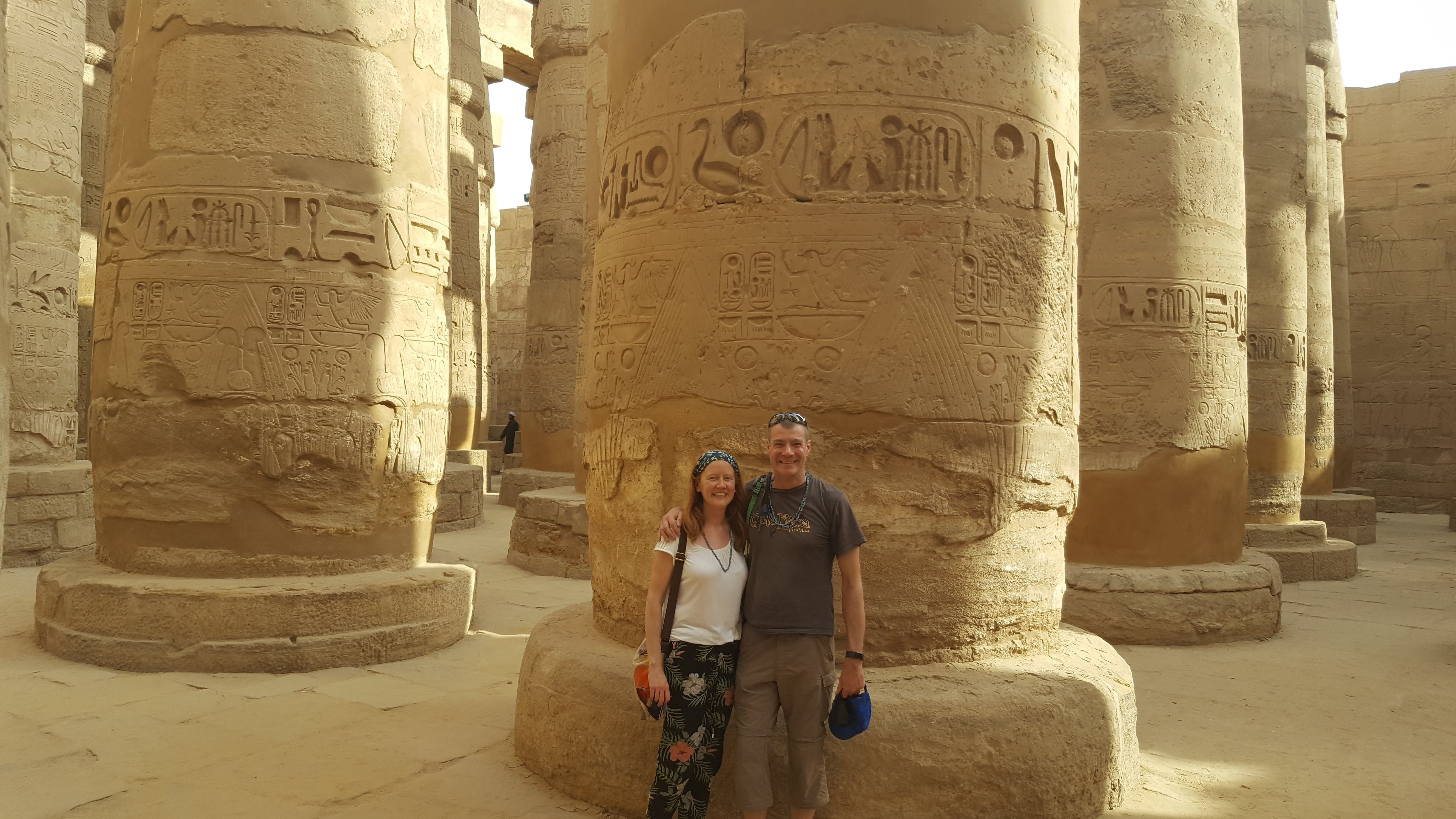 The night before we'd also caught the sound and light show at Karnak after dark. It was cheesy but quite cool at the same time.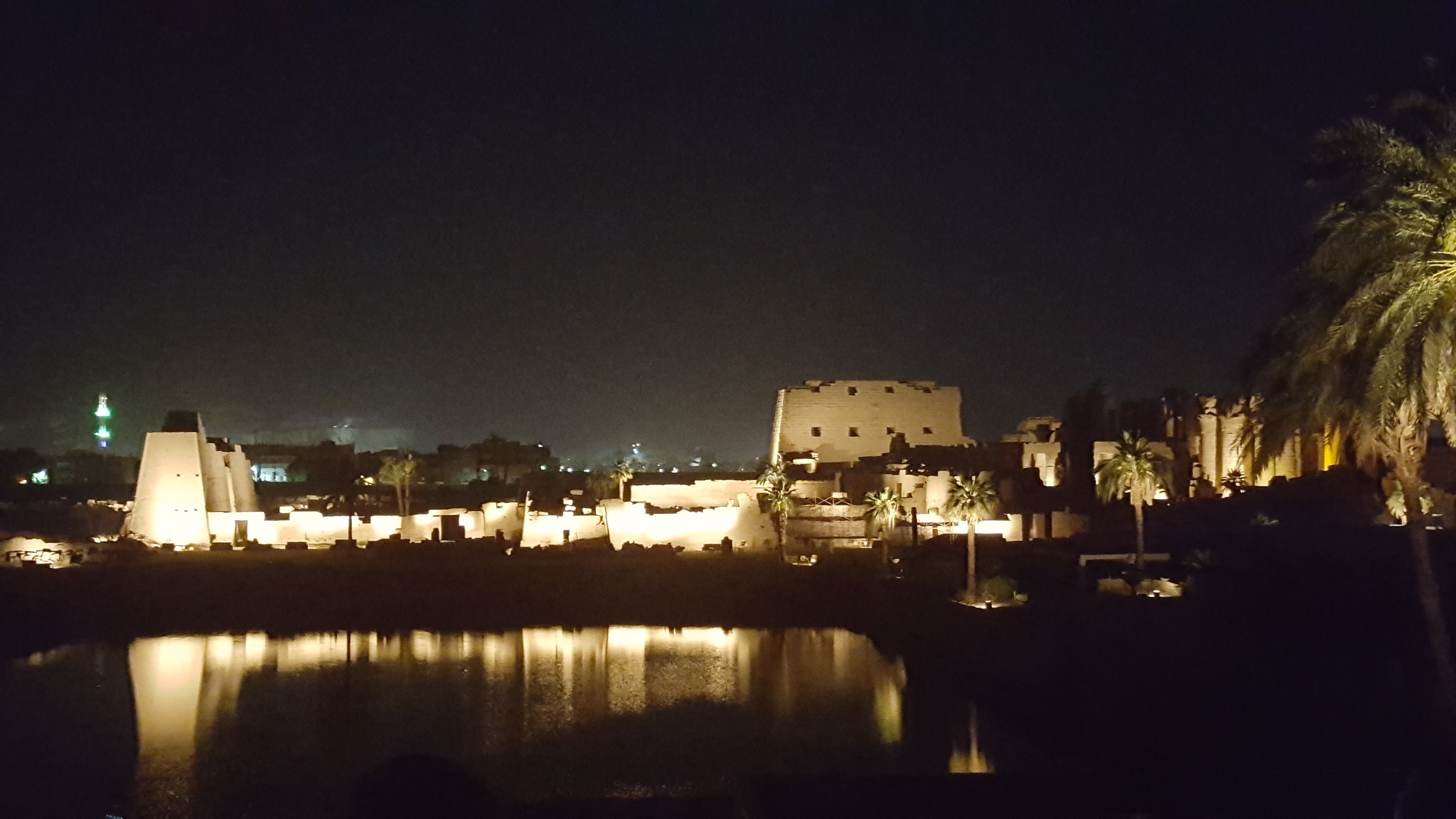 The rather impressive public ferry takes you over the Nile for E1.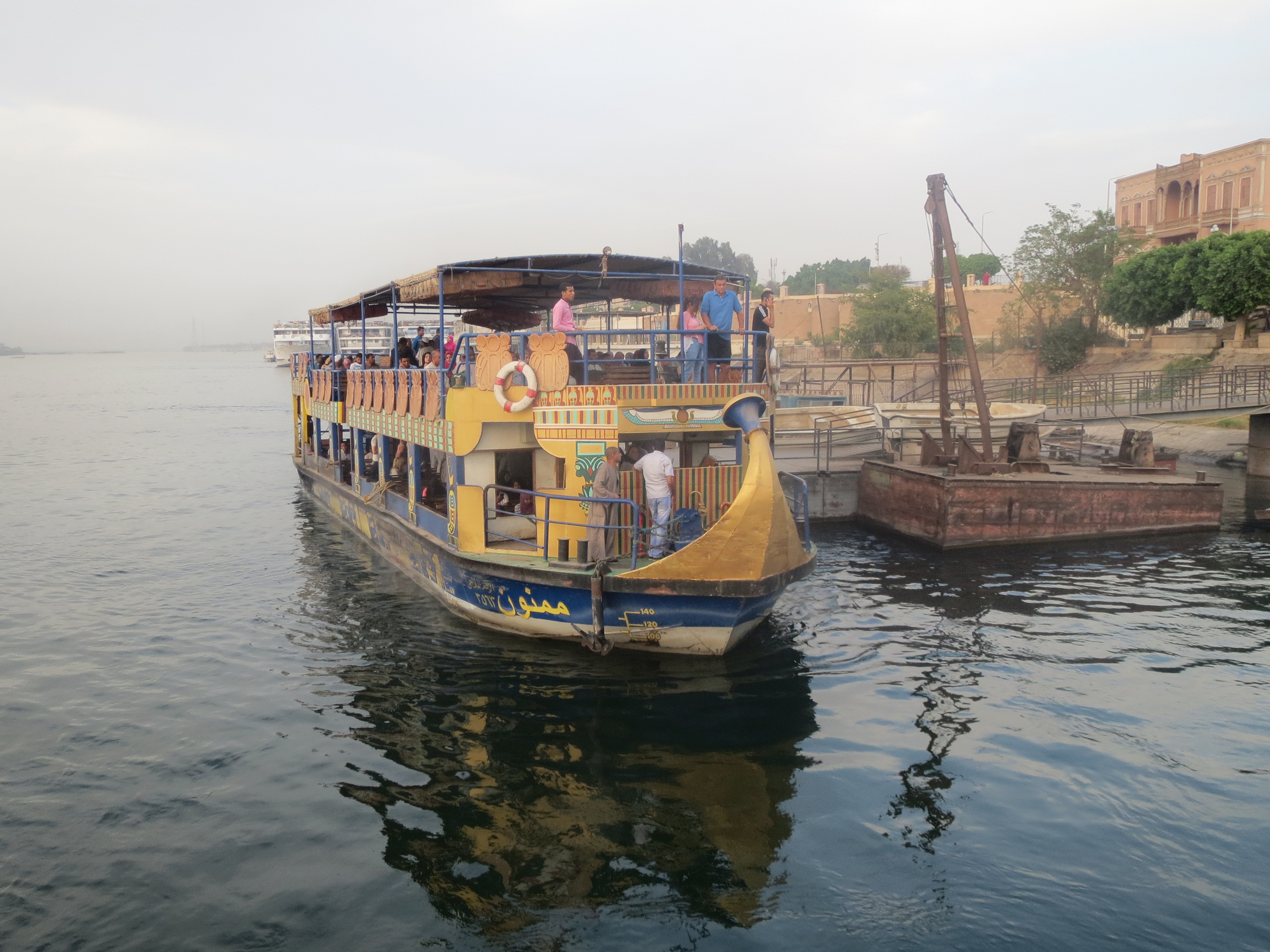 After a hard day's temple viewing it's nice to dip in the pool right on the banks of the Nile. Swimming in the river is not a good option, as it's got the sewage of Tunisia, Kenya, Ethiopia, South Sudan, Sudan and Egypt in it 🙂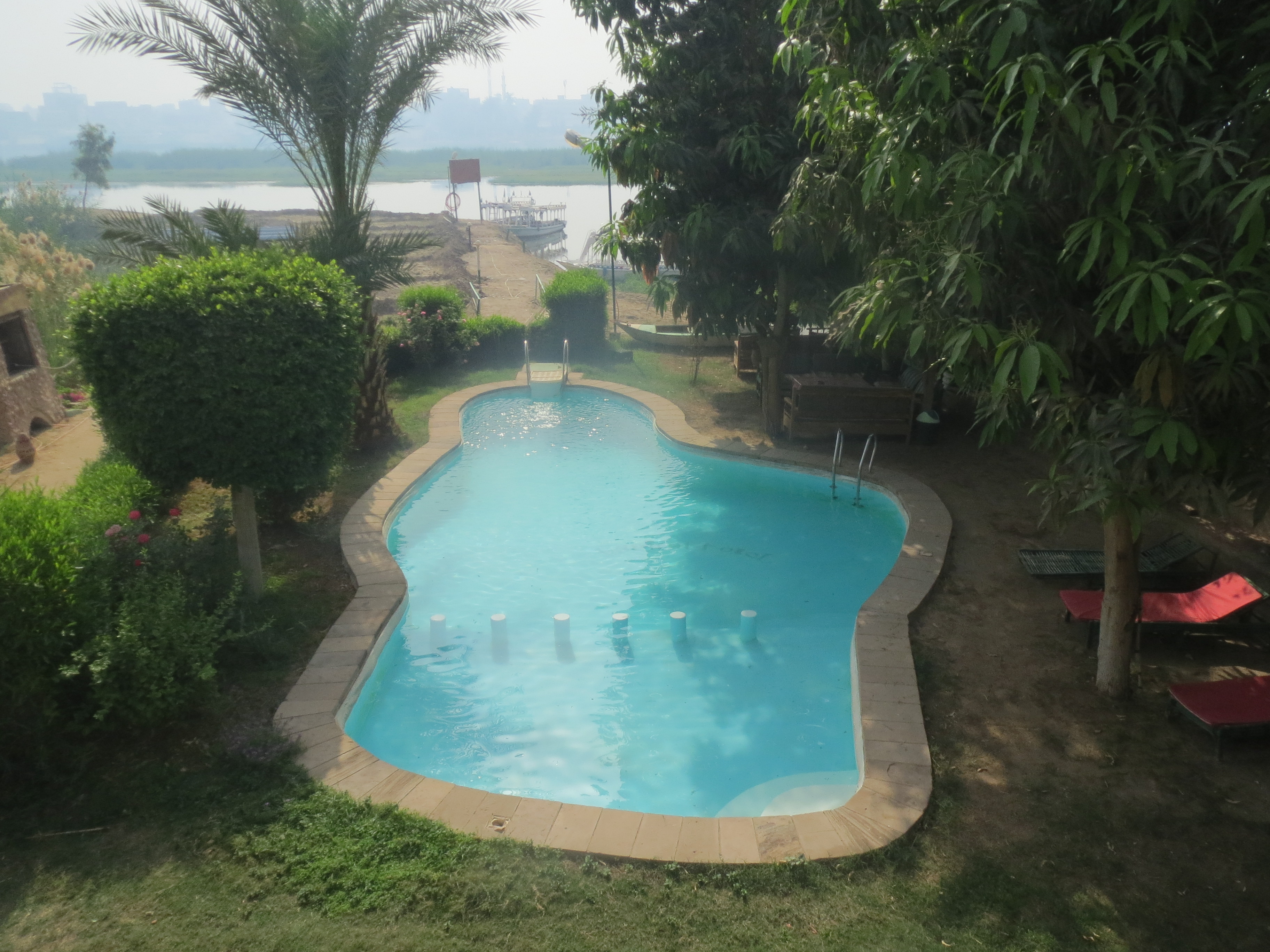 One of our last dinners in Egypt, accompanied by the local beer called Stella, which has nothing to do with the more famous Belgian variety and a bottle of local plonk, which wasn't half bad actually.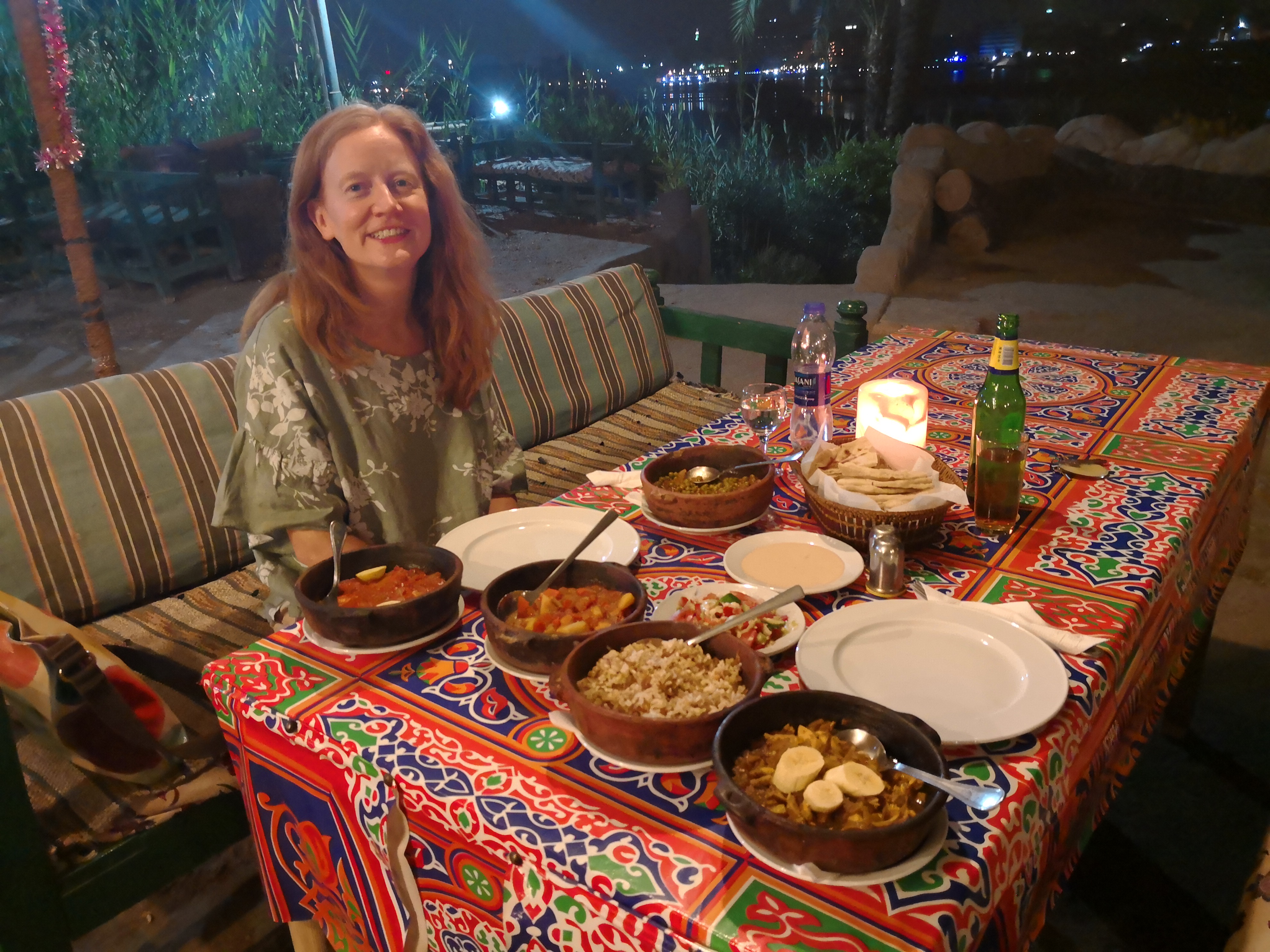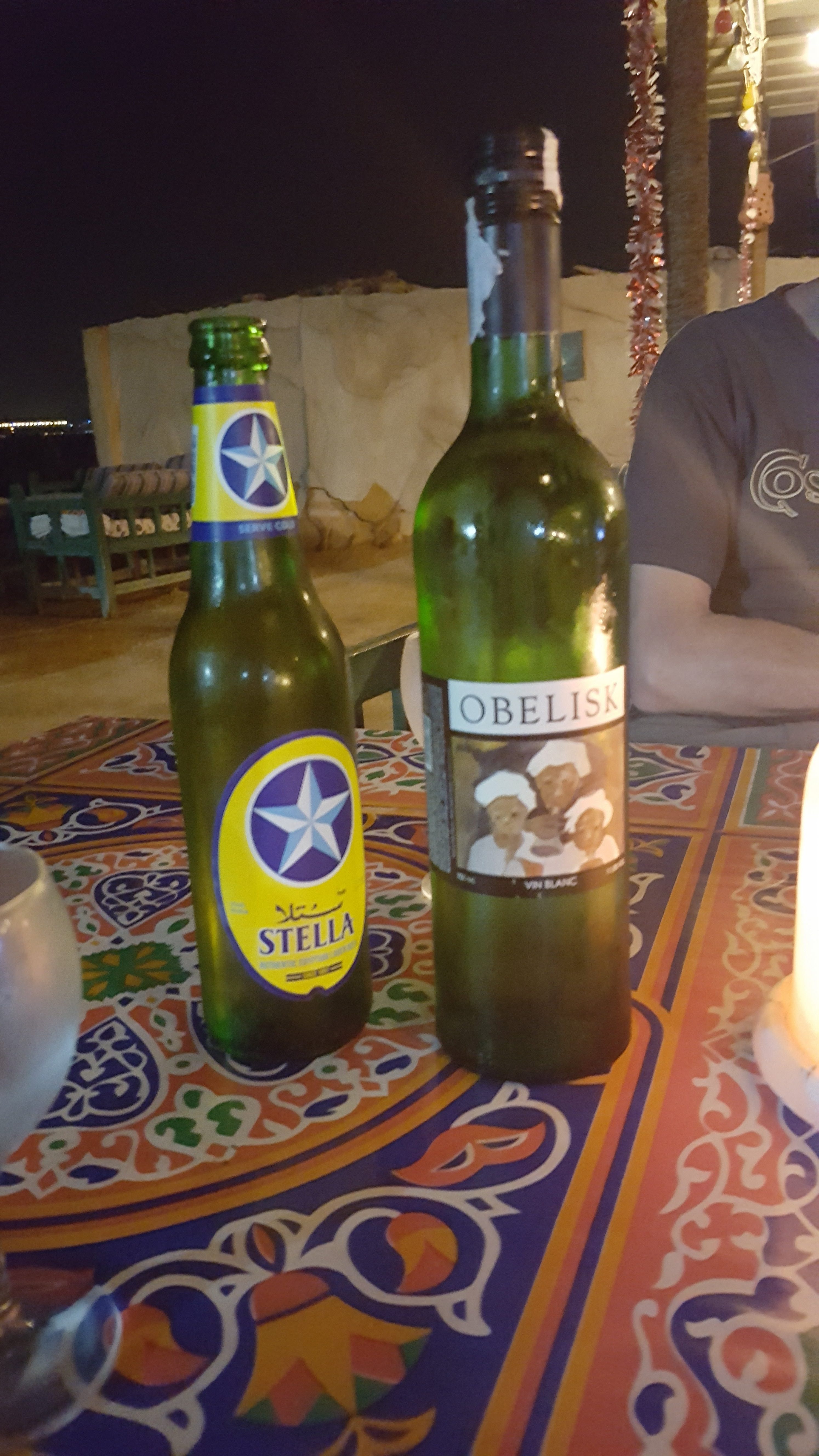 Our room service people got creative in our room…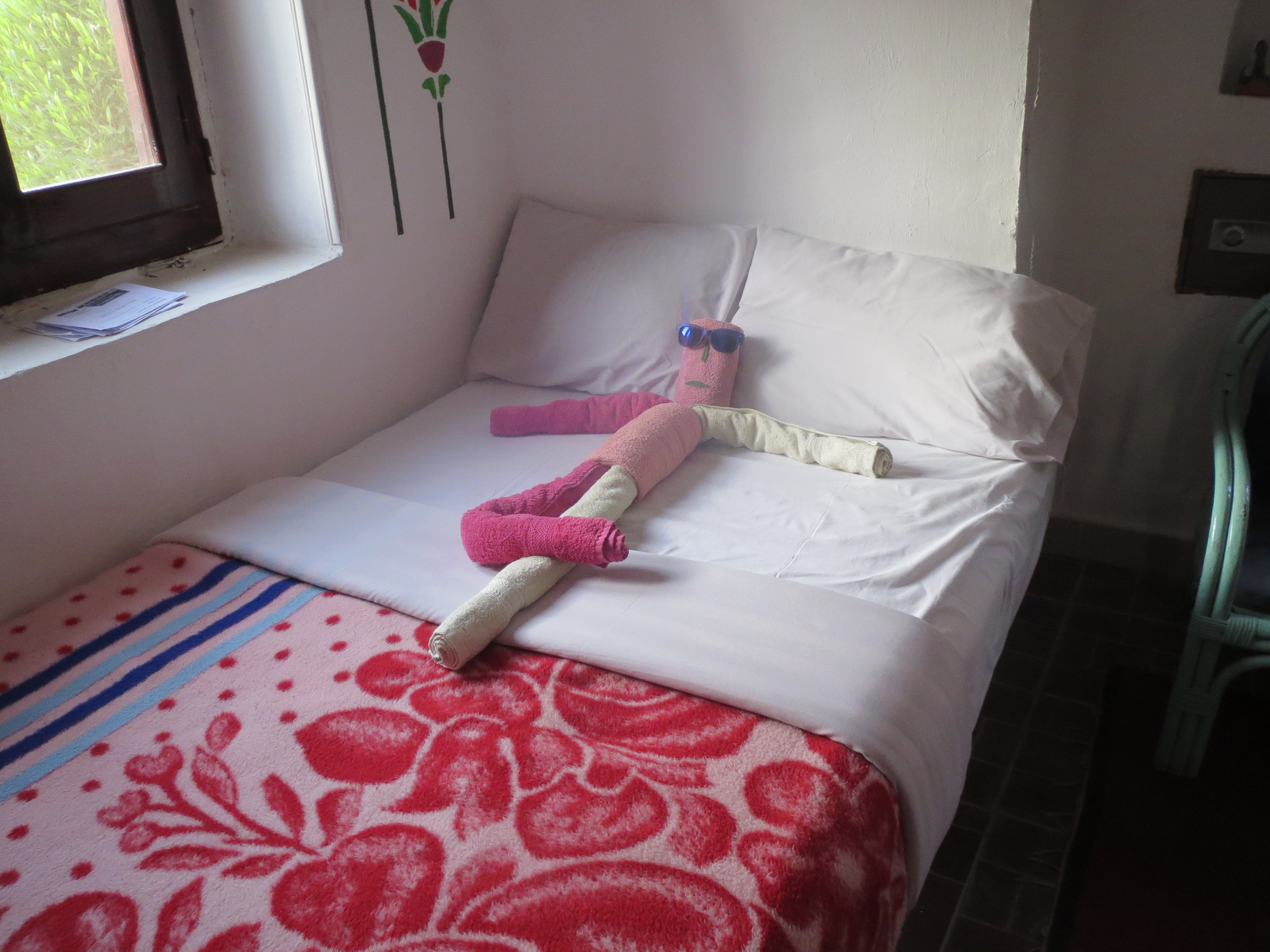 … at the same time as someone was creative outside the restaurant area with the day's supply of bread.