Determined not to be ripped off by a taxi driver, we went for the local bus option to get from the airport to downtown and hopefully near to our hotel. This has to be the cheapest airport transfer ever at just 10p, helped by the kind bloke next to me who rode with one of our suitcases on his lap as the bus was packed. There's no hope of the conductor moving through the bus to sell you a ticket, instead when it appears to be your turn, you pass your bank note forwards from person to person. Moments later, back are passed two tickets and your change!
This was early in the journey, it got much busier later: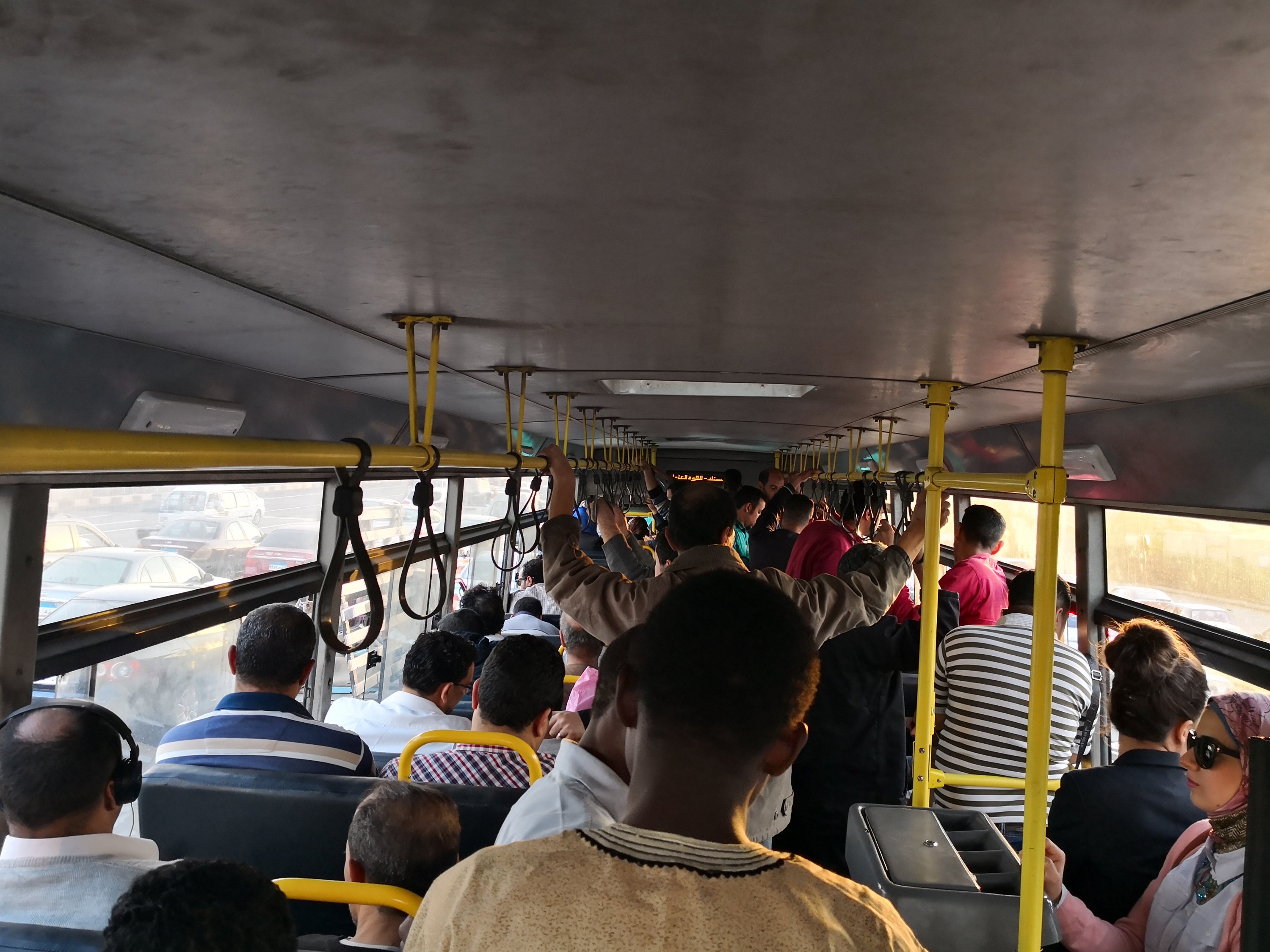 As expected, the traffic in Cairo is insane, though in the hour or so we were on the bus, only one car crashed into us. The door was open the whole time as people were jumping on and off, allowing the smog to fully penetrate our luggage, clothes and lungs etc. We got into conversation with a few of the locals, I don't think it's too common for tourists to be on a bus like that, including an ex-serviceman who seemed to have a load of shirts with him, available to buy. I didn't buy any…
We got to our downtown pension which is a wonderful old colonial building with one of those shaky old lifts to get you up there. The room was blissfully quiet as it looked out into some kind of courtyard as opposed to the constant traffic and horns of the street.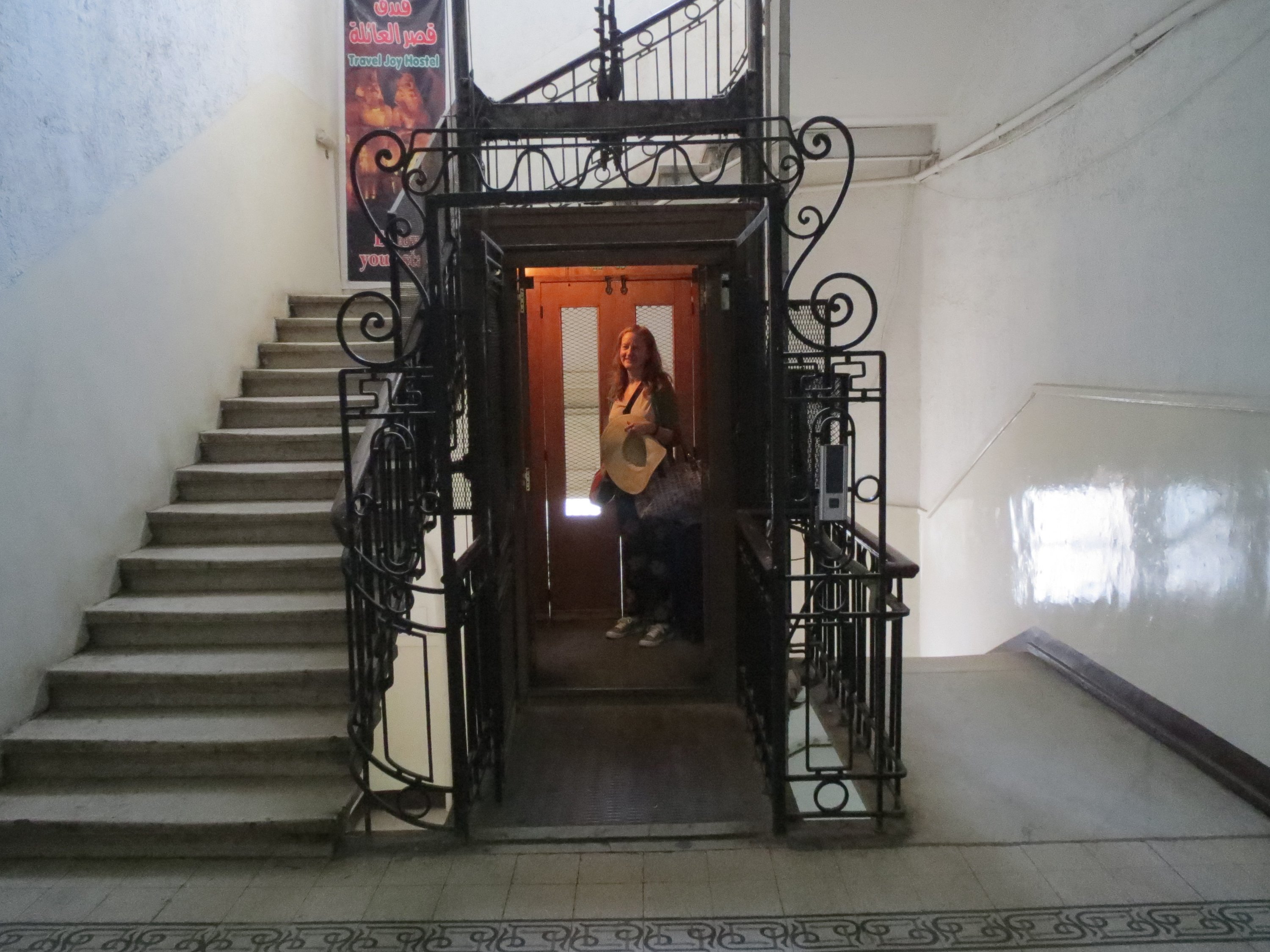 Next day we chartered Mohammed and his car for the day to take us wherever we wanted to go, as most places are at least very difficult if not impossible to reach by public transport. First stop was the pyramids at Giza, which were relatively quiet at the time of day we got there. I'd read that this is the most traumatic place to visit for most people in Egypt due to the hassle factor from people touting everything from wooden Buddhas to rides on their malnutritioned looking camels and horses, and we were pestered probably on average every couple of minutes or so, but they were fairly easily deflected really. Instead we went on foot around the two main pyramids and the Sphinx. The ticket for the site was 120 Egyptian pounds which is under £5 since the government let their currency float a year or two ago and the exchange rate changed from around 10 to 1 to 25 to 1 almost overnight.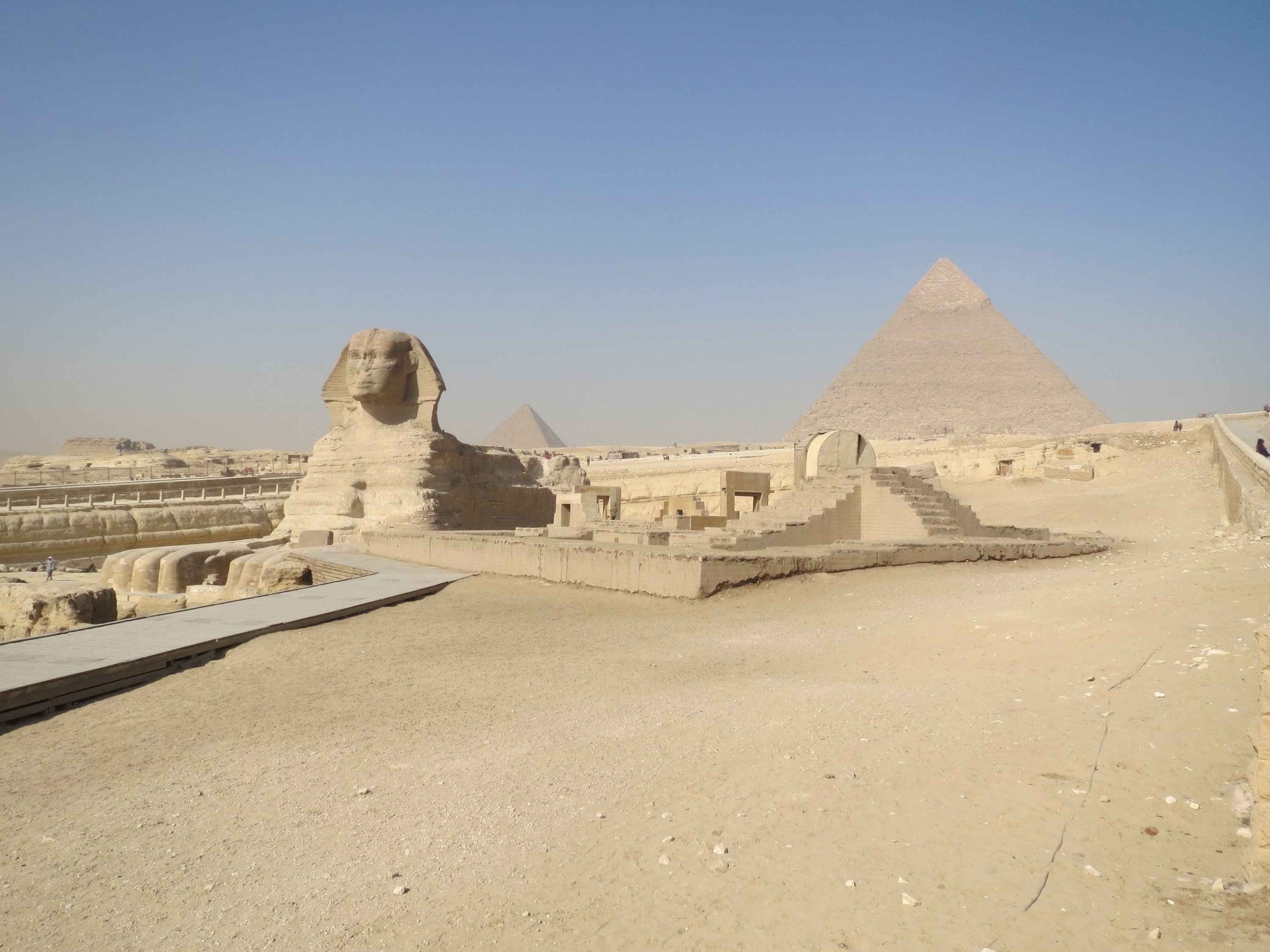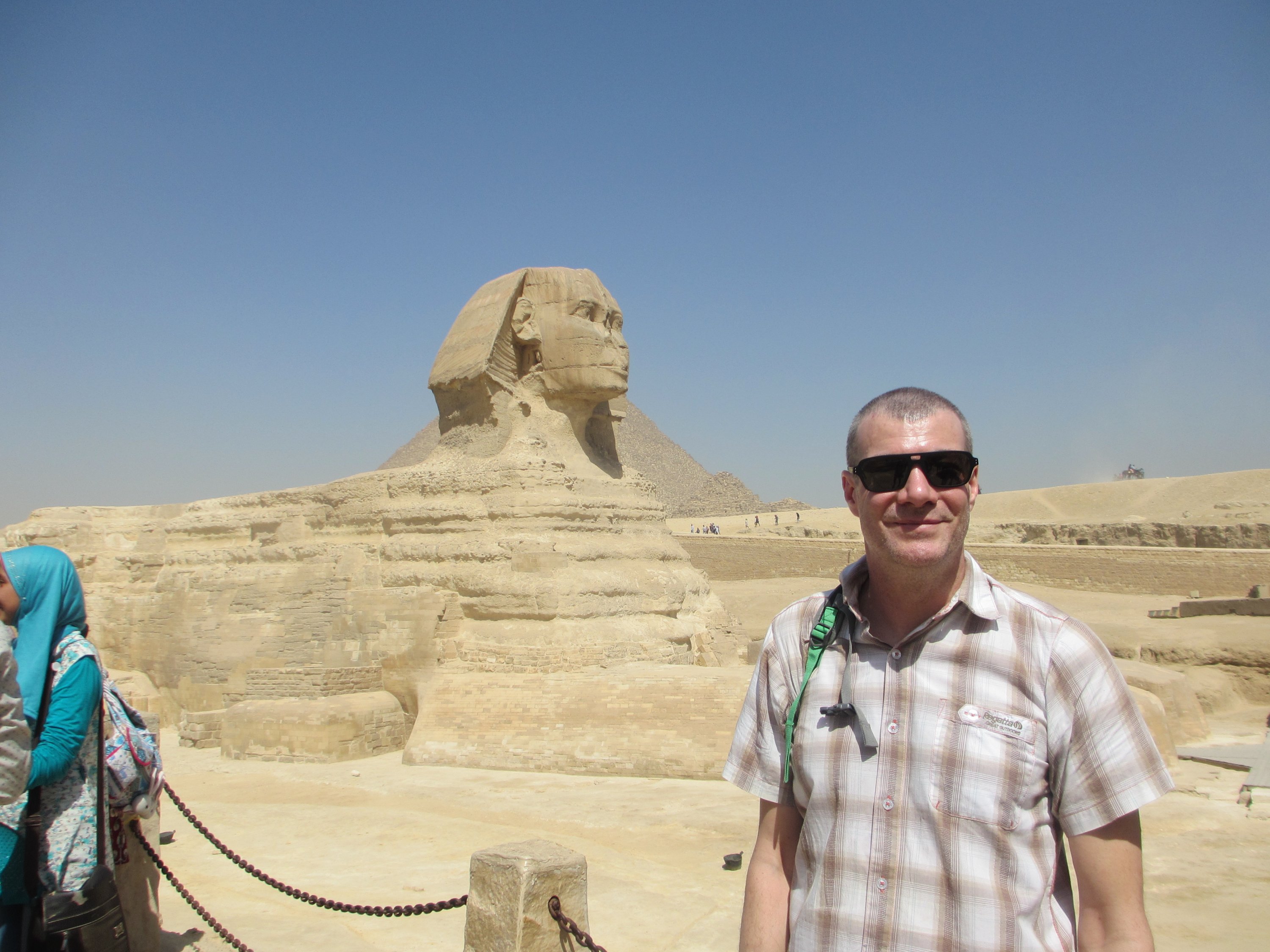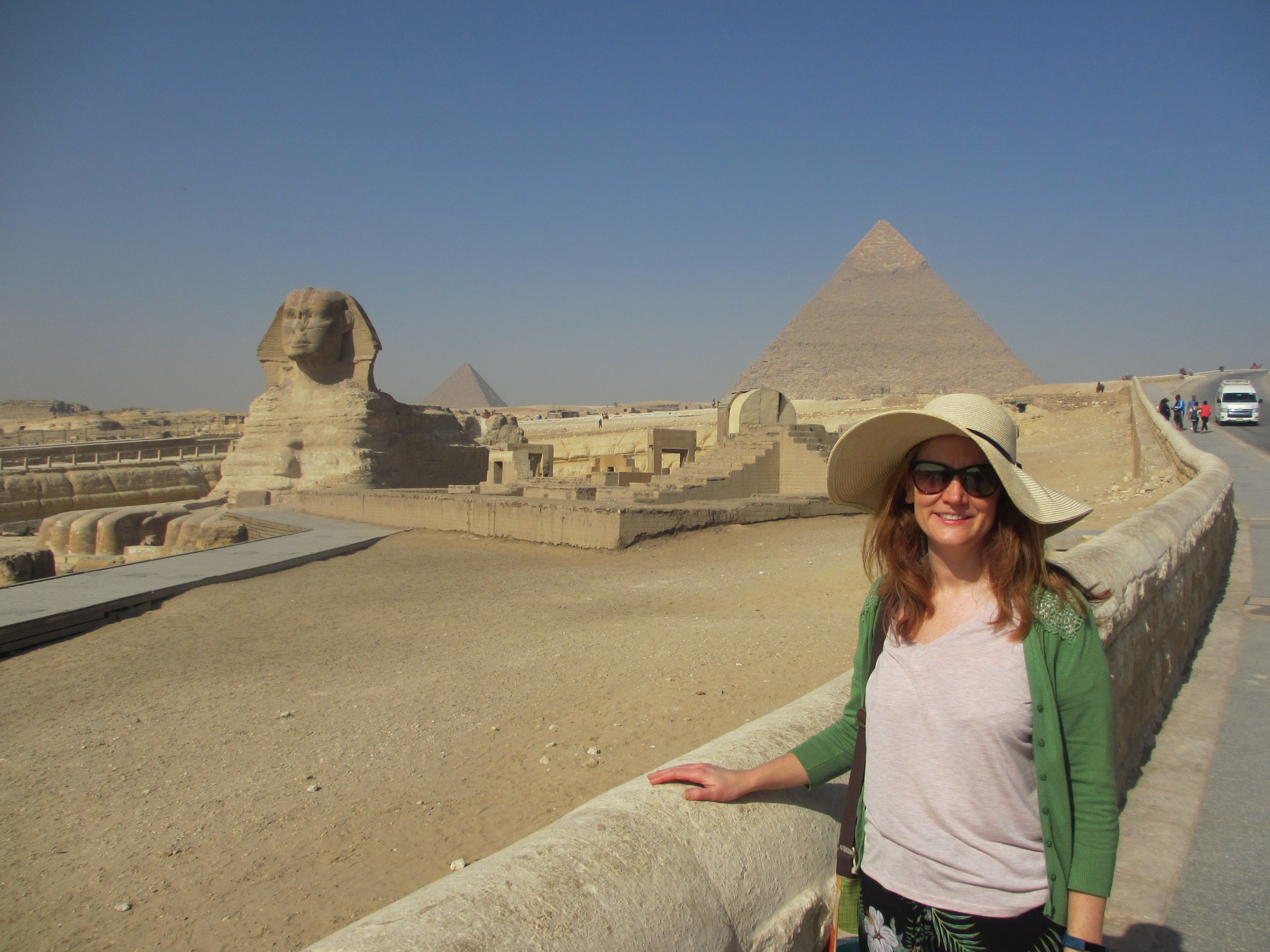 For an extra E300 you can go inside the Great Pyramid which we opted to do. In true Egyptian efficiency style, I had to leave the area, go back to a ticket office, queue at the Great Pyramid window, next to the general area ticket window where the tour bus crowd were starting to queue up at by now (they would have to queue twice if they wanted a Great Pyramid ticket too) and reenter the airport style security area to get back in. You crouch and semi-crawl up a steep tunnel to get to the King's Chamber about 8 by 5 metres, which is plain apart from an empty sarcophagus. They think the place was ransacked at least 600 years ago and they've no idea what happened to the bodies. At E300 for this, compared to the E120 for general entrance, this is definitely what you'd consider a rip off, but then perhaps they put the money towards further excavation and exploration.
They take your camera off you at the entrance to the pyramid, but they don't take your phone. Probably just an excuse for the guard to get some "baksheesh" in the form of a few Egyptian pounds. This is Lisa descending the shaft with a few million tons of stone above her: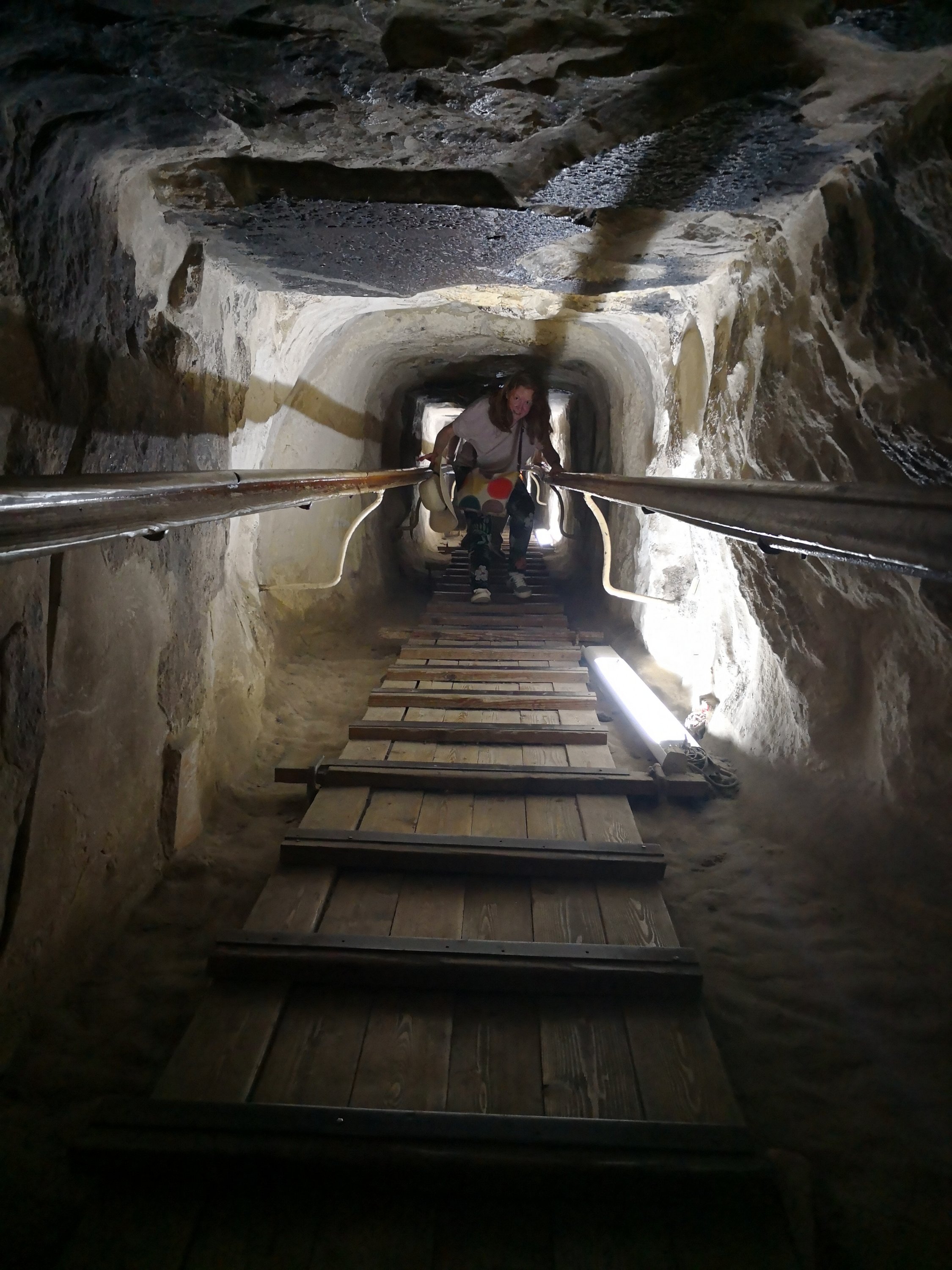 Then we drove off to Saqqara, about 10 km further south and very much out in the desert, which is the home of the world's oldest pyramid and indeed stone structure in the world, the Step Pyramid of Zoser. This dates from 2650 BC whereas Giza is 80 years or so younger than that. It's in very real and imminent danger of collapse since an earthquake and a couple of botched restoration attempts, so it might turn out to be lucky we saw it when we did!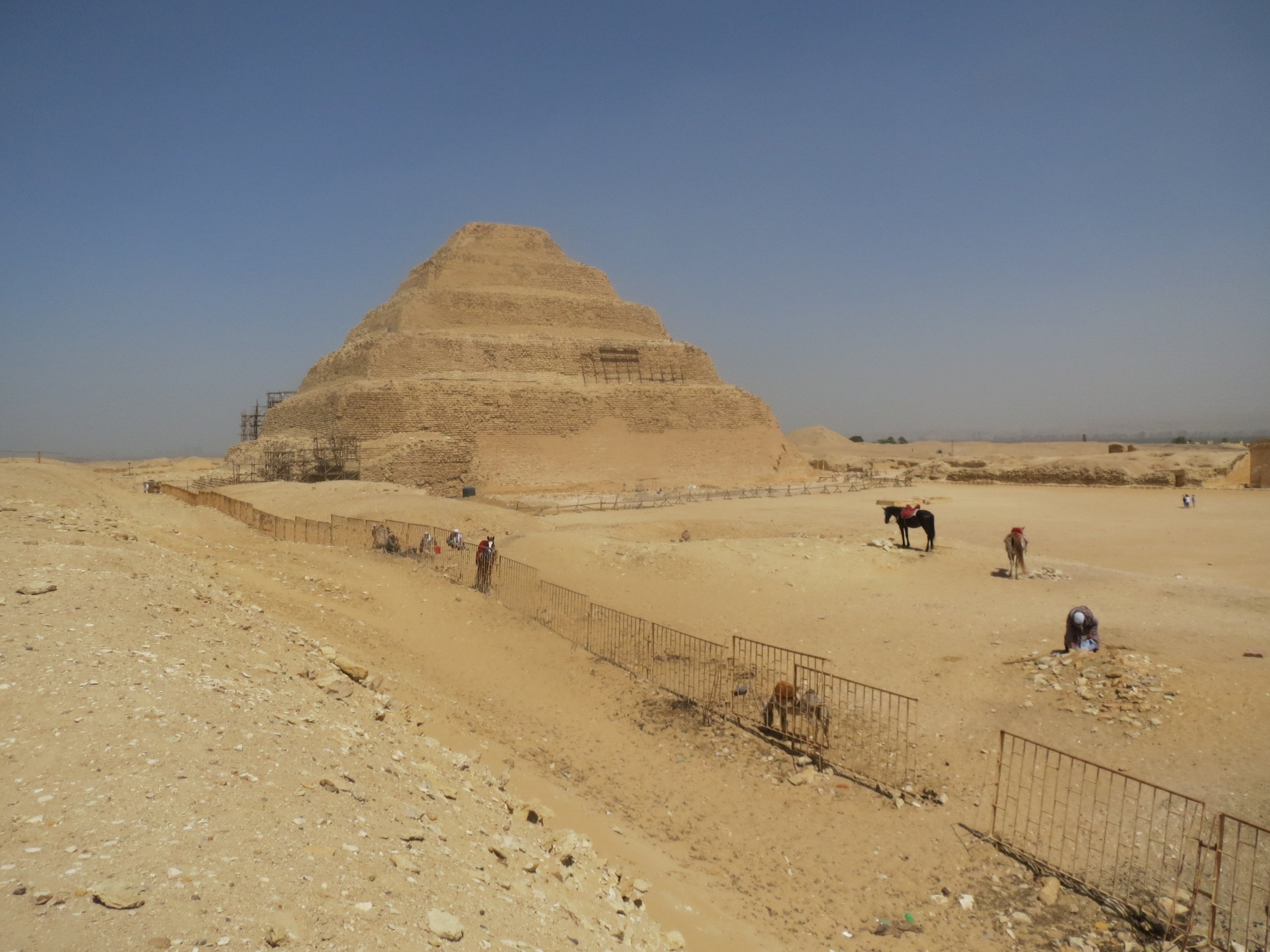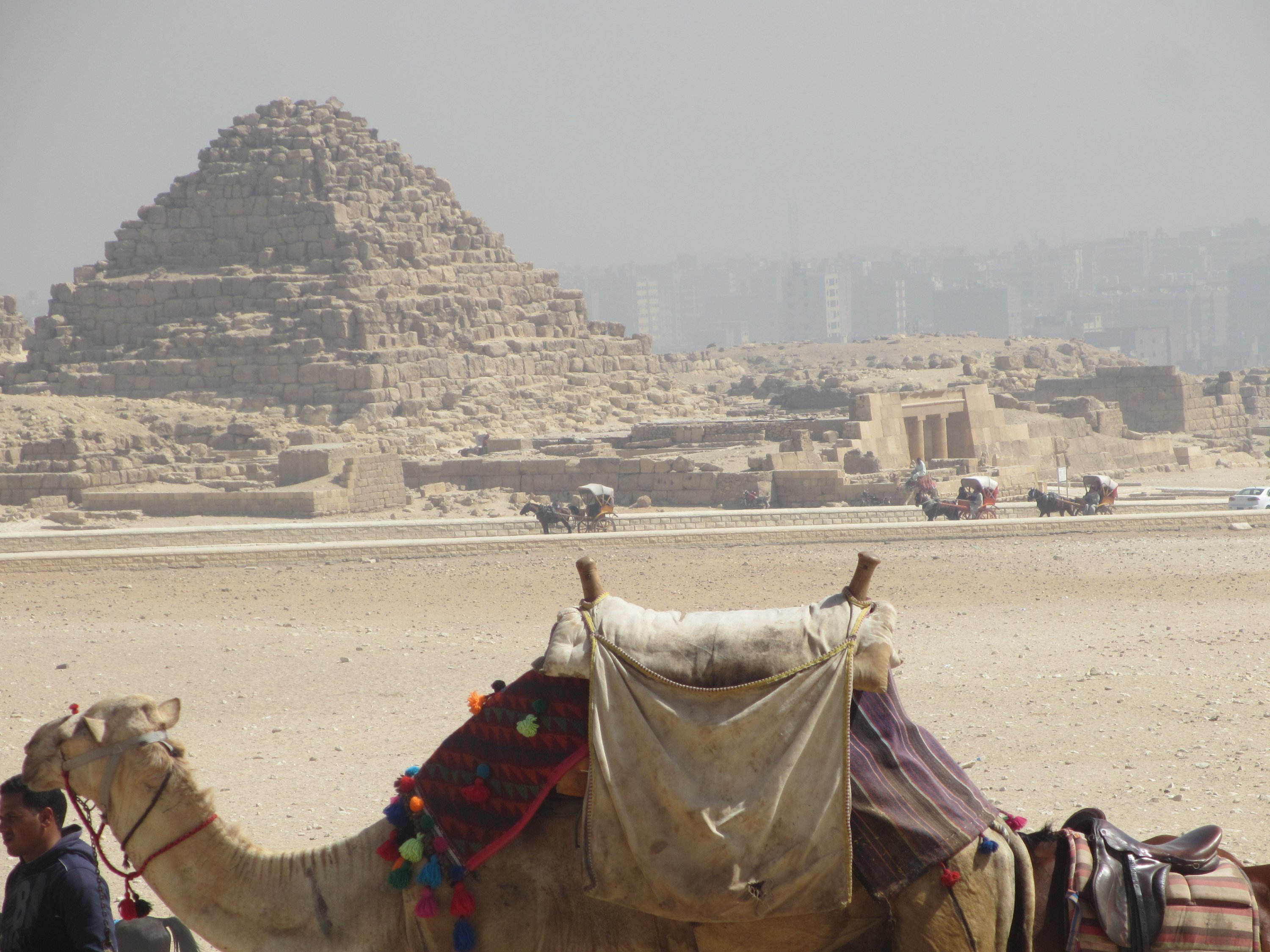 The complex has a whole load of tombs, accessed by really deep shafts in the sand, guarded by cobras :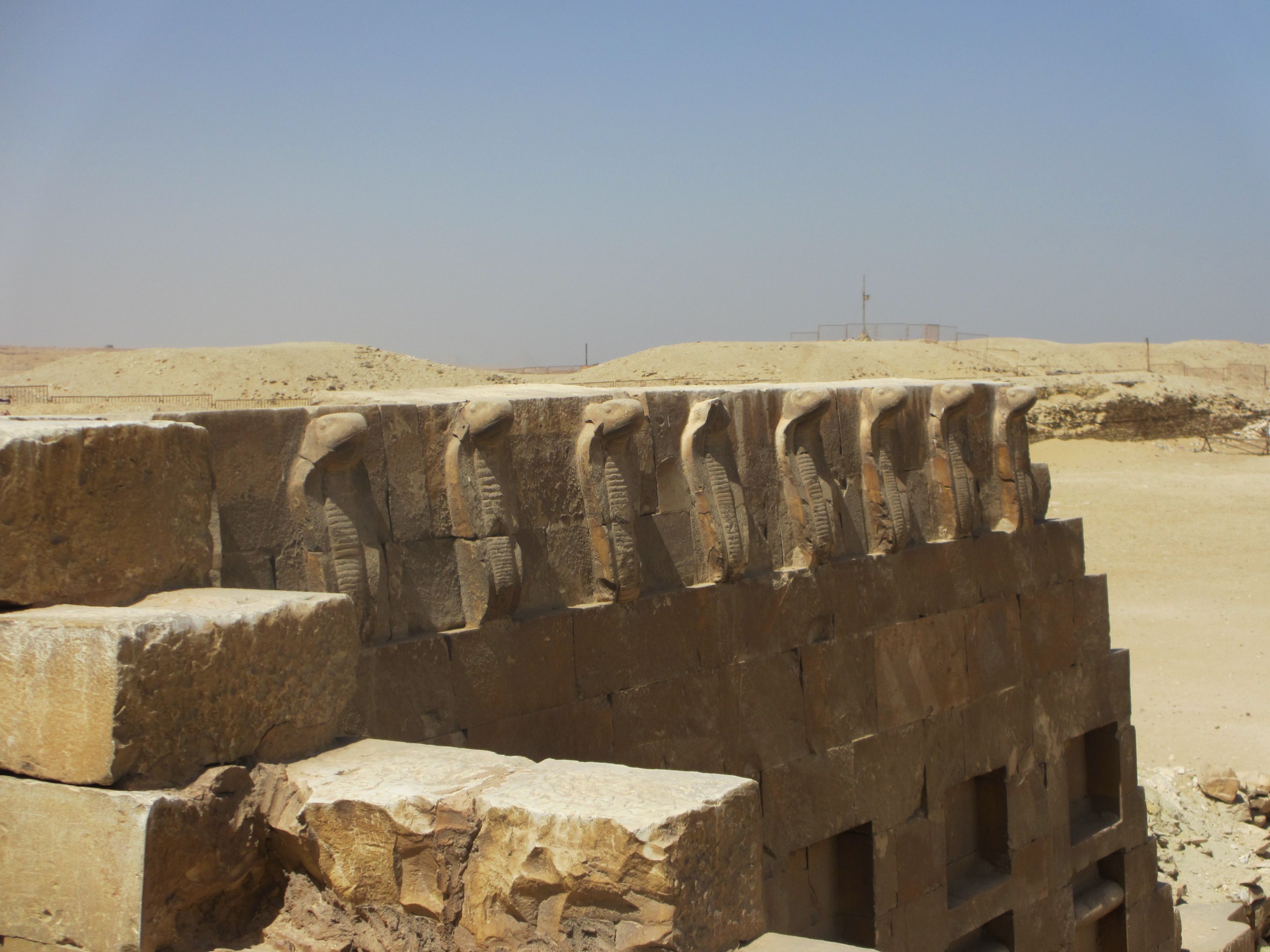 A shallow tomb entrance :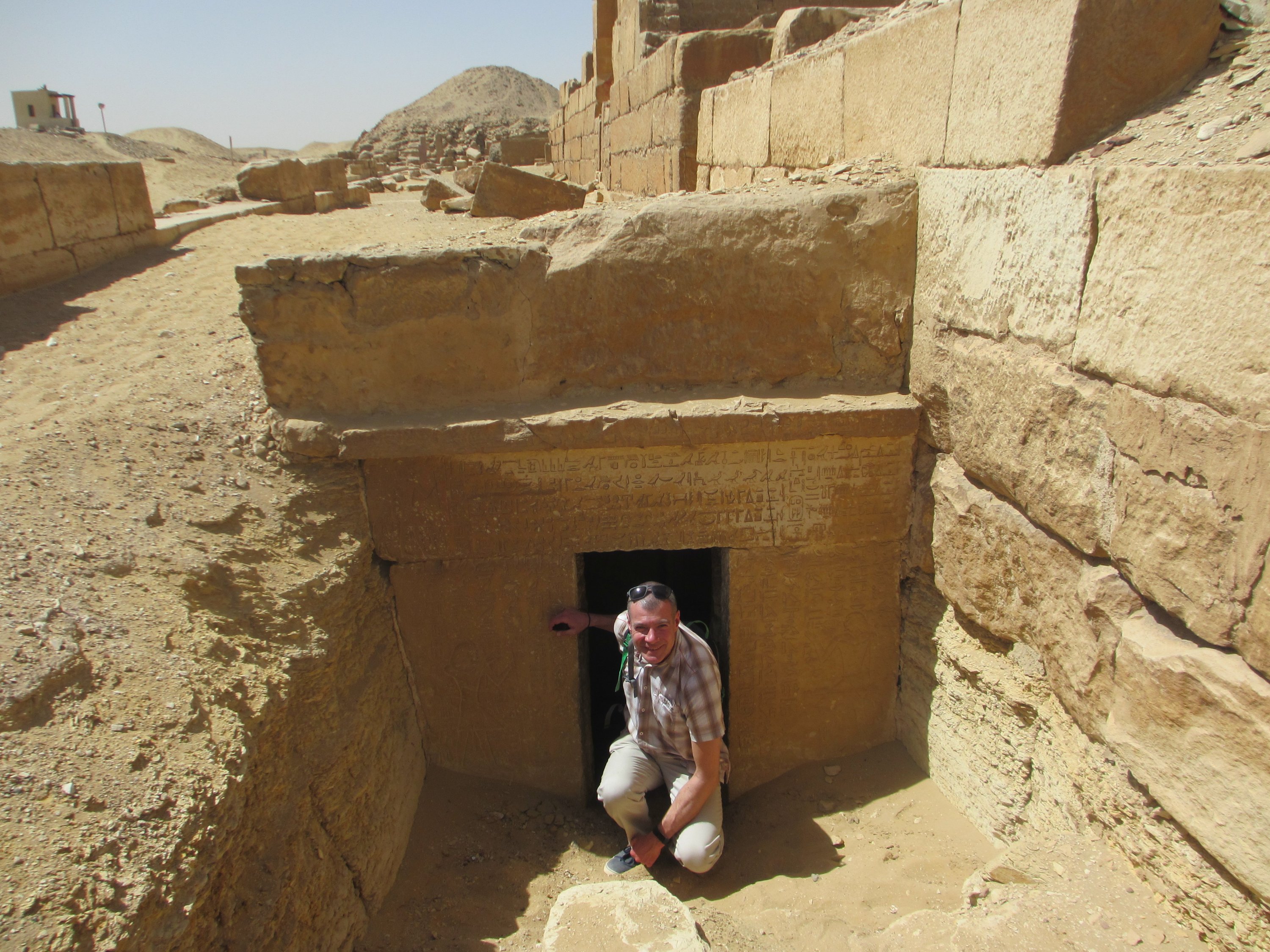 It's too deep to see the bottom, but there's an entrance to a tomb in the bottom of this: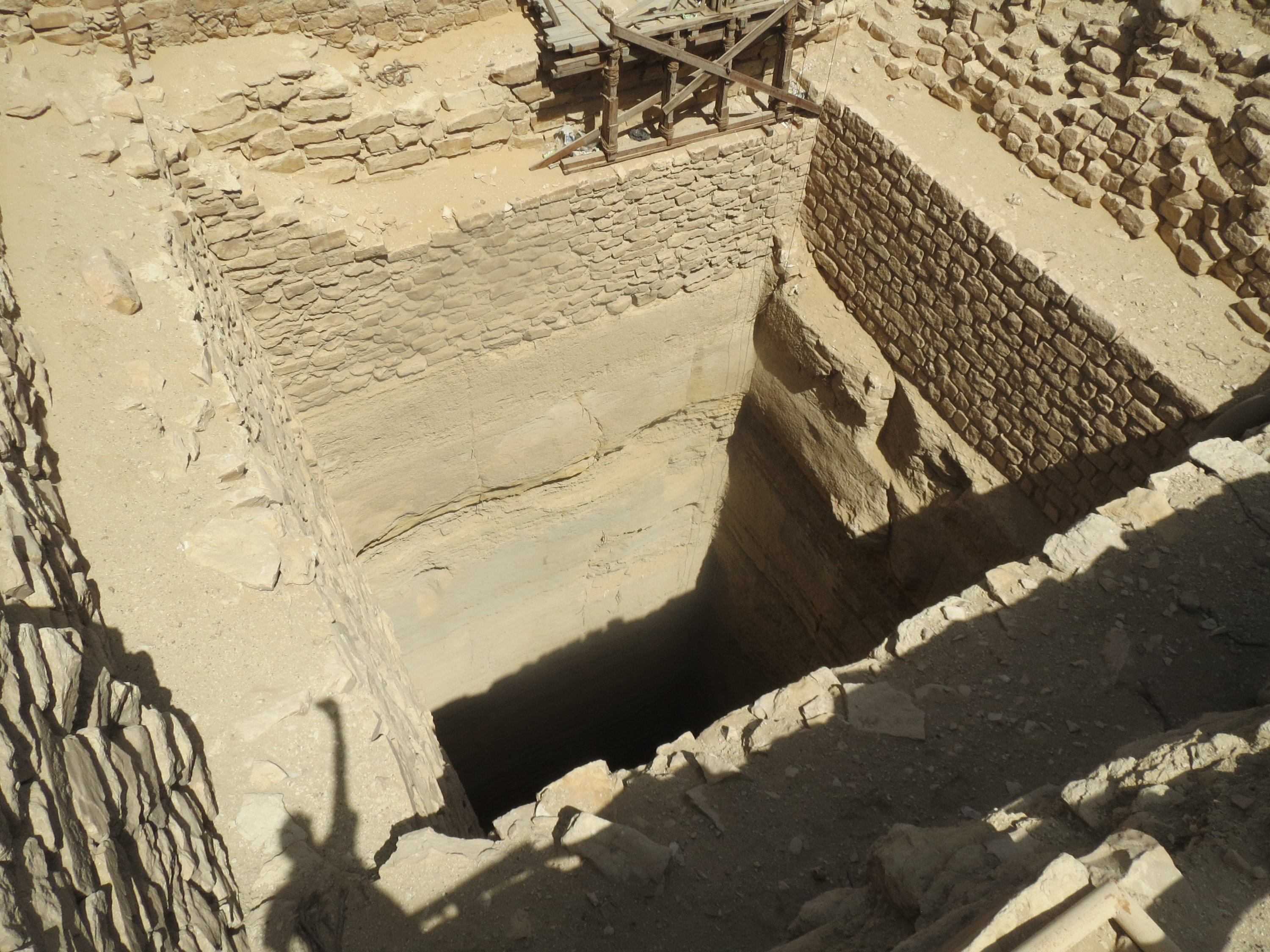 The stone door of a tomb: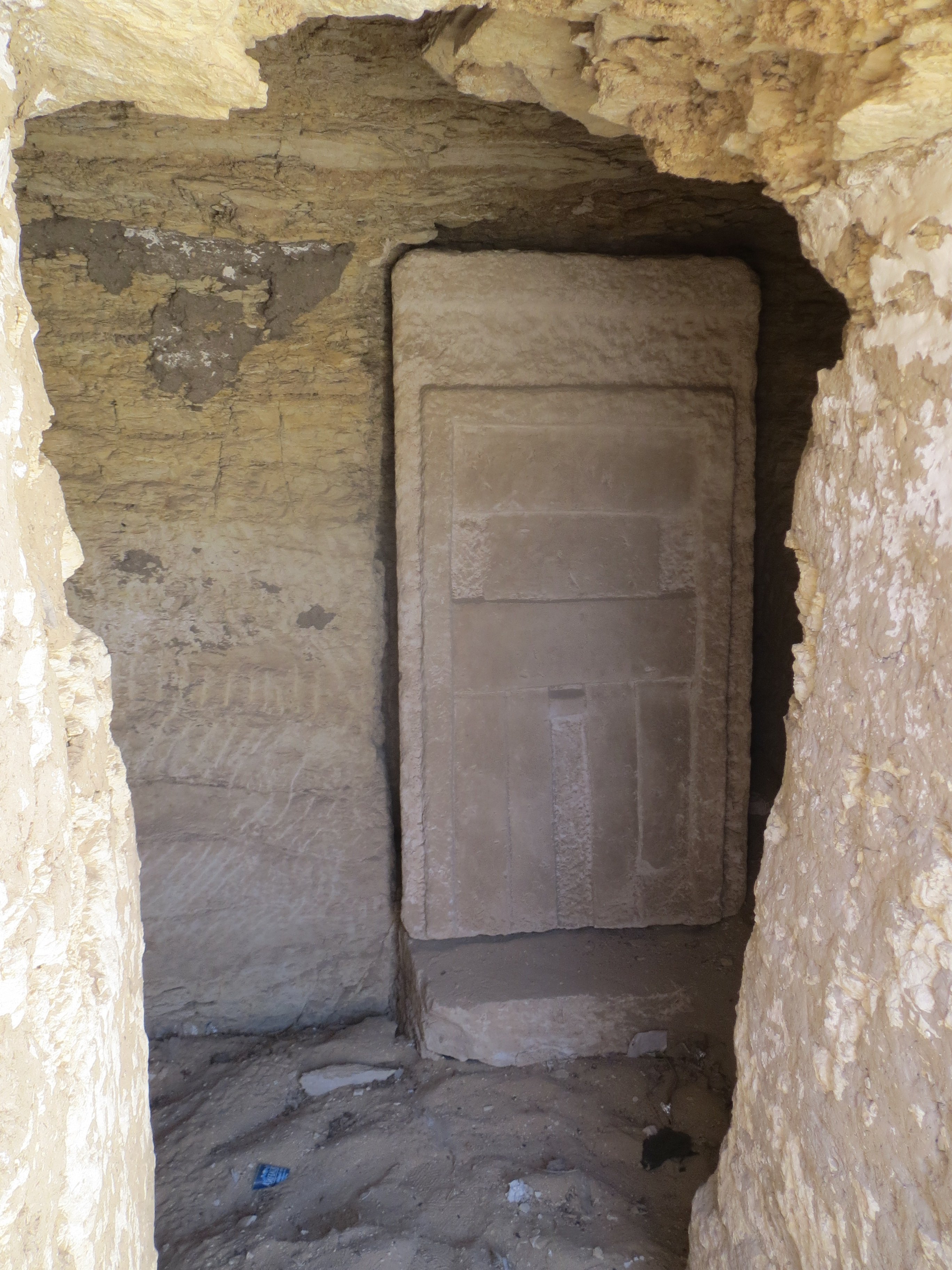 These two guys are Liverpool fans, they said. Apparently there's an Egyptian who plays for them :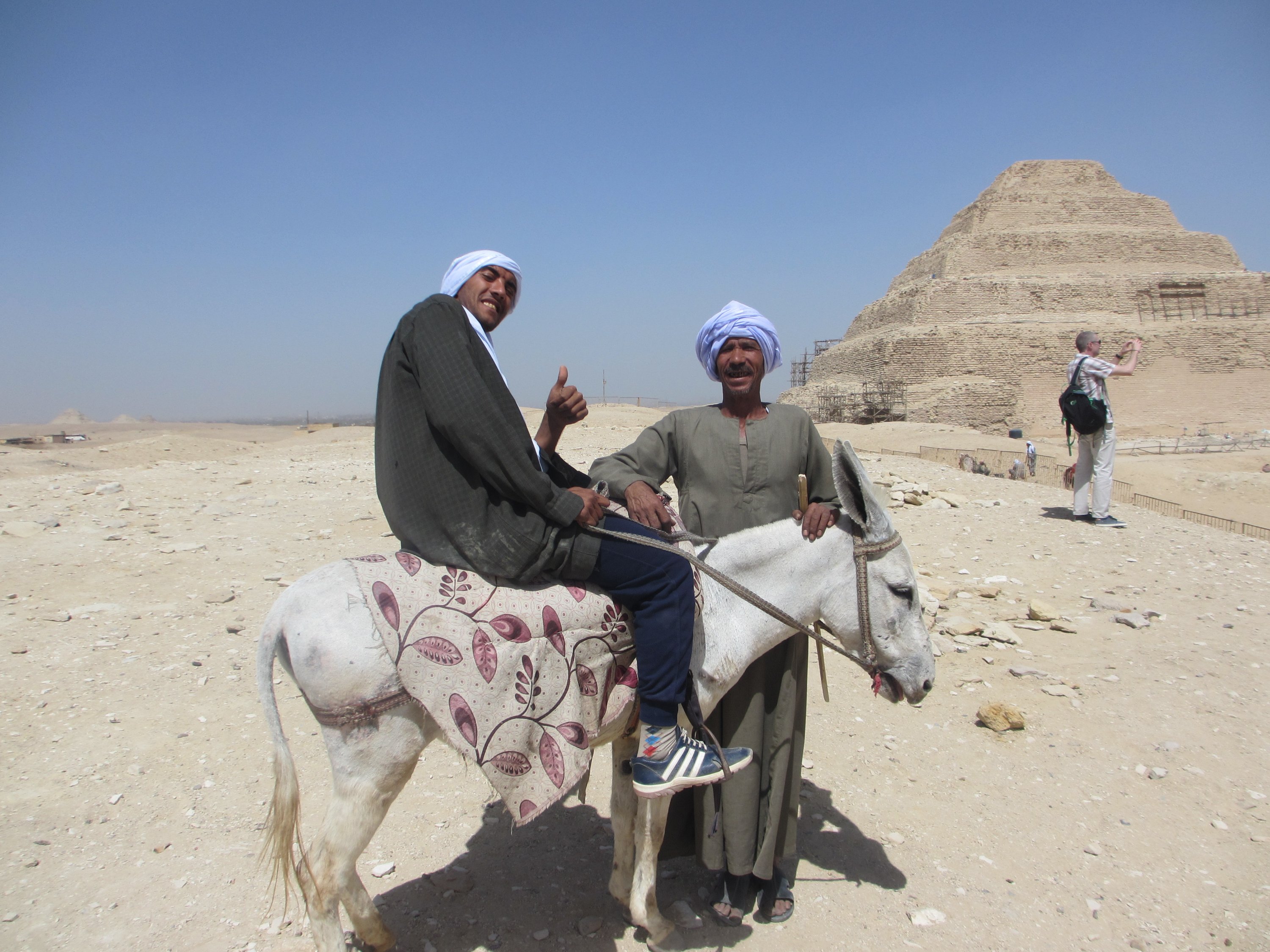 Saqqara was a great place to visit, very quiet compared to Giza and very little in the way of hassle.
After a hard day of sightseeing, what better way is there to chill out apart from with tea and hasheesh?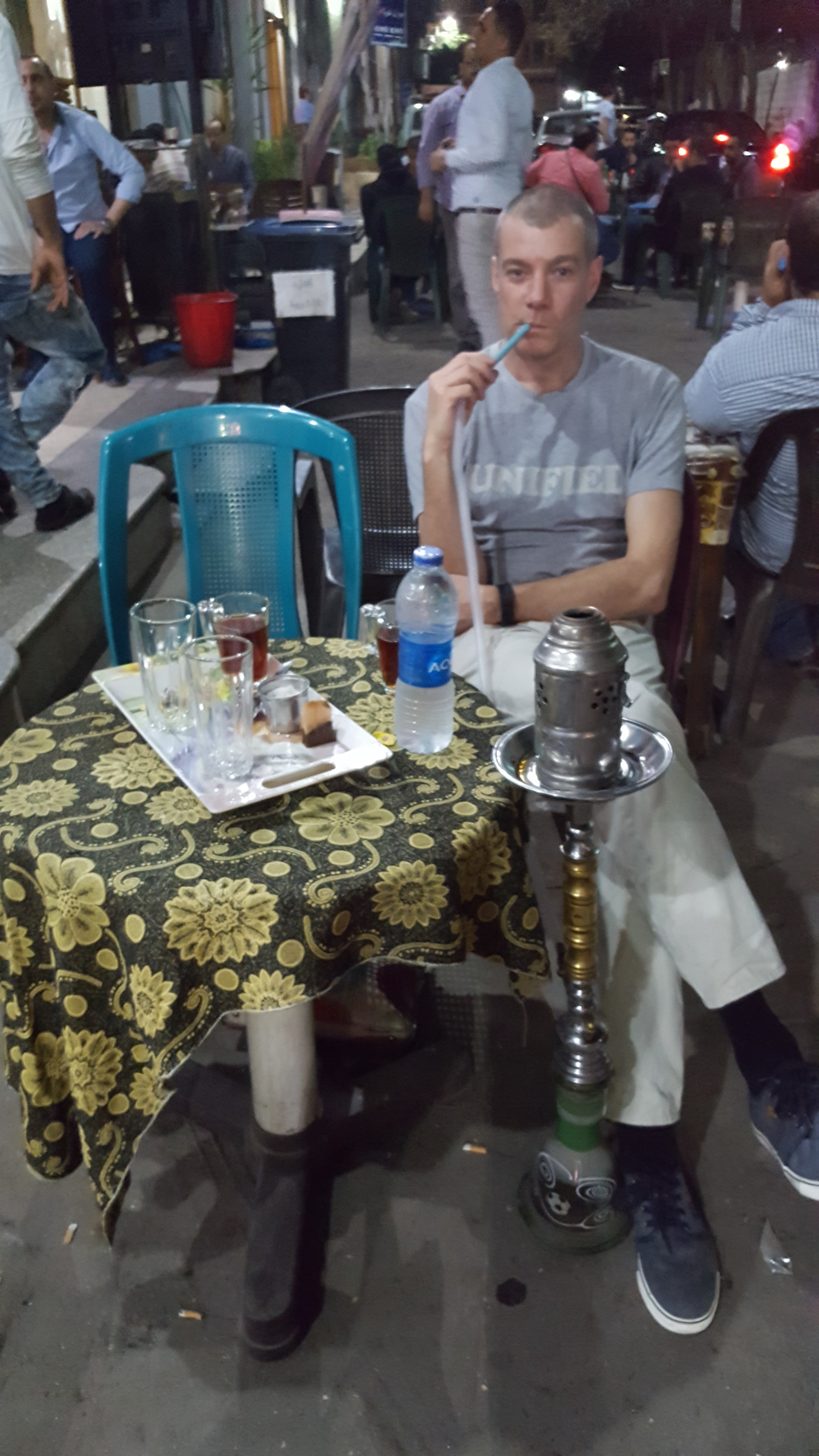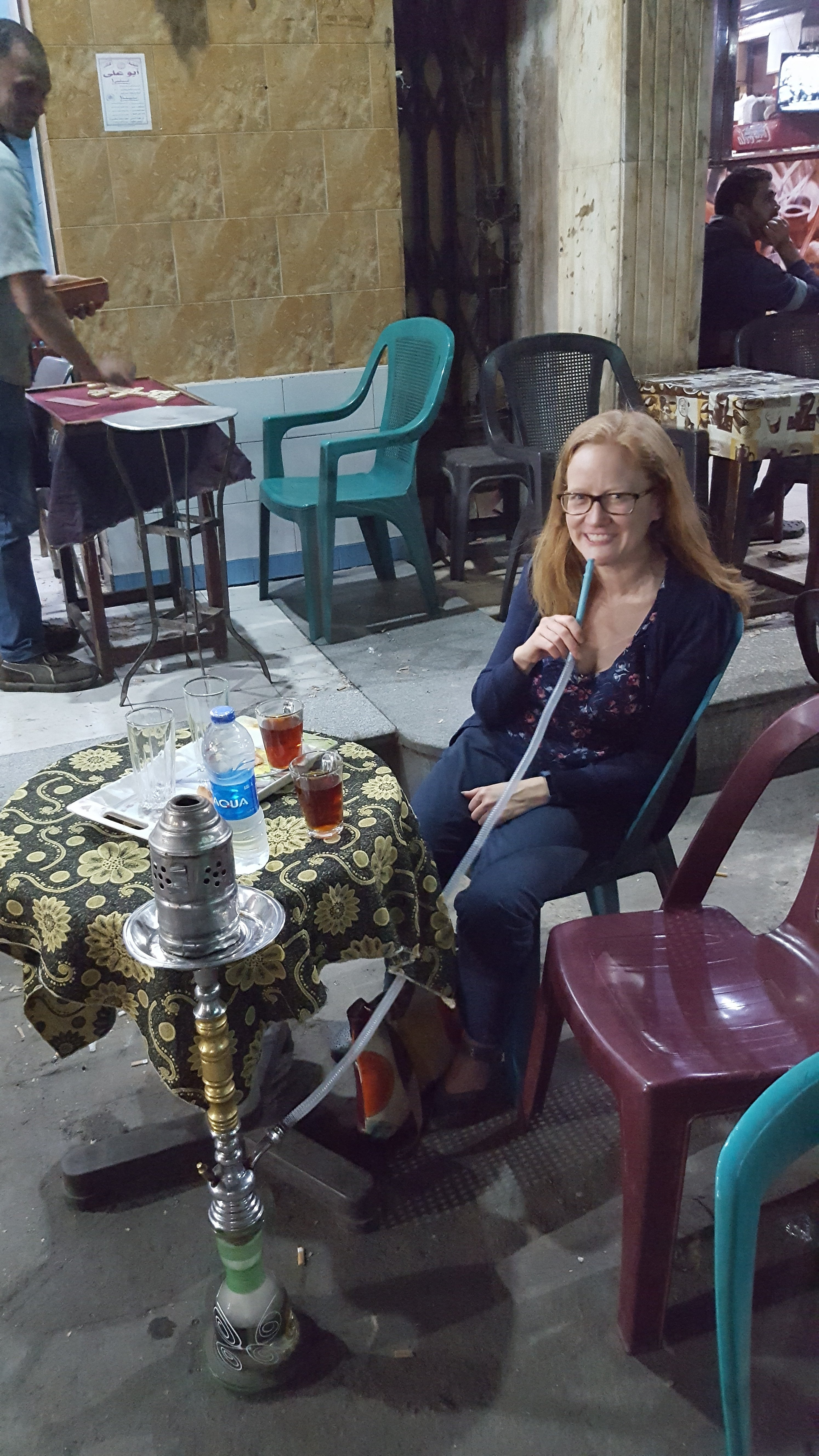 Tonight we're off well up the Nile to Aswan by sleeper train and to some serious heat!