And so we arrive onto Crete, our last port of call for this trip. The high speed ferry from Santorini was rather characterless, you are given an assigned airline-style seat below deck where you're forced to watch the Greek version of "Deal or No Deal" on TV. There's no deck area to hang about on, it seems all the high speed ferries are the same. I'm not sure why, perhaps it's for safety concerns about too much stuff/people being blown overboard or something.
We came into the main town of Heraklion but went straight by bus to Rethymno, about 90 minutes west of there by bus, as it's a much nicer place to stay, by all accounts. The bus journey was interesting, from the obligatory person a few rows back who was playing music on their phone speaker, to the small boy across the aisle who was making stupid noises the whole time, to the randy young French couple on the row behind him, who spent much of the journey giving each other a helping hand….
As usual we stayed in a beautiful apartment right in amongst the twisty alleyways of the Old Quarter which was oozing with character, but did prove to be a little noisy during the night due to music from some nearby bars, the odd passing drinking reveller, and motorbikes, who seem to think it's necessary to use their horns in the middle of the night on these otherwise trafficless alleys. Breakfast on our balcony: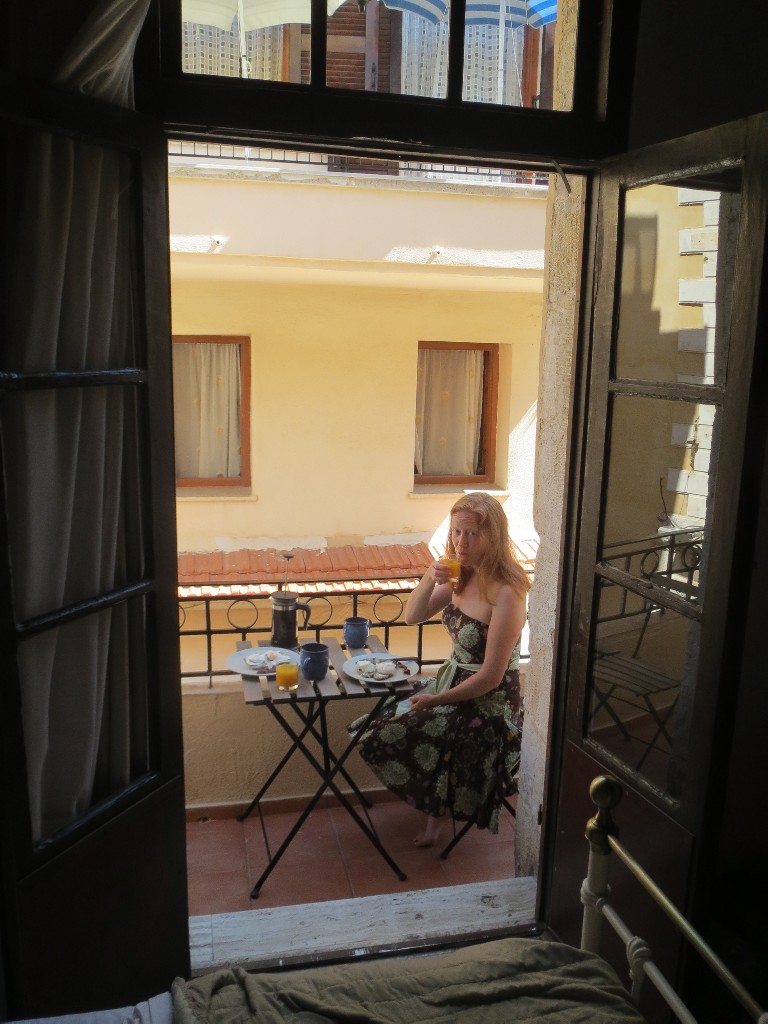 An old lady opens up her shop just across the alley from us. I always find it fascinating to watch them set up at the start of the day, and pack up late at night, following a well-rehearsed routine which takes a good 20 minutes or half an hour.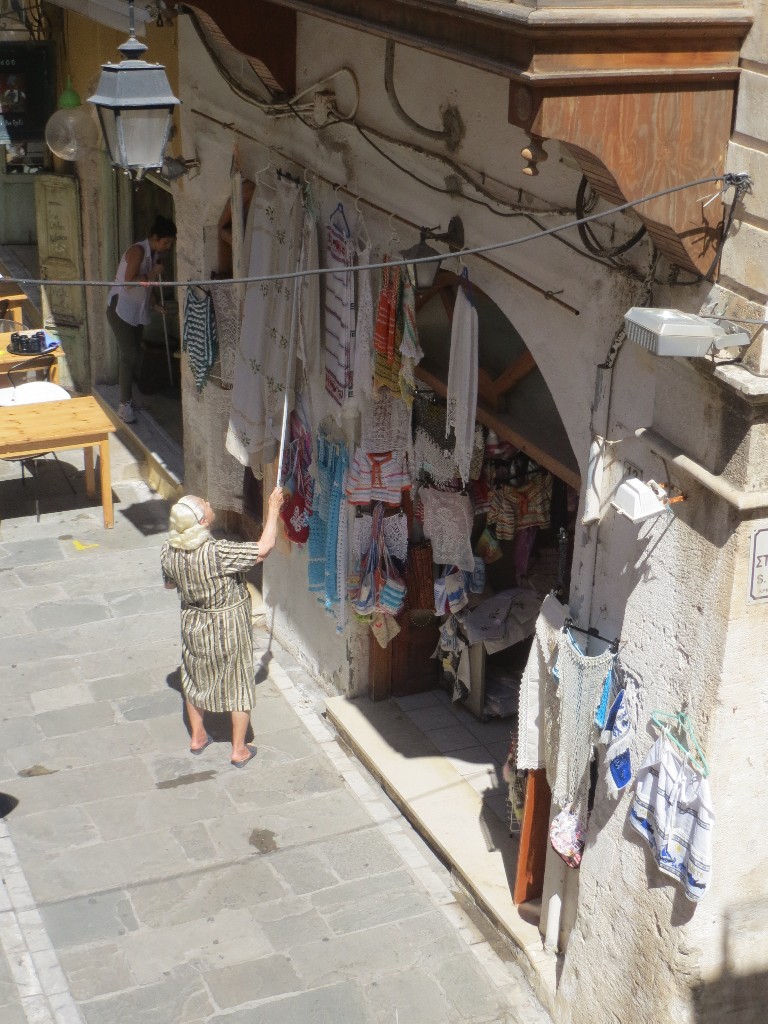 Due to time constraints. we imposed a seriously early start on ourselves the first morning, to catch an excursion bus at 6.30am to take us to the south west of the island to hike the Samaria Gorge, the longest gorge in Europe at 12.5Km or so. You start in the village of Omolos, hike downhill all the way through the gorge, passing the abandoned village of Samaria halfway along, then end up at the coastal village of Agia Roumeli which is only accessible by boat. From there you take a ferry for an hour eastwards along the south coast to Hora Sfakion, where you hope that the excursion bus is waiting for you to take you back.
The German tour guide was really laying it on thick about the risks and dangers that are present in the gorge, but in reality it turned out to be a very straightforward hike, anyone who's remotely into walking isn't going to have any problem at all. Delicious fresh drinking water is piped into fountains at very regular intervals, so there's not even the need to carry large quantites of water.
The earlier part of the hike is steeper as you descend down from around 1200m elevation at the start, down into the gorge proper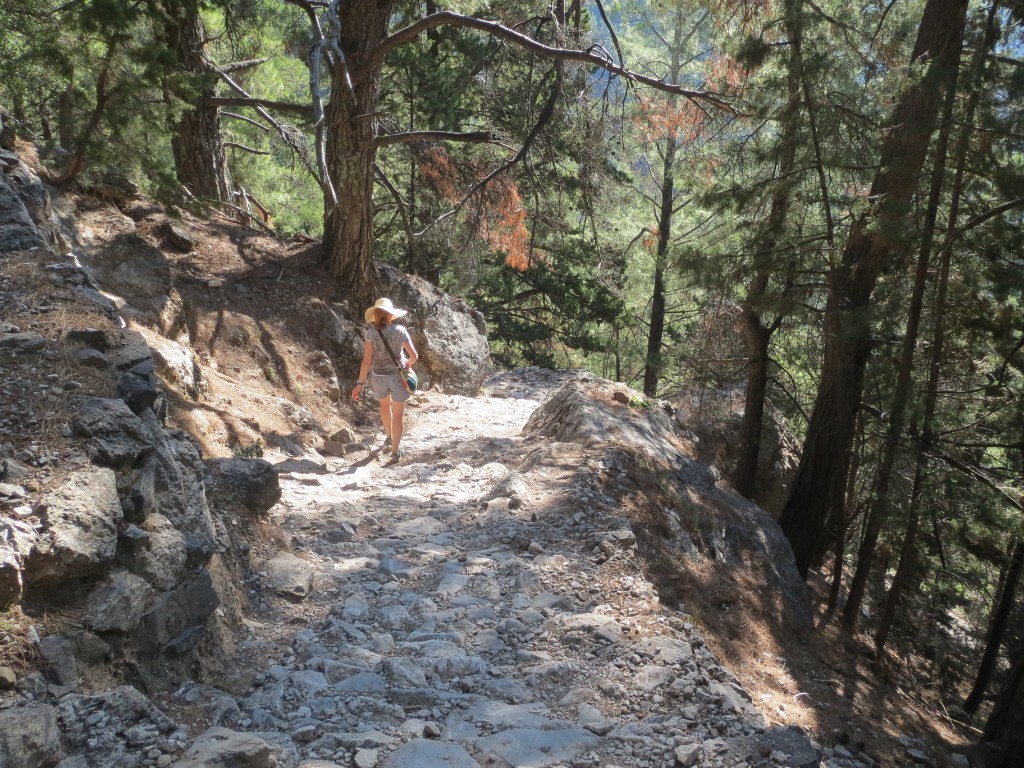 An inovative solution to stopping this massive boulder rolling down onto the path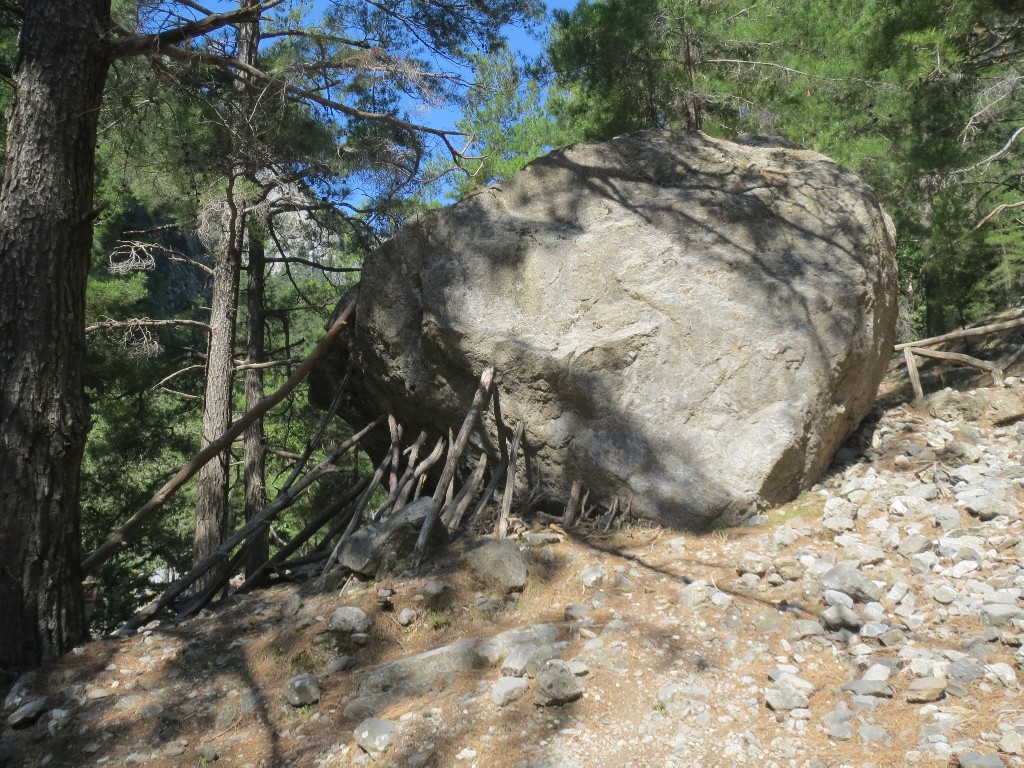 This is a rare kri-kri goat with her two kids, apparently they've got used to eating cardboard ham and cheese sandwiches, which are served at massively over-inflated prices in Omolos.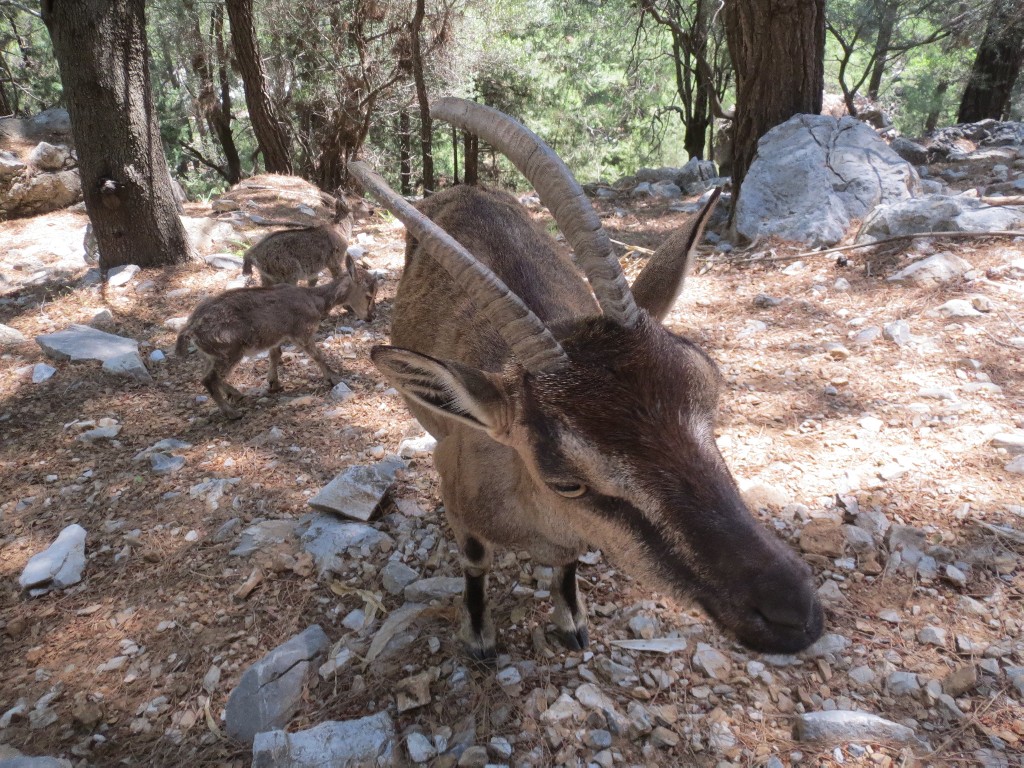 The second half of the hike, after you've passed the village of Samaria, is more dramatic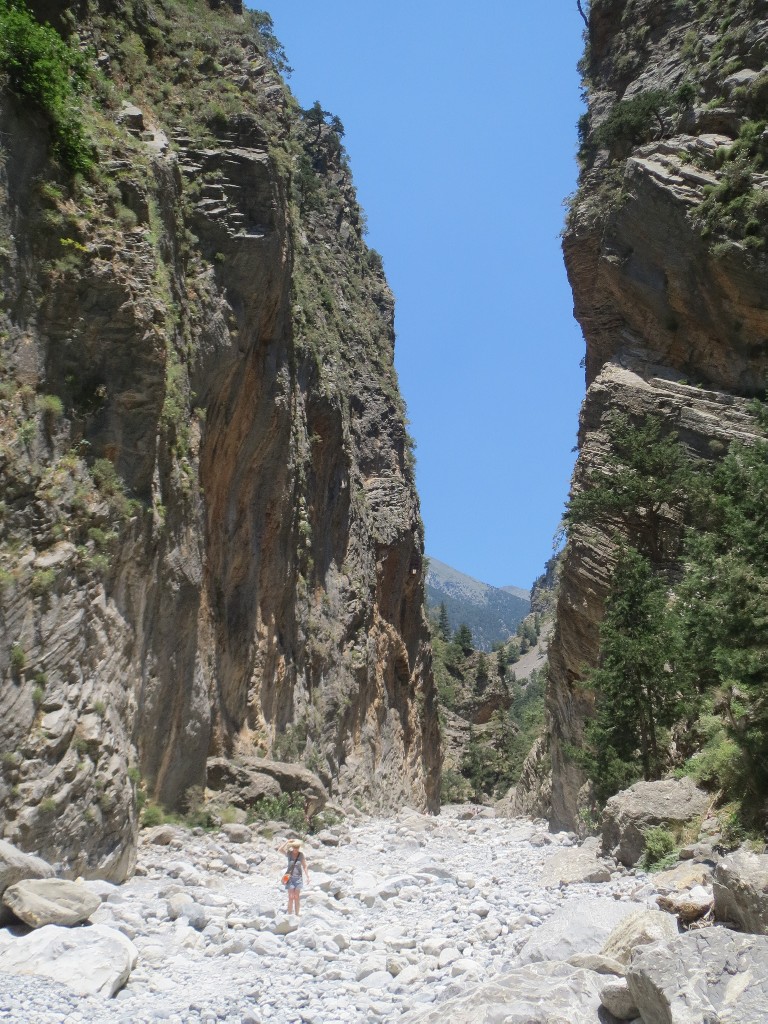 I'm not sure if dehydration was setting in, but it looks like there's a gigantic lizard made of stone, centre left of the picture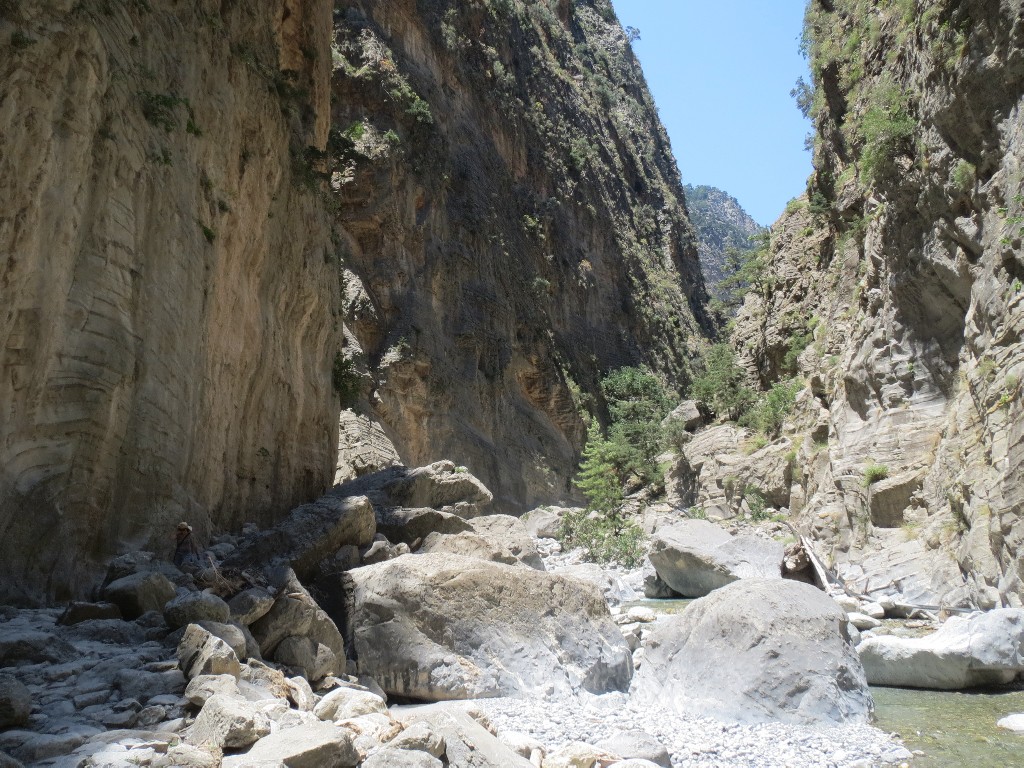 We craftily avoided the taverna that the guide said we should meet in at the end of the hike, and instead had some wonderful food a little way up the road, including a Cretan salad, which has a lot of egg and croutons in it, as well as the usual components of a Greek salad such as feta, olives and tomato. Greece is certainly a good place for lovers of 5-a-day! Next to that we had a mousaka, just to ensure a suitable level of stodge intake.
The journey back was smooth, albeit stinking of feet somewhat.. Next day was spent recouperating in Rethymno, this is an early morning scene in an alley close to our accomodation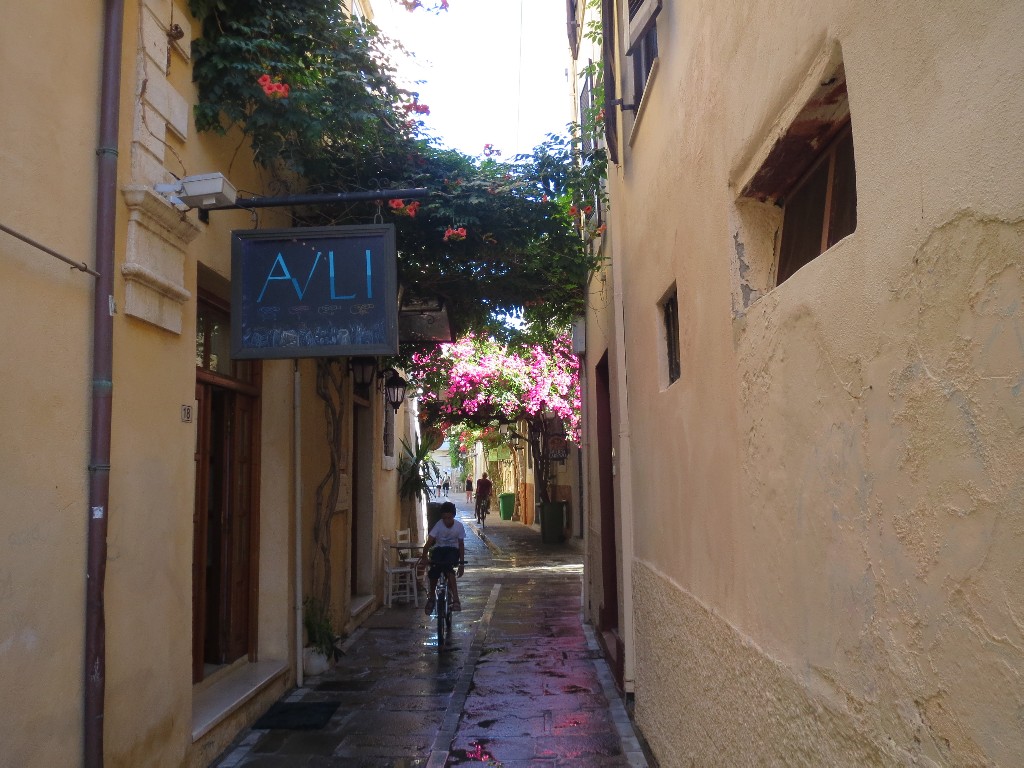 Round the corner is the Rimondi Fountain, a Coronthian affair dating back to 1626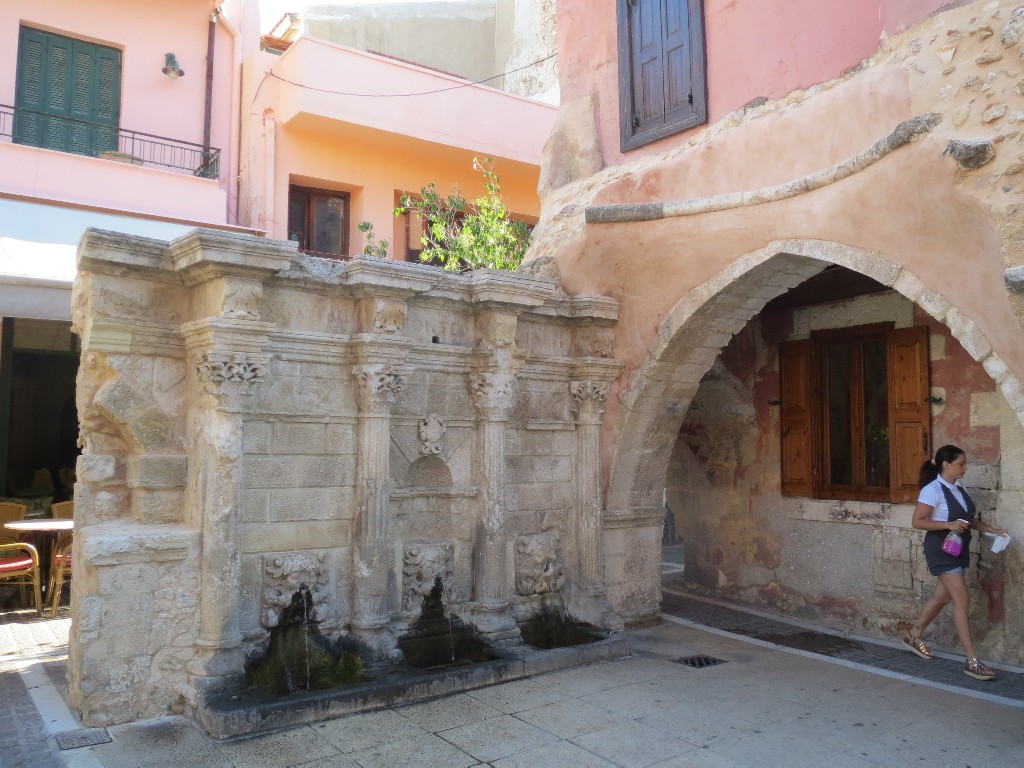 Also in town is the Fortezza, a fortress from the 1570s and in really quite good nick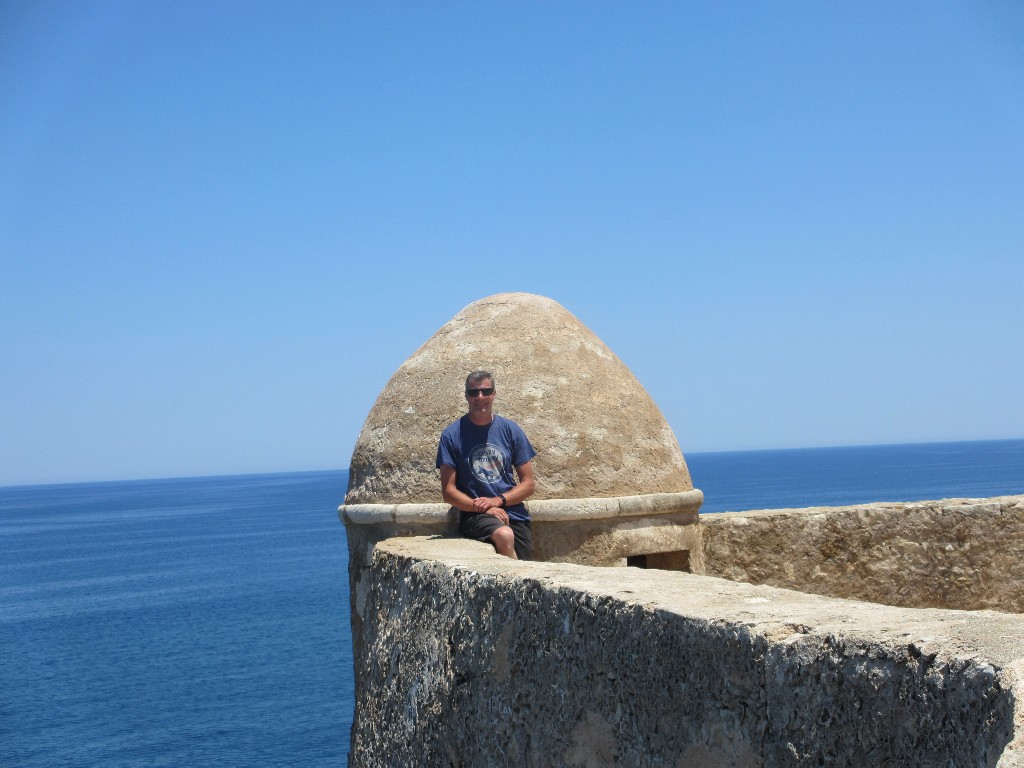 It covers a large area, and in the middle are various odd buildings, including this mosque, with the stump of its demolished minaret on the left there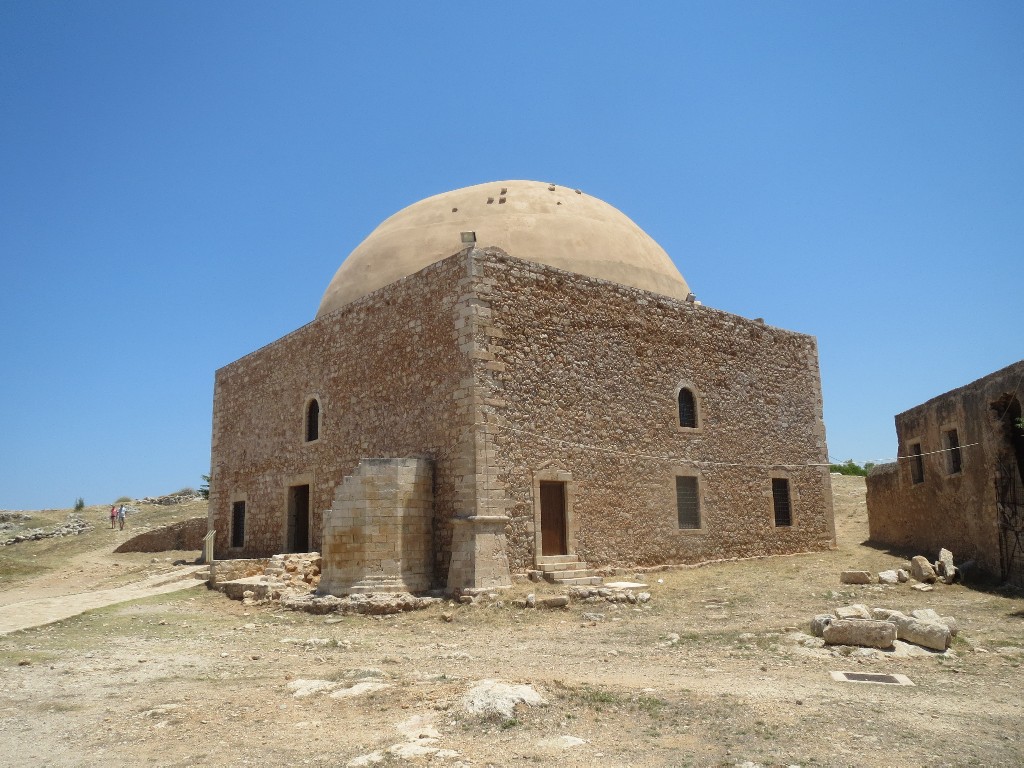 The rest of the day was given over to some lazy street walking and eating. This is the remains of another Cretan salad, the kitchen is in the window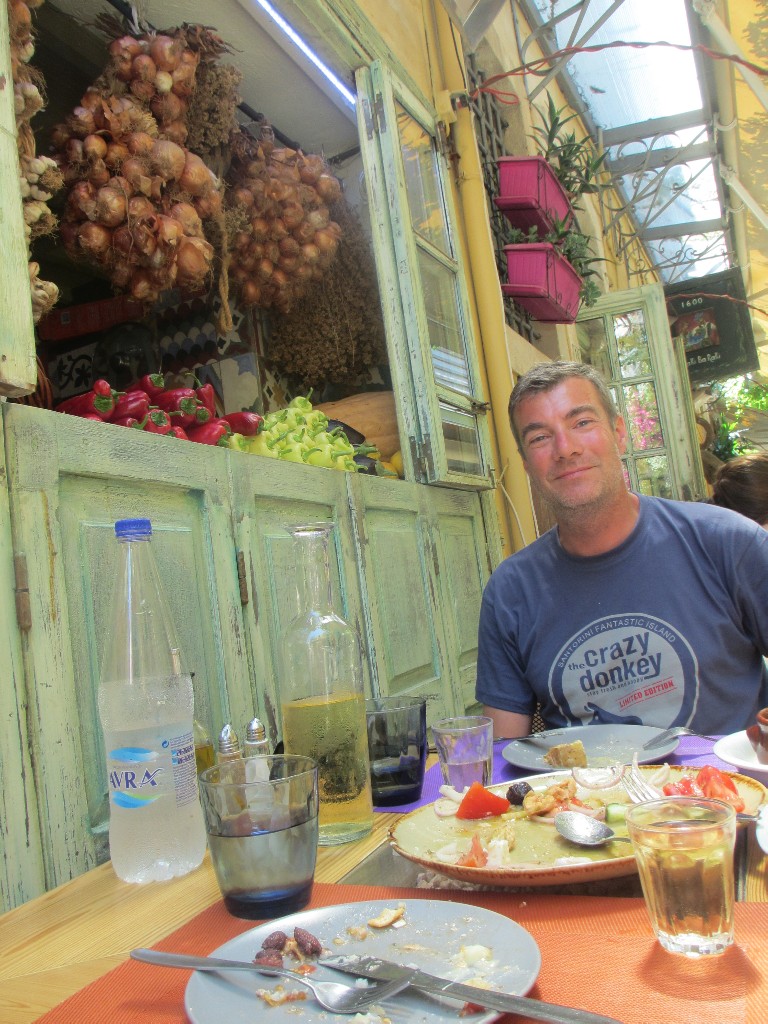 A typical street dining scene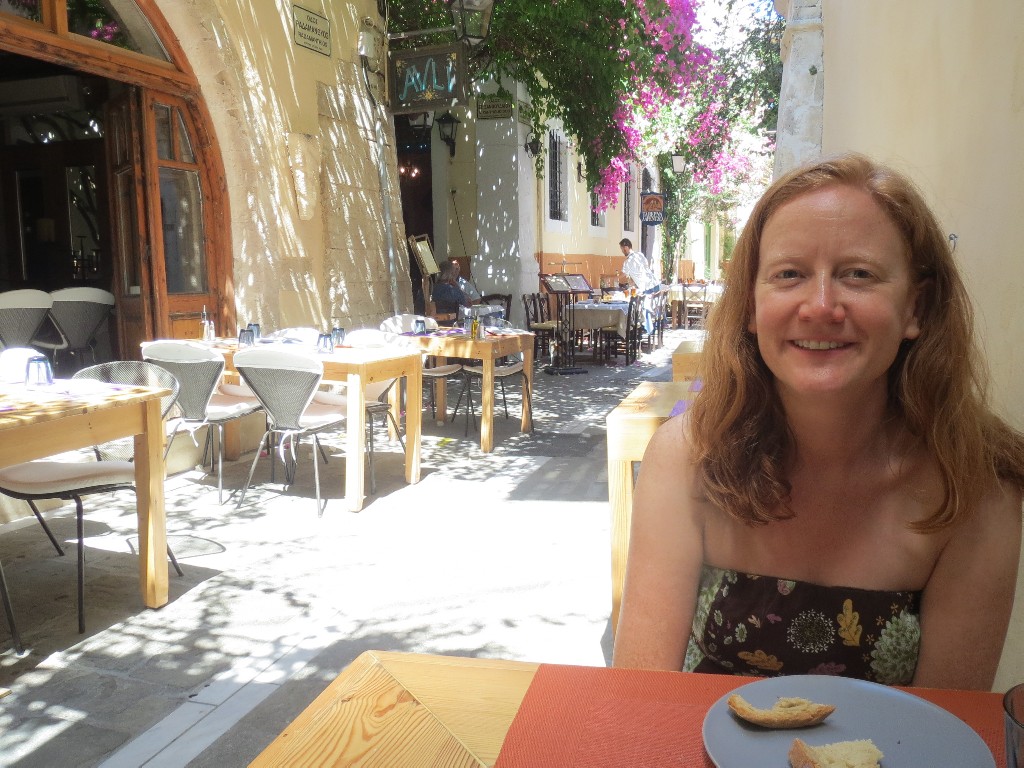 Cats are everywhere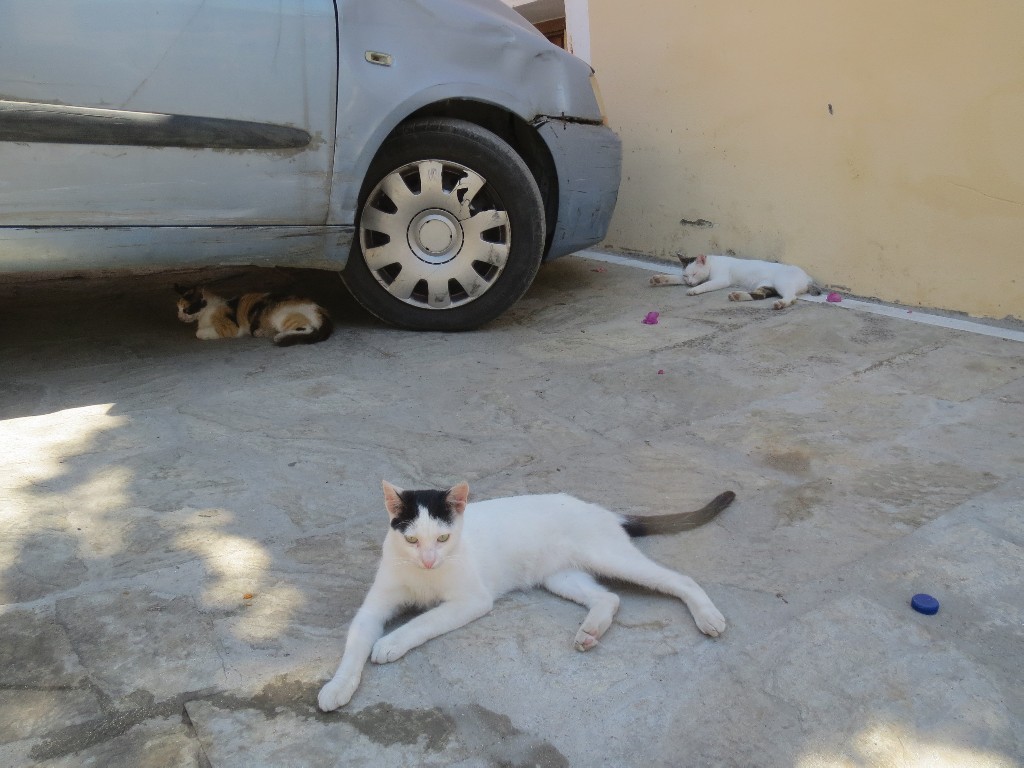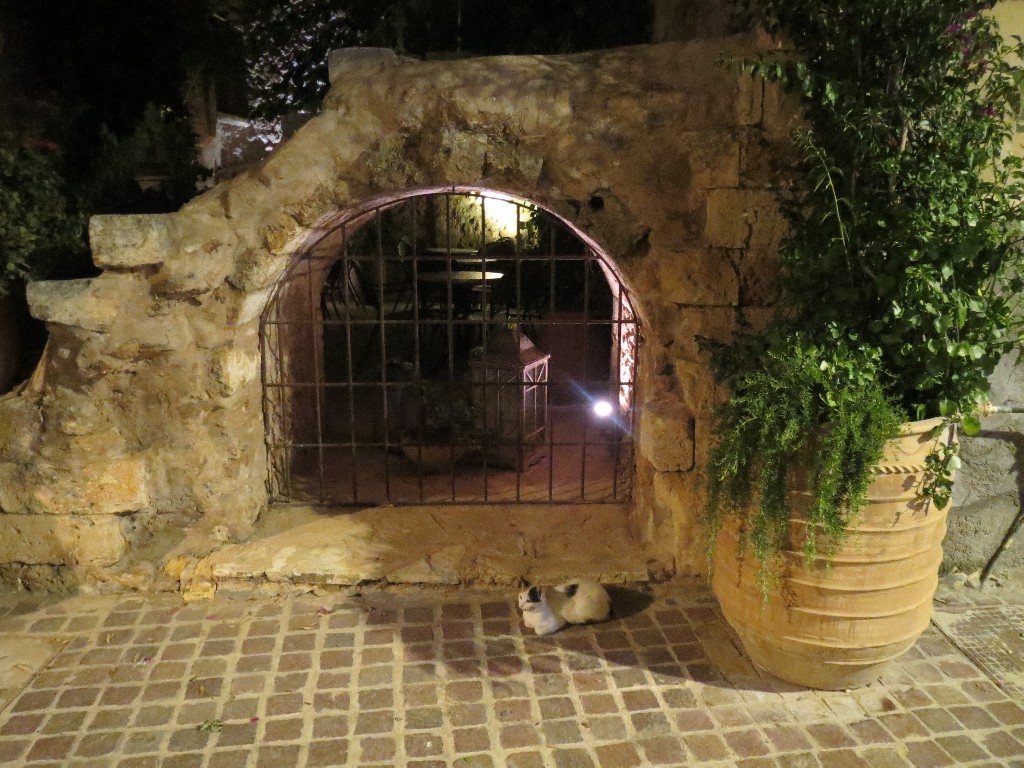 This setup is in the corner of a local supermarket. I'm not sure what you're meant to decant the olive oil and raki into. Perhaps you're meant to lie on your back on the floor, with your mouth open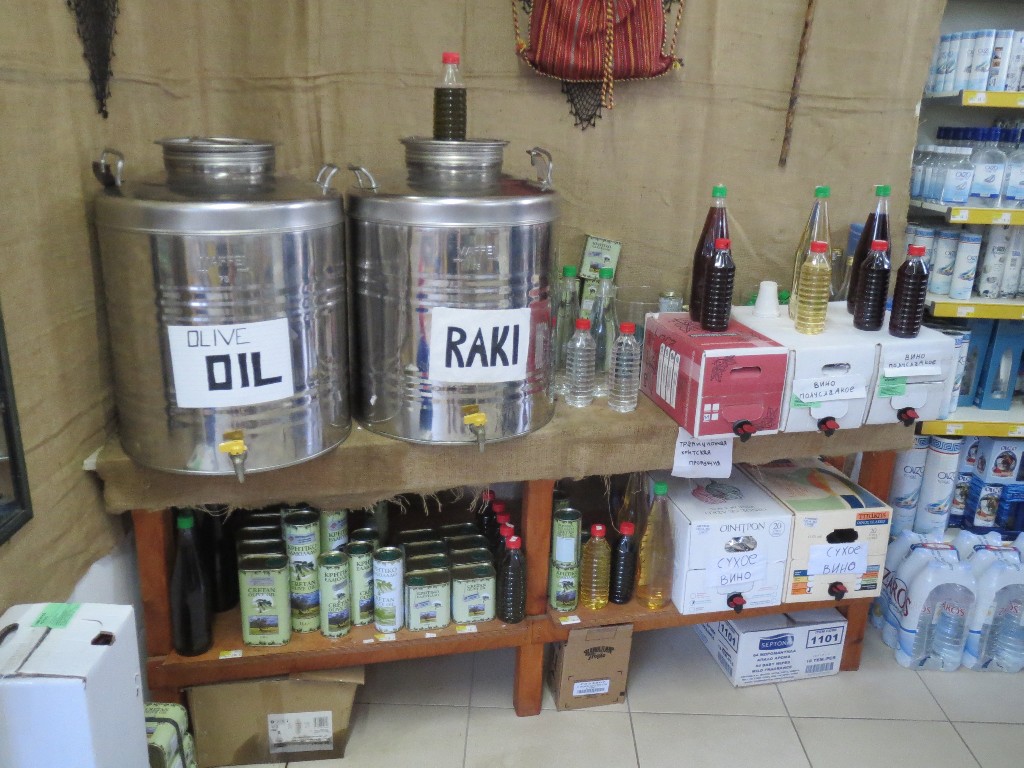 We took a drive out to the Minoan place of Knossos, dating back to 1900BC. The place has been restored in a most bizarre fashion by a certain Brit called Arthur Evans between about 1900-1930 (AD!) He's used his imagination largely, to guess at what different parts of the palace would've been used for, and rebuilt them in concrete to reflect how he thinks they would've looked. Since then, a lot of his assumptions have been proved wrong, and he's even build chambers for the king and queen, even though there's no firm evidence that the monarchy ever even resided here.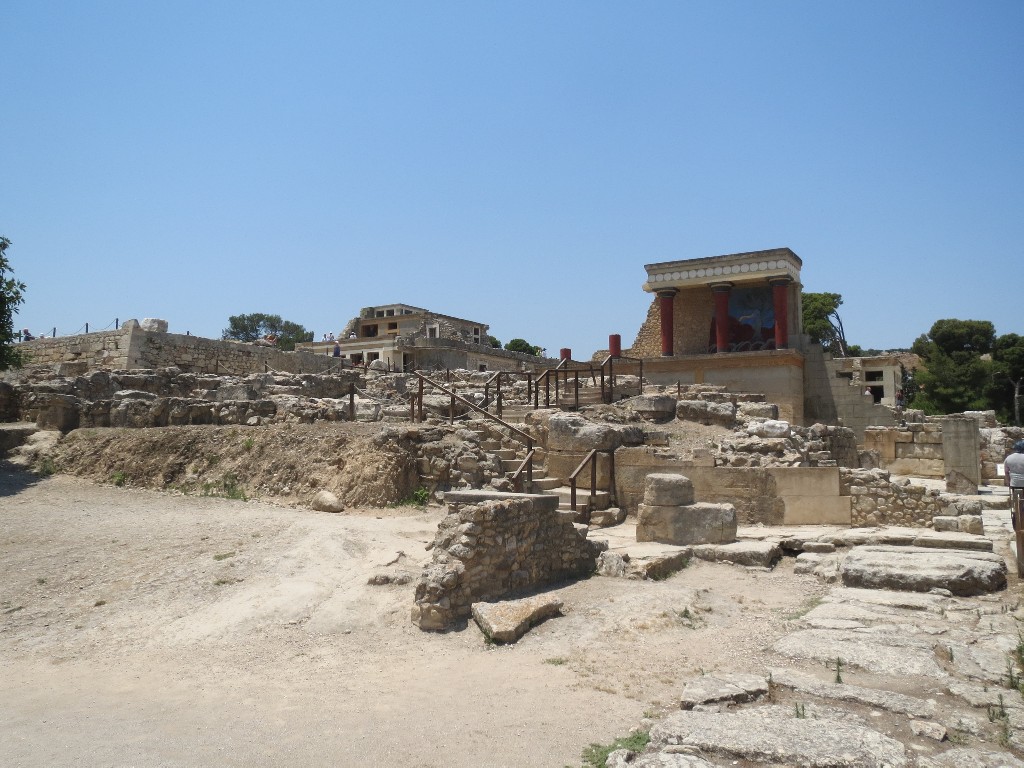 The end result is that you feel more like you're in Portmerion in Wales, rather than some important archaelogical site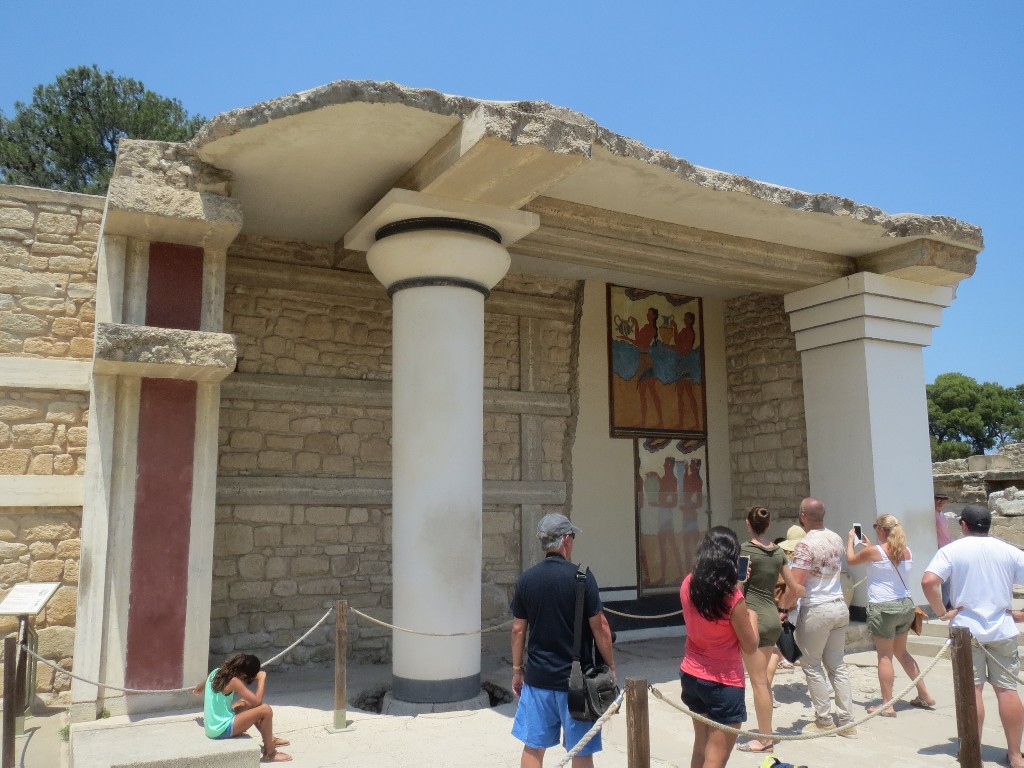 For out final night we moved west to Hania for one night only. This was mainly so we could be closer to the airport to allow for more of a lie-in, but also to try and get a quieter night (which we did). Even though we only had the evening to wander around and get some food, Hania looks beautiful! It has a Venetian quarter, similar to Rethymno, set around a beautiful and historic harbour. It's bigger than Rethymno too, so sports a much broader array of shops and eateries. If we come back to Crete again, and I hope we do, I would definitely spend more time here.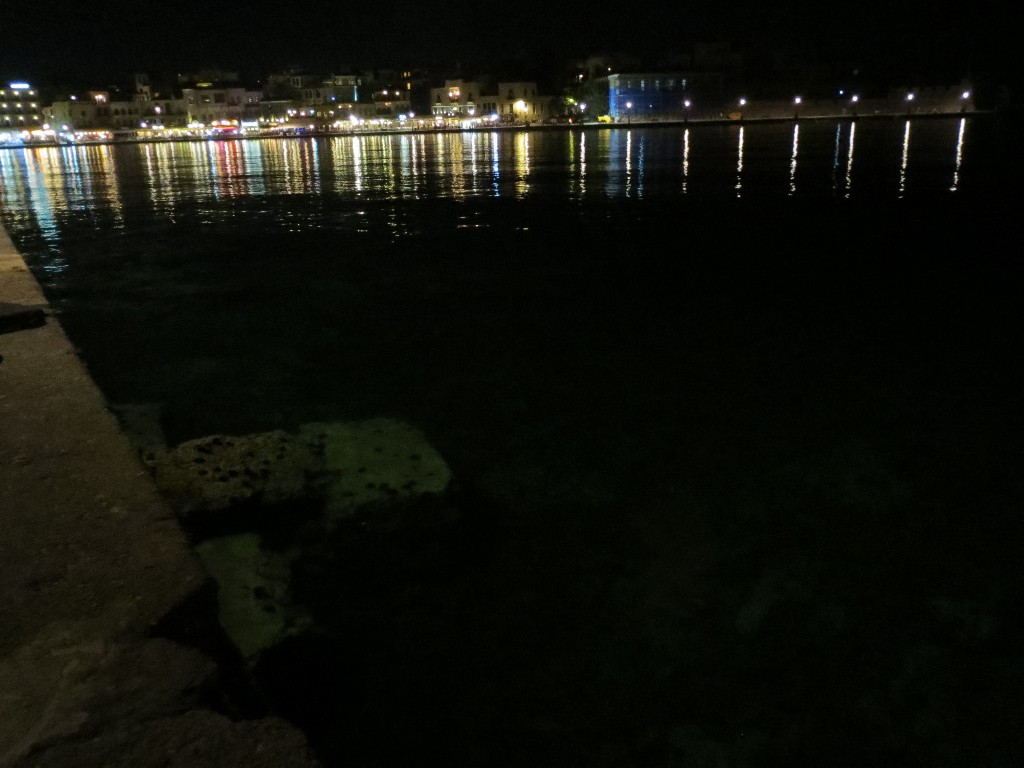 Greece has been an amazing experience, with outstanding food in almost all cases, and wonderful friendly and helpful people. I'm so glad we managed to get ourselves out and about around the country, rather than lie on a beach for two weeks 🙂 Highlights for me are Meteora and Santorini, and the accomodation on Paros