Interesting night last night. Joe takes us to a strip bar ('cos he's classy like that), a fairly low-key affair really where we were just having a few quiet beers and watching the bare-knuckle fighting they had on the big screen and completely ignoring the girls, by and large. Anyway, one of them comes over and decides to sit with us, between dances, for a good 2 or 3 hours listening to our waffling. She must like English accents, or something, as she seemed very enthusiastic… Further details are censored…
Afterwards, Steve was behind the wheels of the Mean Machine as he was designated driver last night.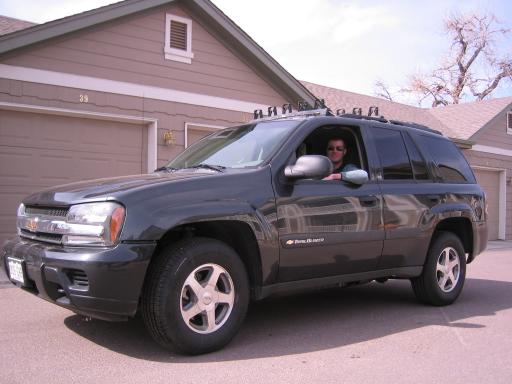 We get at most 200 yds out of the car park of the bar when the rear view mirrors illuminated with that all too familiar sight of red and blue flashing lights. Apparently we were "slightly out of our lane" which we are sure we weren't, the geezer was just lying in wait without doubt. So Steve is on the pavement doing the sobriety test, trying to follow the guy's finger around with his eyes without moving his head. Unfortunately he stopped short of getting him to stand on one leg and try and walk in a straight line which would have given us even greater amusement… Shame I didn't have my camera handy!
We're now off to go snow-shoeing in the Braimer Lake region of the mountains for the afternoon then out in Boulder, a suburban town of Denver.  Today we were in the Science and Nature Museum down town, we managed to kill 5 hours in there as it was rather good, with an interesting interactive exhibit determing your health and fitness. I managed to trash a stepper machine in the process which was somewhat unfortunate. At the end my profile told me that I'm not going to die, just yet.