This is the famous Khao San Road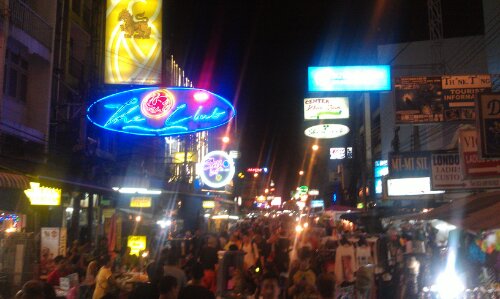 But I'm not staying here, given that I'm over 20 years old. I'm actually staying in Rambuttri, just next door but vastly more civilised. It's been a fairly uneventful couple of days, I've felt a little sick just with acclimatisation issues, but they're passing now. Seeing this farang down a back alley, exercising by jumping up and down on a tyre whilst looking at himself in a mirror really made my stomach churn..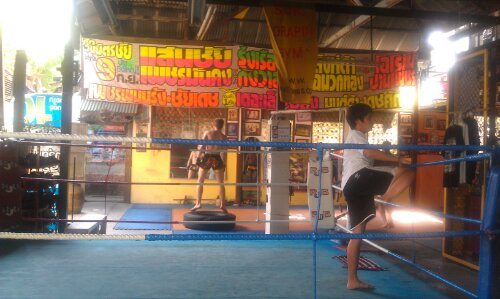 I eventually sought out a good travel agency for sorting a visa for Myanmar, so my passport has been whisked away until Wednesday when it should come back with a shiny stamp in it, but the guy's English was so bad I could go back there to find a pizza waiting for me for all I know, although for 1500 baht it'll have to be damn tasty! He seemed to say that they'll contact me before noon tomorrow if there's a problem, but whether that'll be an issue at the embassy or that they've just run out of pepperoni remains to be seen.
I'm getting quite excited about Myanmar now (that's Burma to you and me, by the way), it's supposed to be a throwback to ancient SE Asia and very backward. There are a load of concerns, including having to turn up with pristine condition US dollars to change on the black market to kyat, but I was just chatting to a German guy who has recently been who assured me that everything was very easy going and the country is wonderful.
In the meantime I'm going to head tomorrow to Ayutthaya about an hour north of here, an old historic centre of Thailand to get a little culture.
Early to bed for me tonight then, so I'll sign off with a cheesy screen print of the weather. I'll allow myself just this one indiscretion 🙂