Spent the last two nights here, met some guys and had several beers the first night as my stomach finally nearly feels better. Consequently spent the next day in bed and took an evening boat trip around the island we're on, stopping off to visit a few temples, including Wat Phanan Choeng, with a seriusly big Buddha in it. If you look closely at the pic, you'll see a man's head just sticking up above the Buddha's fingers, to give you an idea of scale.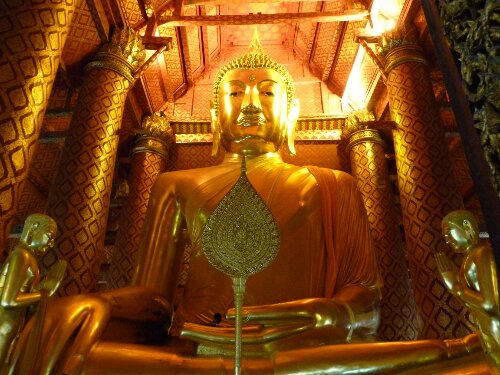 Today I've been out in a push bike, visiting a few more, and now relaxing on a riverside restaurant awaiting a late breakfast. After this I'm catching a train back to Bangkok, at the moment there are delays due to signalling failures it seems, so I feel just like being at home 🙂
Tonight I will hopefully be reunited with my passport, if I can remember which one of the 10,000 travel agents around Khao San Road I took it to. Tomorrow morning I fly to Yangon in Burma, where the real entertainment should begin. A German guy I met yesterday has just been and was telling me great things about it, so the general consensus so far seems to be that is _the_ place to be at the moment.