Leaving the Golden Rock behind, I bused it to Bagan, the land of 4,000 temples in the north of the country. One leg of the "bus" journey turned out to be a 60 minute ride on the back of a motorbike, from Bago to a remote motorway intersection somewhere north of Yangon. There I waited for almost an hour whilst my driver flagged down all passing buses in the pitch black, trying to find one that went to Bagan (most would go to Mandalay). This was splendid really, we drove up the off-ramp of the motorway on the bike in the wrong direction, before parking up and hanging around on the hard shoulder.
He got a suitable bus eventually, which was due in to Bagan at 6.30am, but actually arrived at 3am, God knows how as he wasn't going that fast really. I get turfed off the bus in the market place of Nyaung U, I was the only traveller on this bus, wondering what to do next when I noticed a little restaurant that was open and full of a few locals. They also had two large flat screen TVs, one showing footie and one cricket, with the commentary in English. I got some excellent food for under 50p and decided to sit it out until morning, despite the fact that it was a little chilly, temperatures in Bagan actually drop as low as 16C at night. I made a new friend, sat on my pack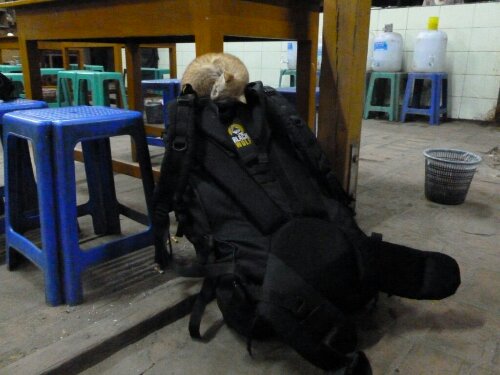 you can see him again here in the centre of the picture.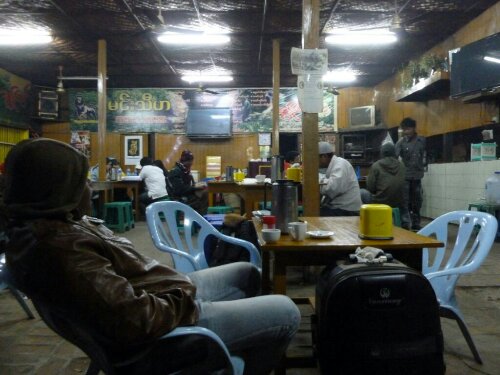 He is currently on my lap, giving me a little warmth.
Time has passed, and a tout came by at 5am and I decided to jump in his car and check out his guesthouse, especially since the power failed about 4am and the town is in absolute pitch darkness. It did me for the rest of the night before I moved to an excellent place nearby the next day. Nyaung U is a settlement within Bagan where the backpackers hang out, it's noticeably more touristy than the rest of the country, with plenty of tourist-oriented restaurants and travel agencies and stuff. The place had a wonderful vibe all round, really. From my breakfast table I have a view of this temple, seen in the rising sun here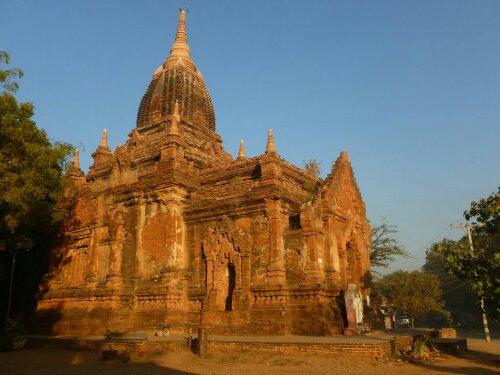 I hired a bike and went scooting around all the temples, which are quite literally littered all over the landscape. I never did find out why there are so many, it is almost as if each local family had their own, and there was a "my temple's bigger than yours…" game going on.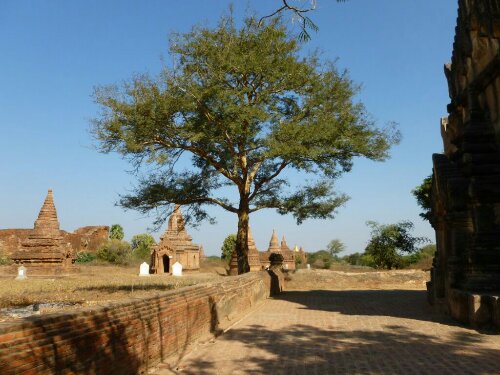 On the first day I met Debs, a British nurse, one of the few Brits I've met so far actually on this trip. Bizarrely, she was born in Truro, which is my home town in Cornwall. A few beers with her, followed by some wobbly cycling home and then dinner and more beer saw a late start the next morning, but there was still time to check some more temples before meeting Idaho Dave, who turned out to be good for another skinful the following night. Sometimes beers are delivered with cigarettes. They're not complimentary though.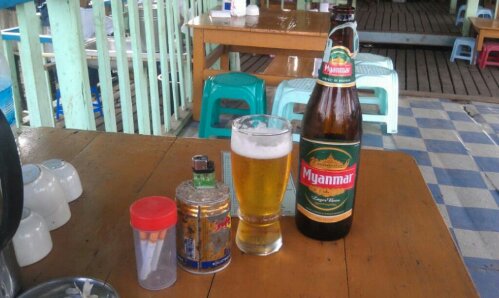 A working vehicle passes by in Old Bagan. Why bother with a bonnet, wings or doors and the like, when all that is really needed is an engine and some wheels?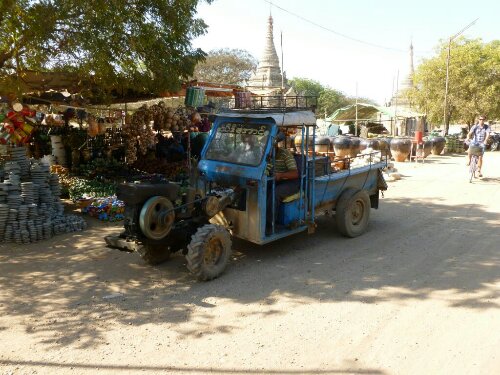 A large marketplace is right outside the Ananda Pahto, one of the larger and best preserved of Bagan's temples. This stall appears to be the Burmese version of screwfix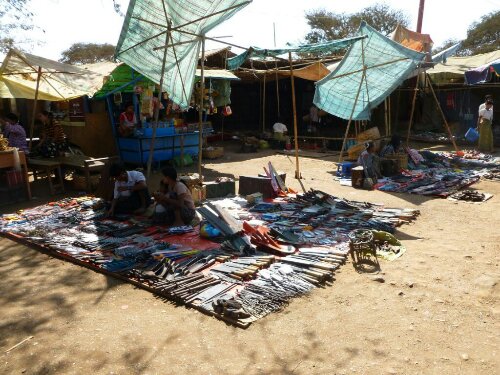 There's only so many temples one can take in a sitting, so I will be heading off to Mandalay, which will be my last major stop in Myanmar