I had a minor miracle that helped me get to Thailand in one piece. I'd foolishly booked a flight out of Bangkok to Surat Thani that left 55 minutes after the one from Mandalay was due in. I'd temporarily forgotten that I needed to land, immigrate, collect my baggage, clear customs, make my way from international arrivals and find domestic departures and check-in again before the desks close, 45 minutes before departure. 10 minutes for all this would seem tight.
I have to commend Air Asia, who ran both flights, they are a Malaysian budget airline that also serves other SE Asian countries quite widely. Their fares are rock-bottom, for example the one to Surat Thani was 40 quid, with all the extras in such as a charge for a checked in bag and a charge for credit card. Service, however, is not compromised at all, compared to a certain Irish based budget airline I could think of. Nothing is too much trouble – the miracle is that the Mandalay flight got in 30 minutes early, the aircrew moved me to the front of the plane so I could run off, the ground staff alerted central control with my booking reference and kept a check-in desk open and set aside just for my use, and all of this was my own stupid fault of course. There was even a later flight to Surat Thani they could've made me use, no reason for them to have any sympathy at all.
The transfer to downtown Surat Thani, where the night boat leaves from, was smooth and I had several hours to kill in the most boring town on the planet. In hindsight, I would've been better spending those hours in Bangkok airport eating KFC rather than hang around that dump. I found a guesthouse willing to let me use a room for a few hours for just 100 baht so I could lie down, as I was beginning to feel rather ill by now. Here's the nightboat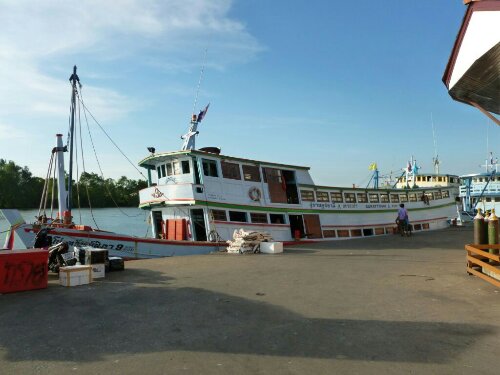 And a shot inside just after dawn when we were close to the island. I've taken this boat before, but it was a different boat that time, this one is actually spacious in comparison!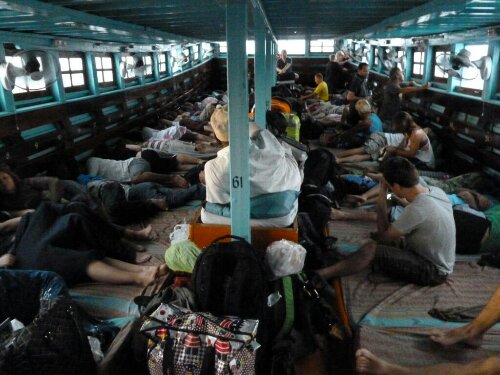 This is my third time on Koh Tao, one of my favourite spots in Thailand, and I got a hut in my usual bungalow operation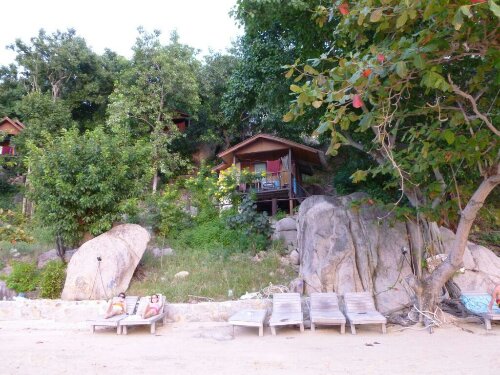 I'm writing this post from my balcony, and I'm rather distracted as there are a pair of naked, Western breasts staring up at me from one of those loungers. It always astonishes that people do that here, it is I believe illegal, and disrespectful to the locals. Nevertheless, keep up the good work! And no, I'm not uploading a photo…
Top tip for travelling – if you bought a stash of doughnuts to get you through the nightboat trip and have some left over, don't leave them on your bed when there is an ants' nest underneath your cabin, otherwise this happens (not sure they'll be visible in this little pic)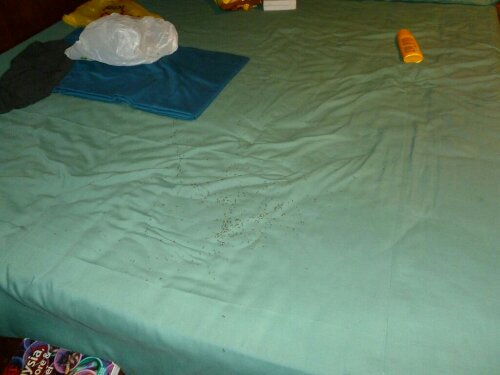 This was after the food and most of my clothing had been removed, including pants which literally did have ants in them, and there are thousands of them all over the bed and hut. Nothing that a Thai bloke with the world's largest canister of bug spray couldn't sort out.
And that's about all I have to report, as I've been sick as a parrot since leaving Mandalay, clearly something was dodgy with the last meal I had up there and I've pretty much been wiped out. I've been unable to eat or drink much, and consequently have no energy and little desire to venture too far from a toilet. As today was Day 5 of this, I finally checked into a clinic here who've been pouring various substances into me and I'm happy to say I'm feeling much better already. So don't panic, Mum.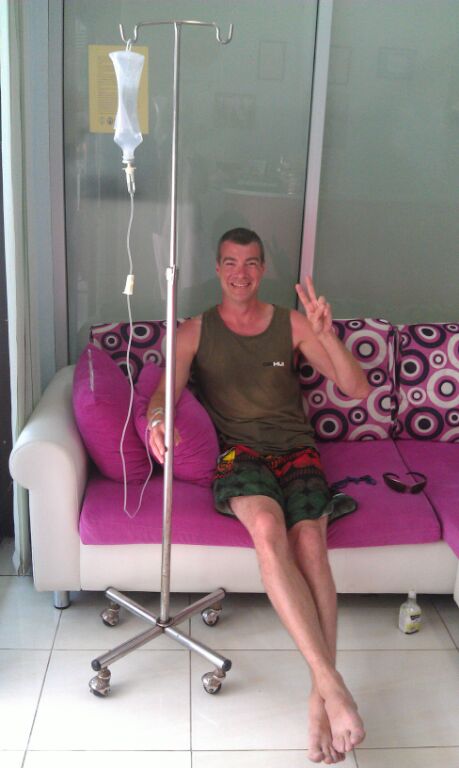 Shortly I hope to have a little snorkel in Shark Bay which is very close by, pictured here from the viewpoint I struggled up to yesterday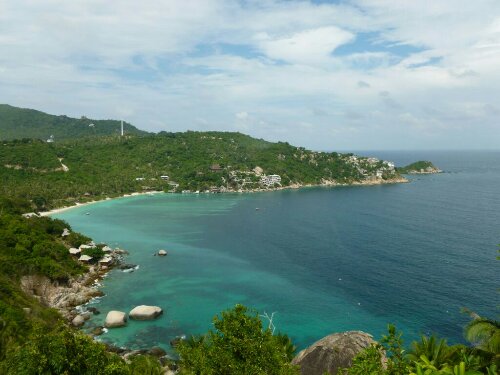 Astonishingly, it's famous for having large numbers of sharks in it. Tomorrow I plan to transfer over to Koh Phangnan next door to here for perhaps 3 nights, and I've booked a night train to Butterworth in Malaysia on the 19th, a bit later than planned, but that was the first one with a berth available. Then I plan to spend a night or to in Penang, after which I was going to choose between a ferry to Sumatra in Indonesia, or fly over to Borneo, in the general direction of the Philippines and China. The way that time is panning out, I think I'll have to leave Indonesia for another time and go straight to Borneo.