My last morning on Koh Tao started with me doing a good deed by scraping a tourist's motorbike off the road that crashed just in front of me. Someone else scraped the tourist up. She looked alright really, but some local women were rubbing her belly in concern, thinking she was pregnant I suppose, when actually I think she was just a bit fat. I hope so anyway… The bike was not in such good shape and will cost her a few baht I should think.
A fairly slow ferry took me to Chumphon where I had 3 hours or so to kill whilst waiting for the train. I sumggly found a nice cool bar to whilst away the time whereas most of the tourists went like sheep to a karaoke restaurant nearby. These places are painful – the singers are all locals who sing local pop music at ear-splitting volumes. This often happens on long distance buses, too.
The night train was lovely and comfy, nice and cool and a big bed. Everyone seemed to be sleeping peacefully for most of the journey too. When I eventually woke up they put the beds away and I got chatting to the old Malay guy that had been sleeping below me. He said Malaysia was lucky to have been colonised by the British, an interesting point of view that it'd never really occurred to me that a local might hold!
From Butterworth a short ferry ride takes you to Georgetown on Penang. As I slightly expected, the place is a bit underwhelming for me. It is quite interesting to see all the old colonial buildings around the place, but beyond all that, it is pretty much high-rise. The food is certainly excellent, very varied and cheap, something Penang is known for. The same cannot be said of the beer.
This did give me a little amusement, a new definition for irony. Starting from the left, 1) bring your UK phone charger with you. 2) Forget to bring the universal adaptor for it, so purchase one. Use the aforementioned combination to charge your phone in Myanmar, and fry the charger as the supply is so screwed up there. 3) Buy a replacement charger, which of course has a local 2-prong connector. 4) Go to Malaysia where they use the UK style plug and have to purchase an adaptor to connect your new charger to a UK socket. I suppose in this respect it was not good that we colonised this place…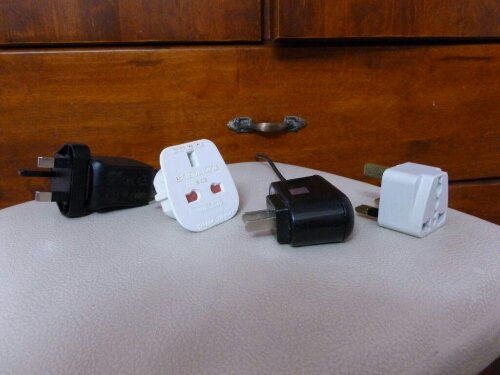 The boat service I was thinking of using to get to Medan has ceased 2 years ago, so having looked at flights and weighing up several options, I've decided to take a bus to Kuala Lumpur today and fly from there to Bali as the next main step. I'll play it by ear when I've arrived, and see how the weather is, but all being well I'll explore Bali and Lombok and may well need to backtrack over to Java to then get to Borneo.