My third visit to KL and a very pleasant one, I must say. The previous two times I really didn't think much of the city at all, the first time I stayed in the Golden Triangle somewhere and the next time down at Sentral, near the station, but this time I've stayed in Chinatown which is far more vibrant and welcoming, I must say.
This is a scene from one of the Chinatown streets, a web of stalls selling basically anything and everything from fake T-shirts to Rolex. Last night I was sitting in this street having dinner at about 11pm when the stalls were closing up. They go through this clearly well practised ritual of packing all the goods away into various lockable cabinets and trolleys that are later wheeled away to lock-ups somewhere. The parasols, plastic chairs, light bulbs and cabling are carefully removed and locked away until about 12 hours later when it all comes out again. 7 days a week? Probably, I'm not sure, quite an arduous lifestyle anyway, surely.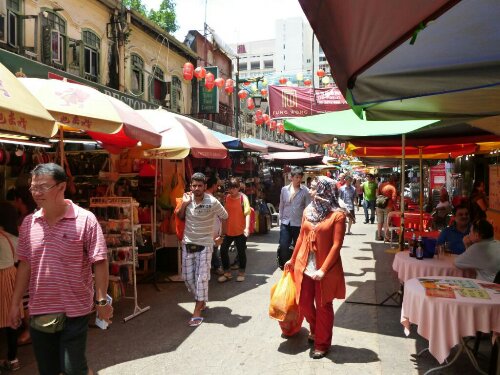 Both times I came here before, I had tried to go up the Petronas Twin Towers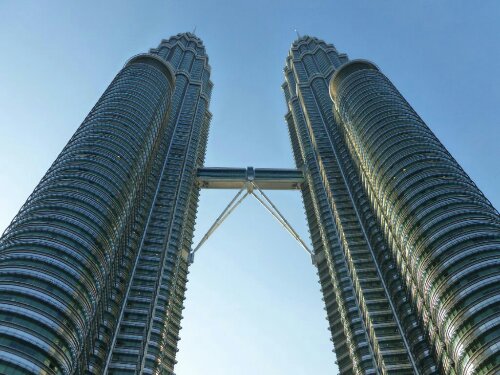 but they eluded me so far, as you had to queue from 8.30 in the morning for a ticket for that day, and me and 8.30am, dressed and in a queue are not good bed fellows. These days though you can book in advance, so I went up last evening to do that only to find that today was already booked until mid-afternoon which would be too late for me to get to the airport, but a little bit of pleading with the ever-helpful Malay staff and I bagged a ticket for this morning. It's an impressive visit alright, if memory serves me correctly these were the tallest buildings in the world for a brief time*, if a little expensive in Asian terms at 80 ringgit, but then how often do you get to go?
The view of the other tower from the one I was in, with the telecoms tower behind which I have previously climbed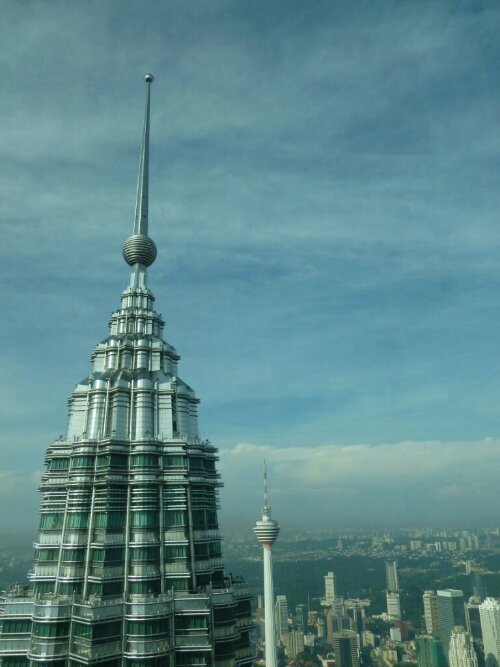 Now I'm back in Chinatown having some, well, Chinese food for lunch before heading to the airport and Bali. My eyes rested briefly on the MacDonalds just down the road, but that would be sacrilege really (besides, I already went there for breakfast)
* This statement might be bollocks – take with a large pinch of salt