After a strange night in the village of Kundasang, where I seemed to be the only westerner, I got a first look at the mountain from my hotel window. Looks simple enough? The little shining objects near the top of the vegetation line are the huts at Laban Rata where I will spend the first night, at 3,273 metres above sea level. For those who need context, Ben Nevis is 1,343 metres tall.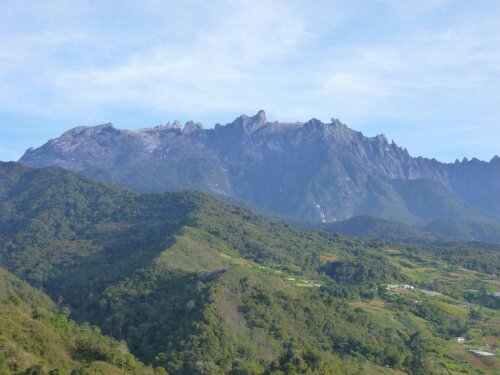 I got a lift to the park entrance 6 km away and began the process of registration. Some people criticise the slight mayhem that goes on here, and I can see why. You go to one place to register for the hut, another to get your climbing permit, another to get your guide, another to pick up your packed lunch, another to buy water and snacks, and yet one more to stow your unneeded luggage. If you just ignore the bigger groups of people doing all this though, and get on with your own business, it's really quite straightforward.
My guide, who speaks little English, took me by car to the Timpohon Gate where you begin the ascent at 1,866 metres. The first leg is 6 km, a fairly gruelling constant ascent on a good track with regular shelters with drinking water and real toilets! Signs at 500 metre intervals inform you of your progress, this one at almost twice the height of Ben Nevis and still another 2.5 Km to go today…
There are many porters also ascending. The first one here carries a full gas cylinder, and they're fast!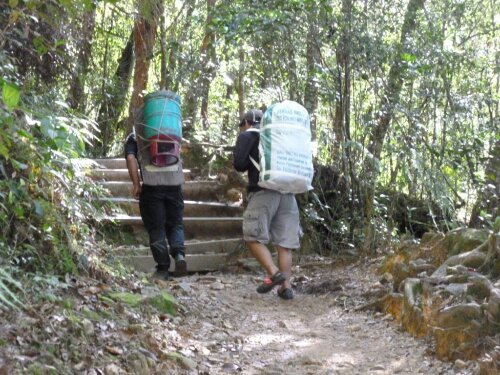 My guide looked me up and down at the start and told me this first leg would take 5 hours, and as is normal in Borneo, the clients go in front and the guide follows behind. I made it in 3 hours, I didn't see much of the guide as he couldn't keep up. Once again I am feeling smug, but probably justly this time 🙂 The staff at the lodge were also amazed to see me already. I was the first of the day apart from a couple of Swedes who set off at first light with the intention of making the summit in one day, but they failed and are spending the night here too instead.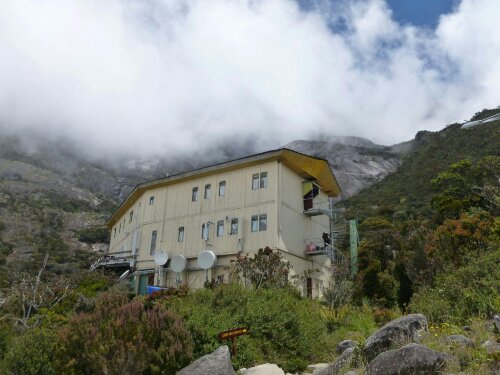 This sign is made from a rotor blade of one of the helicopters used to transport the building materials of the hut up to the mountain.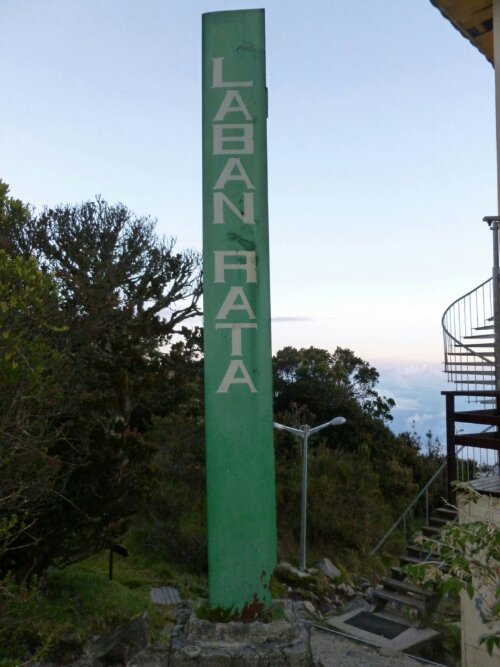 I enquired about a place on the via ferratta tomorrow but it's fully booked. Blast.
The dorm in the hut is lovely and dinner, which comes at 4.30pm and I await now smells good too. Breakfast will be at 2.30am. Help!
Dinner has been and gone, very nice it was too. From the terrace we were treated to a lovely show as the sun set on a load of swirling rain clouds below us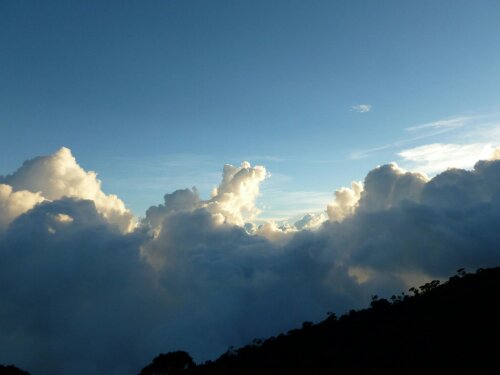 So, time has passed and I didn't get much sleep due to some inconsiderate bastards in my dorm. My guide told me we could set off at 3am instead of 2.30 as I'd been so fast the day before, which suited me fine, I can tell you. Around 50 or 60 sorry looking folk piled out the door and onto the mountain as I was coming down for my breakfast. There was only me and 3 others, also granted some sort of special dispensation to lie in (maybe their guide couldn't be arsed?) and I duly set off at 3 with my guide, who I lost within the first two minutes I think.
It is, of course, pitch black and you wear head torches to see your way up this second section, which is much steeper and more technical than the first, even though it's only 2.7 Km in length. You need your hands free a lot to haul yourself up steep rock faces and so on. It wasn't long before I started overtaking other climbers, then more, then more, then all of them. Yup, despite setting off 4th from last, I reached the summit first, once again I am feeling totally smug – I thought I was old and past it but it seems there's something left in me yet! This is the marker as I arrived up there at 4.30am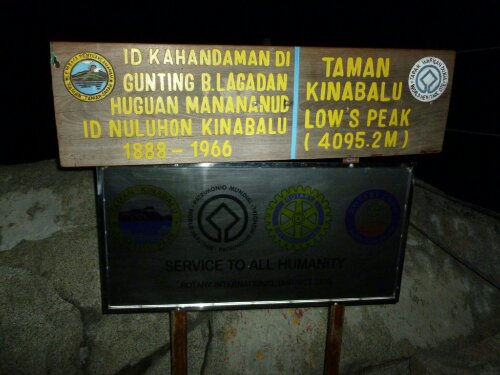 Now the problem here is that the temperature is around zero and it's very windy, and I have to wait until 6.15am for the sun to rise. Being first up somewhat backfired… Rise it did and it performed all the usual funky stuff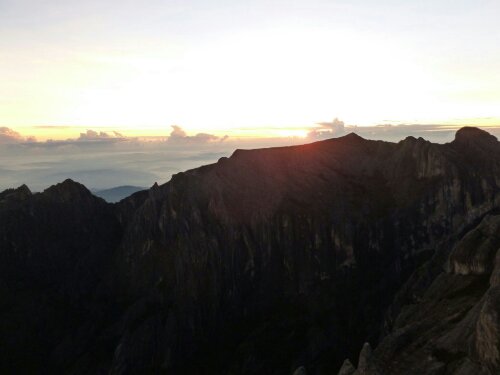 If it looks as though I'm totally knackered and freezing here, it's because I am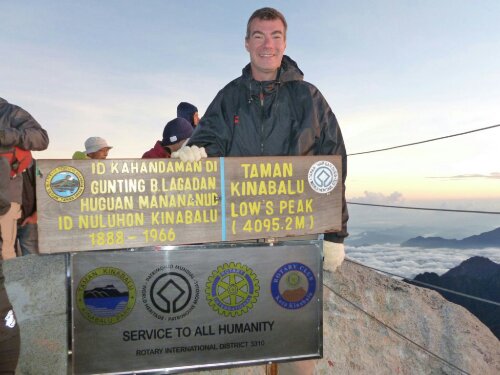 All that remains is to come down, you go back to the rest house at Laban Rata for a second breakfast, naturally I was there first again. On the way in you can catch a glance of where I've just come from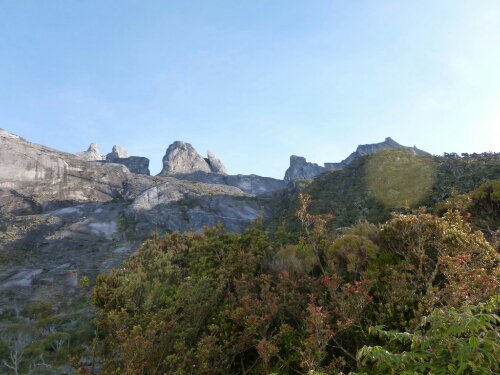 Then my guide sets us off early to return to base (guess who made it there first) which was a good thing actually as I managed to pal up with three Malay guys from KK and share a taxi back there with them which has given me plenty of time to go for an excellent and much needed massage, my legs turned to jelly around the 2 Km marker on the way back down and they are hurting bad..
One more night here and then yet another fairly early start to catch an 8am ferry to Brunei tomorrow