It's been a few days – but I've been deep in the jungle, far from electricity and even farther from the internet. From Miri I flew to the semi-international airport at Mulu, with one of the most elaborate baggage reclaim systems I've seen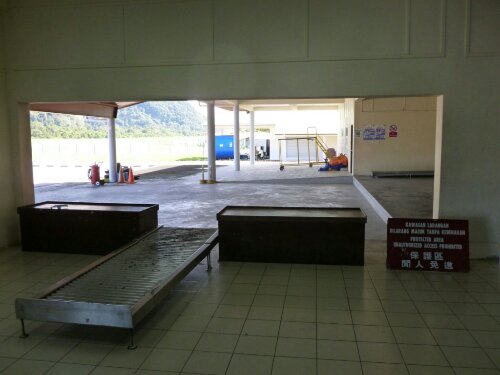 Mulu is a national park in the jungle, not really accessible by road even though it's only a 30 minute flight from Miri on a clockwork aeroplane. It's a limestone karst region, with some caves to lose yourself in and plenty of strenuous jungle hikes to do. My little group of four Germans and myself spent the first night in a lodge near the park headquarters, and on day one visited the nearby Deer and Lang's caves. I've umpteen shots inside the caves of the various formations, none of them any good of course, but Deer cave is famous for the 2 million or so bats that live inside (there are no deer) and also for being, arguably, the largest cave system in the world.
If you're lucky and the weather is good enough, as we were, the bats head out at dusk to hunt. The black swirl that looks a bit like the loch ness monster is one batch of bats emerging, there must've been 30 or 40 batches of them like this that came out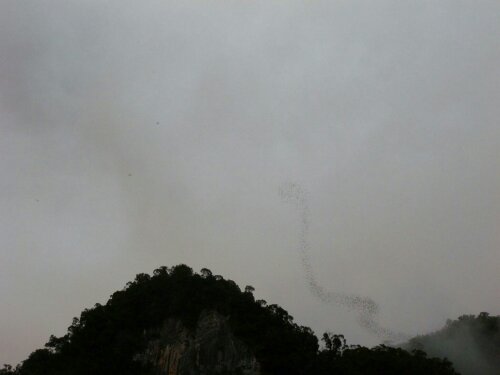 Next morning a boat takes us to Wind and Clearwater Caves, navigating through the shallowest of waters, in places you could actually see the boat going uphill slightly in the rapids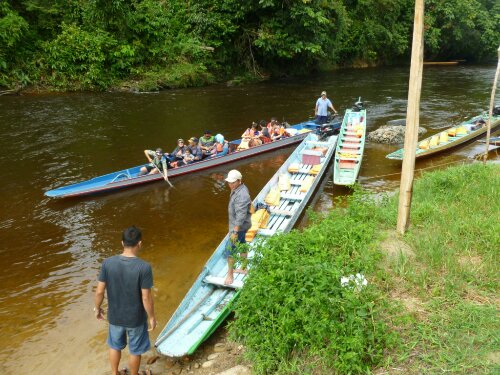 This is Sonja and Anja in Wind Cave
After this, Sonja departed back to HQ as she only stayed a night, Anja and her boyfriend were supposed to be coming on with us to trek up to Camp 5 deep in the jungle to ascend the Pinnacles, but her boyfriend was on his death bed so they stayed back at HQ instead. And then there were two…..
From the caves the boat took us further up river, then began an 8.8 Km trek through thick jungle, Kristina negotiates a rickety bridge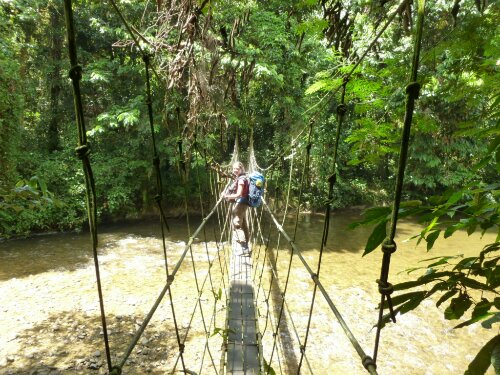 Our guide, Wan, follows, usually lurking in the distance somewhere, with a porter behind carrying our dinner (but no beer!!!)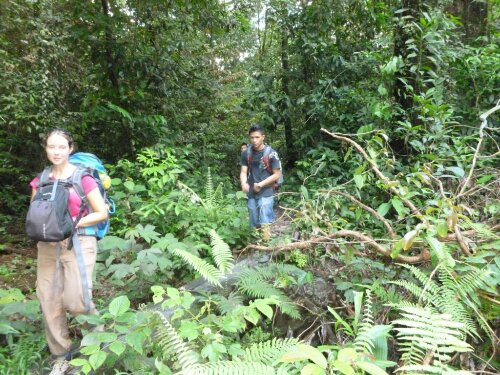 There are leeches here, none of us got any on the way in, but on the way back I had about 6, deftly dealt with by Wan using a combination of insect repellent, salt and a burning cigarette. The trail brings us to camp 5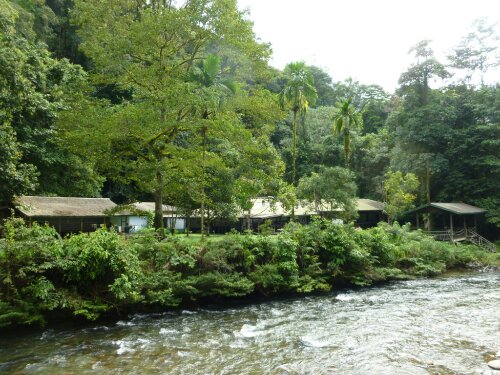 A lovely spot in the middle of nowhere, the river providing the perfect opportunity to rinse off the day's ludicrous quantity of sweat as the next day's group preparing to ascend the Pinnacles demonstrate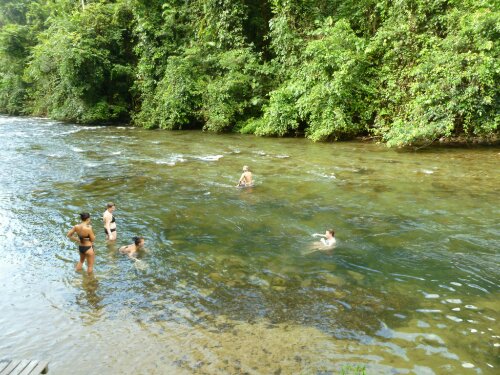 Sleeping arrangements are basic, to say the least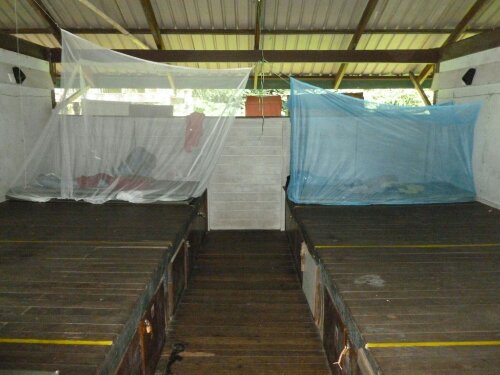 The next morning, a 5.45 am breakfast sets us up ready to head off at 6.30am for the Pinnacles, a grueling, steep ascent through dense jungle, starting from camp 5 at 50 metres elevation up to the top of Gunung Api at 1760 metres. This is the before shot – within about 10 minutes of this being taken, we were both drenched in sweat for the rest of the entire day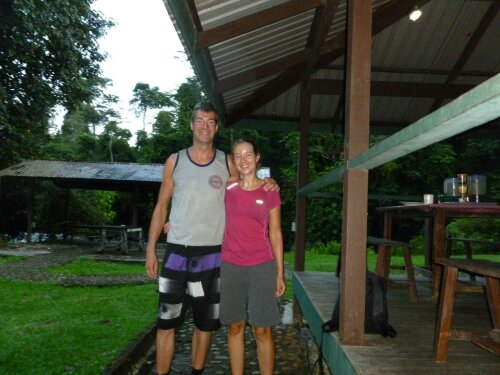 Near the summit, things start to get a bit more technical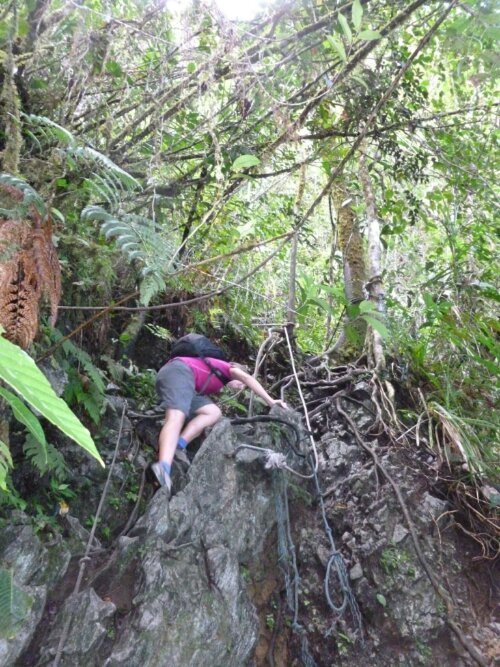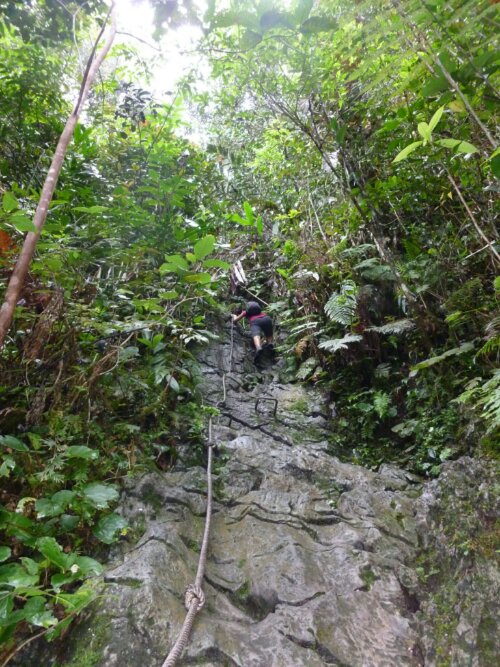 Then before you know it, you're there. The Pinnacles are up to 45 metres high, the whole mountain is actually made up of these, but most of them are covered with trees and vegetation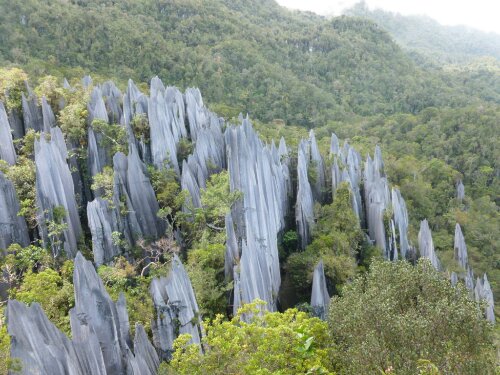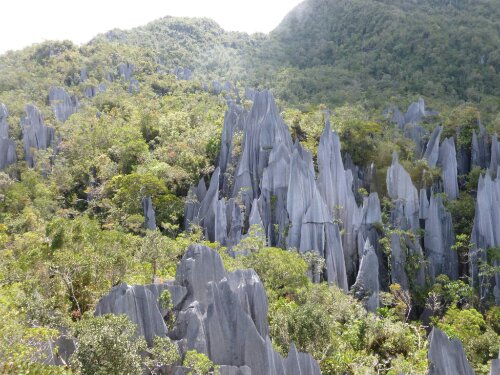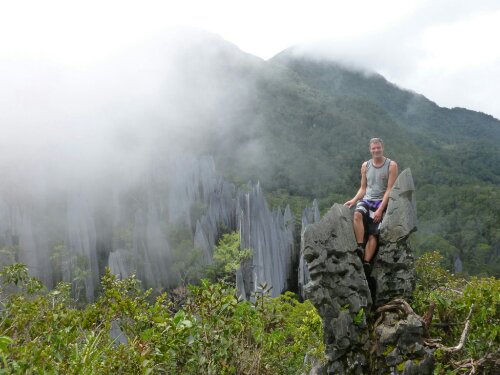 Wan and Kristina at the view point, pondering on the impending descent – twice as hard as the ascent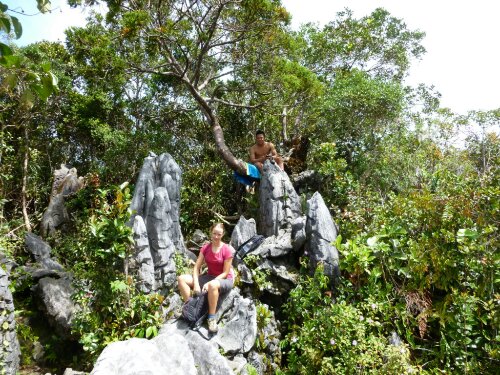 We all made it back down safely though, these two weary looking souls return, two hours after me (I actually have a smug look on my face as I type)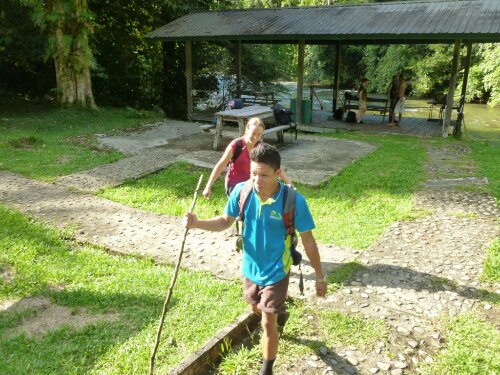 Another night at camp 5 gives us a chance to recuperate for a bit before the small matter of the 8.8 Km trek back through the jungle to the boat, which actually takes us directly to the airport. I think I can say it's a first for me to arrive at an airport by boat!
Kristina was going in the other direction to me and went to Miri, whereas I reunited with Anja and the now recovered  Robert and flew to Kota Kinabalu where I spent a couple of nights. It's a reasonably big city and not particularly interesting, but it was nice just to relax and get some laundry done, as everything that I took into the jungle was stinking beyond belief. The door lock on my hostel amused me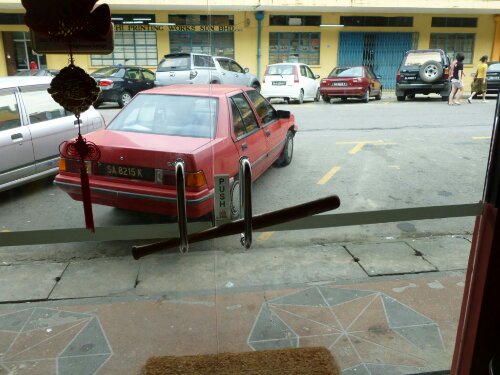 Yup, that really is locked only with a baseball bat.
Today I have transferred by bus to Kundasang, a tiny village in the foothills of Mount Kinabalu. I am at some 1588 metres elevation now and the temperature is a cool 28C or so, with my hotel hilariously having a thick duvet on the bed. Tomorrow I begin the trek to the summit of Kinabalu, the highest mountain in SE Asia at 4095 metres. Tomorrow night will be spent in the Laban Rata hut at 3272 metres, which is very high for me to be sleeping at. Even on Mont Blanc we only slept at about 2800 metres, I think. So that will be a challenging night to catch your breath I should think, not least because a failure in the generator up there means that there is no heating or hot water at the moment. Maybe I should carry this duvet up with me! The following morning we start at 2.30am to hopefully reach the summit in time for sunrise. On the way down, I may try for a place on the via ferrata which is the highest in the world. No doubt more on all this if/when I get safely back to Kota Kinabalu on Thursday.
Onward plans to work around the political troubles to the east have been made. Friday morning I will take a boat to Brunei, spend one night there and then fly to KL the next day, then to Manila in the Philippines the day after that.