Well, I've been doing a good job that it does pay to plan ahead, at least a little bit…
Firstly, I flew from Brunei to KL in complete ignorance that it's the Formula 1 race weekend there. Astonishingly, even though I landed not long after qualifying had finished and the airport is close to the circuit with the bus passing right by it, I was totally unaware of this until I had already checked into a hotel in Chinatown and somebody just mentioned it in passing in the hallway! Even when I went out for dinner, there was no noticeable impact on the local area that the race was on. It's just as well I didn't know to be honest, otherwise I'd have been having a personal crisis, worrying whether or not I would find a room.
A fairly long and boring flight brought me to Manila the next day, landing fairly late at 10.30pm. There are two airports in Manila, the main one is fairly close to the city and the cheapy one is 2 hours away, where I thought I was landing. As it was late and also a dodgy part of the city I'd never been to before, I decided to book ahead a room near the airport. It was only after I landed, that I found out that we came into the other airport and I stayed in town instead, losing the dosh on the other hotel. Planning blunder #2….
The prize jewel though is blunder #3, when I went for breakfast this morning, I saw several notes in restaurant windows stating that they will be closed from Weds to Sun for "Holy Week". A few beads of sweat and some research later revealed that it's Easter this coming weekend – I'd no idea, it really is amazing how such time-related events pass you by when travelling. The Philippines has one of its major public holidays in the days in the run up to Easter…. not ideal… After another meltdown whilst frantically scanning the internet and making a few calls, I think I've recovered the situation, as always seems to be the case when these things happen. I've got a flight for a pretty good fare tomorrow to Boceray, one of the major island beach hangouts, and have hopefully got a reservation in a pretty decent beach cabin for a not too ridiculous price for the next 4 days. Fingers crossed!
I'm not enamoured by Manila, it has to be said, what little I've seen of it. I'm staying downtown in Manate, one of the cheaper areas to stay wth lots of bars and stuff. I didn't go out last night but will have a wee cruise later to see what I can find…
These are "jeepneys", a major form of local transportation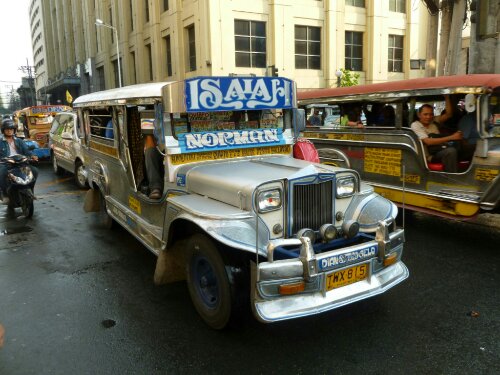 Some of the bars have strict and very specific entry restrictions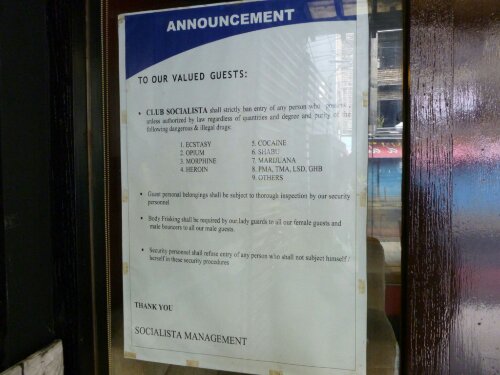 No matter how drunk I get, I shouldn't miss my flight tomorrow at 11.30, as my alarm clock is across the street from my hotel window, two cockerels living in these cages on the pavement