Here I am on island bliss.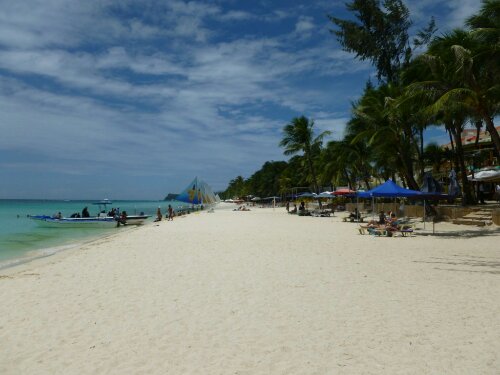 White Beach to be precise, on Boracay Island in The Visayas area, just off Panay. It was another clockwork aeroplane job to get here, with an amusing 10 Kg baggage allowance, so I had to fly with half my stuff in my hand baggage which ended up weighing about 12 Kg. I flew to Caticlan which is a small town on Panay, from the airport you can walk 5 minutes to the port to catch a "bangka", a boat with bamboo outriggers on which wearing lifejackets is compulsory (!) which takes you over to Boracay.
The beach is beautiful, no doubt about that, it's quite long at about 4 Km total length. There are 3 disused boat stations along the beach, station 1 being towards the north end, 2 in the middle and 3 further south. They serve no purpose today apart from as a means of identifying where a place is, they sit on a sand path just above the beach which has literally hundreds of restaurants, guesthouses and resorts along it. So a place will be described as being "200 metres north of station 2" or whatever. Slightly further inland, a parallel road runs the length of the island called Main Road which is not without irony, as it's the only road on the island as such.
I'm staying right at station 3, in a suite which is costing 35 quid a night which is a bargain for Boracay during Holy Week. It's run by a Swiss guy who told me the rate would be going up to nearer 45 quid tonight as the holiday sets in, but in fact he's still only charging me the lower price. South of station 3 is the more mellow and laid back area of the beach, where all the cool kids hang out, like me, obviously. It's lovely with many cheaper restaurants and reggae bars on the beach and stuff. I've just come back from one where we were treated to a nice sunset.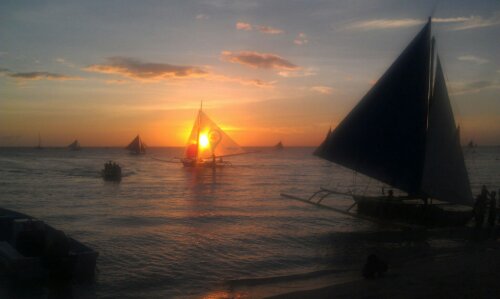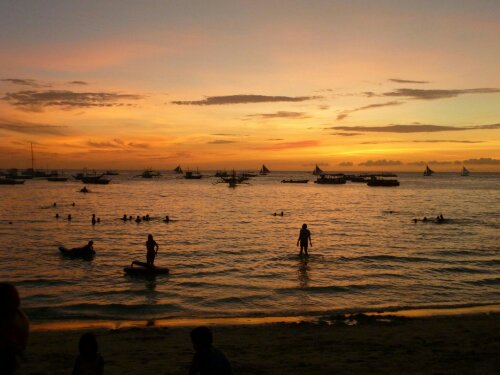 Further north, things get much busier, the strip is back-to-back with expensive seafood buffet restaurants like this one. Later they will set up the tables in here, and the gazebo will be guarded by a man with a gun, just the same as my hotel in Manila was. It's an odd feeling, and not one I relish really.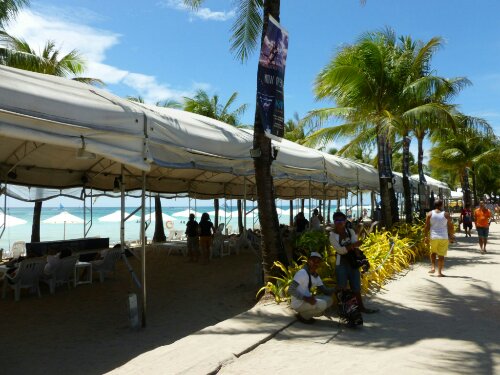 Lovely though it all is, it's not really my kind of place – most of the tourists you come across are just beach bums, the expats are even worse. A German bar just up the beach from here is very cool, but all 3 days I've been here, the same fat German guys sit there from around noon until closing time, with their shirts off, and seriously even in Livingston these guys would look big. Not pleasant.
I've been dancing around the internet half of the day, trying to work around the Holy Week annoyance. Again I have succeeded, bagging a cheap flight back to Manila tomorrow, followed by another cheap one to Puerta Princessa on Palawan in the west the day after. From El Nido I'm taking a 5 day/4 night bamboo boat through the Bacuit Archipelago with around 23 other random travellers. You sleep on beaches on remote inaccessible islands and live on seaweed and fish that you've caught that day and stuff. Should be interesting!