This was a fairly epic journey, from coast to coast. Coming off the peninsula we did a balance of what the crazy lady on the GPS wanted us to do, versus common sense and it worked out well. We retraced our route across the ferry and then foolishly ignored crazy lady by taking a route over the north of San José towards Guapiles. This has us driving up some nutty steep mountain roads over all sorts of terrain in some crap weather, heavy rain and fog. I'm sure the views from up here would be epic on the right day. Hours later we arrived at Puerto Viejo where we overnighted in another zoo.
Breakfast time at the cabin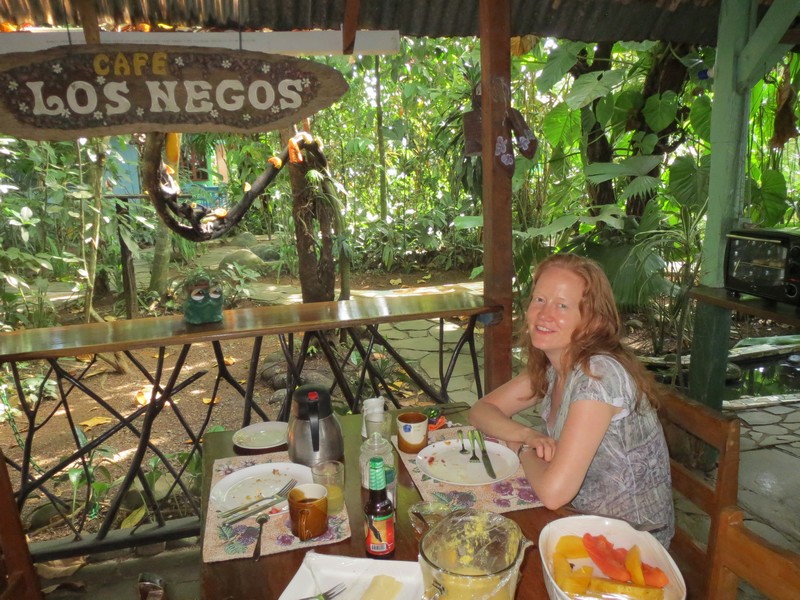 Right outside the cabin we got to see out first sloth in the wild. You can't really make it out here as they're very high up in the tree, but this is mother and baby here.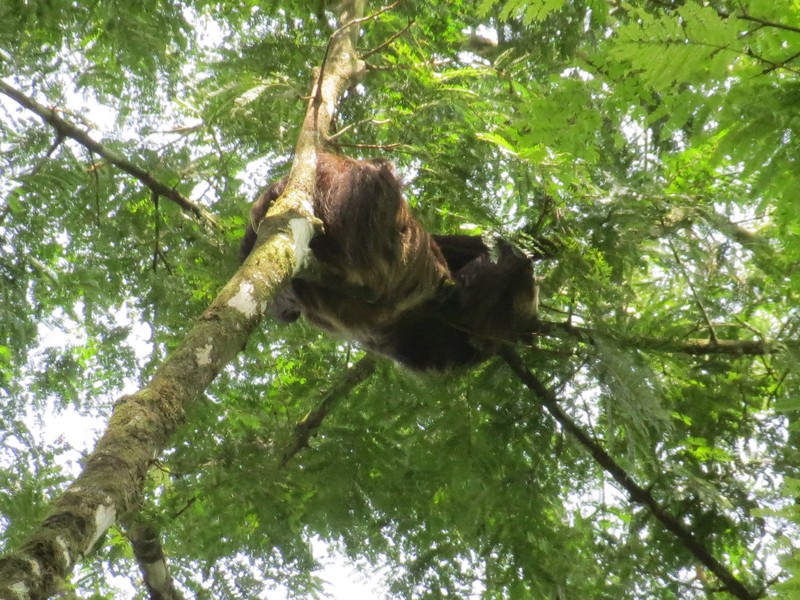 We got a lovely cabin for the night, featuring a typical gringo shower where they basically stick an electric shower head on the end of a pipe. Health and safety is always forefront here though, as you can see by the "do not touch" sign. A slight snag with this is that the power switch is on the unit itself.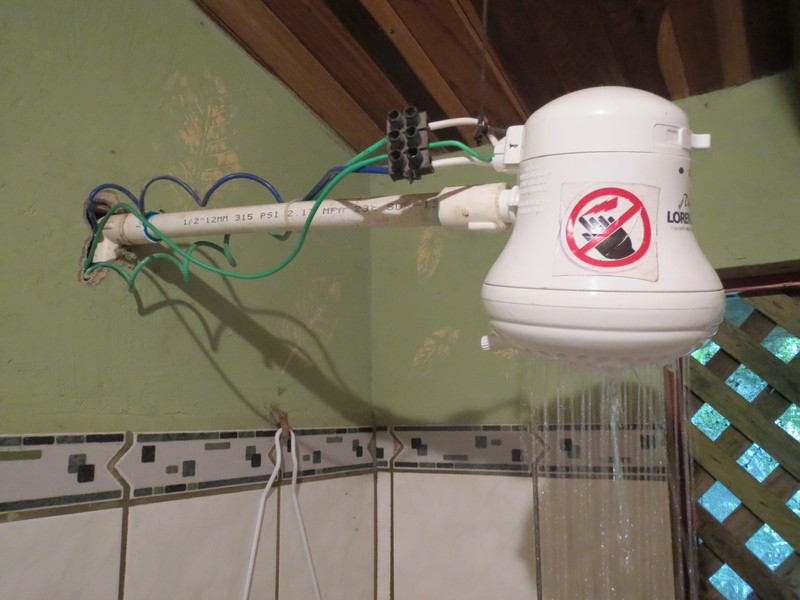 From here it was just a couple more hours' drive to La Pavona which is where you park your car and get a boat to Tortuguero, as this area is only accessible by boat or plane, but not by road! The boat was interesting as there's not really any water in the river in dry season, so you're constantly dragging along the bottom or scraping the banks, desperately looking for a few inches of depth to make passage.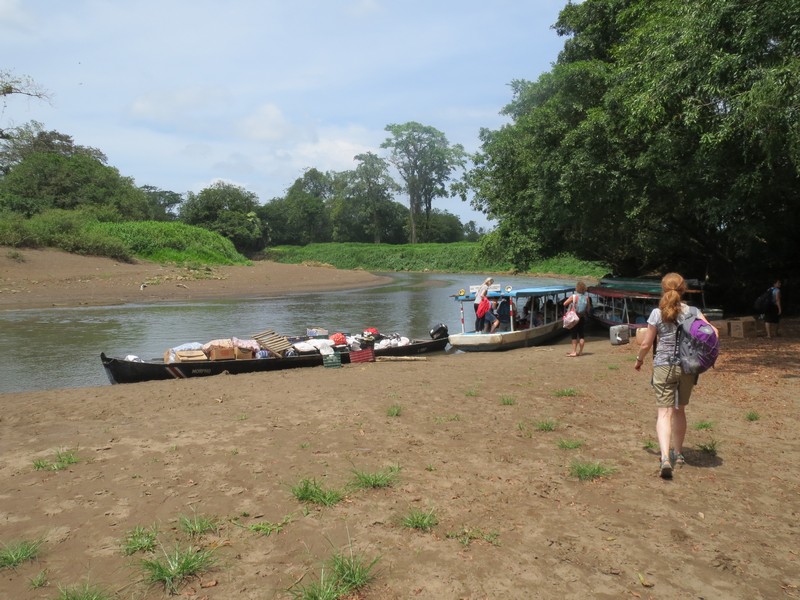 The engine on our boat was overheating and kept cutting out, but still we were faring better than one we passed coming in the other direction who'd spanked his motor against a rock and cracked the gearbox case. We had to carry on for several miles before our guy could even get a phone signal to summon help, so I hate to think how long they were stuck there.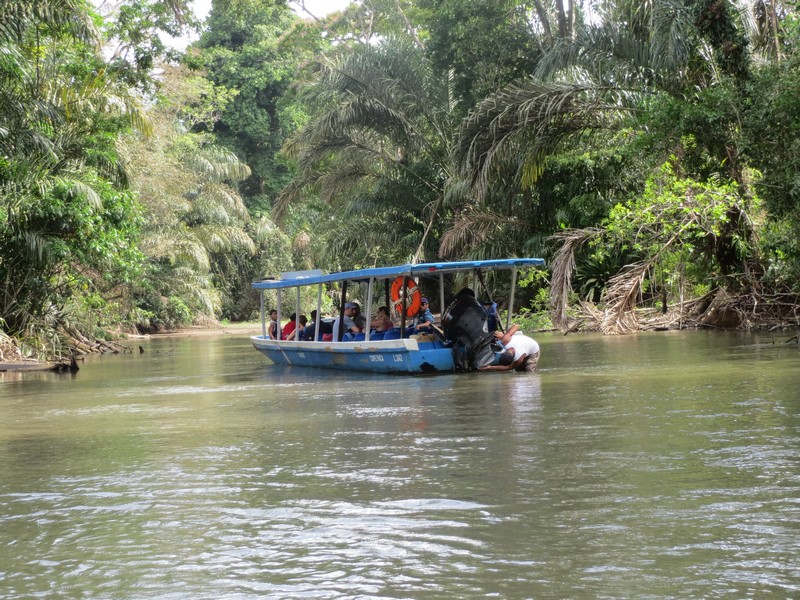 Eventually you pop out of the river into a series of deeper water lagoons which is where Tortuguero Village lies, and old logging village now given over to tourism. Although we scored an excellent room in the Casa Marbella on the waterfront, the vibe in the village was a little weird, and they really hadn't made the most of the restaurants, many of which were dark and dingy, whereas they could have lovely outdoor areas or waterfront decks. An alternative to staying in the village is to stay in a resort out in the jungle of which there's several, but you'd need to organise yourself a bit to arrange the boat shuttle to get there and once you're there you're sort of stuck there and fully reliant on the resort's facilities to get you around, which is not always my cup of tea.
A huge lizard at the hotel, he's about 3 feet long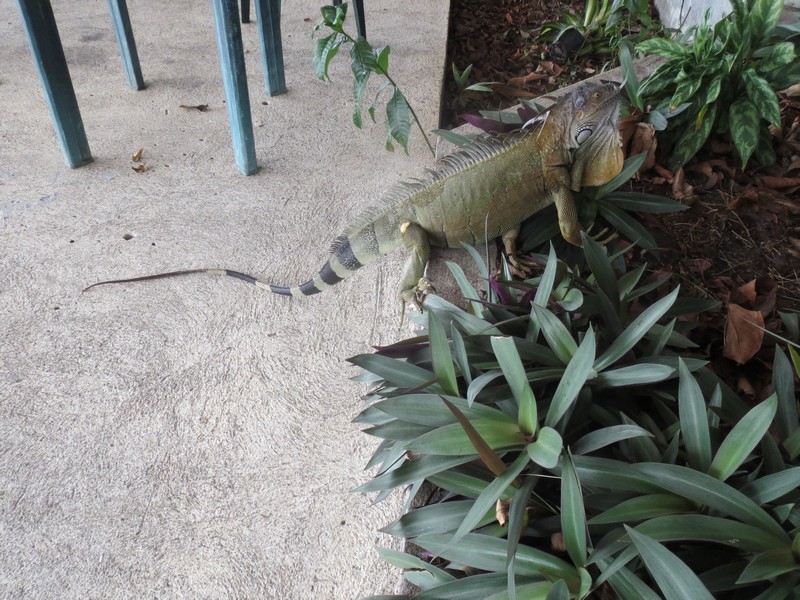 For the next morning, we had a choice of taking a motor boat into the marine national park, or an electric canoe, or a kayak. For some inexplicable reason we chose the kayak, the only one where we had to exert any effort. This is the only time we had our paddles in sync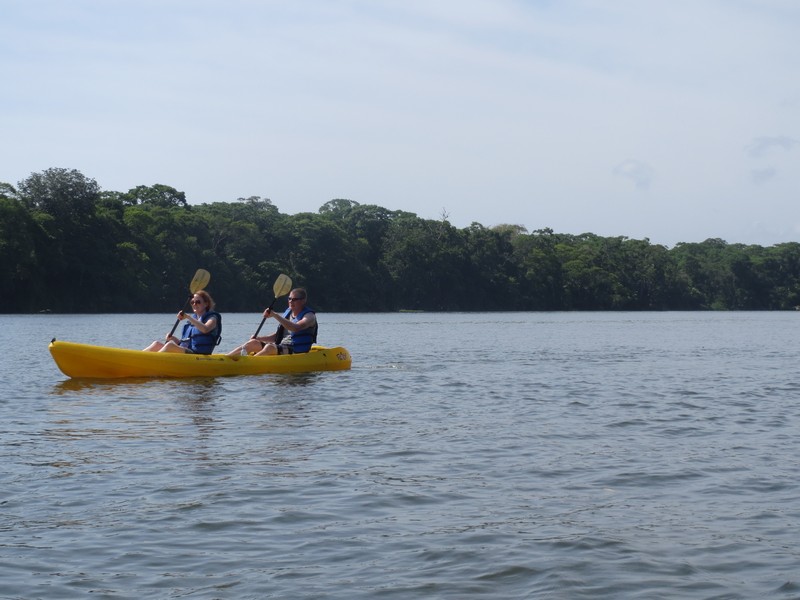 The rest of the gang – a couple of mad Swiss who we think later missed their flight home, who were more concerned about lighting up a fag than the tour we were on, and an American girl who I don't think was even awake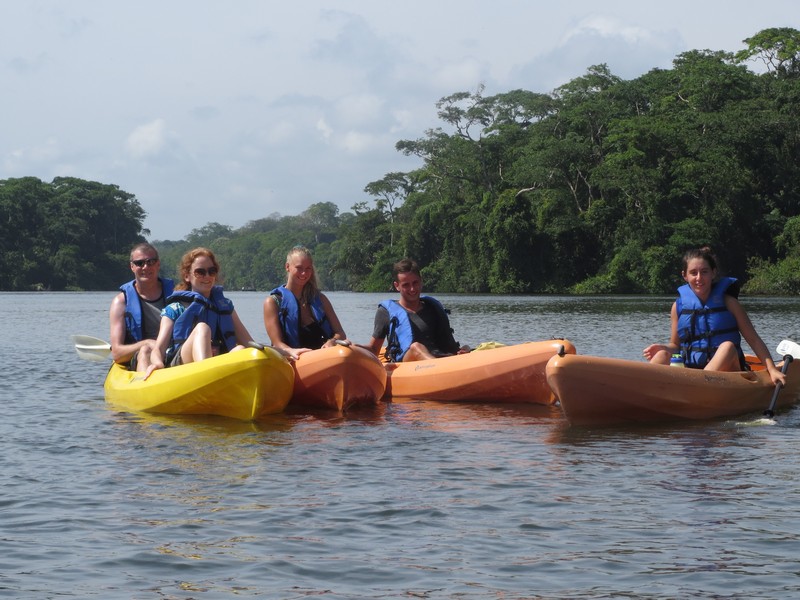 We saw a variety of stuff at close quarters, most of which hasn't come out well on film, but I did catch a good one of this caiman, who wasn't at all concerned about how close I was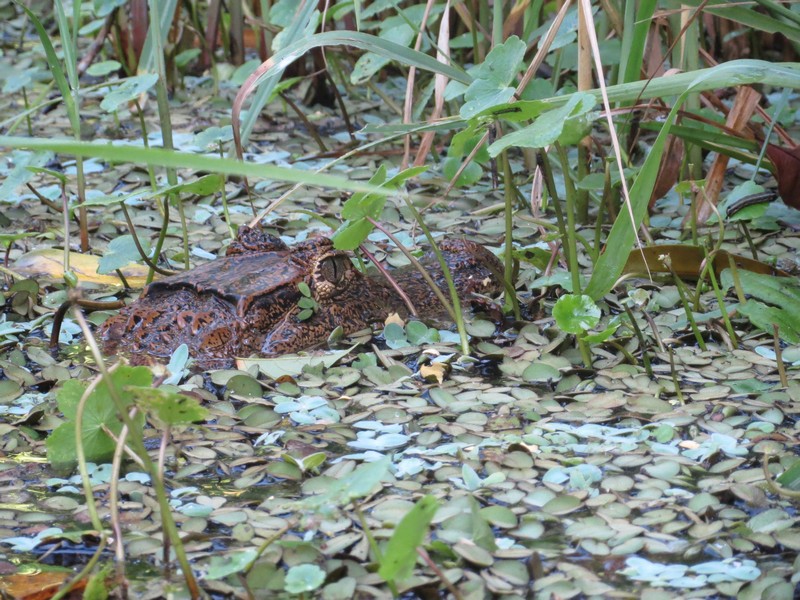 Similarly with these anhingas, male and female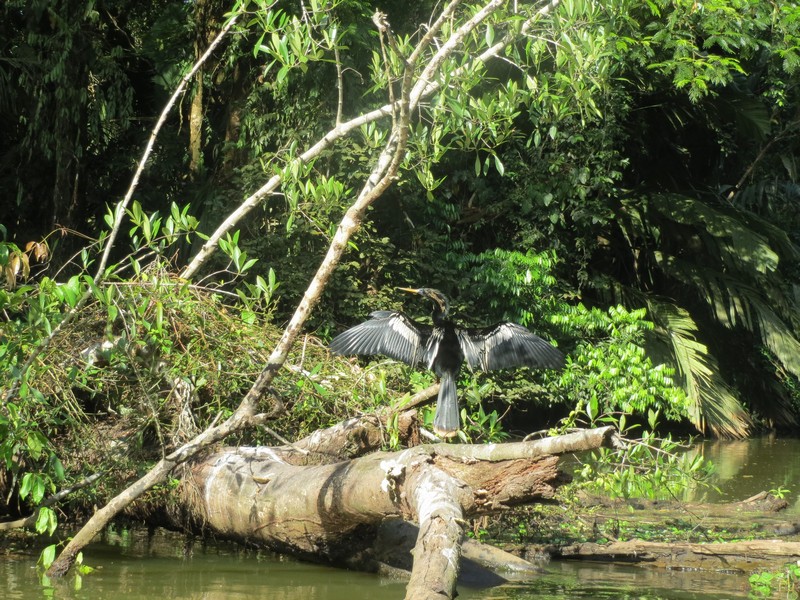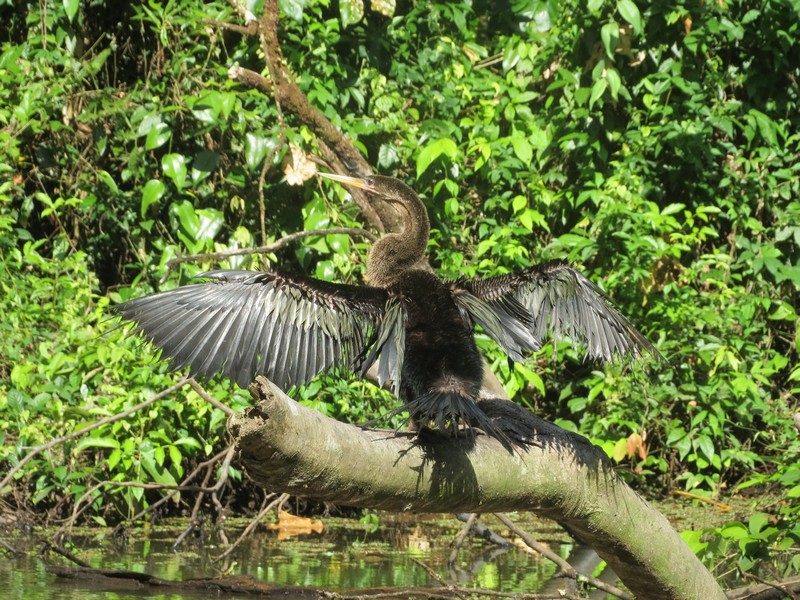 Later in the day we did a trek through the park, which was frankly rather disappointing as there was next to nothing to see. In the right season you'd see the turtles as they are coming up the beach to mate, but without them there wasn't a whole lot else..
Next day we braved the boat back up to La Pavona, thankfully there'd been a bit of rain so there was at least a fraction more water in the river than when we came down. A caiman watches our boat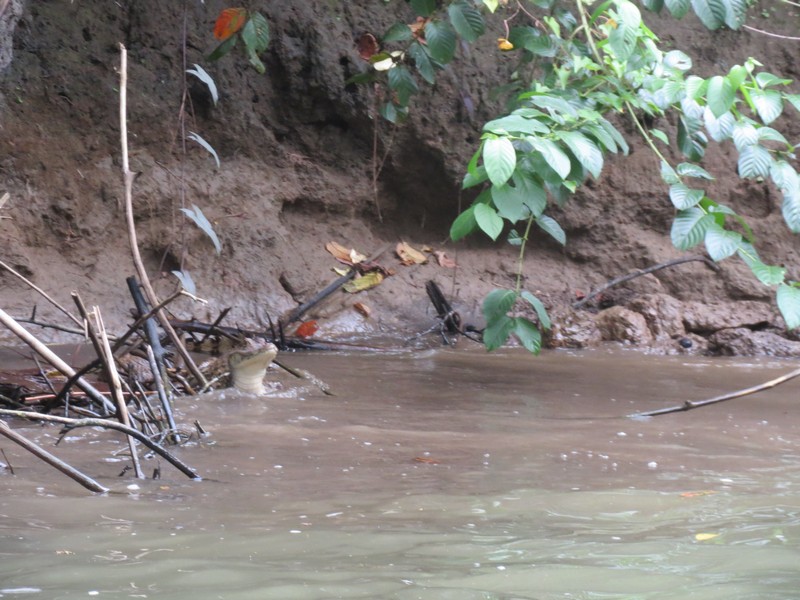 Safely having picked it up (the car, not the caiman), we're making our way south down through Limon province along the Caribbean coast to Cahuita