Meteora is as far north as we're going to go on this trip. It's home to a whole area of rock pinnacles with ancient monasteries on top. A truly inspiring landscape.
Happiness is when you go to pick up your rental Fiat Panda and they give you a Qashqai instead, parked outside our excellent guesthouse.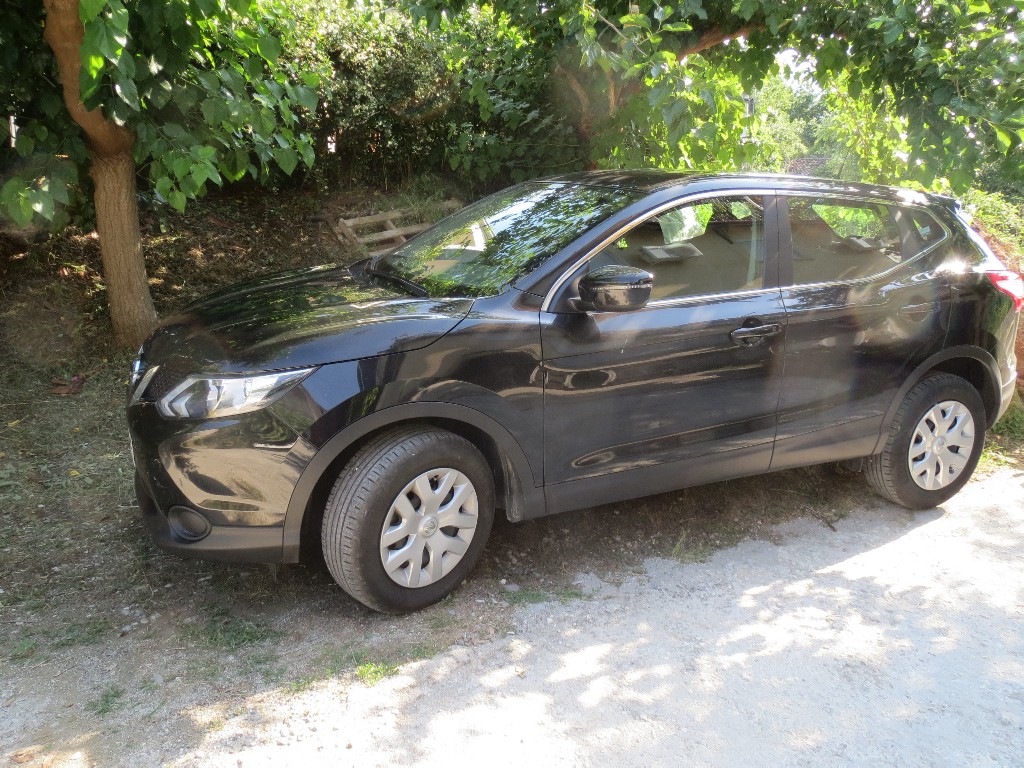 The journey north from Athens was pretty smooth, even leaving the city centre wasn't bad, apart from motorcycles cutting you up continuously, and the sat nav sending you along a road for buses only and the usual other nuances. Once out of the city, the highway was almost empty and got us up to Trikala in about 4 hours, where we randomly stopped for lunch at a taverna by the river. The food was the best yet, and a feast cost us €13, helped on by a stranger who bought us two beers. He seemed to be a friend of the taverna owner, I have to say the people here are as friendly as you'll ever see.
Then we went onwards to Kalambaka, the service town for Meteora, but quickly drove on by to Kastraki, a village right under the rocks and absolutely beautiful, with a much more laid back vibe than Kalambaka has. As I write, I sit on our balcony with a view.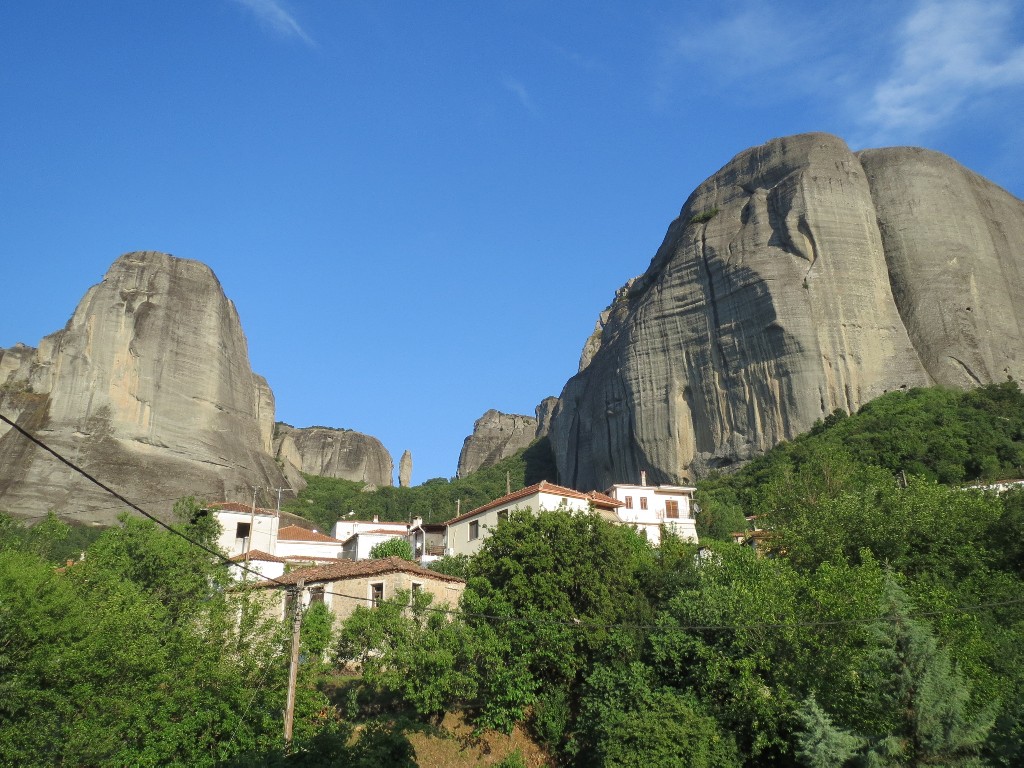 We did our own sunset drive around the monasteries, of which there are six that are still functioning, there are several more ruined ones too.
Today, after a breakfast to die for, consisting of lots of pastries, cheese and cake, which pleased a certain person, we first of all hiked up to the Adrachi, the column in the above picture, which is said to resemble Jesus, a very pleasant shady walk past a few houses and churches. Then we headed up by car again to visit some of the monasteries by day.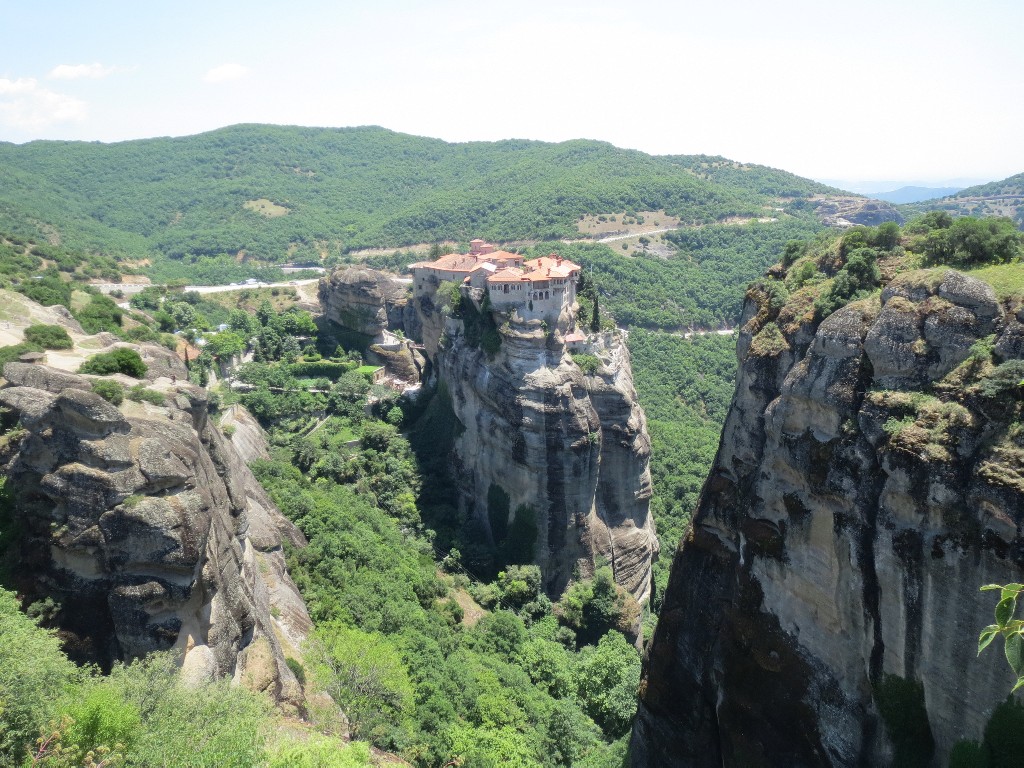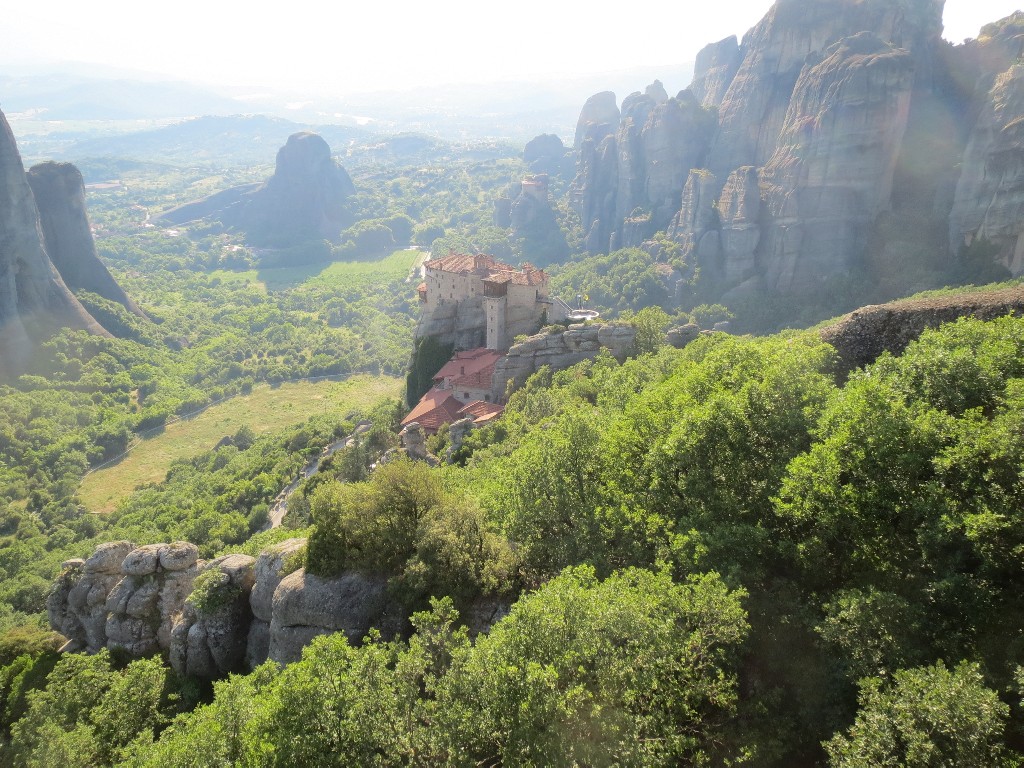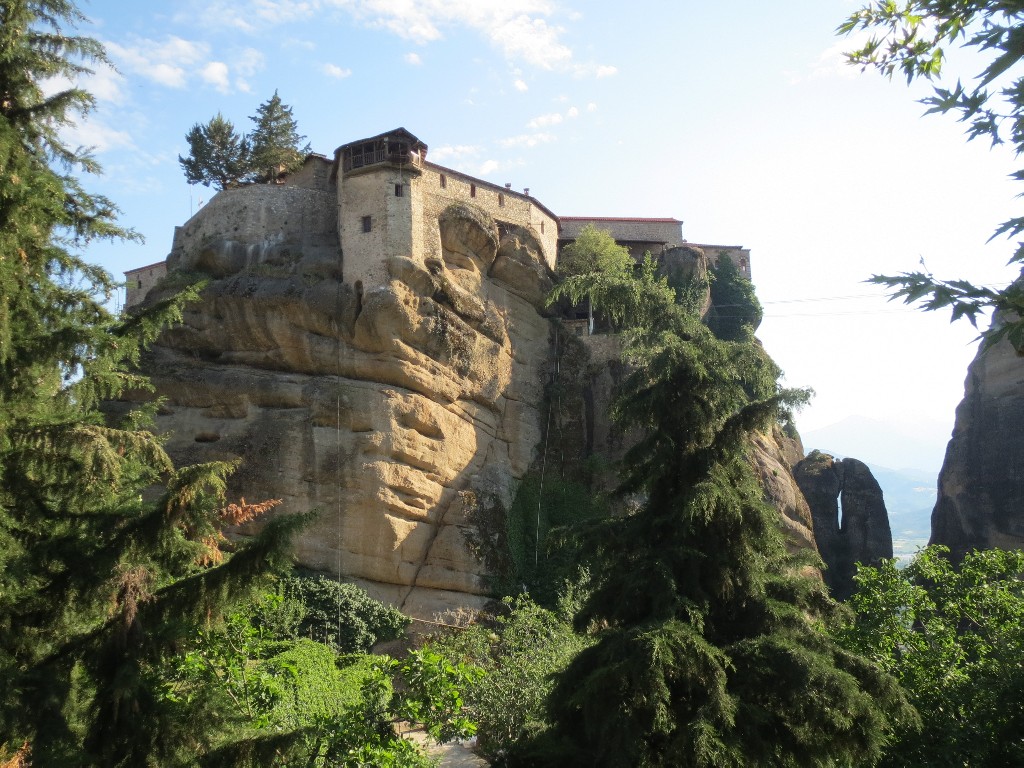 A courtyard of one of the monasteries. The inside of the churches on them are extremely ornate, covered in frescos going back to the 14th century in some of them. You're not allowed to take photos inside.
Back in the day, they used to haul the monks up and down in a net attached to a hoist, hand wound by other, hopefully strong and trustworthy, monks. You're looking at a good 100 feet straight down in one of these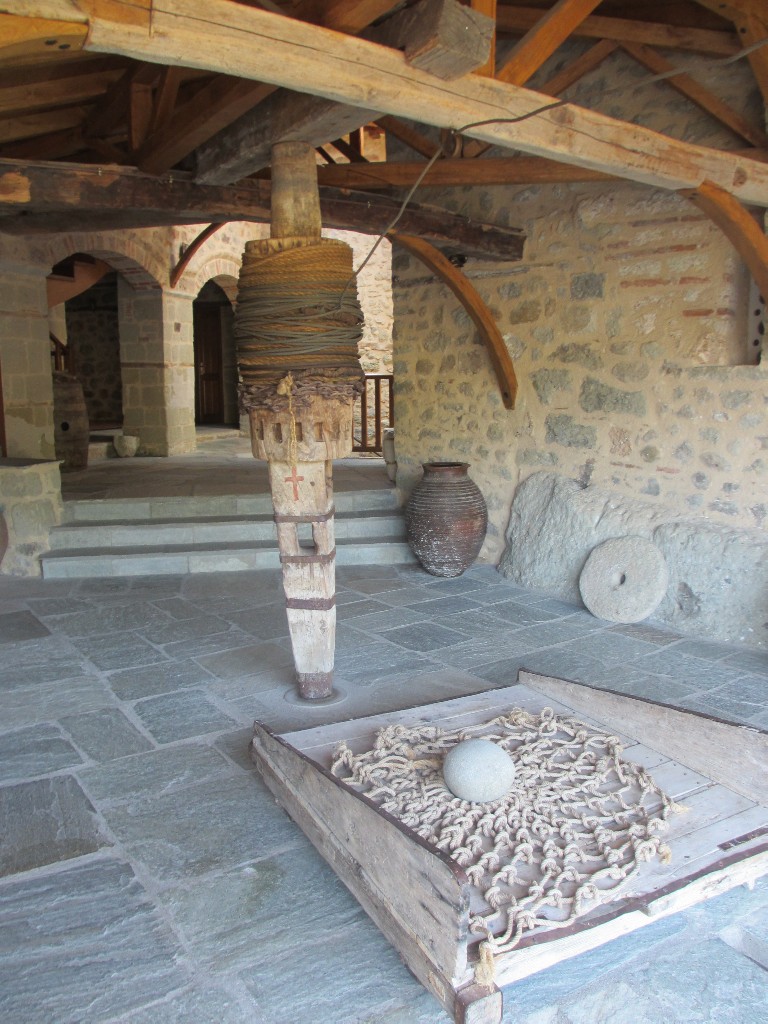 One of the monasteries had an "Ossuary" in it, full of skulls and bones. Not sure what that means yet, if it's all the dead monks or what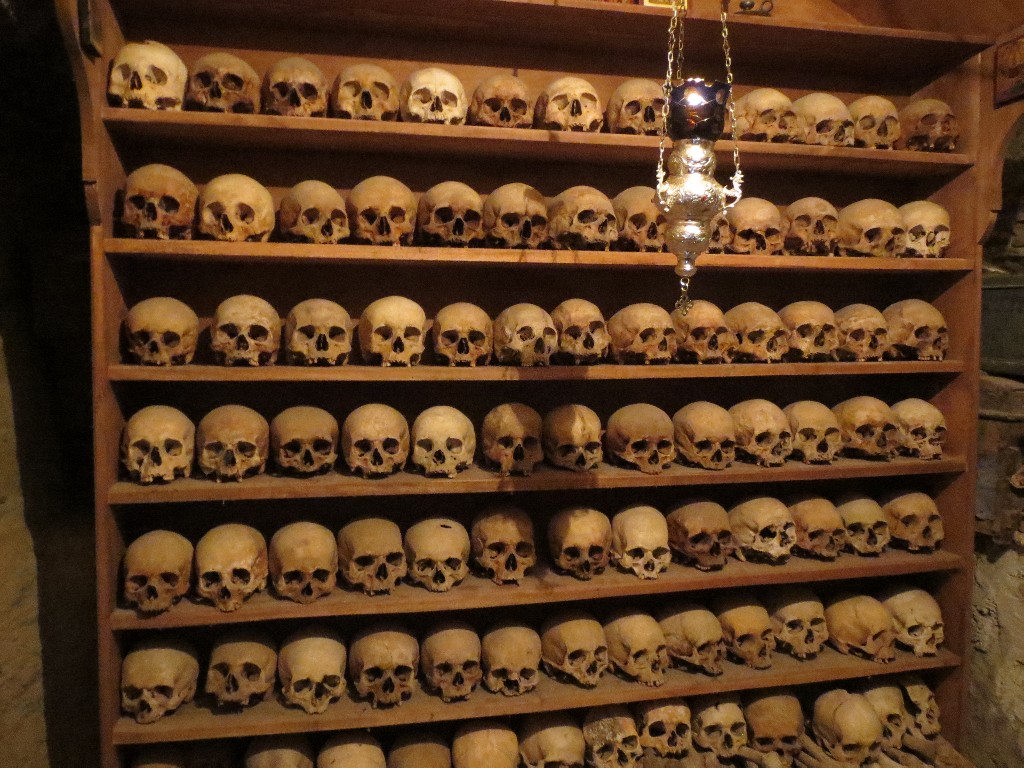 I was curious about the level of security they have on these places. Is it to keep intruders out, or the monks in?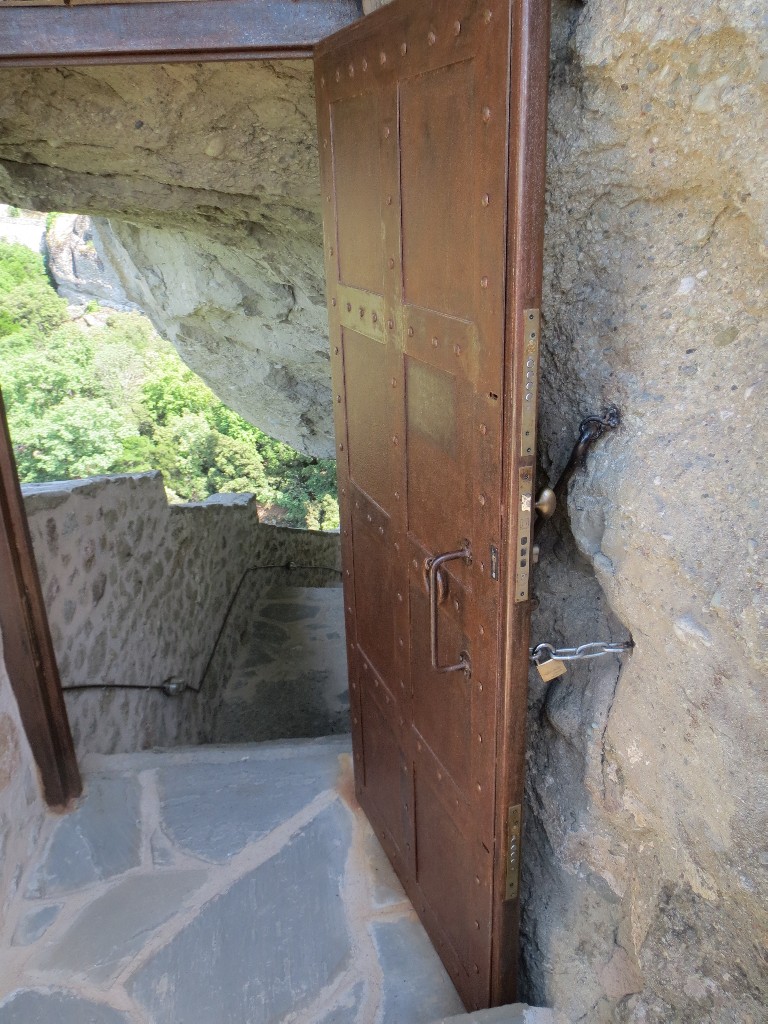 Lisa enjoys a blue sky, Queen of the castle, it has been a lovely day of about 33C or so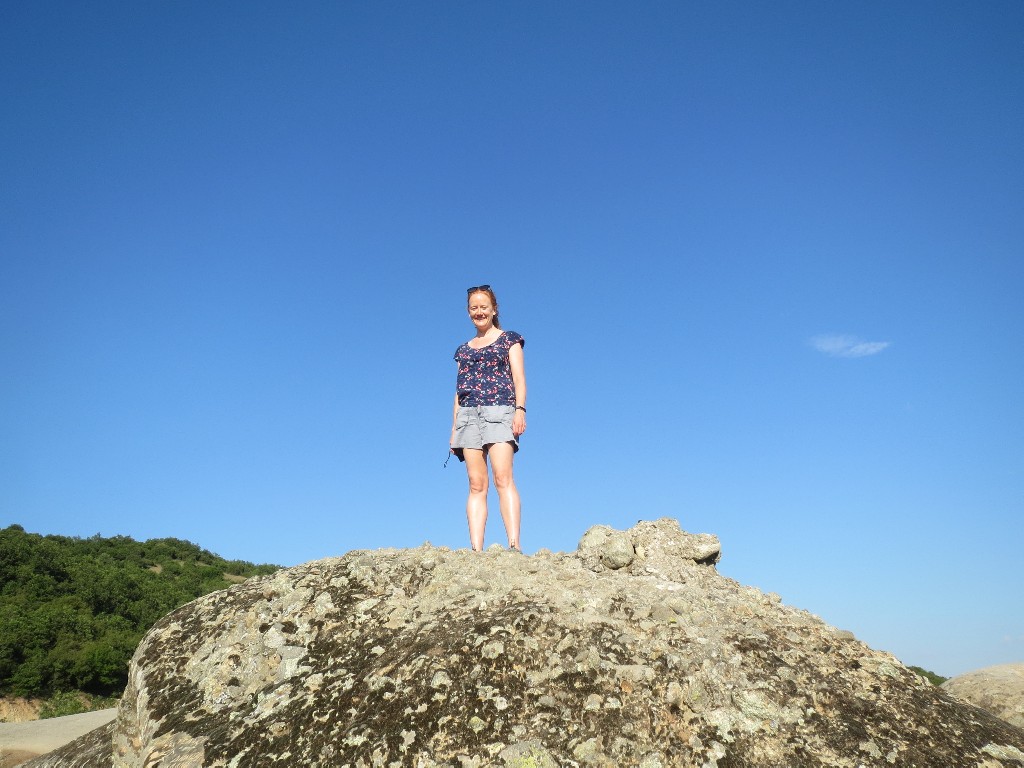 Later in the afternoon we hiked well over a kilometre down a steep track the monks used to use, to the edge of Kalambaka, for no obvious reason except to get a drink in a typical local taverna where friendly cats and tortoises running amok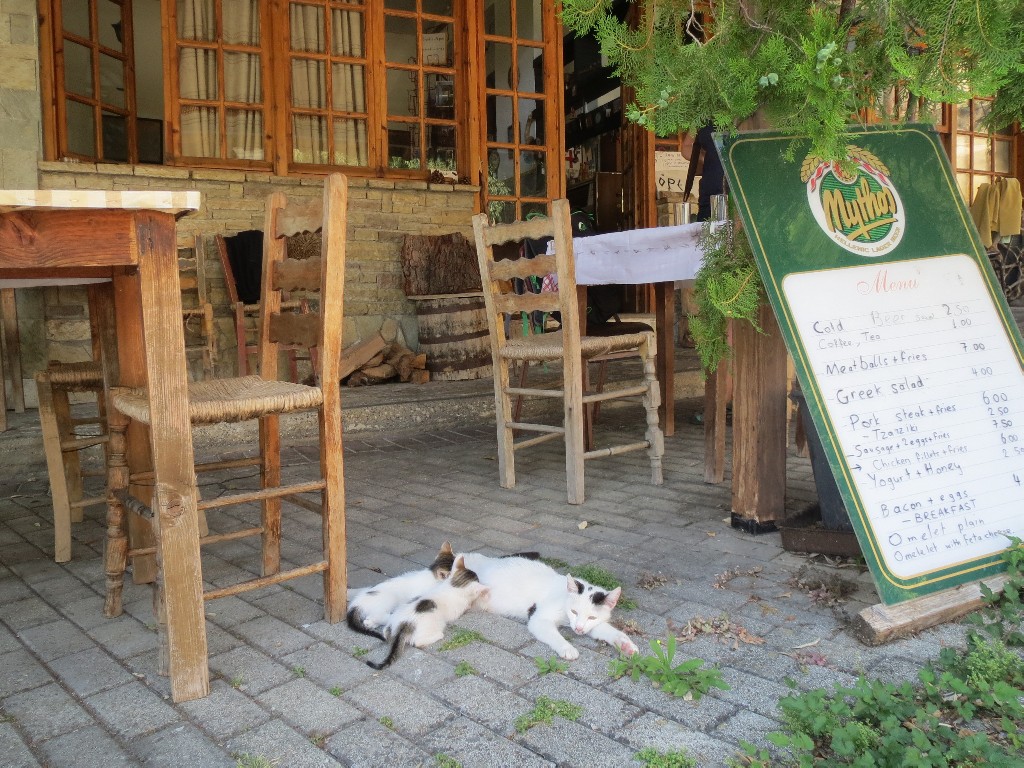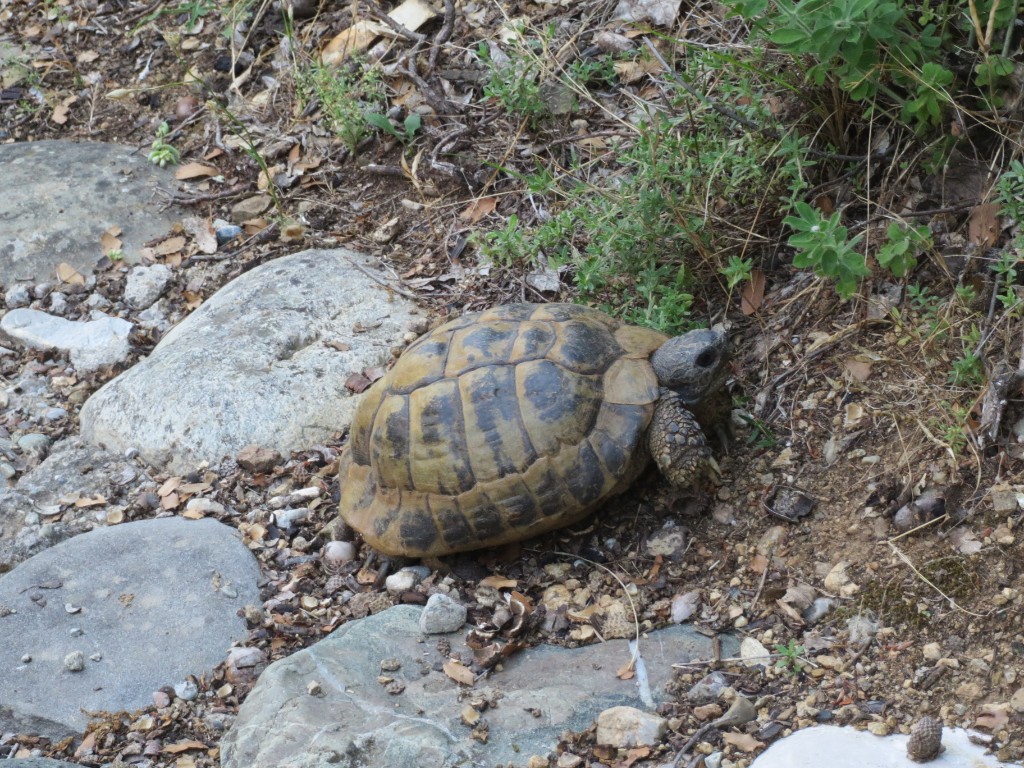 I would have to say that Meteora is a must-see of Greece, it's absolutely stunning and well worth the trek to get up here. Next stop, we think is going to be to drive through the mountains to Karpenissi, there a bit of a threat of some thunderstorms though so even will see.