I was right to be concerned about the weather in Bali. Even though it's only 3 hours flying time from KL, in most of Indonesia this is wet season, whereas back on the SE Asian peninsula it's dry at the moment. The flight came in through some terrible weather as we came into land, the plane was being bashed about like a toy and it was a struggle to stay in your seat, even with the belt on. The pilot did his best to avoid the lightening that was striking all around us and managed to put us down in one piece. In some countries it's common for people to clap when you've landed, especially if you've been flying Aeroflot or whatever. I would never normally join in of course, being the prudish Brit that I am, but on this occasion I was clapping, cheering and calling for an encore.
The rain lasted just long enough to soak the luggage right through as they got it off the plane, then it stopped completely for 3 days until this lunchtime. This is the scene at one of the southern beaches where I stopped to have lunch. 10 minutes after this photo was taken a sudden squawl blew in, with a horizontal wind that came in so quickly that it literally blew the food off my plate and across the restaurant – the fried egg actually hit another traveller about 15 feet away, the half full glass bottle of Coke I had blew over, and that roof you can see that is actually on the restaurant next door, or rather I should say it used to be on the restaurant next door, blew off and large slabs of it hit our restaurant and ended up far down the beach. I couldn't get any pics sadly as it was far too wet to get the camera out.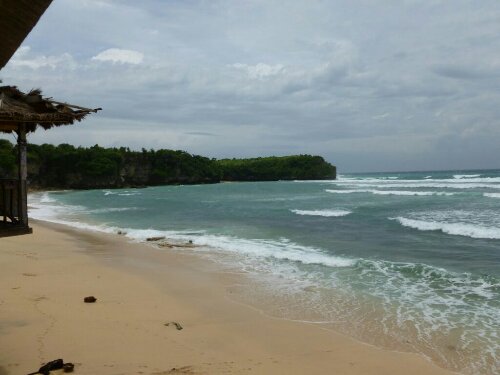 I'm in a so-called "home stay" in Kuta Beach at the moment, a lovely room with private balcony and a great pool just below. I've not been up to much apart from chilling. Although Kuta has a lot of issues, you can't get around the corner without being offered a massage with happy ending about 10 times, and this is at 2pm and so forth, but still as long as you have found a quiet place to stay then it is a good place to hang out really, there is lots of good food around and things to do.
It's difficult to say if this is petrol or Absolut vodka in these bottles, but probably either would run the bike. If all else fails you could try the magic mushrooms that are for sale across the road.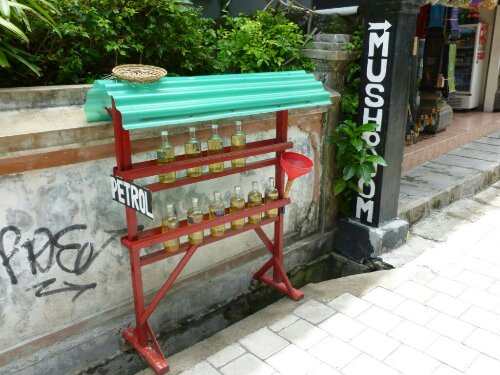 I'm staying just around the corner from the site of the 2002 bombings. The land will never be built on again as there is some law here about building on the site of such an atrocity. This photo is taken from within the site of the Sari Club, looking out across the road to the site of Paddy's Bar. A suicide bomber detonated a backpack in Paddys initially which killed a number of people, anyone who survived naturally came out onto the street where a massive car bomb exploded just afterwards, killing many people as well as destroying both venues.
The site of Paddy's has been converted into a memorial garden for the 202 people that died and is quite haunting to visit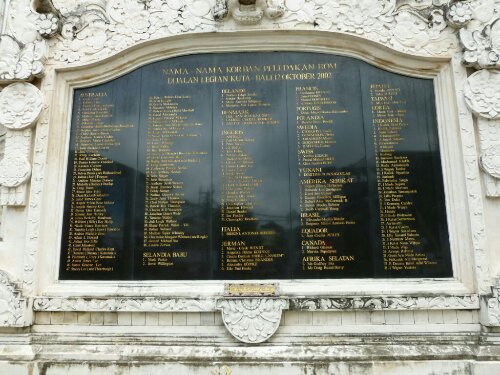 I had a near miss with a dodgy "authorised money changer" yesterday. I'm still running down the pile of US dollars that I needed for Myanmar so decided to change one of the $100 bills I had. The exchange rate they were offering would've returned me 1,029,900 rupiah and the guy counted 10 x 50,000 notes into a pile of half a million, then another 10 into another pile. This aroused my suspicions straight away and rightly so, as he then picked up one pile and dropped it onto the other and then pushed it towards me whilst another guy was distracting me, trying to get 20,000 in change from me so that they could give me one more 50K note. I almost saw the sleight of hand as he did this, and when I tried to count the pile he would constantly try and grab all the money back so he could "check" it. I forced him off, and sure enough there was only about 750,000 in the pile. I threw the money in his face and grabbed my $100 back and walked off, then had a minor meltdown as I went back and compared the $100 note with the other two I still had, the serial numbers on those two were consecutive and this one was not, so I was now in dread that they had also switched the $100 note as well. It looked real though and I took it straight to a proper money changer who accepted it, so I don't think they changed it. I learnt a valuable tip though – photograph the note you give them openly in front of them before they have the chance to touch it. There is no need to feel embarrassed that they will be offended that you mistrust them, if they are genuine, that is…
Having planned an early night last night, I met a young English lad in a bar who was waiting for a local girl he'd met yesterday in a nearby town who was supposed to be coming to Kuta to see him. Whilst we had a beer, he received a message from her blowing him out, "love you long time" and all that. So he dragged me into one of the bawdy big venues on Legian Street so he could get a replacement. These places are amazing, absolutely huge with about 10 bars on different levels, mostly playing loud, crap music. The prostitutes mix openly with the tourists whilst the overpriced beer and other substances take effect. Of course I was a good boy and went home early, around 3am or so…
Off to Ubud tomorrow to get a little culture.