I flew to Puerta Princessa in Palawan, followed by 6 hours crammed into the back of a minibus up to El Nido. I went up to the office of Tao Philippines who were running my bamboo boat the next day, to pay up and say Hi to the crew and the other poor suckers who would be travelling with me.
There were actually two boats running around together, with 12 people on each. Mine had Team Norway on board, 6 of them to be precise, a Canadian honeymoon couple, a Filippino girl long since migrated to LA and a German couple. The other one had a 6-strong Team Oz, an English couple now settled in Coogee in Sydney, a random Frenchman and a Canadian, and a couple of Swedes. Jemboy was the insane leader of my boat and Johann had the other.
As usually seems to be the way with this kind of trip, they were all a great bunch, without exception, and much sunbathing, swimming, snorkelling, eating and getting totally pissed ensued. Each night was spent in a camp on a different beach, fairly basic affairs but comfy enough really.
I decided one morning to take a swim on the way back to the boat with my daypack on, by falling out of the kayak that was shuttling us over. My phone and camera's waterproof qualities have been put to the test, the phone passed with flying colours after being dried out in a bag of rice for 24 hours, but the camera seems to have failed the challenge. So I'm a bit short of pictures for now. I'm assuming the SD card inside the camera will be OK, but as I've also lost the card reader for that somewhere I can't find out….
Anyway I hopefully can steal a few pics off other people, one of these days.
I had made no onward plan from Coron, where we have ended up, so this morning had to bite the bullet and buy a pretty expensive flight to Manila which leaves today. Then I hope to go north on Luzon up to the mountains and rice terraces and stuff, for my last few days before heading to China.
And time has passed and I am now back in Manila after a heavily delayed flight. It seems normal that they're at least an hour late due to air traffic in Manila. It all seems a bit nuts if you ask me. In the airport I caught up with Canadian Josh who was on a later flight than me, who was having kittens as he needed to be on that flight, which can't go after dark as there's no lights on the runway, in time to get back to Manila, hopefully extend his visa before flying back home the next day. I wish him luck with that one! Half of Team Norway were there too, also on their way back home.
As for me, I have got a night bus booked tonight for Banaue up north where I hope to spend my final days. I'm the proud owner of charger #3 on this trip so far, will head out now and see about another SD card reader to find out whether all of my trip photos have been lost to the sea…. 🙁
More time has passed, an SD card reader has been purchased and the card from my camera still works – yay!! Here's a few that I got on the boat trip before it drowned:
"Their" boat, from ours. Ours was smaller but cooler…. 🙂 The bow sprit on ours was a great place to sit with a beer in high seas, with your legs wrapped around the white bit to hold on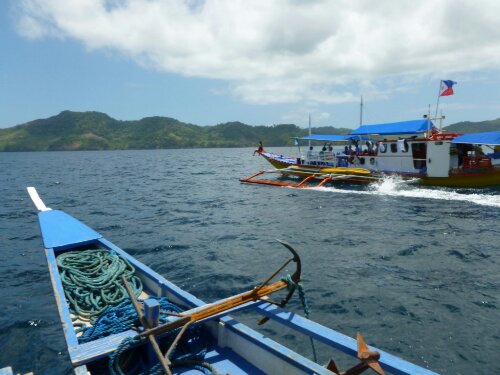 Meal time at camp 1. If you're thinking vultures, you're not far off it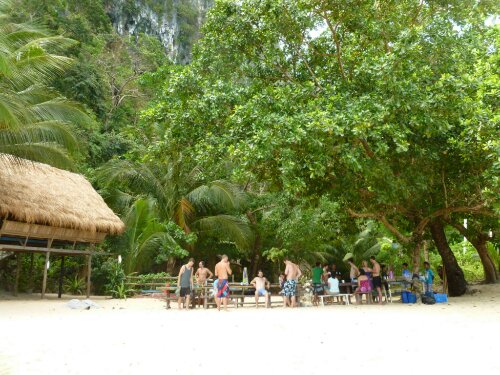 We catch a few fish, tuna and other things, as we sail. This was our biggest, held by Capn' Jemboy, some of these we ate within a few minutes sushi style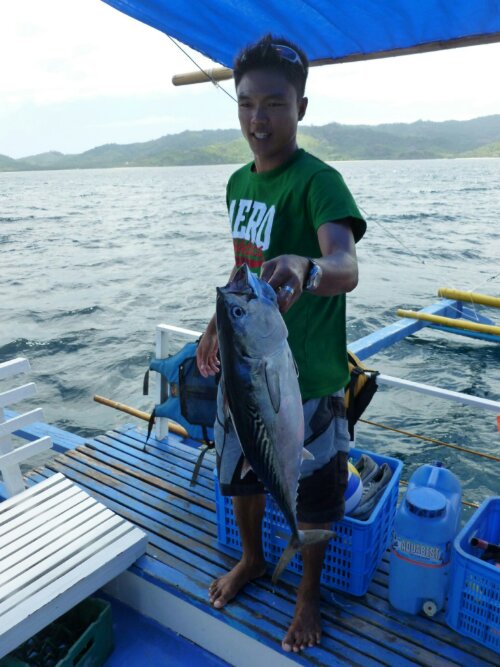 Some meals, usually lunch, we had on the boat, here being enjoyed by Team Norway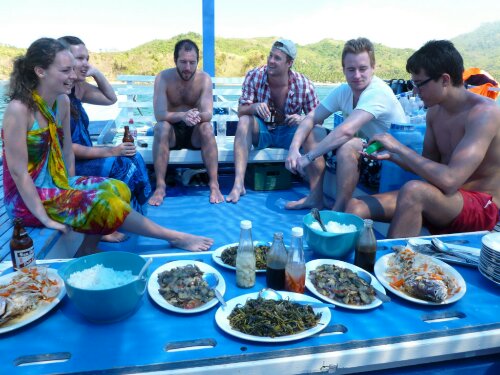 Camp 3, quite cosy this one was….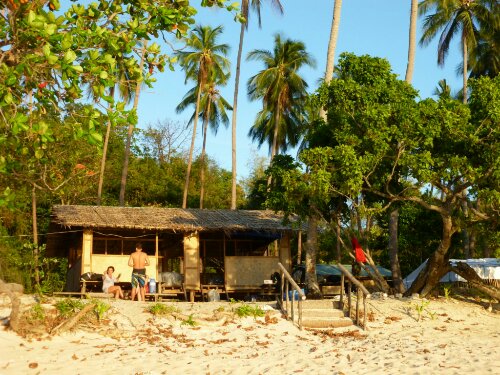 Our boat from Camp 3. It was on the way back to the boat in the morning after this that my gear went swimming, hence no more photos