The 28 hour train journey from Xi'an to Guilin was epic, it actually was pretty comfortable, aside from the way the Chinese seem to have no problems making as much noise as they want, when they want, irrespective of whether or not everyone else is trying to sleep. This is the timetable, my stop was the last stop on Day 2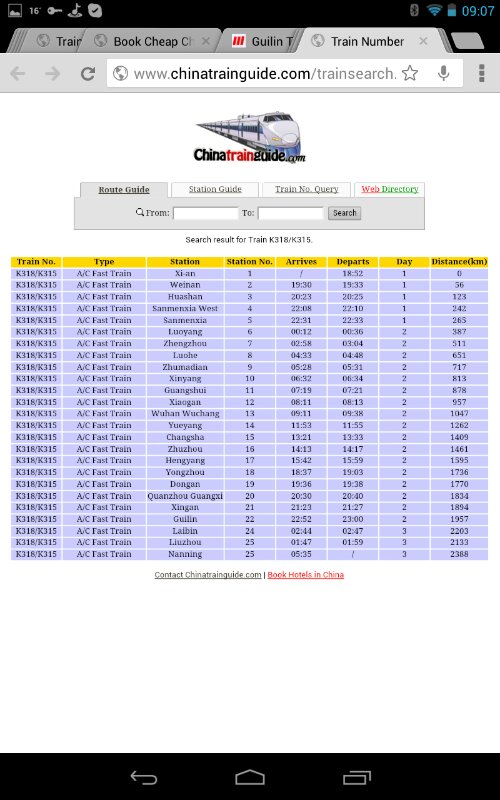 This was my bed, the top tier of 3 bunks, and actually the cheapest of the 3, slightly. I liked it best though, as you can just climb up there and keep out of everyone's way. The lowest bunk has everyone sitting on it during the day (or even during the night I think, if they decide it's time for dinner and a chat – doesn't seem to matter if someone's asleep in it). The middle's OK but is at eye-level for everyone walking by in the corridor, and if you're tall, your feet will stick out slightly and people's heads and shoulders will knock them.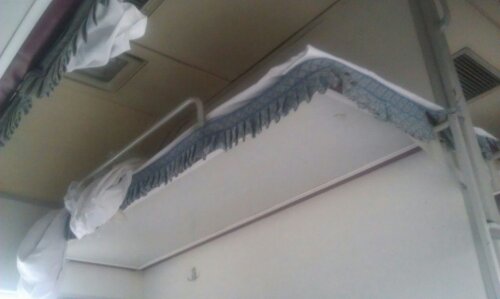 I spent about 26 of the 28 hours up there I think, the other two being spent in the restaurant car, eating and drinking. This was a nutricious breakfast, an oversized pot noodle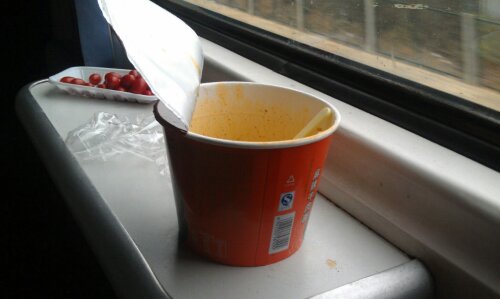 The berries behind it are nothing to do with me, naturally…
You may have heard that there was a fairly large earthquake in Sichuan, near Chengdu, which has killed many people. We did pass by fairly close to hear, about 18 hours before it happened. I don't think it would've been strong enough to knock the train of its tracks, where we were, but I'm glad I wasn't there to find out. An English couple and a Dutch couple that I was hanging out with a bit in Beijing would be in Chengdu at that time, I hope they are OK.
I arrived late evening at Guilin and did nothing apart from crawl into a splendid hostel for the night, and took a bus to Yangshou in the morning. Yangshou is a small town in the karst limestone mountains, it's very beautiful. I've gone a bit upmarket with the hotel, seeing as I'm nearing the end of the trip, this place is wonderful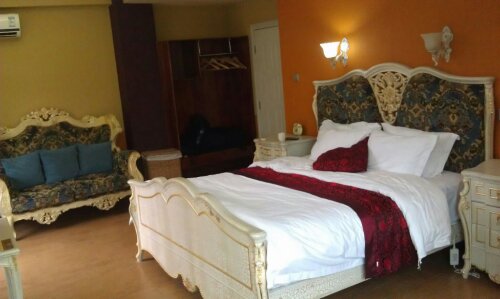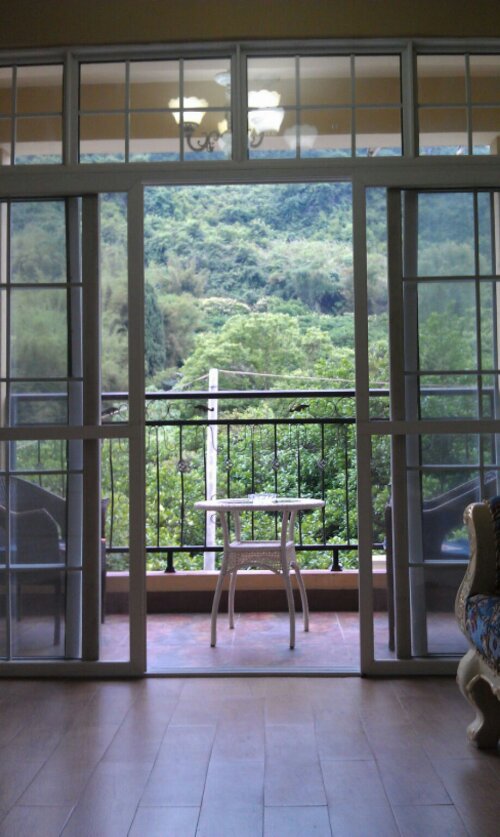 As it's been a while since I posted a bathroom picture, here is my shower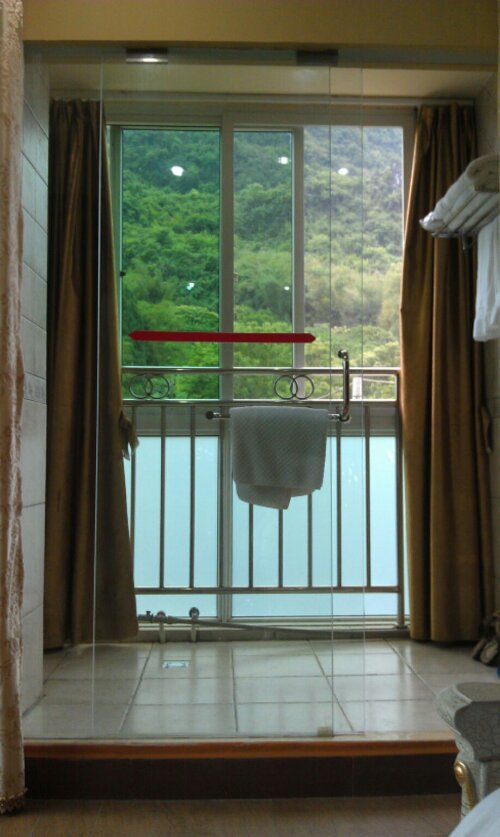 Currently I'm in the rooftop garden with a view
I was thinking about being active today and going climbing, but in in part because I was feeling lazy, and in part I've been absolutely freezing all day, it's 23C but I feel so cold (!) I didn't bother and took a cycle out instead. I stopped off at one climbing wall for a ganders, if you look closely you can see some frozen climbers, some human, some not…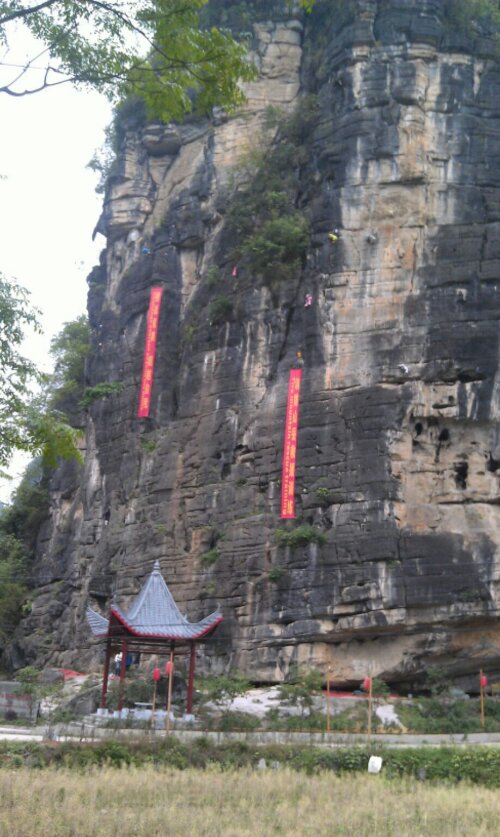 Later I stopped at a pretty authentic Chinese local restaurant, floating on rafts in the river, a fine spot for a beer and a pot of tea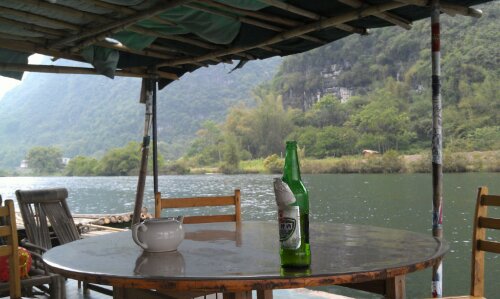 The woman in turquoise has just taken a food order from the people behind, they evidently ordered fish, as she immediately caught them from the netted fish farm within one of the rafts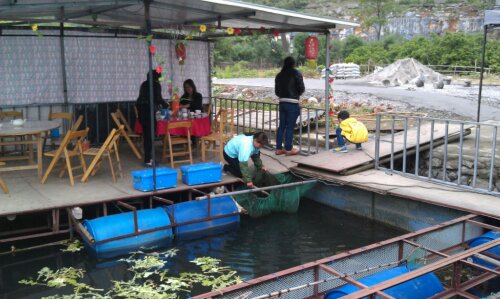 They ordered chicken too, this one was alive and being weighed on a balance here. Within 15 seconds of this photo being taken, the cleaver was out and that chicken was dead, and within a few minutes more was being served at the table. At least you know the food is fresh!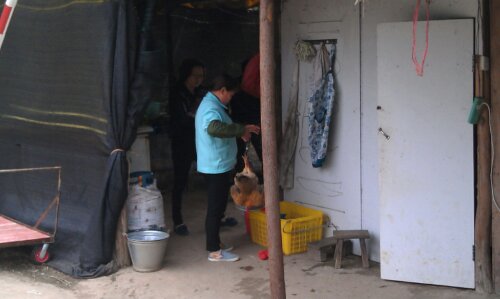 Meanwhile, I was watching romantic Chinese couples being punted down a weir on bamboo rafts
And that's me winding down, ready for the long trip home. Tomorrow I'll have a long lie in, then take a bus after lunch back to Guilin, dine there somewhere, then get a luxury soft sleeper train to Guangzhou, a mere 883 Km and 12 hours away. I'll spend one night there, I've again splurged on a 4 star hotel there, I was going to go all out 5 star but there's some conference on which has put them out of reach, then take a bullet train to Shenzen and cross back to Hong Kong to fly home. 23C will seem like a sauna, by then….