We've definitely gone up a few notches on the tourist scale with Santorini! The ferry, the Blue Star Delos, took us from Paros to Santorini with a quick stop at Naxos en route. This is Naxos, very likely we might have visited here instead of Paros, if Lisa had not already been here, many years ago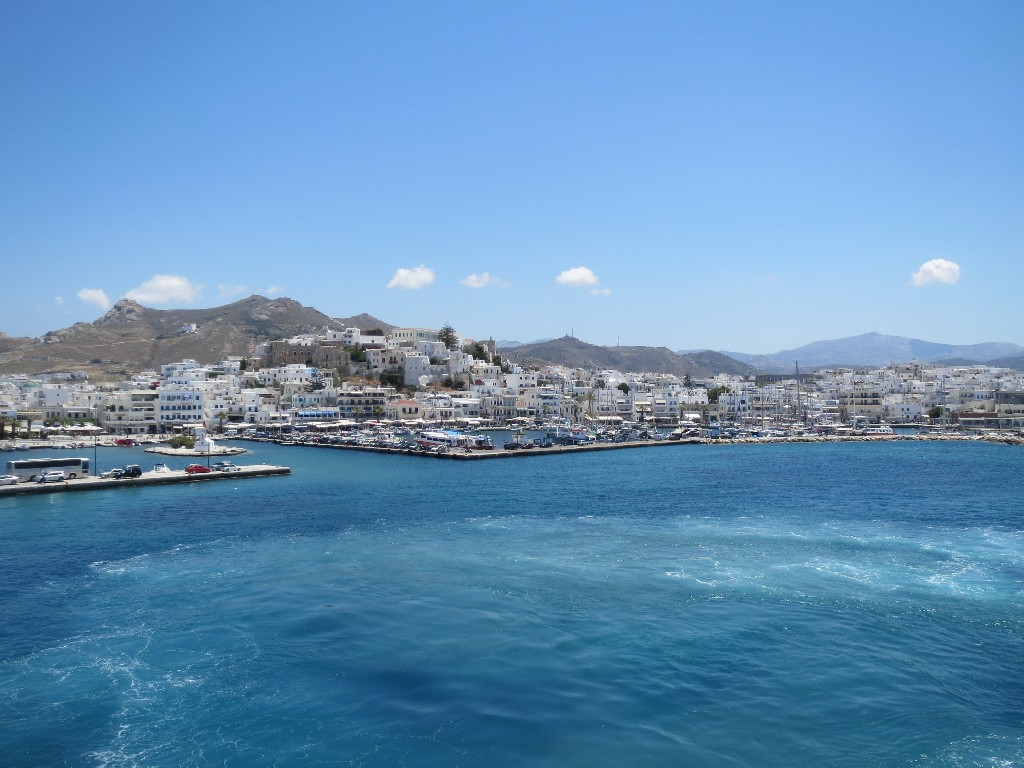 Although the ferry ostensibly looks like the sister ship of the Blue Star Paros which we used a few days previously from the mainland, she was much better appointed and comfortable with a bit of feng shui going on. The water is shallow in places, you can see her churning up the silt as we came in and out of Naxos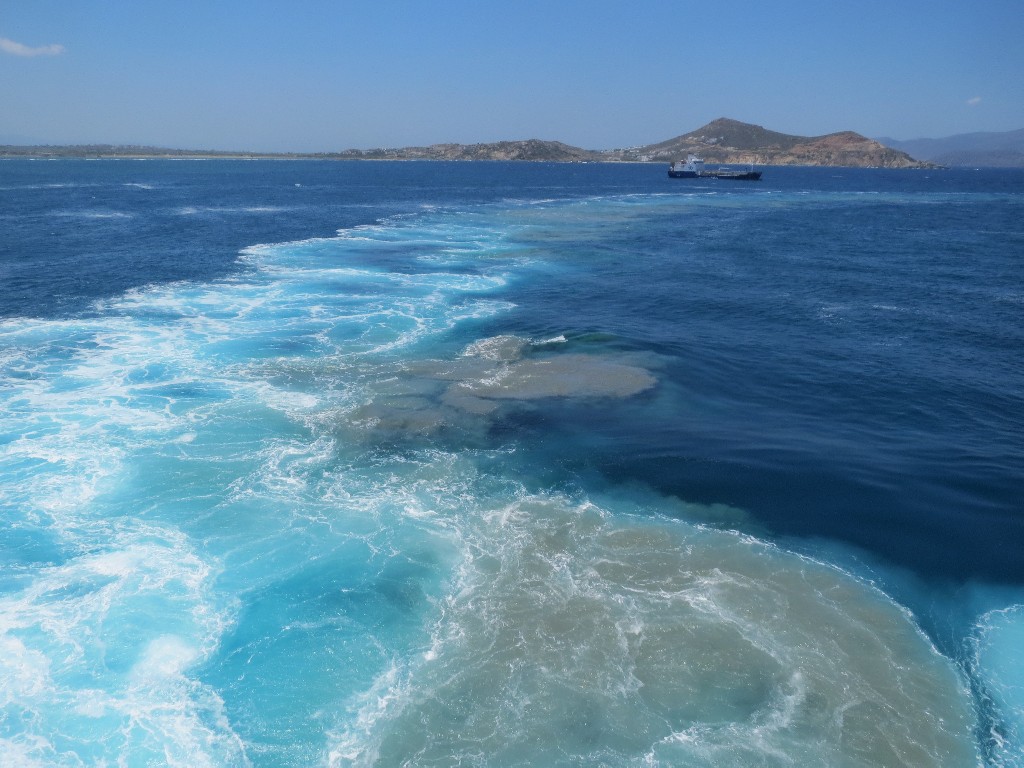 And so we arrived on Santorini to find another lovely barrel vaulted room awaiting awaiting us, with two of the most helpful hosts you could find. It's in the main town of Fira, perched on what was the rim of a now submerged, massive volcano caldera.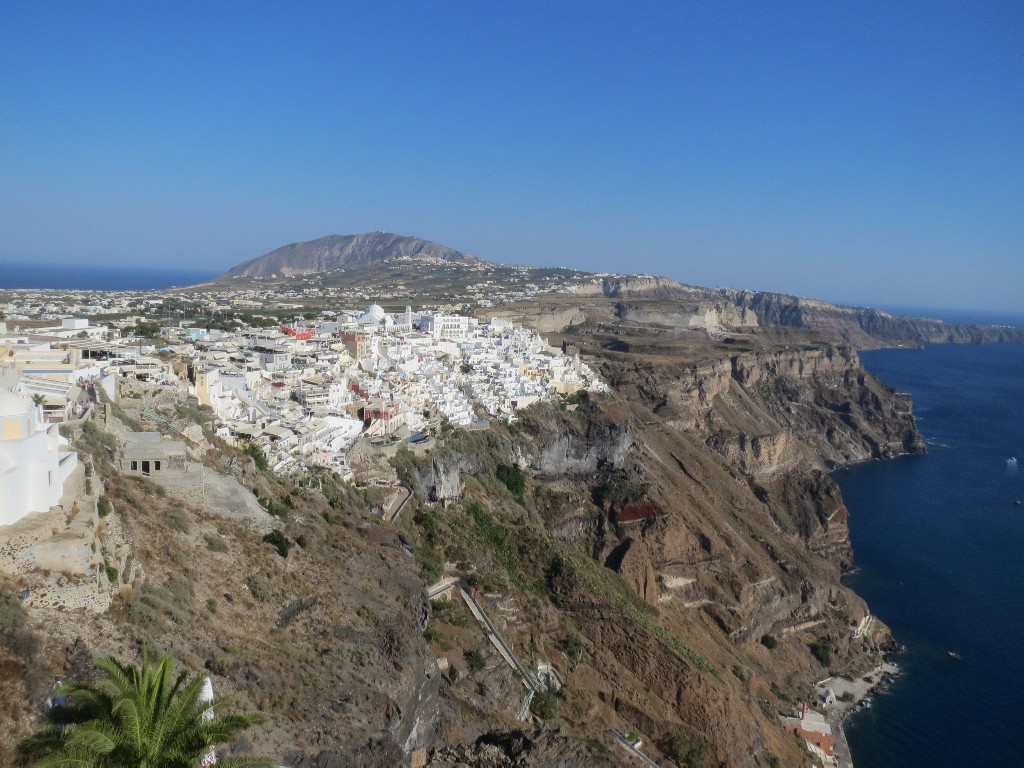 Santorini is famous for its sunsets, so for the first night we duly forked out for cocktails and watch the show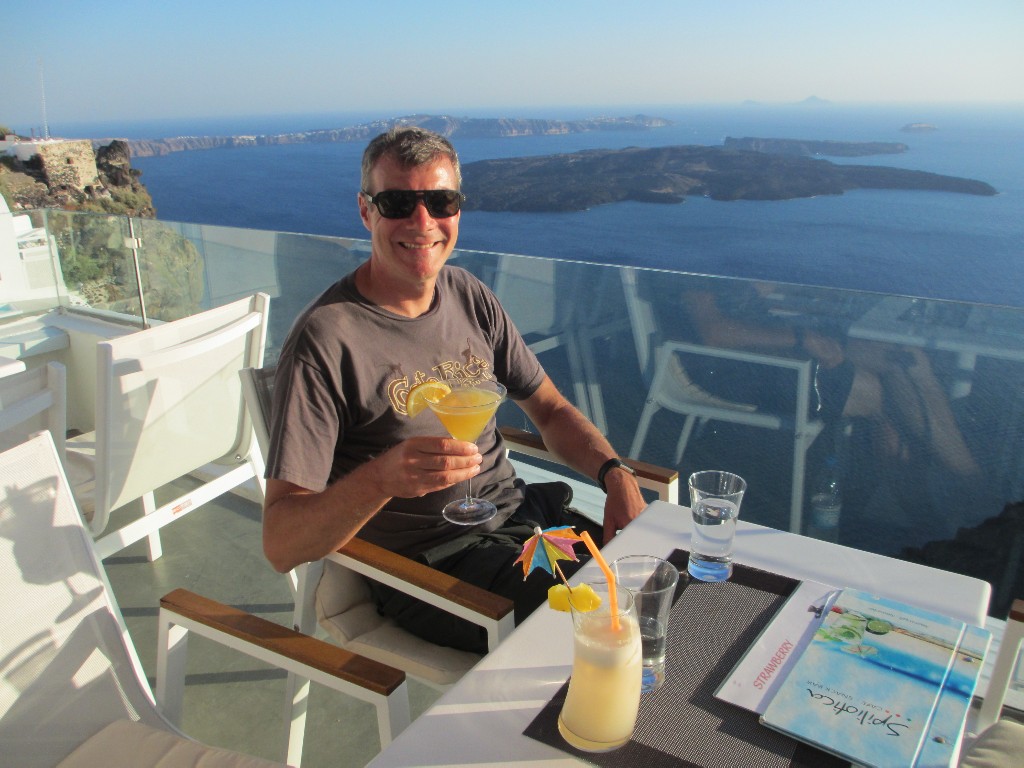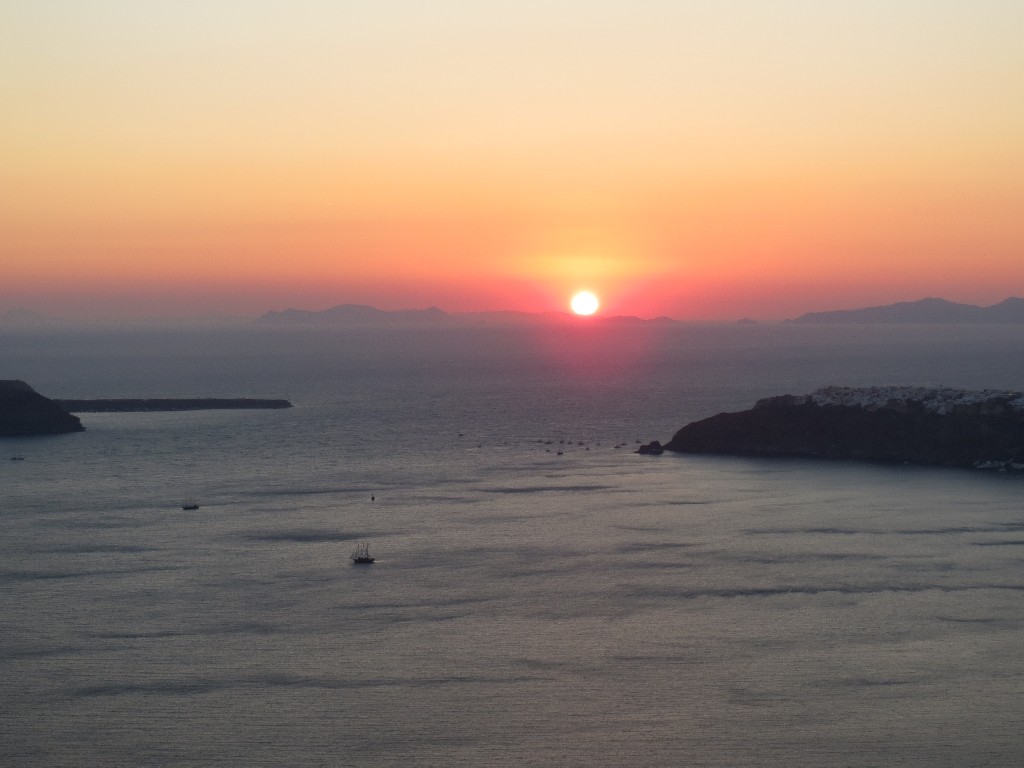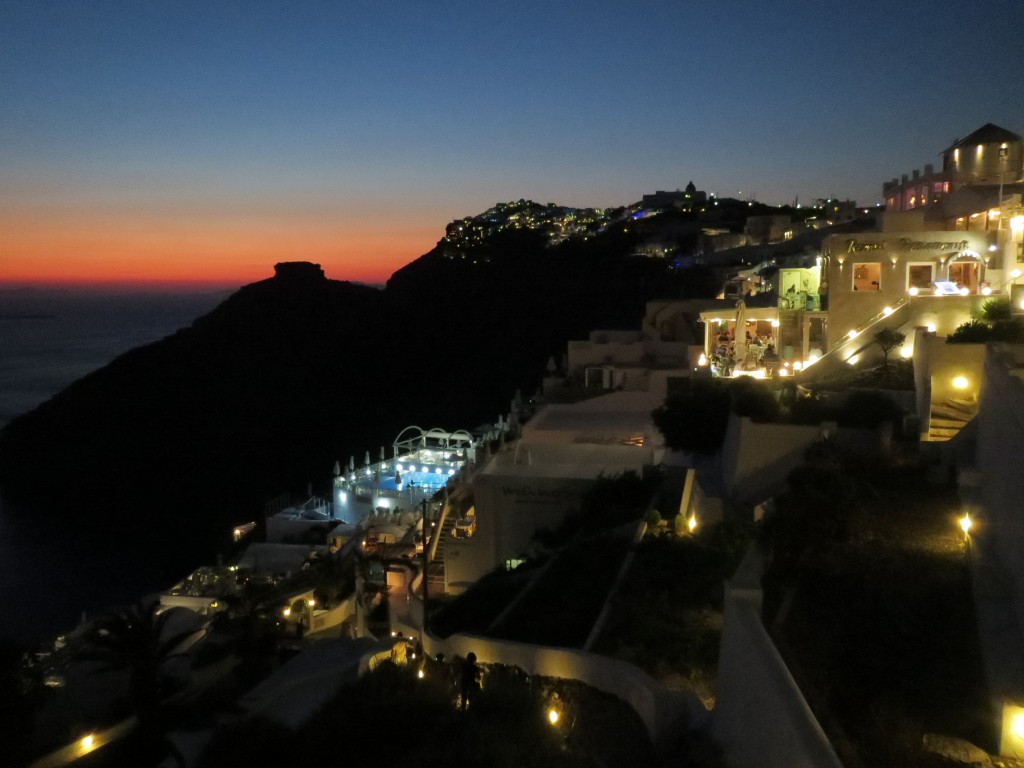 Next day we equipped ourselves with a new set of wheels, this time going upmarket a bit to a new 300cc model, which was nice and quiet and felt more like driving a car, compared with the 200cc cement mixer version that we had on Paros. We're in front of a winery here, they grow the vines low to the ground to lessen the impact of the winds, which can be a problem on the islands here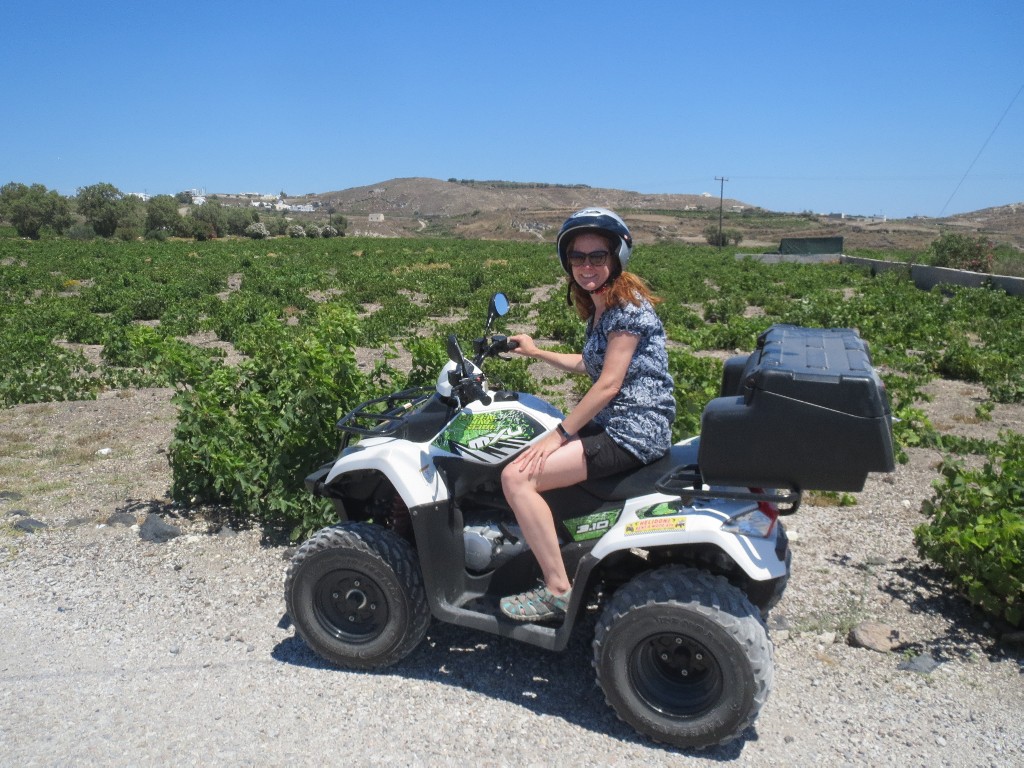 Where there's a vineyard there is wine, which just must be tasted. They weren't bad, but nothing that would make your mouth water, as seems to be the way with the local juice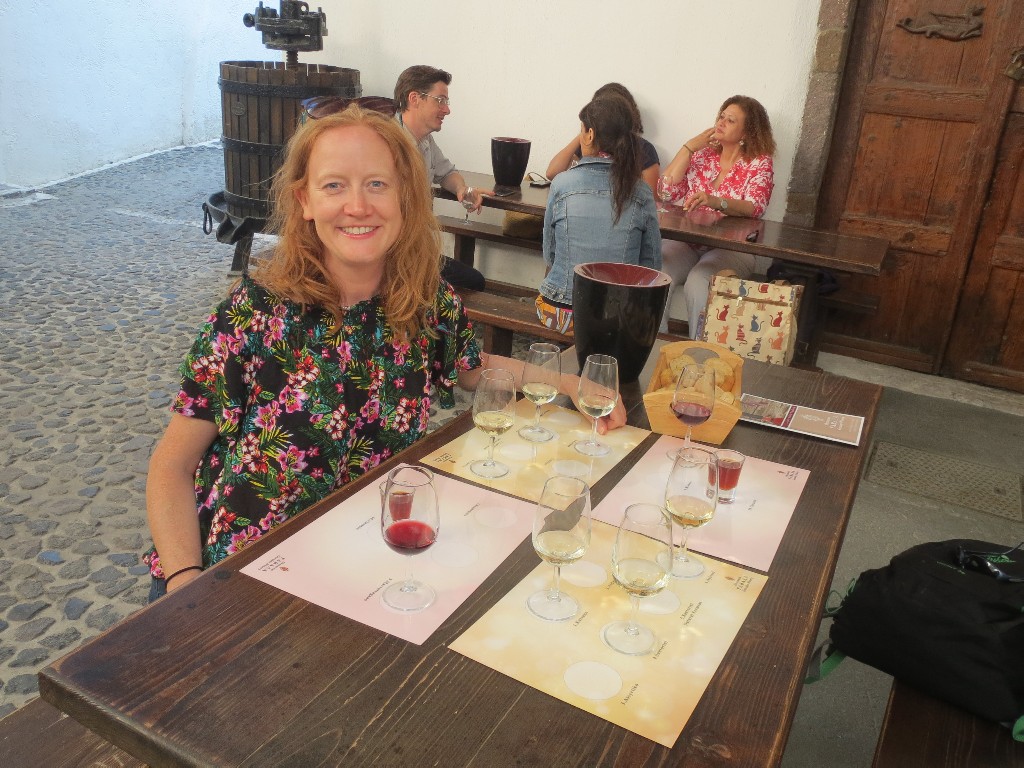 Along the road were some slightly unusual scarecrows, though we were wishing they would scare off the flies which were quite abundant on the island, it seems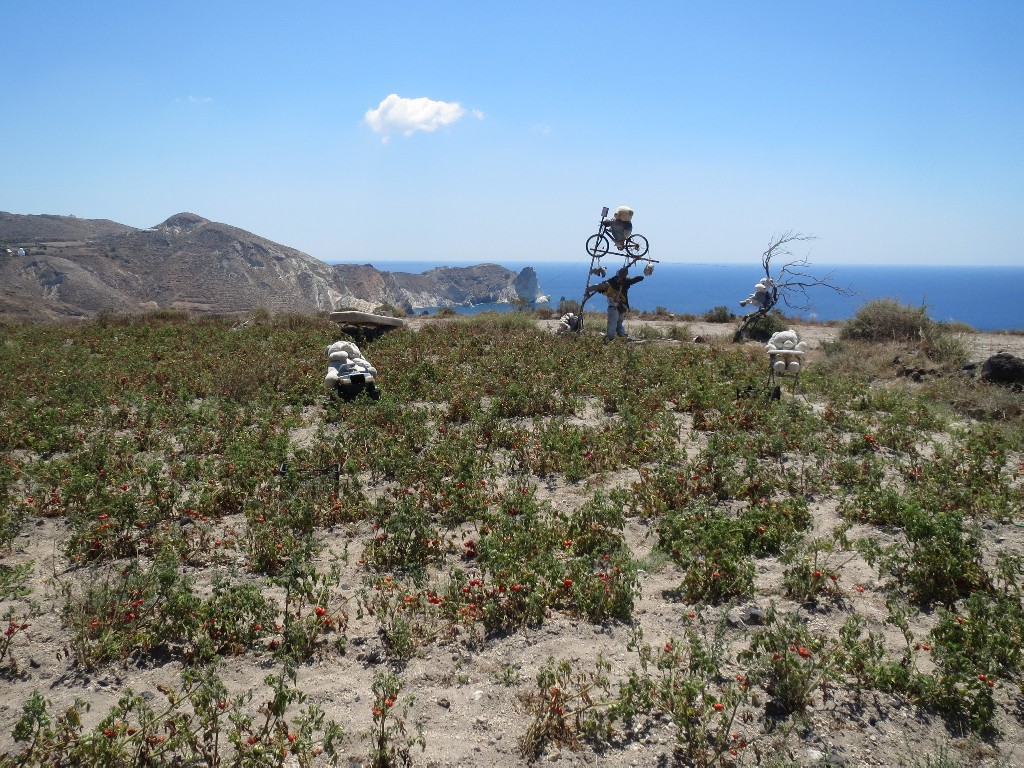 This is a typical 5 star resort, this one is out of town along the south rim of the caldera. As you can see, very often the private pools are quite overlooked, we're just pulled up on the side of a main road here. I'd be a bit disappointed if I'd splashed out top dollar and got something like this. You'd have to pick and choose your room carefully, which might be easier said than done, in advance.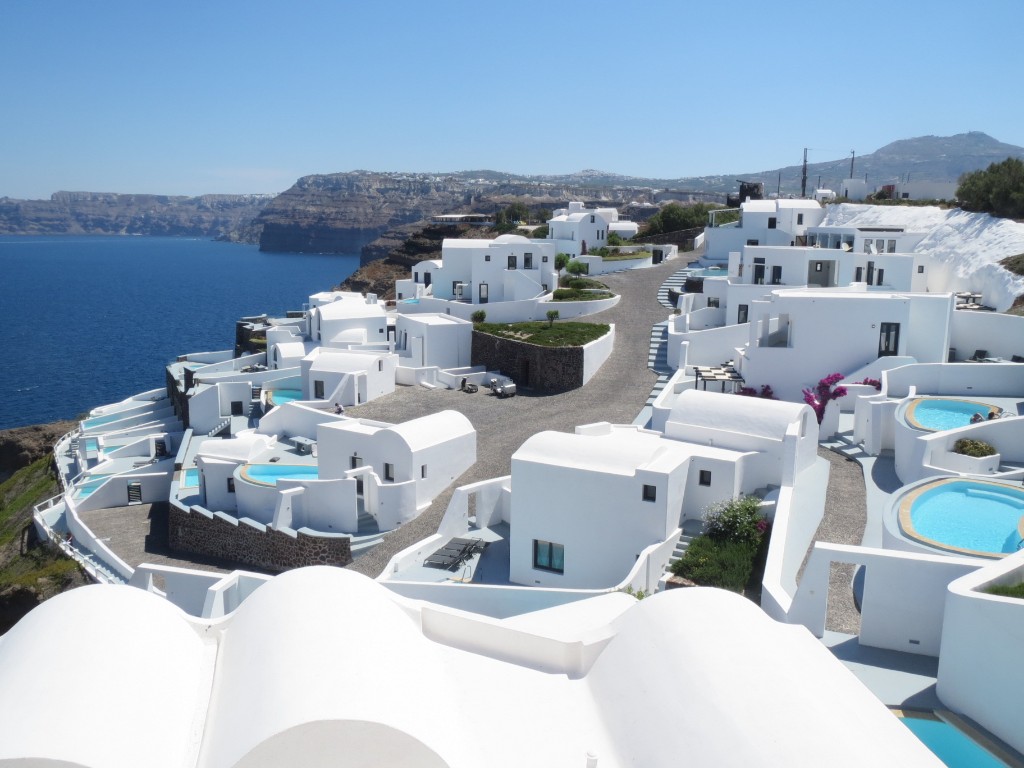 We toured most of the island, there's a well known red beach on the south side, with nearby neighbours, one white and one black in colour. The sand is sharp so not the best for beach lounging compared with other islands, but instead we holed up in a lovely taverna behind the beach for a platter overflowing with sardines. Lisa got into trouble with the proprietor for not eating their heads! It's nice to find these places that are a little out of the way as this island is busy! So much so that I really wouldn't want to be here in July or August as it must be bedlam then.
The very south west tip of the island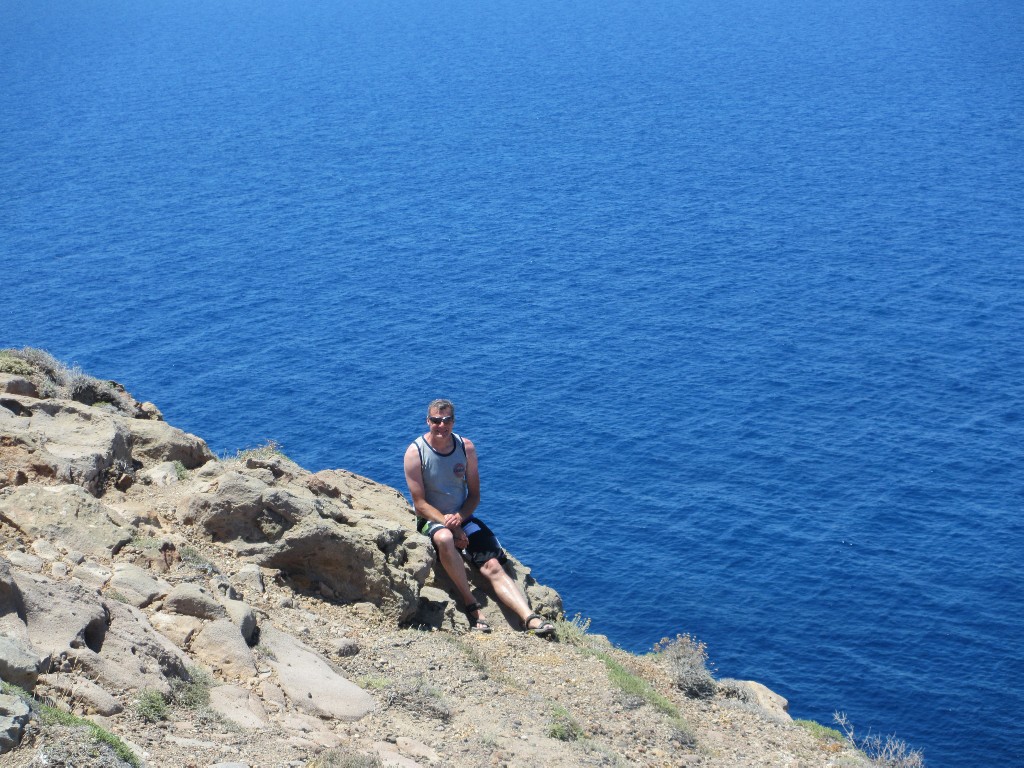 Black sand, blue sea, no people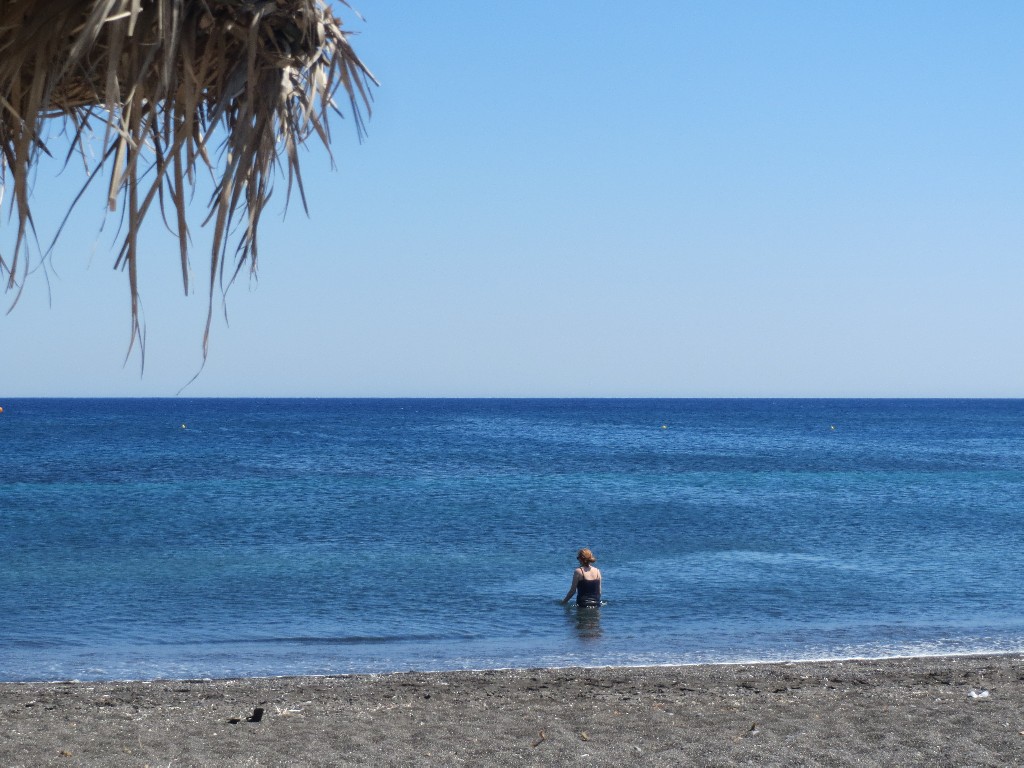 We returned to Fira via the centre of the island, through the very quiet (as it was siesta time) village of Lefkes. My back seat driver got creative with her camerawork, though in truth I think it's an accident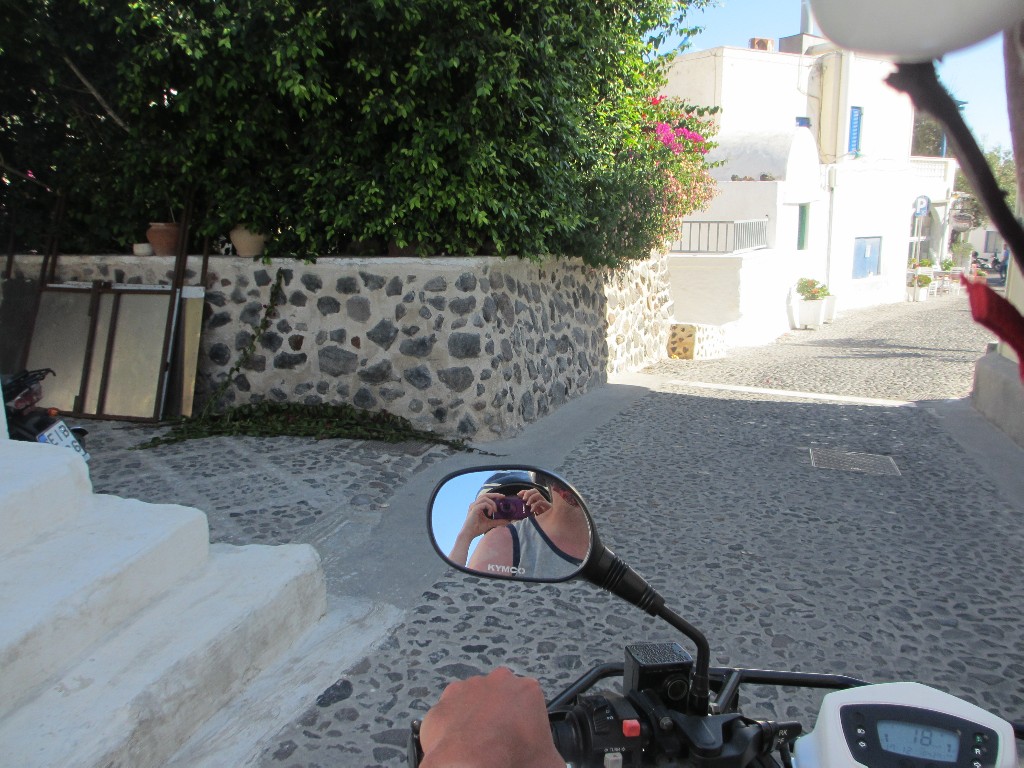 On the last morning, before our sailing, we drove to the far north to the town of Oia, for a little poke about. The whole town was pretty much devasted by an earthquake in 1956, so has largely been rebuilt since then. The approach, which you must make on foot really, was underwhelming, on a broad avenue lined with expensive shops selling Jimmy Choo and the like, but if you persevere on right to the end, you are rewarded with some nice views. Apparently this area is the mecca for sunset watching, it must be torturous, as there's very few public places you could actually stand and watch it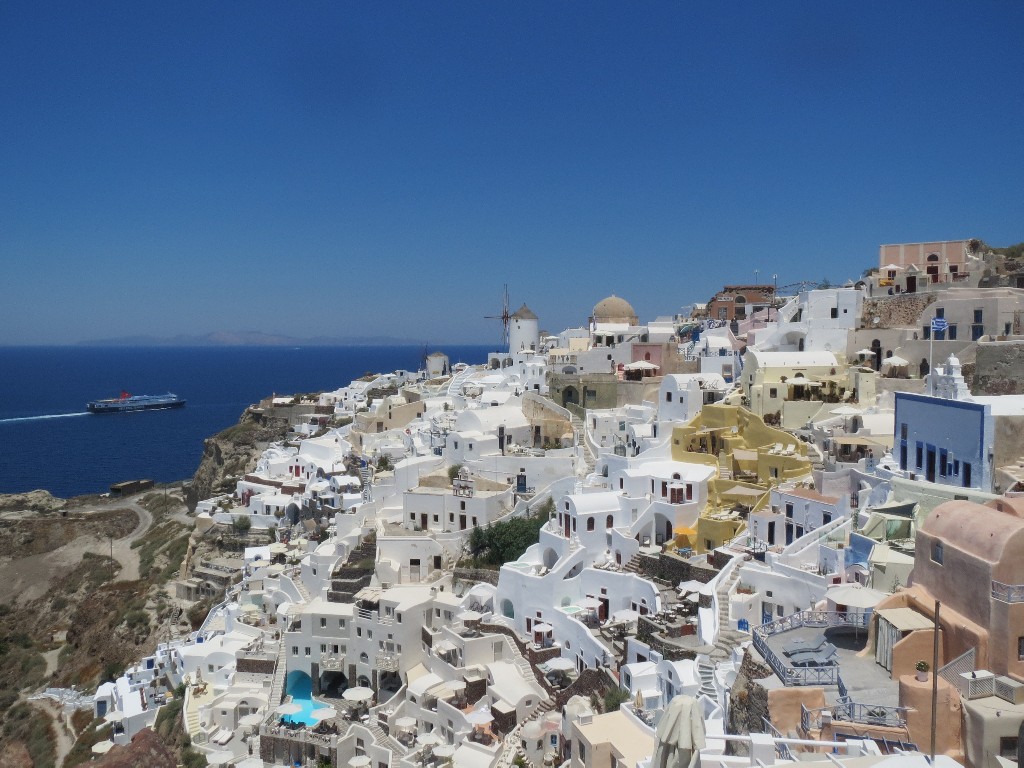 Santorini is indeed spectacular, as long as you can cope with the amount of people, and the air of glamour about the whole place, both in the tourists and the locals. The prices are fairly high, but with a bit of patience and some recommendations we found some excellent cuisine, both in and out of town, for very reasonable costs. Now we're off on our final ferry, a high speed affair which will take us onto Crete.